Here are the BEST Blog Posts and Podcasts of 2020!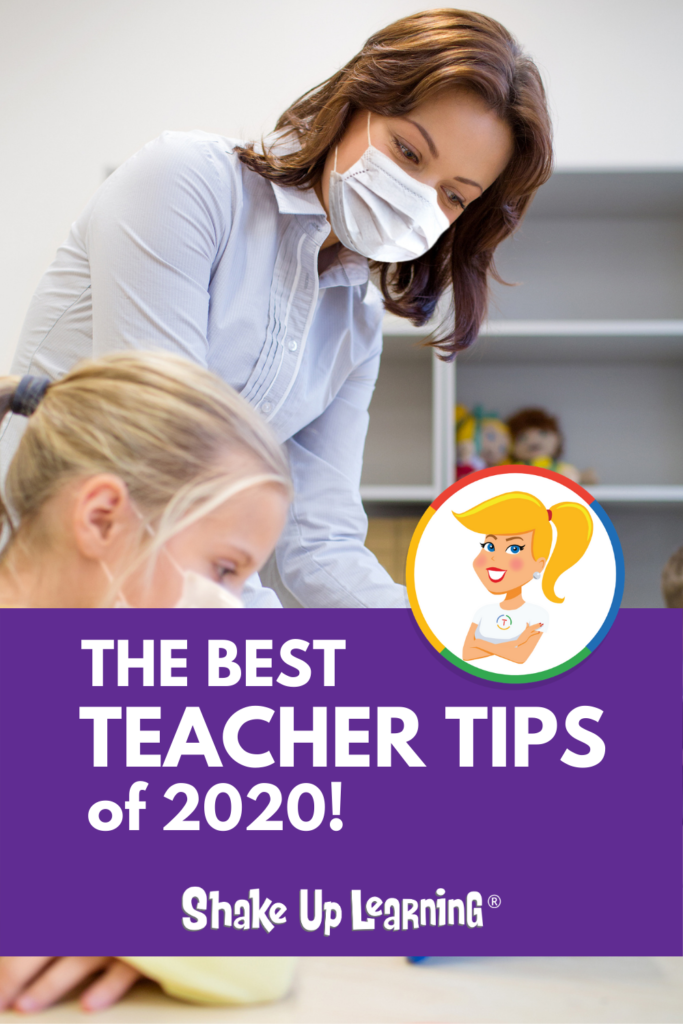 I have put together a list of the BEST and most popular Shake Up Learning blog posts and podcast episodes from 2020.
These posts are loaded with the BEST teacher tips and lesson ideas of the year.
To all of my readers and listeners, thank you for helping me learn and grow as an educator! I learn so much from all of you!
And thank you for dawning your superhero capes to carry our students through this tumultuous year!
After a year that we will not soon forget, let's take some time to reflect on the positive. Let's make 2021 the best year yet!
Reflection is a critical part of the learning process for teachers and students, so I like to take a look back.
I like to take a more in-depth look at what teacher tips, blog posts, and podcast episodes were the most popular and generated the most comments and traffic.
The goal of this blog has always been to provide teachers with digital learning resources, tips, and tricks, and help teachers find ways to integrate technology meaningfully in the classroom.
This list helps me decide what content to create and how to best help teachers in 2021.
What Do YOU Want to See in 2021?
I want to serve my audience! Help me better serve you by completing this short, 60-second survey. (The form is also embedded at the bottom of this post.)
This survey is your chance to let me know more about you and what you need in 2021.
---
The Top 20 Posts of 2020
Drumroll please…Here are the most popular blog posts and podcast episodes of the year!
This is an updated post with an added 2-part podcast series. Take your Google skills to the next level and learn why I call Google Slides the Swiss Army Knife of Google!
Listen to Part 1 of this article.
Listen to Part 2 of this article.
In this free download, you will get two PDF cheat sheets: (1) The Google Classroom Cheat Sheet for Teachers, a 40-page guide to help teachers make the most of this robust online learning tool. (2) The Google Classroom Cheat Sheet for Students, a 14-page reference guide to help students understand the platform.
Fill Out the Form Below to Get Your FREE Cheat Sheets!
This is a post that I update every year, and it is always at the top of the list! Learn about 70+ applications that integrate with Google Classroom.
Wondering how to organize Google Classroom? This post will give you the most common organizational strategies for the Classwork page and topics.
In this 3-part podcast series (based on Kasey's book of the same name), we will show you how you can use Google tools to create dynamic, blended learning experiences for your students!
Blended Learning with Google (Part 1: Do This, Not That!)
Blended Learning with Google (Part 2: Storytelling)
8 Reasons to Love Blended Learning with Google (Part 3)
Remote learning has sent teachers and schools into high gear! We are all trying to figure out what works. In this episode and post, I'm going to show you 10 Google Tips for Remote Learning.
As teachers across the U.S. prepare for online and blended learning, more and more schools are relying on Google Classroom and Google Meet to deliver online lessons and assignments. In this post, I will share how you how to integrate Google Classroom with Google Meet.
With Google tools and Google Classroom, giving feedback on digital assignments has never been easier. The only question is, where? We have several options for leaving comments and feedback, and each can serve its own purpose. Let's explore all the ways you can use comments to enhance the learning in your classroom!
Over the years, I have cultivated a laundry list of tips and ideas for using Google Docs in the classroom. In this post and episode, I will share with you 10 Google Docs Tips Every Teacher Should Know. We will cover basic skills, as well as, some tips to help you become a power user.
In the midst of the coronavirus chaos, the anxiety, the fears, and the extra time at home, I would like to come back to an idea that Jennifer Pearson shared on a special BONUS episode of the Shake Up Learning Show–grace.

Ready for Back to School? Google tools can help you kick off the school year, get organized, and have some fun–even when school is online! Here are six online activities for going Back to School with G Suite.
In this guest post by Carly Black, learn how you can engage students with Instagram Stories and get a FREE Google Slides Template!
In this post, Kasey shares how to create Google Classroom blended learning lessons, including best practices and Google Classroom tips.
I've put together some Google Classroom cleanup tips for the end of the year! Google Classroom can get quite messy throughout the school year, and you want to get everything cleaned up and set up for success in the next school year. Let's go all Marie Kondo and tidy up this mess!
This interview defined my views on remote learning! In this candid interview, I chat with Jennifer Pearson, a tech coach who recently evacuated from China due to the coronavirus. Jennifer's school has been relying on home learning and online learning with their students in China. Jennifer shares tips, tools, and best practices for this special situation.
Don't miss out on one of the BEST things about blended learning and managing assignments online! Save yourself valuable instructional time and that oh so elusive teacher sanity by packaging your assignments so that students have EVERYTHING they need in one place.
In this episode, Laura Steinbrink shares her choice board strategy for student home learning with both offline and online options. Learn how she is approaching this unprecedented time with grace and understanding, supporting all her students!
Many teachers are searching for help and tips, so I decided to put together a Google Classroom FAQ – your most common questions answered, based on the questions I receive from teachers. I see the same questions asked over and over again, so I hope this page is helpful to educators looking for help with Google Classroom.
When you find a free or paid template that is in Google Docs, Google Slides, Google Sheets, or Google Drawings, do you know how to save that to your Google Drive and assign it in Google Classroom? This video will show you how! There are many different ways that files are shared. I will show you how to make your own copy and assign it in Google Classroom.
In this episode, Kasey shares her best tips for teaching students online. COVID-19 has changed education forever, and now it's time to regroup and redefine teaching and learning. Remote teaching and learning is different. As we begin to plan for the new normal, let's take a closer look at some best practices to help teachers and students in the post COVID world.
---
Got a minute? Leave us some feedback below.
© Shake Up Learning 2023. Unauthorized use and/or duplication of this material without express and written permission from this blog's author and/or owner is strictly prohibited. Excerpts and links may be used, provided that full and clear credit is given to Kasey Bell and Shake Up Learning with appropriate and specific direction to the original content on ShakeUpLearning.com. See: Copyright Policy.