Packaging your digital assignments is more important than ever!

As schools transition to the new normal of virtual, online, and hybrid learning to combat the spread of the coronavirus, I thought it was time to update this post, add some remote learning tips, and a podcast!
The term "digital assignment," refers to the work you give students in a digital environment or LMS, like Google Classroom or Canvas. It doesn't mean that the actual assignment is entirely digital, but the communication about it is posted in a digital format.
Save Time and Your Sanity by Packaging Your Online Assignments!
Don't miss out on one of the BEST things about blended learning and managing assignments online! Save yourself valuable instructional time and that oh so elusive teacher sanity by packaging your assignments so that students have EVERYTHING they need in one place.
When you create an assignment online using your preferred tool, be that Google Classroom, Canvas, Edmodo, Blackboard, Google Docs, Google Sites, Hyperdocs, whatever…give learners ALL of the information online and in ONE place. 
Give them detailed directions, the rubric, the due date, detail collaborative expectations, where and how to turn it in, what to do if they finish early, EVERYTHING you can think of that they might need or ask! This will save you so much time answering questions. It is also very handy for absent work and demanding parents. 
This is also documentation, a record of what is planned for your classroom. You can fine-tune it and revise it as you see fit throughout the assignment.
This is something I've shared a lot over the last few years and is even included in my book, Shake Up Learning.
[Tweet "How to Package Your Digital Assignments (and save your sanity!) #gsuiteedu #googleedu #edtech #edchat #shakeuplearning"]
Listen to this article.
Shoutout
I'd like to give a quick shoutout to Chris Collins for sharing his testimonial about the Shake Up Learning Google Certification courses.
"Kasey, your videos helped me pass the GCE Levels 1 and 2 on the first try AND pass the Trainer Skills Assessment in 17 minutes with a score of 95%! I am ready to continue learning from you! Lead me, oh wise one!!"
Quick Tip of the Week – Chrome Bookmarks Bar
Ever wonder how you can have a pretty row of Chrome bookmarks that are all icons? It's super easy!
Simply click-and-drag to add a bookmark to the bookmarks bar. Then, right-click on the bookmark to edit the text and delete it to take it down to just the icon or favicon.
Watch this 2-minute video to learn how!
TEN THINGS to include in your Digital Assignment Package:
This is a starting point. Every assignment will not require all ten of these, but this is a starting point that can help you think through the process.
1. Give Each Assignment a Dedicated Number
This is an excellent tip for Google Classroom users that I learned from Alice Keeler. However, I think this advice can be useful no matter what platform you use. Numbers make it easier to search, find, and reference assignments. (Did you know the keyboard shortcut control/command + F will help you find words or numbers on a page?) I prefer three digits with the hashtag = #001. This makes it easy to find and organize in Google Drive, Google Classroom, or whatever platform you prefer.
2. Include DETAILED Directions
Be as specific as possible! Remote learning requires much more detail and context than you are used to giving in a face-to face environment. Leave nothing to chance or assume, "They'll figure it out!" Set your students up for success and let them know exactly what you expect out of this assignment. If there are several steps, be sure to label "STEP 1, STEP 2, etc." For long-term assignments, consider creating assignment packages for each checkpoint, so students know exactly what part is to be completed.
What's great with a digital assignment is that you can add more details to this as new questions arise! As students (and parents) begin to ask questions, edit your assignment to clarify and answer those common questions.
3. Include Student-Friendly Learning Goals
Be sure you connect the assignment back to student-friendly learning goals, so students understand the "why." Helping students make the connection between their task and their learning is very critical.
With parents helping at home, this will also help them better understand the purpose and context of the task.
4. Explain How the Assignment Will Be Assessed
There should never be any surprises for students. Be sure they understand exactly what you expect and how it will be assessed if you have a rubric, all the better! Attach or link to the rubric to make the expectations crystal clear! If no rubric, be sure to explain in the directions how they will be assessed.
5. Explain How Much Class Time Will Be Allotted
Will students be given class time to complete the assignment? If so, how long? Are they expected to complete the assignment outside of class? Again, be as specific as possible, so there are no surprises like, "I thought we were working on it in class today." (My students tried that one A LOT!)
With remote and blended learning, teachers should still be clear about time expectations at home, collaboration with other students, or independent work requirements.
6. Include the Due Date (and Time)
This used to be one of my least favorite questions! I had to answer this question over and over again. If the due date is in the assignment package, you should never have to answer that question again. Be sure to not only include the date but the time. Due at the beginning of class or at the end of class should be explicit in your assignment package.
With secondary students, they should be able to take responsibility for their time and when assignments are due. With the younger students, be sure to explain this to parents as well. If you are using Google Classroom, it will automagically add the due date to the student's calendar. (BONUS: Guardian emails in Google Classroom will also allow parents to see due dates! Learn more about guardian emails here.)
7. Collaboration Guidelines
Collaboration doesn't magically happen just by saying you can work with a partner or a group. If students are collaborating with partners, groups, or outside of their class, be very specific about the guidelines and expectations. Who is responsible for turning in the work? Name a group leader and other roles as necessary. Also, explaining how they will be assessed individually will be very important in collaborative activities.
Remote and home learning may or may not be conducive to virtual collaboration. Please consider access, devices, learning styles and needs, and the purpose of the collaboration before assigning to students working in a virtual environment.
8. Turn In Process
Depending on what digital tools and learning management system you use, this will vary. I try to be as explicit as possible, like don't forget to click the "Mark as Done," button in Google Classroom, or email the assignment to…, or move it into the folder on the device, etc. Don't leave anything up to question! Use screenshots and links to how-to documents when necessary. This is especially important with a new system or at the beginning of the year when students are learning your processes.
For remote learning purposes, consider creating a topic in Google Classroom with how-to tutorials, Google Classroom Cheat Sheets, links to the Google Support Center, and other resources for students and parents.
9. What to Work on Next (Enrichment, Next Assignment, etc.)
We all know that students work at different paces. Some complete assignments faster than others. You may already have an excellent way to manage and differentiate for this. I like to preemptively answer these inevitable questions online in the assignment package. There seems to always be a student that asks, "Can we play games when we finish?" I usually have some go-to enrichment activities ready or a flexible learning path that will lead to the next assignment. This is also a great time for students to work on Genius Hour projects.
Finishing early is more obvious in the face-to-face environment, but we need to design learning experiences for students who are ready to move on or need some challenging enrichment. Differentiate assignments for students in Google Classroom. We have an opportunity to personalize learning at a whole new level!
10. Don't Forget to Include ALL Attachments and Links
Remember, the point of assignment packaging is getting everything in ONE place. Your teacher life will be so much easier if you provide all the attachments and/or links necessary for the assignment, like templates, rubrics, research websites, digital tools, etc.
This may seem like a lot of extra work, but just like everything, it will soon become a habit, and you can re-use your wording with minor adjustments in other assignments. But in the long run, I think you will see how much time this can save you! Time saved from answering the same questions over and over again and time saved explaining assignments to those who were absent.
>>> Put a Bow on It! There's Your Assignment Package!
TIP: Save the text of your assignment packages in Google Keep or a Google Doc! This can serve as a template that you can copy and paste, and save you time in the future.
[Tweet "10 Things to Include in Your Digital Assignment Package! #edtech #edchat #gsuiteedu #googleedu"]
Google Classroom Assignment Package Example:
Below is a screenshot of an assignment that has been packaged in Google Classroom.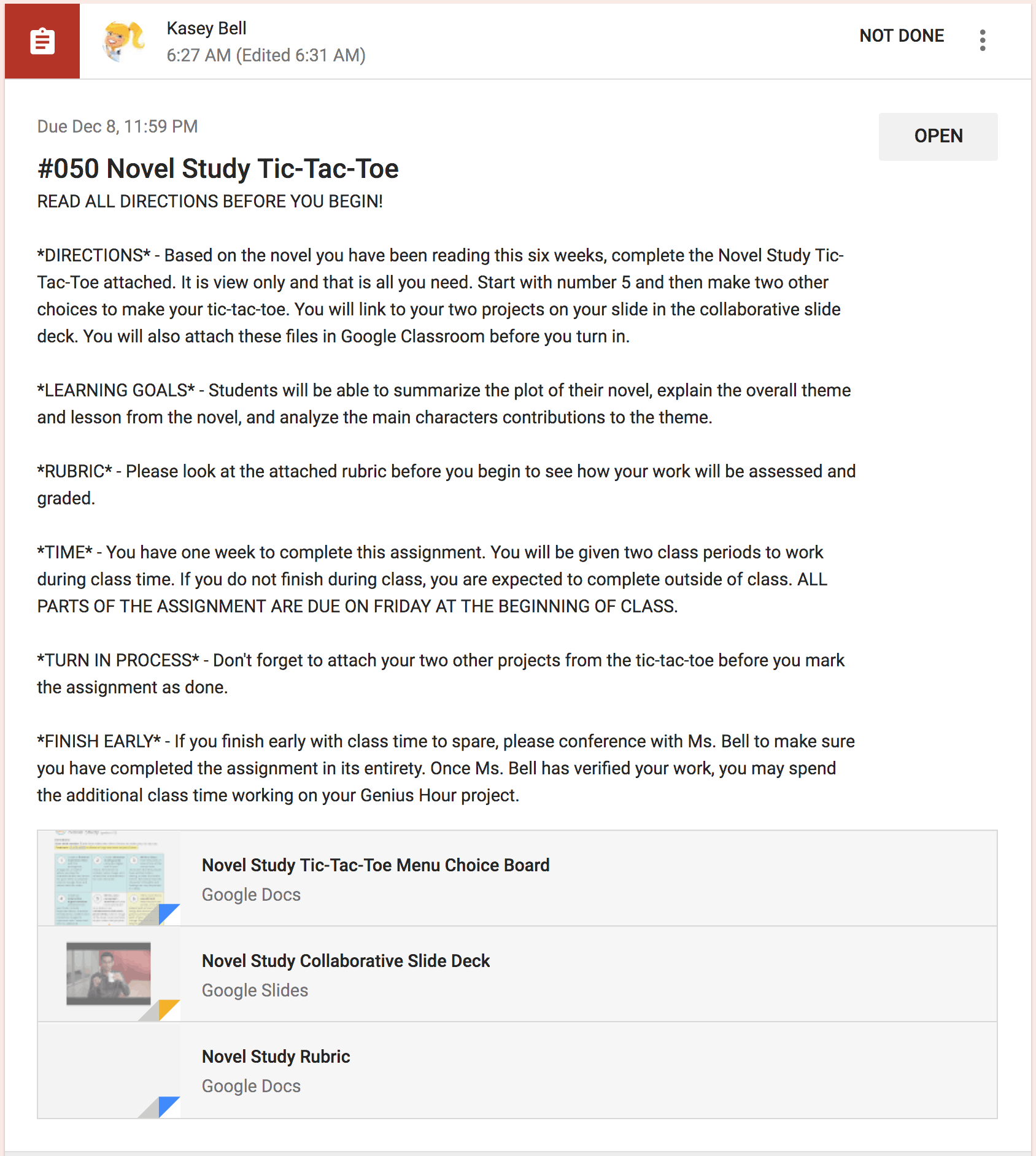 Google Classroom is just one way to package your assignments. You could easily include all of this information and attachments on other platforms like Canvas, Schoology, etc. You could also package your assignment in a Google Doc, Google Slide, or other online file and simply link to the "attachments." It doesn't have to be rocket science.
---
What would you add to this list? Please leave a comment below.
---
Want to learn more idea like this? You will love my book!

Check out my new book, Shake Up Learning: Practical Ideas to Move Learning From Static to Dynamic.
About the Shake Up Learning Book
Technology is not a magic solution for education. It is an opportunity! An opportunity to shake things up, to connect and grow, and to create dynamic learning experiences for our students!
In this three-part book, you will explore WHY it's time to Shake Up Learning, WHAT changes we can make in our classrooms to support dynamic learning experiences, and HOW to plan meaningful lessons for your classroom.
Shake Up Learning is a powerful guide and planning tool to help educators at all grade levels make the most of technology. Educator and blogger Kasey Bell guides you through the process of using technology and proven techniques to make learning dynamic.
You'll discover . . .
Practical strategies to help move from static teaching to dynamic learning
Straightforward and easy-to-use templates for crafting engaging learning opportunities
Tips and tricks for fearless implementation of powerful lesson plans
Advice for moving from one-and-done activities to learning that evolves and inspires throughout the school year—and beyond!
---
---
Be DYNAMIC and SHAKE UP LEARNING in Your Classroom This Year!
But wait…There's more!
With this book, I have also created several interactive resources, templates, and downloads, all available on ShakeUpLearningBook.com.
Get the FREE Shake Up Learning Quickstart Guide
An online community
Discussion Questions, Chapter Actions, and Embedded Resources for all 20 Chapters!
An interactive companion website to help you continue and deepen the learning
A lesson plan database (submit and search for dynamic lesson plans)
Tons of free resources, videos, templates, and downloads, all available on the website: ShakeUpLearningBook.com.
Shake Up Learning QUICKSTART GUIDE
Join the email list to get the latest information about the Shake Up Learning Book AND Get the FREE 20-Page Quickstart Guide that will help you Shake Up Learning in your classroom this year!
---
Podcast Question of the Week: 
How will you package your blended and online learning assignments for your students?  

Post your answers in the

Shake Up Learning community

or on your favorite social platform.
---
G Suite Training for Schools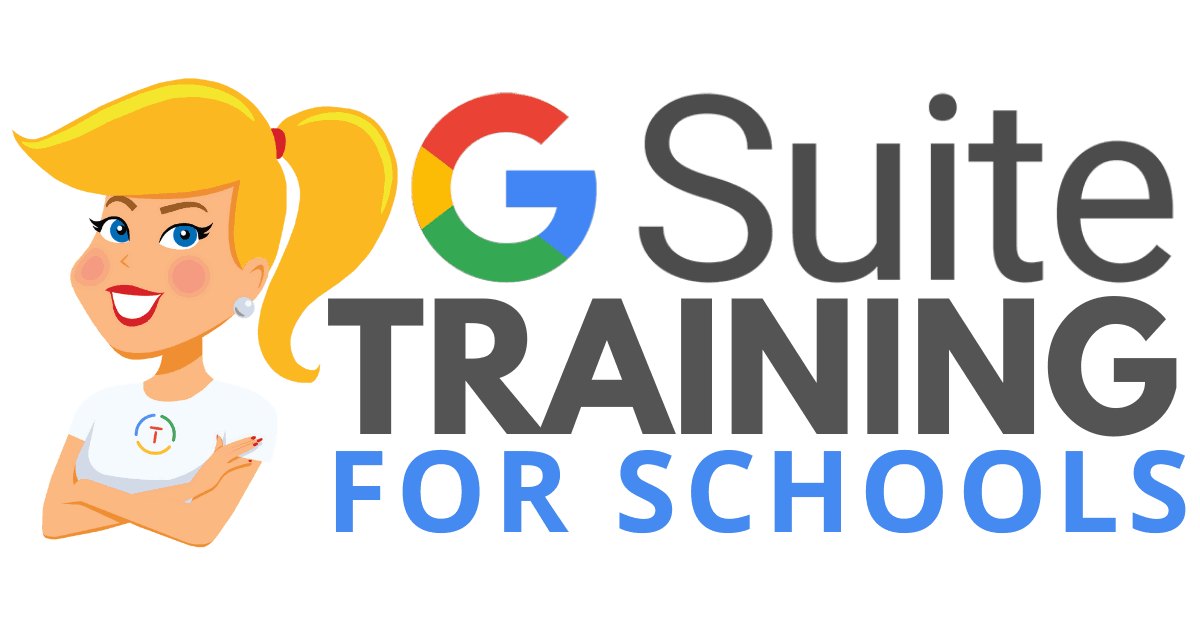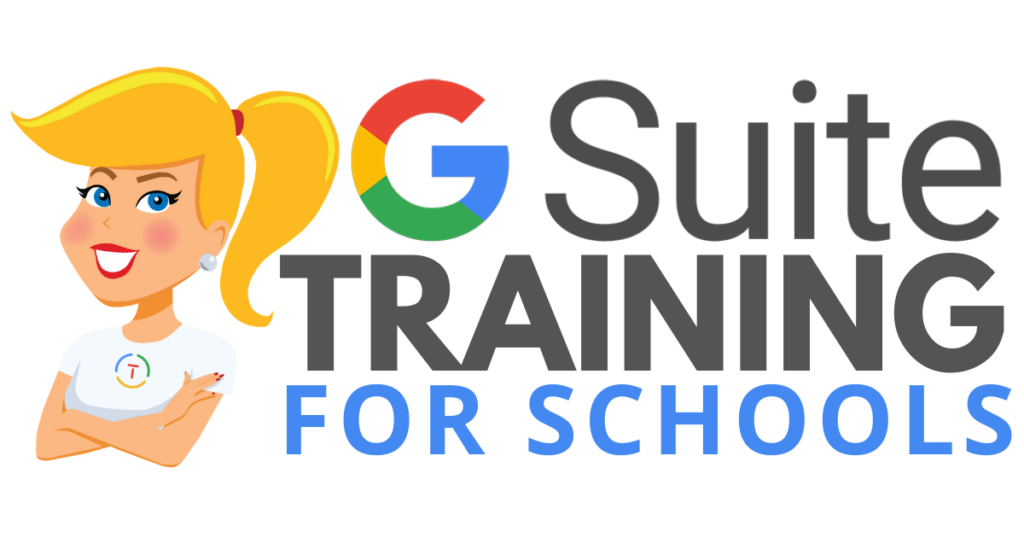 We have many programs to help your teachers learn how to meaningfully integrate Google tools and the entire G Suite in the classroom. From online courses to books, to face-to-face training, we got you covered!
COVID-19 forced many teachers and schools to scramble to find tools to deliver online assignments, design digital learning experiences, and G Suite was the number one suite of tools to help make this a reality.
Just in time resources and learning will help teachers, students, and parents survive the crisis. When we return to the new normal, G Suite skills will help set the foundation for more dynamic and meaningful learning in the classroom.
Get your entire campus or district on board with G Suite! Help your teachers learn more about G Suite tools, Google Classroom, and meaningful technology integration strategies. You can even help all your teachers become Google Certified Educators!
© Shake Up Learning 2023. Unauthorized use and/or duplication of this material without express and written permission from this blog's author and/or owner is strictly prohibited. Excerpts and links may be used, provided that full and clear credit is given to Kasey Bell and Shake Up Learning with appropriate and specific direction to the original content on ShakeUpLearning.com. See: Copyright Policy.