In part one of this podcast series, we will explore how Google tools can help us create Dynamic Blended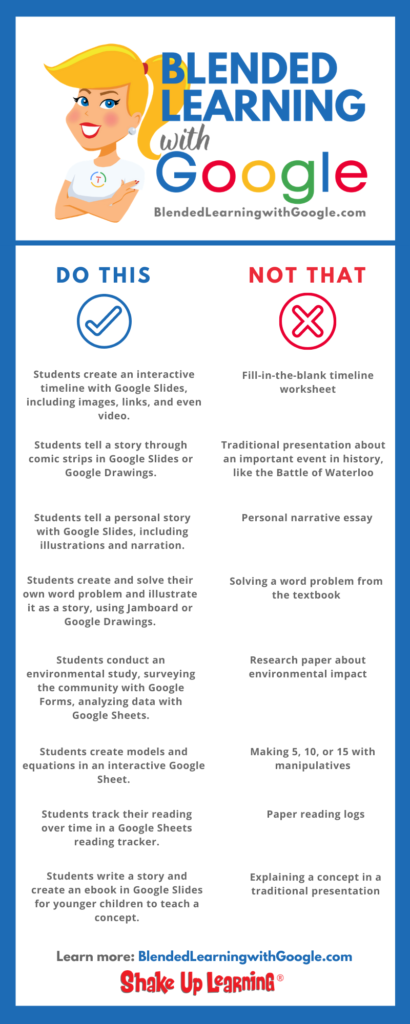 Learning experiences.
It's not about Google, y'all! It's about the learning.
We are going to take a deep-dive into practical ways we can use the Dynamic Learning Framework with our favorite Google tools.
As we all struggle to meet the demands of blended, online, and hybrid learning. Let's look at some ways to engage students with the 4 C's in our Post-COVID world.
And get a sneak peek of Kasey's new book, Blended Learning with Google!
Shoutout
Thank you to Bowling Green Christian Academy for inviting me to virtually present!
Tip of the Week (Citations!)
There's a new citation tool in Google Docs, and it pretty awesome!
Go to Tools>Citations to test it out. Add sources, parenthetical citations, and create a bibliography.
Watch this video to learn how!
Listen to the article.
Blended Learning with Google (Part 1)
What Is Blended Learning?
There are many different ways to define blended learning and several blended learning models. And as the technology and the world's challenges and opportunities continue to shape the way we learn, these models continue to evolve and grow.
Blended learning is the combination of face-to-face instruction and online learning. This definition encompasses the concepts and ideas I have been teaching for many years. Clean and simple, but it leaves a lot on the table. That's why I created a blended framework that would incorporate best practices and push the boundaries of traditional teaching practices.
Enter Dynamic Learning.
My definition of dynamic learning is continuing to evolve and grow, as best practices should. You'll see that the definition below has been revised since the first Shake Up Learning book.

Dynamic Blended Learning:
Dynamic blended learning is characterized by constant change and activity, growing and evolving over time. This learning can take place anywhere, anytime, and it is personalized and differentiated. It is learner-centered, giving students choice and embedding communication, collaboration, critical thinking, and creativity skills where they align with the learning goals.
Dynamic blended learning also extends beyond the traditional bounds of the school day, schedule, and physical walls, and beyond the physical notion of hard and fast due dates. Digital tools are used for more than substitution, to do and create previously unconceived of things. Dynamic learning is boundless, with limitless opportunities.
Dynamic Learning is blended learning on steroids!
What is Static Learning?
Static learning is learning that lacks movement, action, or change. With this unengaging model of education, learning happens in short bursts and is often demonstrated through one-and-done activities, short-term assignments, or worksheets (even digital worksheets), which are confined within the traditional bounds of the school system, school day, and school walls.
The Dynamic Learning Framework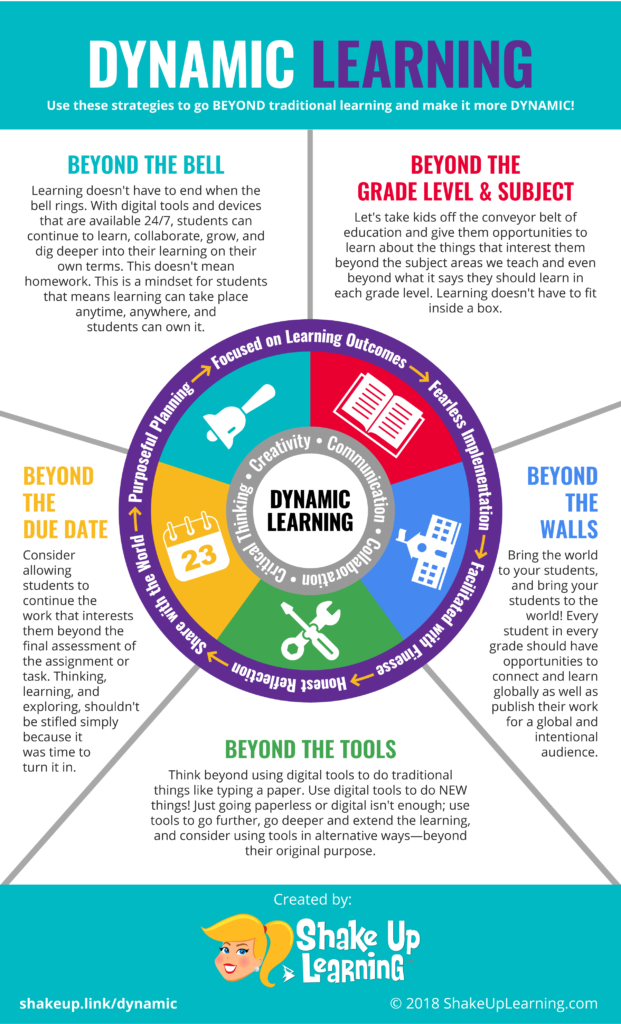 Dynamic Blended Learning with Google Tools
So how does Google come into play with the Dynamic Learning Framework, and all the components and characteristics we just covered? Well, Google for Education offers educators and students many tools that support the principles of Dynamic Learning.
Remember, Dynamic Learning is not about Google, and it certainly isn't about getting distracted by shiny, techy tools.
The purpose of using technology in any form in the classroom is to support Dynamic, Blended Learning. Digital tools, such as Google for Education, present us with a unique opportunity to do things differently, to engage students in new ways, and to inspire them to explore and create!
Do THIS, Not That with Google Tools
| | | |
| --- | --- | --- |
| Do This | Not That | Grade |
| Students create an interactive timeline with Google Slides, including images, links, and even video. | Fill-in-the-blank timeline worksheet | 3–12 |
| Students tell a story through comic strips in Google Slides or Google Drawings. | Traditional presentation about an important event in history, like the Battle of Waterloo | |
| Students tell a personal story with Google Slides, including illustrations and narration. | Personal narrative essay | 5–12 |
| Students create and solve their own word problem and illustrate it as a story, using Jamboard or Google Drawings. | Solving a word problem from the textbook | 3–12 |
| Students conduct an environmental study, surveying the community with Google Forms, analyzing data with Google Sheets. | Research paper about environmental impact | 6–12 |
| Students create models and equations in an interactive Google Sheet. | Making 5, 10, or 15 with manipulatives | K–2 |
| Students track their reading over time in a Google Sheets reading tracker. | Paper reading logs | 3–12 |
| Students write a story and create an ebook in Google Slides for younger children to teach a concept. | Explaining a concept in a traditional presentation | 5–12 |
Related: Do This, Not That – Dynamic v. Static Learning
What strategy will you try?
Podcast Question of the Week
© Shake Up Learning 2023. Unauthorized use and/or duplication of this material without express and written permission from this blog's author and/or owner is strictly prohibited. Excerpts and links may be used, provided that full and clear credit is given to Kasey Bell and Shake Up Learning with appropriate and specific direction to the original content on ShakeUpLearning.com. See: Copyright Policy.