More Blended Learning with Google!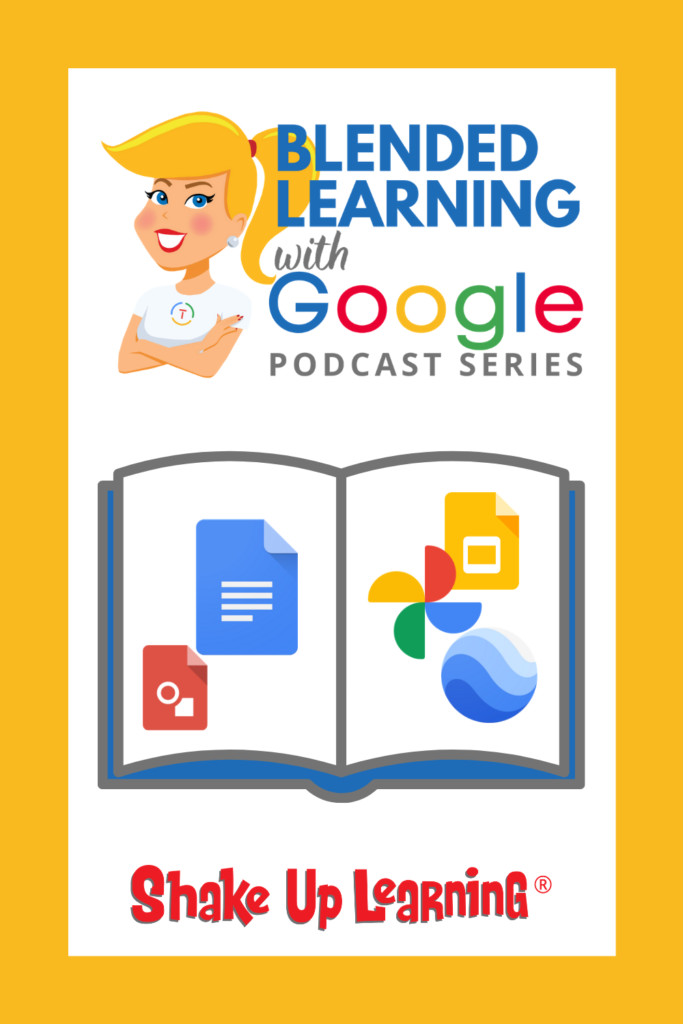 In part two of this podcast series, we will take a deep-dive into storytelling with Google tools and how we can use this strategy in any grade level or subject area.
Storytelling might be my very favorite strategy for teachers because it is so flexible, engaging, and creative!
And get a sneak peek of Kasey's new book, Blended Learning with Google!
Did you miss part 1 in this 3-part series?
Listen to Part 1: Do This, Not That! here.
Access the entire series on this page: Blended Learning with Google Podcast Series.
Listen to this article.
Shoutout
I'd like to send a shoutout to @PrincipalTeacherCo on Instagram for sharing her thoughts on the Shake Up Learning book!
Quick Tip of the Week (Master Slides)
In Google Slides, you can use the Master Slide to adjust the theme to your liking, add images, links, and other information that will appear of all of your slides. This is a HUGE time-saver for teachers.
Watch this short video to learn how!

Blended Learning with Google (Part 2)
In part 1 of this series, we shared the foundations for dynamic blended learning. This week, we are going deeper into strategies.
We are going to jump into one of the most prolific teaching strategies that you can have in your teacher toolbox, and that is storytelling.
Storytelling can be used in any subject area or grade level!
Students can retell events in their own words; students can change perspectives; students can invent and create stories told in brand new ways.
No matter the grade level or subject area we teach, we need to see our students as storytellers.
Kindergartners can create picture books or alphabet books.
Physical education students can explain health concepts, exercises, or rules of a sport.
History students can retell a historical event.
Language arts students can retell a story or novel from a different point of view.
Science students can explain the steps in their experiment.
Of course, any student can creatively write original stories, narratives, and autobiographical pieces.
Everyone has a story to tell, and with technology at our fingertips, there are hundreds of ways to tell these stories.


Storytelling with Google Tools
Google tools are a perfect companion to bring student's stories to life.
Writing Stories with Google Docs
There are so many amazing digital tools that teachers can use to support writing in the classroom. As a former writing teacher, I can't help but geek out a little at all the possibilities. But when it comes to Google, and Google Docs, in particular, there are some excellent tools to help teachers and students throughout the writing process.
Writing with technology matters! Students not only need to learn how to write, but they need to learn how to write with technology. Writing with technology will help prepare students for the future as well as allow them to do things that just aren't possible on paper:
Digital collaboration
Digital workflow
See the revision history and process
Research
Give them student ownership of learning
Publish for a global audience
Increase engagement and motivation
Google Docs also gives us many tools to go BEYOND simple substitution with:
spelling and grammar check,
version history,
suggesting edits,
dictionary tool,
teacher comments and feedback, and
student comments and feedback.
Related: 9 Ways to Improve Writing with Google Docs
Storytelling with Google Slides
Y'all know I love Google Slides! It's the perfect storytelling tool!
Try these storytelling strategies:
Storytelling with Stop-Motion Animation in Google Slides (Taught in the Google Slides Master Class, and soon to be released Blended Learning with Google companion course.)
Storytelling with Comic Strips in Google Slides or Google Drawings
Storytelling through interactive timelines in Google Slides
Storytelling with Other Google Tools
Honestly, you could probably find a way to tell a story with many of Google creation tools. Here are a few more ideas:
Storytelling with Google Photos –create a collage, albums, gifs, videos, and more.
Storytelling with Google Earth–travel the globe!
and more!
Want more Blended Learning with Google?
Get Kasey's book, Blended Learning with Google: Your Guide to Dynamic Teaching and Learning.
---
What are your favorite storytelling strategies? Share in the comments below.
Podcast Question of the Week
© Shake Up Learning 2023. Unauthorized use and/or duplication of this material without express and written permission from this blog's author and/or owner is strictly prohibited. Excerpts and links may be used, provided that full and clear credit is given to Kasey Bell and Shake Up Learning with appropriate and specific direction to the original content on ShakeUpLearning.com. See: Copyright Policy.
Shake Up Learning QUICKSTART GUIDE
Join the email list to get the latest information about the Shake Up Learning Book AND Get the FREE 20-Page Quickstart Guide that will help you Shake Up Learning in your classroom this year!