Online teaching is DIFFERENT! Let's prepare for the new normal with some online teaching best practices, tips, and tools.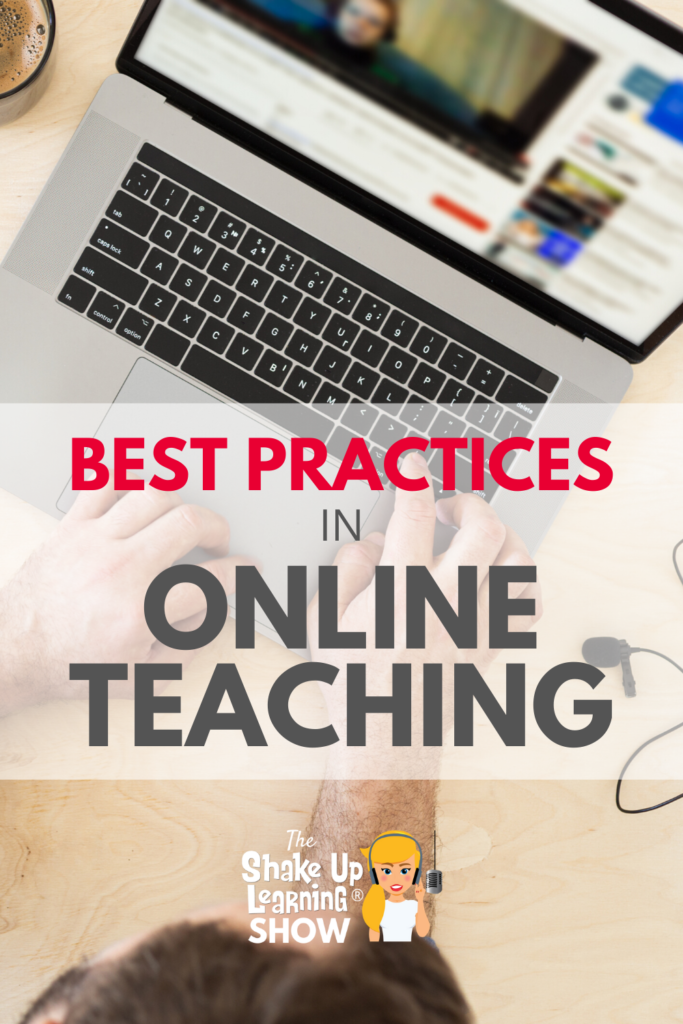 In this episode, Kasey shares her best tips for teaching students online.
COVID-19 has changed education forever, and now it's time to regroup and redefine teaching and learning.
We don't know what school will look like in the fall, but I believe education as we know it will forever be changed.
We have to think differently about online learning experiences for our students.
Are you ready?
As we begin to plan for the new normal, let's take a closer look at some best practices to help teachers and students in the post COVID world.
Listen to this article:
Shoutout
Joanie Musser left a great comment on Facebook about Shake Up Learning, and I wanted to send her a shoutout!

Enroll in a Shake Up Learning course.
Join us for a FREE Shake Up Learning Book Study! (Starts June 18)

Quick Tip of the Week – Adding files to multiple folders in Drive
Have you ever wanted to add a file to multiple folders in Google Drive? You can, and it's super easy!
Go to Google Drive and select a file you want to appear in more than one folder.
Use the keyboard shortcut Shift+Z to make the "Add to" dialogue box appear. Navigate to the subsequent folder in My Drive you want to appear.
Use the ADD button to add the file to the subsequent folder and it will remain in the original folder too.
This is only an option in My Drive as Team Drives do not allow files in multiple folders.
Watch this 2-minute video to learn how!
Online Teaching Best Practices, Tips, and Tools
Today, I am going to share some of my online teaching best practices, tips, and tools with you. During the COVID-19 emergency school closures, teachers had to learn on the fly and do the best that they could with no training or preparation.
As we approach the summer months and plan for the fall semester, and whatever the new normal is, I wanted to take some time to share my own online teaching strategies.
We cannot replicate the school day in an online environment. We have to think differently about our assignments, engagement strategies, and support. Fully online teaching is DIFFERENT!
The Power of Reflection for Teachers
Reflection is a critical part of the learning process for students and for teachers to improve their craft. Take the time to reflect on what went well, what didn't, and how you can approach remote learning possibilities in the fall.
What lessons went well?
What lessons bombed?
What went well during remote learning? What didn't?
What did you learn about your students?
How did you engage students?
How did you communicate with students and families?
How can you improve?
If we don't take time to reflect, we risk repeating mistakes. Let's make sure we improve as we move forward.
Set Clear Expectations for Your Students (and Parents)
Think about back to school, when you usually give students your class rules, expectations, syllabi, and orientation of the school and classroom procedures. How will this look in an online environment?
Record an orientation video, including a welcoming message with your smiling face, and record your screen with a tool like Screencastify to show students and parents where to find things online.
Explain how you will distribute lessons and assignments
Explain due dates and the turn-in process
Explain any policies from your school: privacy, acceptable use, recording, etc.
Set clear expectations about communication, where to communicate and find help, the acceptable language to communicate, and other digital citizenship reminders.
Define Your Learning Goals
With COVID-19 forcing us into survival mode, we were lucky to accomplish what we did. But when we return to the new normal, there will be higher expectations across the board.
When you plan your online learning experiences for your students, begin with the end in mind!
Begin with the learning outcomes and goals. Rewrite these into student-friendly versions to students and parents. Students should understand the "why" behind the lesson, as well as parents who may be assisting from home.
Be sure to include the student-friendly learning goal in your assignment package. Meaning, if you post your assignments in Google Classroom, Seesaw, Canvas, or wherever, be sure to include all the pertinent information and files in one location. In Google Classroom, add this to the instructions in your assignment.
Synchronous v. Asynchronous Learning
Synchronous Learning: students are engaged in learning at the exact same time. This can be face-to-face, online, or blended. For example, every student must join a Zoom call at 9:00 for a live lesson. Synchronous is very difficult when students are at home, where we cannot control the home learning environment.
Asynchronous: students are engaged in learning at different times, offering more flexibility for schedules and learning needs. This is usually online or in a blended learning environment. For example, the lesson video is posted online, and students can watch at different times.
My advice is to record all lessons and videos if you can. This will give you more flexibility and allow more students to watch, even when they can't attend live.
Pre-Recorded Lessons (usually for asynchronous learning)
Live Lessons (if recorded, allow for both synchronous and asynchronous)
Keep in mind that online teaching requires you to be more concise and give additional context since you are not there to facilitate. You have to give more. Teachers who are used to giving a 45-minute lecture in a face-to-face environment (BORING!) will find that they lose their students even more quickly online. It is much harder to engage students in an online environment. Just because you make it digital or put it online, doesn't mean that the lesson is any better. In fact, it most likely gets worse.
You have to break down the concepts into meaningful, bite-sized chunks, with additional context, and packages with supporting resources. You want to try to answer any questions that might arise preemptively. Answer these questions in your video, and in the instructions online. This comes back to the importance of reflection. Use the questions you received from students to drive the creation of your new video lessons.
Student Choice in Online Learning
Giving students voice and choice in their learning has never been more important. Choice in online learning will help us tap into different learning needs and styles and offer more flexibility.
In episode 56, Home Learning with Choice Boards, I interviewed Laura Steinbrink about how she was using choice boards for home learning. Laura used choice boards to offer both online and offline choices for students who didn't have access. Choice boards can also give students enrichment opportunities.
Must Do/Can Do: When offering choice, you can explain what activities students MUST DO, and offer some optional activities for enrichment, which we call CAN DO. This can take many forms, like a Tic-Tac-Toe, a simple list, or whatever you want to create. (Check out this Teacher's Guide to Digital Choice Boards to learn all about choice boards.)
You can also direct students to special accommodations and differentiate for students. (See also How to Differentiate Assignments in Google Classroom.)
Self-Directed Learning
Self-directed and self-paced learning can also be helpful for secondary students or students who need less support. I teach online, self-paced courses, so this is a strategy I use often.
When creating self-directed assignments, include as many types of supportive media as you can–video, text, images, support articles, links, etc. to support the process.
I use a strategy I call How To/Now Do for many of my self-paced courses. This works especially well for when I'm teaching how to use Google tools like Google Classroom or Google Slides.
The "How To" is my lesson video. The "Now Do" is the practice, try it on your own. (You can see the screenshots below from my Google Classroom Master Class.)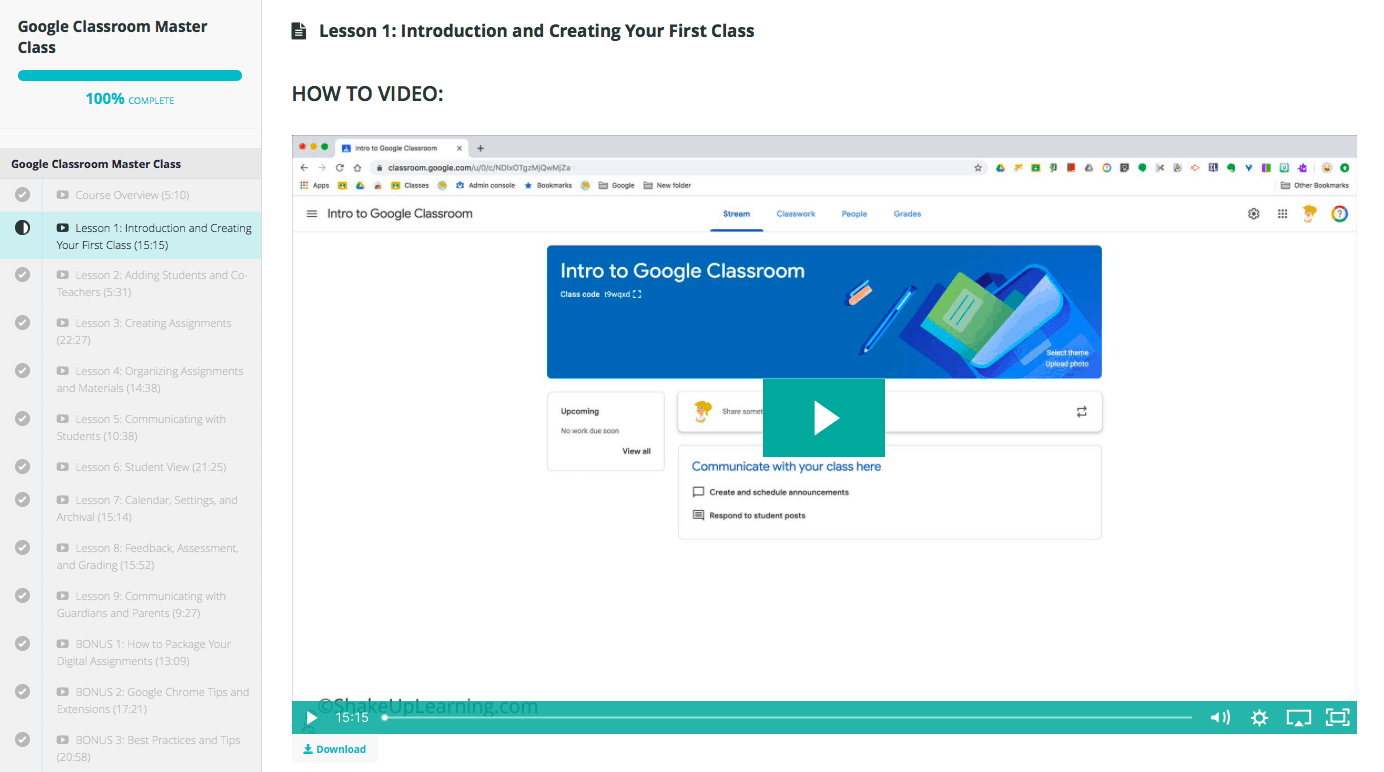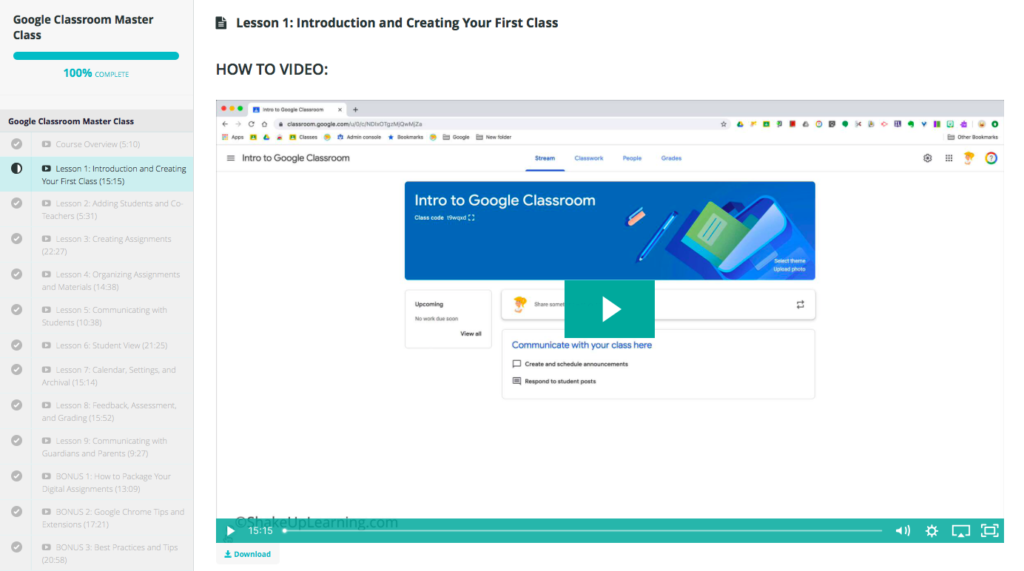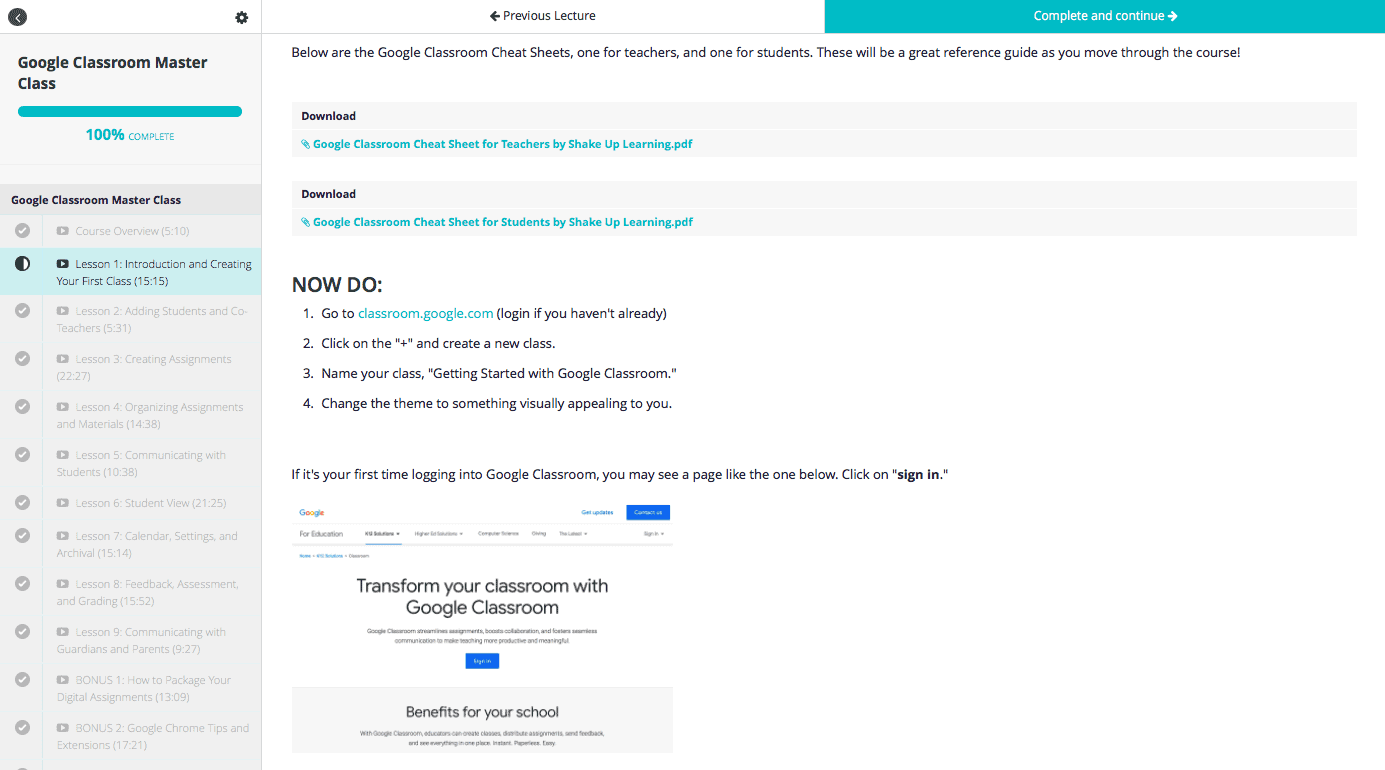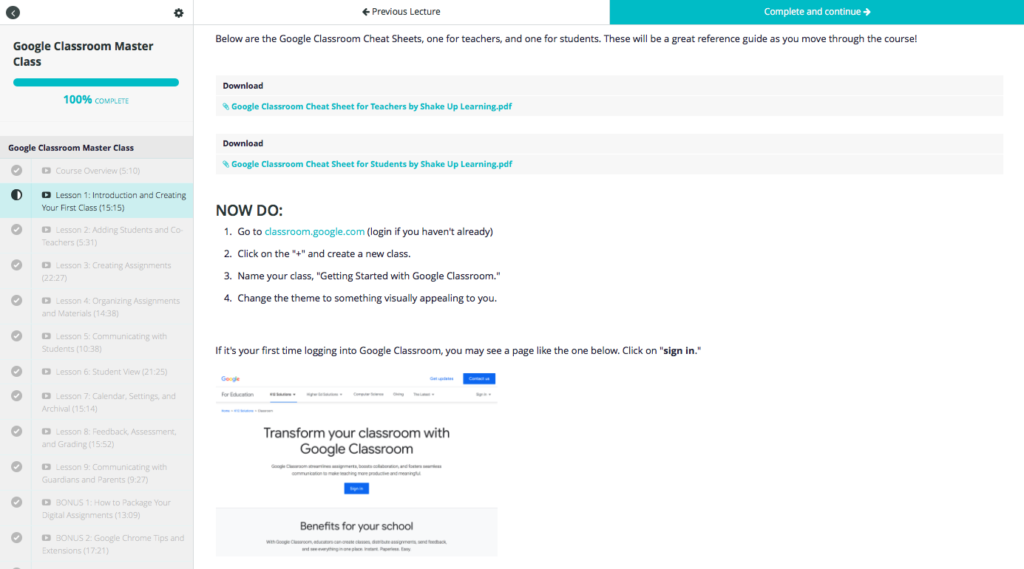 With self-directed or self-paced learning you will to have clear and open communication with your students. For instance, giving students the ability to post and comment in Google Classroom when they run into snags. This will allow both the teacher and other students to help each other. Offering online office hours is another great idea, so students know when and where to get support.
Teaching students how to find answers to their own questions is empowering and quite possibly one of the best skills we can give our students.
Student Engagement
Student engagement was a big challenge during remote learning. How will you improve?
The number one thing we need to remember is the importance of relationships. Consider ways to connect with each student, get to know them, and build relationships. You want your online class to feel like a community–talking, sharing, and supporting one another—build-in support for conversations, ice-breakers, and support for social-emotional learning.
Give your class time for these asynchronous activities, questions, and conversations. Be sure to explain to students how and why you are doing this.
Student Reflection
Reflection is a critical part of the learning process. Remember to create reflection opportunities for students to share and talk about their learning. This may be a simple post or comment in Google Classroom, a blog post, a Google Doc, or even a video. This should be a requirement with every learning experience.
Student Portfolios
Portfolios are a great way to get a full picture of student learning. These could be showcase portfolios, growth portfolios, or anything in between. Online learning presents us with a unique opportunity to build student portfolios.
Mike Mohammed shared some great tips and ideas for using Google Sites for student portfolios in this guest blog post.
With the younger students, the maintenance and posting to portfolios will mostly fall on the teacher. But secondary students should be creating and maintaining these themselves. And BONUS! They will learn basic web design skills along the way!
Podcast Question of the Week
---
Ready to Learn More About Google Classroom?
Perfect for the beginner to intermediate skill levels! Consider this your video guide to Google Classroom!
Click here to learn more and to ENROLL TODAY!
---
Learn All About the Course
---
Who Should Join the Google Classroom Master Class?
Beginners can learn everything they need to get started.
Intermediate level users can focus on learning more advanced features, tips and tricks, and best practices.
Go at your own pace.
Let's dig in! This class is for all skill levels!
What's Included in the Google Classroom Master Class?
Self-paced
Video-based lessons
5 BONUS Lessons
PDF Downloads
Supporting Resources
Best Practices and Tips
6 hours of professional learning credit
Bulk license discounts – visit GSuiteTrainingforSchools.com
Get your whole team, campus, or district on board
Click here to learn more and to ENROLL TODAY!
---
Training for Schools
We also offer group, campus, and district licenses to help get all your teachers on board!
Learn more: GSuiteTrainingforSchools.com
---
© Shake Up Learning 2023. Unauthorized use and/or duplication of this material without express and written permission from this blog's author and/or owner is strictly prohibited. Excerpts and links may be used, provided that full and clear credit is given to Kasey Bell and Shake Up Learning with appropriate and specific direction to the original content on ShakeUpLearning.com. See: Copyright Policy.