Around the U.S., teachers are gearing up for back to school–gathering ideas, planning lessons, and getting their classrooms (and virtual classrooms) ready for learning.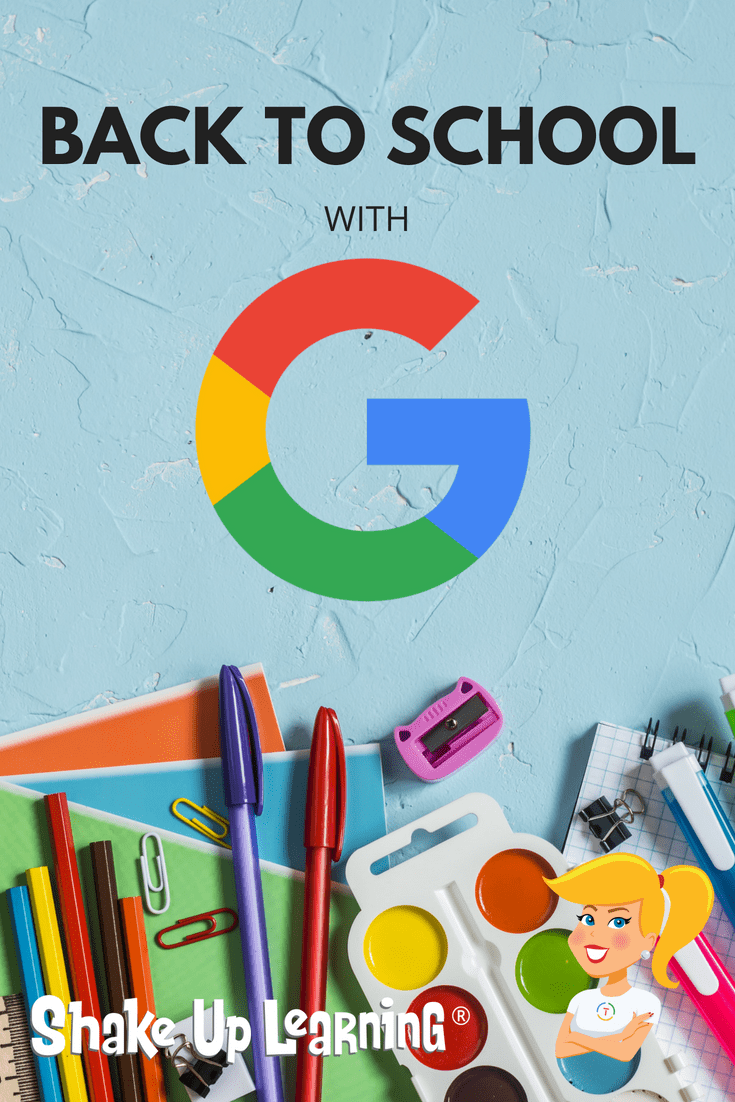 Google tools can help you kick off the school year, get organized, and have some fun.
So I thought now was a great time to share a few "back to school" online activities with my favorite Google tools.
No matter what grade level or subject area you teach, there are always a few ways that Google tools can help you and your students save time and get creative–even during remote learning!
This episode kicks off our 3-part Back to School series! Don't miss part 2 and part 3!
Below are a variety of ideas to help get to know your students, build relationships, do some goal setting, create, and play some games.
Be sure to share your favorite ways to use G Suite for back to school in the comments!
Here are six ideas for going Back to School with G Suite.
Listen to this article.
Shoutout
I'd like to send a huge shoutout to @edtechcoachchristy (Christy Haskins) on Instagram for sharing the G Suite for School Leaders webinar. Thanks, Christy!
Follow @ShakeUpLearning on Instagram.
Quick Tip of the Week (How to Create a Template Link)
I love little URL hacks that make Google even better! This is a quick way to create a template link to share online and with other teachers. (Note: you don't need this link for students if you use Google Classroom.)
I've written about this tip in-depth here, but here's the quick tip version.
CLICK HERE to watch a 2-minute video.
Back to School with G Suite: 6 Online Activities
1. Student Survey with Google Forms
One of the most important things teachers can do during the first few weeks of school is to build relationships with their students. We want to know what they like, what they don't like, where they struggle, and their learning style.
There are lots of ways to get to know your students, but Google Forms is a great way to gather some basic information and keep it organized in a spreadsheet.
The answers to some of these types of questions may not be something students are comfortable sharing with the entire class, so a Google Form is a great way to give students a safe space to share.
Depending on what age you teach, these questions will vary. Below are some ideas to get you started.
What do you want me to call you in class? (preferred first name)
What is your favorite color?
What is your favorite food?
What are you passionate about?
If you could learn anything at school, what would you choose to learn?
Do you like to be recognized for your accomplishments in front of the class?
What characteristics do you like in a teacher?
Is there anything that you struggle with in class?
What do you do if you don't know how to answer a question or problem?
What do you do if you don't know how to complete your online assignment?
How do you learn best?
What do you want me to know or understand about you?
Do you prefer to work in groups or on your own?
Do you like to read aloud?
What are your favorite books?
Do you enjoy reading?
Do you like online learning? Why or why not?
---
2. Google Slides Weekly Planners and Checklists
Have you seen Slides Mania? This site is quickly becoming one of my favorite resources for Google Slides templates. They have released many fun templates to help teachers create and organize lessons.
I love this Weekly Planner for Online Lessons! This planner gives you an interactive way to share the week's lessons with your students, and it's super cute!
This isn't one specific activity for students, but a way to organize and distribute all the activities.
Click on a number to go directly to that lesson. The template even gives you space to add an instructional video, directions, and images.
CLICK HERE to get the Slides Mania template.
Google Classroom tip! Grab the link to the assignment in Google Classroom and add it to your planner or checklist, so students aren't searching for it. Here's a quick video tutorial!
---
The beginning of the school year or semester is the perfect time to build a growth mindset and set some goals with students.
Visualization is one of the most powerful exercises for the mind and for reaching your goals.
A vision board is a collection of images and words that represent the things you want in life–the things you want to do, the things you want to learn, the things you want to be.
Vision boards also support Dynamic Learning and the ISTE Standards for Students! This is just one small way we can empower learners in our classrooms this year.
Through my book, Shake Up Learning, and the Dynamic Learning Model and Framework, I shared some ways to go BEYOND, including a mindset to take learning BEYOND the BELL. One strategy to go BEYOND the BELL is to have students set their own learning goals.
As the teacher, you can help students write their own learning goals, both goals aligned to what they are learning in class, and also BEYOND. What problems would they like to solve? What's something they've always wanted to learn?
Remember to revisit the vision boards on a regular basis so students can see how far they've come and where they still want to go.
Google Slides is the perfect medium for creating digital vision boards, and you can get all the details in this previous blog post. (P.S. Vision boards are also great for teachers and professional learning goals!)
See also: Student-Created Vision Boards with Google Slides
---
One topic we always seem to discuss the first couple weeks of school revolves around what students did over the summer break. I've got a fun way to get kids creating and sharing their summer through the Summer Magnetic Poetry activity.
Summer was a bit different for all of us this year, but it's fun to share and get to know your students.
You know…those fun little magnets that challenge you to create a poem with just a small word bank (usually on the refrigerator)?
You can use magnetic poetry with a theme, like, "What did you do over the summer?" Or try the Halloween or Winter versions later in the year.
Even if you don't teach poetry, this template can be used as a quick game or challenge.
In addition to giving you this FREE template, I'm also giving you a FREE mini-course tutorial to show you exactly how I created this activity using Google Slides and Google Drawings.
Now, you can create whatever kind of magnetic poetry you want and use whatever vocabulary works with your curriculum.
This template is easy to use and revise to make it your own. It contains a lot of essential words and some fun, summer words. The word bank is on the second slide so students can easily copy and paste from the word bank onto the background slide. (Great for practicing copy and paste skills!)
Click here to view the template. | Click here to make a copy.
---
5. Fake Instagram with Google Slides
In January, Carly Black shared a guest post and Fake Instagram template in Slides inspired by Lisa Johnson.
This template is great for creating profiles and telling stories. Consider using this as a "get to know you" activity with your students, or let them tell the story of their summer.
If you have never used templates in Google Classroom, here's a tutorial to help you understand how it works.
Get the Fake Instagram Template for Google Slides
Make a Copy | Use Template Link
CLICK HERE to learn how Carly used this activity with her students. 
---
6. Building a Community with Hyperdocs!
I love the Hyperdocs gals, The Hyperdoc Handbook, and they have some great hyperdocs for back to school!


I also love the Building a Community Hyperdoc as a beginning of the year activity.
New to Hyperdocs? Here's what you need to know: "HyperDocs, a transformative, interactive Google Doc replacing the worksheet method of delivering instruction, is the ultimate change agent in the blended learning classroom. With strong educational philosophies built into each one, HyperDocs have the potential to shift the way you instruct with technology. They are created by teachers and given to students to engage, educate, and inspire learning. It's not about teaching technology, it's about using technology to TEACH."
(Note: There are several links files in this Hyperdoc. You will need to make a copy of each one that you would like to use.)
Check out this curated Wakelet from Lisa Highfill.
Check out last year's Back to School with G Suite podcast:
Podcast Question of the Week
---
What are your favorite Back to School activities? Please share in the comments below.
---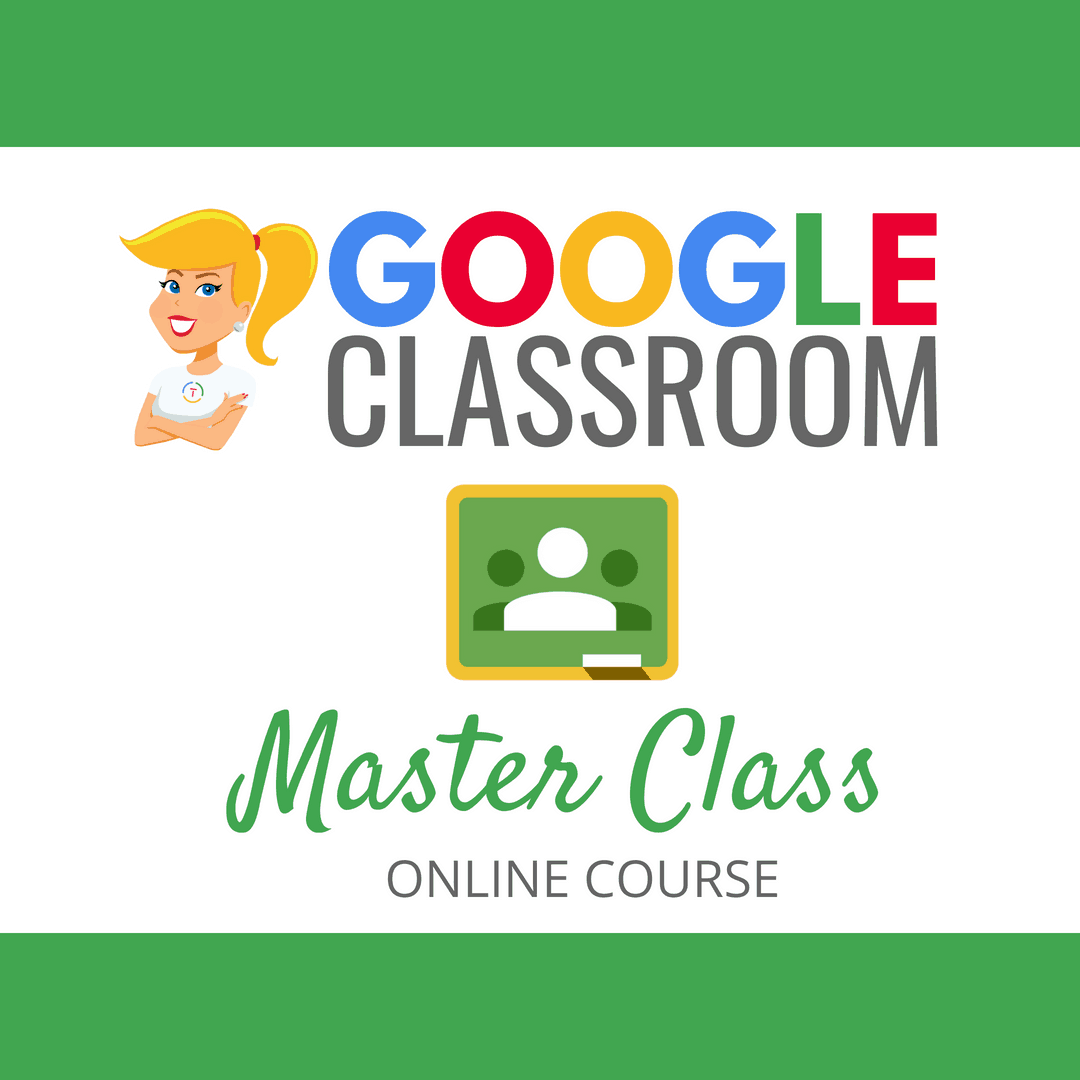 Learn all about the new updates to Google Classroom and take your skills to the next level. This course will give you everything you need to get started using Google Classroom and best practices to help you make the most of this tool.
Perfect for the beginner to intermediate skill levels! Consider this your video guide to Google Classroom!
NEW Bonuses just added on Google Meet integration and Remote Learning tips!
Click here to learn more and to ENROLL TODAY!
---
Learn All About the Course
Who Should Join the Google Classroom Master Class?
Beginners can learn everything they need to get started.
Intermediate level users can focus on learning more advanced features, tips and tricks, and best practices.
Go at your own pace.
Let's dig in! This class is for all skill levels!
What's Included in the Google Classroom Master Class?
Self-paced
Video-based lessons
6 BONUS Lessons
PDF Downloads
Supporting Resources
Best Practices and Tips
6 hours of professional learning credit
Purchase orders are accepted
Bulk license discounts
Get your whole team, campus, or district on board
---
Click here to learn more and to ENROLL TODAY!
© Shake Up Learning 2023. Unauthorized use and/or duplication of this material without express and written permission from this blog's author and/or owner is strictly prohibited. Excerpts and links may be used, provided that full and clear credit is given to Kasey Bell and Shake Up Learning with appropriate and specific direction to the original content on ShakeUpLearning.com. See: Copyright Policy.