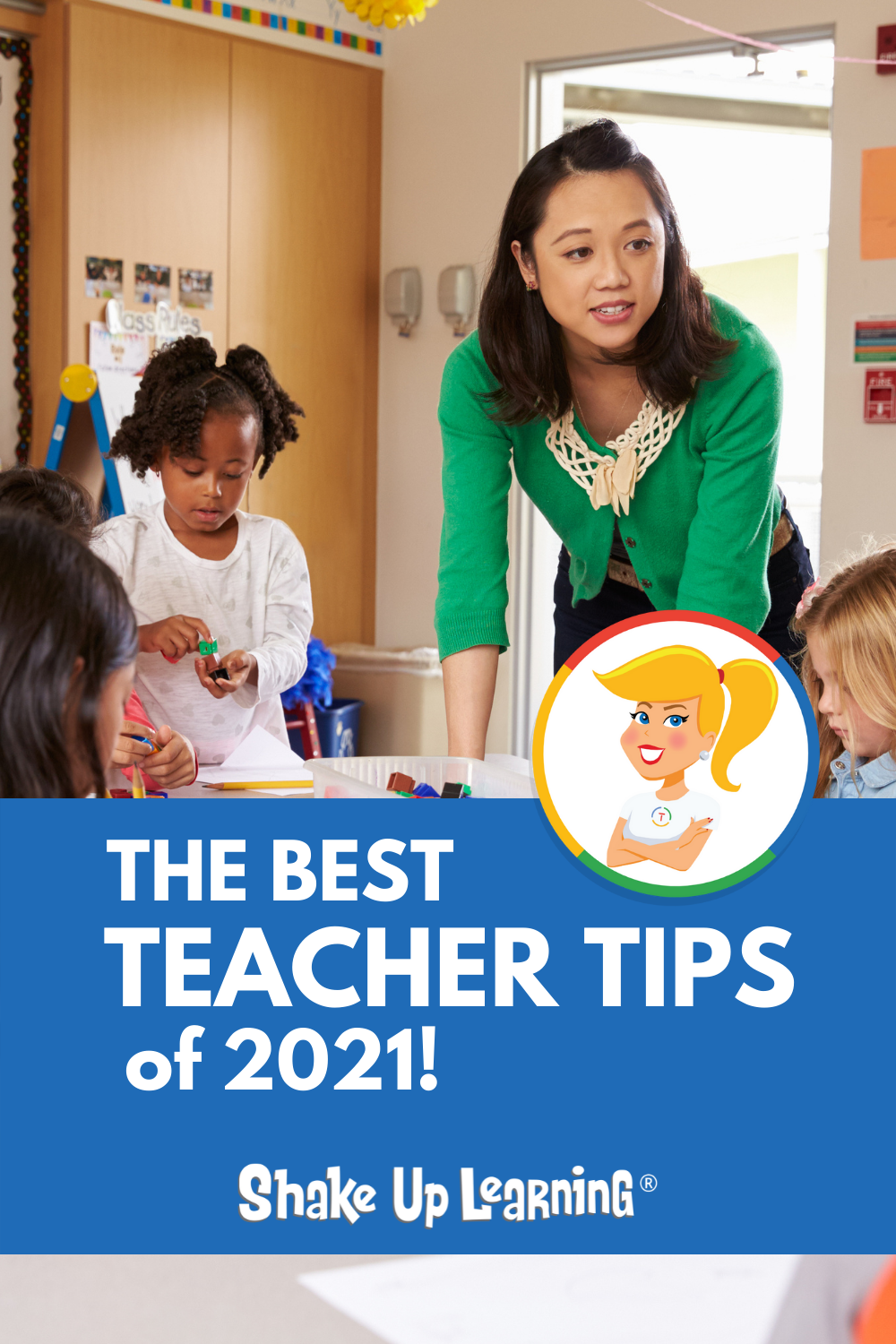 Here are the BEST Blog Posts and Podcasts of 2021!
I have put together a list of the BEST and most popular Shake Up Learning blog posts and podcast episodes from 2021.
These posts are loaded with the BEST teacher tips and lesson ideas of the year.
A special thank you to all the Shake Up Learning readers and listeners. Y'all rock!
And thank you for dawning your superhero capes to carry our students through ANOTHER tumultuous year!
Let's take some time to reflect on the positive and make 2022 the best year yet!
Reflection is a critical part of the learning process for teachers and students, so I like to take a look back.
I like to take a more in-depth look at what teacher tips, blog posts, and podcast episodes were the most popular and generated the most comments and traffic.
The goal of this blog has always been to provide teachers with digital learning resources, tips, and tricks, and help teachers find ways to integrate technology meaningfully in the classroom.
This list helps me decide what content to create and how to best help teachers in 2022.
What Do YOU Want to See in 2022?
I want to serve my audience! Help me better serve you by completing this short, 60-second survey. (The form is also embedded at the bottom of this post.)
This survey is your chance to let me know more about you and what you need in 2022.
---
The Top 20 Posts of 2021
Drumroll please…Here are the most popular blog posts and podcast episodes of the year!
In this post and podcast episode, you will find 27 Formative Assessment Tools for Your Classroom! This list has a wide variety of features and options to help you solidify your formative assessment strategies! Many of the tools below are great for both formative and summative assessments.
This is a post that I update every year, and it is always at the top of the list! Learn about 85+ applications that integrate with Google Classroom.
Fill Out the Form Below to Get Your FREE Cheat Sheets!
In this post and video tutorial, I will show you how to create a custom header with Google Drawings, give you a FREE template, and show you how to upload it into Google Classroom!
Digital badges can help us engage students (even remote learners). Learn what digital badges are, when to use them, and how to implement them in your classroom.
This post and podcast episode includes 15 collaborative tools for your classroom that are NOT Google. Collaboration is a critical twenty-first-century skill for our students. Finding ways to facilitate and support collaboration in the classroom is not always easy.
In this post and episode, I will give you 20 Ways to Use Google 20 Ways to Use Google Drawings in the ClassroomDrawings in the Classroom.
Let's explore ways to tap into the 4 C's and get students creating with Google Drawings.
I share this tip often during presentations, and just talking about it doesn't do it justice. You have to try it! When I demo this feature, it never fails to get some jaw drops with some ooooohs and aaaaahs!
Student Portfolios are the epitome of Dynamic Blended Learning and going beyond the due date because they are never "done." As students learn and grow throughout the year, new work is added to their portfolio to showcase their best work or to show growth over time.
In this episode, I'm sharing the must-have Google skills for teachers who use Google Classroom. Let's learn how to make the most of Google Classroom–gain must-have skills, and a few tips and tricks to help you and your students thrive.
In this episode, I'm sharing the must-have Google skills for teachers who use the Google Chrome web browser or Chromebooks. Google Chrome is the learning environment for all things Google and sets the stage for success.
Do you ever get confused by all the options for sharing in Google Drive and Google Workspace for Education? I've got the guide for you! In this 15-page guide, I break down the three steps to sharing, as well as the six levels of sharing in Google applications. Also, learn how to restrict sharing, set expiration dates on sharing, and more!
There are so many ways to use Google Forms beyond a standard survey or quiz. Learn how you can use Google Forms to engage students in new ways, use powerful add-ons, and save valuable time!
Mote is a fantastic (and FREE) Chrome extension for teachers. Learn how Mote helps support ELLs, STEM, and helps engage ALL students with 15 Ways to Use Mote in the Classroom.
In this guest post and interview with Lisa Johnson (a.k.a. Tech Chef 4 U). Lisa shares a great Google Slides template and lesson idea — The Fake Blog Post!
That's right! With this one little trick, you can search right from the search box (aka the Omnibox) in Google Chrome.
In this episode, I'm sharing my best tips and ideas for creating and using digital choice boards in the K-12 classroom. I'm also sharing choice board examples and product ideas.
Google made some HUGE announcements about your favorite Google products in 2021, including Google Classroom and officially Google Workspace for Education (and other updates you need to know!)renaming G Suite as Google Workspace for Education. I'm breaking it all down so you understand what's coming, and how it affects you and your students.
Learn all about the free templates that Sarah Kiefer has created and curated, get tips for adapting templates for your classroom, and learn how to create your own templates!
As teachers, your time is precious. You only have so much time with your students, and you want to maximize that time for learning. We don't want to end up wasting valuable time searching for documents, websites, or setting up our lessons. We need to use technology to help us save instructional time, not add to it.
In this episode, I share The Blended Learning with Google Toolkit, a free download to help teachers create dynamic, blended learning experiences for students with Google tools. I will walk you through each step, share proven strategies, and recommend the right Google tool for the job. Get access to this FREE PDF download that aligns technology integration strategies with Google tools!
---
Got one minute? Leave us some feedback below.
© Shake Up Learning 2023. Unauthorized use and/or duplication of this material without express and written permission from this blog's author and/or owner is strictly prohibited. Excerpts and links may be used, provided that full and clear credit is given to Kasey Bell and Shake Up Learning with appropriate and specific direction to the original content on ShakeUpLearning.com. See: Copyright Policy.