Google just made some HUGE announcements about your favorite Google products, including Google Classroom and officially
renaming G Suite as Google Workspace for Education.
I'm breaking it all down so you understand what's coming, and how it affects you and your students.
During "Learning with Google," a free online learning event for educators, Google shared a lot of updates to our favorite Google products.
We have updates to Google Classroom, Google Meet, Chromebooks, and even Google Forms!
Some of these updates are here, and many are coming later in 2021.
Details are in the podcast and the blog post below.
Listen to this article.
Shoutout
Thank you to Rose Ann Behson, a graduate of the Google Certified Educator Level 1 Academy for sharing this testimonial:
"Passed 1st time with time to spare! Thanks so much! I felt totally prepared after this course. Now on to Level 2….I already purchased the training! 😊"
Learn more: GetGoogleCertified.com
Quick Tip (Mute ALL in Google Meet)
Did you know you can mute ALL the participants in your Google Meet?
Watch this quick video to learn how!
Subscribe to Shake Up Learning on YouTube
Google Workspace for Education (and other updates you need to know!)
G Suite for Education is now officially Google Workspace for Education. (I wish they would quit renaming it!)
What is Google Workspace for Education?
I have a Google Doc that outlines the basics of what Google Workspace for Education is, what it includes, and more.
CLICK HERE to make a copy of "What is Google Workspace for Education?"
Related: What is Google Workspace for Education – an explanation for teachers.
Google Workspace for Education is available in many different editions, including free and paid options.
Google Workspace for Education Fundamentals

: a suite of tools that can help you increase opportunities for critical thinking, communication, collaboration, and creativity, all while supporting the learning objectives that you have for your students. These tools are free, ad-free, reliable, and secure. They are already used by millions of students in schools around the world. Of course, free is great, but the best thing is that these tools are relevant to students, easy to use, and open doors to many new ways to learn.

Google Workspace for Education Standard

: a paid upgrade that includes everything in Education Fundamentals plus advanced security and analytics.

Teaching and Learning Upgrade

: a paid upgrade that includes everything in Education Fundamentals plus advanced video communication, enriched class experiences, and tools to drive academy integrity.

Google Workspace for Education Plus (formerly G Suite for Education Enterprise)

: a paid upgrade that includes everything in Education Fundamentals plus advanced security and analytics, enhanced teaching tools, and more.
Learn more about what's included in each edition here.  

Changes to Google Drive Storage
Unlimited storage is going away. The new storage model will provide schools and universities with a baseline of 100TB of pooled cloud storage shared across all of your users. This policy will go into effect across all Google Workspace for Education editions for existing customers in July 2022 and will be effective for new customers signing up in 2022
Files created or edited in collaborative content creation apps like Google Docs, Sheets, Slides, Drawings, Forms and Jamboard. 
Only files created or edited after June 1, 2021 will count against your quota. 

Files uploaded or last edited before June 1, 2021 will not count against your quota. 
Learn more about storage here.
Related: 13 Tips to Organize Your Google Drive
Google Classroom Updates
Google Classroom was originally built to simplify blended learning, but it has now become a more robust learning management system. Below are the details on the Google Classroom updates coming in 2021.
It's important to note that most of these updates are based on feedback from teachers like you!
Add-Ons (available soon)

: Soon, for teachers using

Google Workspace for Education Plus or Teaching and Learning Upgrade

, Classroom add-ons will let them choose their favorite EdTech tools and content from a marketplace and assign it to students directly inside Classroom — all without extra log-ins. Admins will also be able to install add-ons for teachers in their domains.

Track student engagement (coming later this year): To give teachers visibility into which students are engaged and which are falling behind, Google is launching student engagement tracking. Educators will be able to see relevant stats about how students interact with Classroom, such as which students submitted an assignment or commented on a post on a particular day.
Offline (coming later this year):

Google is updating the Classroom

Android

app to work offline or with intermittent connections. Students will be able to start their work offline, review assignments, open Drive attachments, and write assignments in Google Docs — all without an internet connection.

Submit better pictures of homework (coming later this year): With an increase in the number of images uploaded to Classroom — especially from students taking photos of paper assignments, Google is making it easier to attach and submit photos in the Classroom Android

app and for teachers to review. Students will be able to combine photos into a single document, crop or rotate images, and adjust the lighting.

Improved grading on mobile (coming later this year): More teachers are using mobile devices to give feedback on the go. Google is improving how you use Classroom to grade on Android, including the ability to switch between student submissions, grade while viewing an assignment, and share feedback.
Rich text formatting (coming soon): Teachers and students (on web, iOS and Android) will soon be able to customize Classroom assignments and posts using rich text formatting — including bold, italics, underline and bullets.
Originality reports in new languages (coming soon): Originality reports help students turn in their best work, while making it easy for instructors to detect potential plagiarism. Soon they'll be available in 15 languages including English, Spanish, Portuguese, Norwegian, Swedish, French, Italian, Indonesian, Japanese,  Finnish, German, Korean and Danish, Malay, and Hindi.
CS First integration (now available)

: CS First is Google's free, introductory computer science curriculum. You can now import student rosters from Classroom into a new CS First class and students can sign in using a Google account.

Set up classes in advance with SIS roster syncing (coming later this year): Provisioning classes for an entire school system can be time-consuming. Later this year, admins using Education Plus will be able to create classes and populate and sync rosters directly to Classroom from their Student Information System (SIS).
Streamline grade entry (coming later this year): Grade Export, which is available to eligible Skyward and Infinite Campus customers, is coming to Aspen SIS

. This will allow teachers to track grades and push them from Classroom's Gradebook to their SIS, eliminating the need to put grades in two places.

Google Admins:

Get deeper insights with Classroom audit logs (coming soon): With audit logs, admins can get to the root of Classroom-related issues and pinpoint instigating events, such as who removed a student from a class or archived a class on a specific date. Classroom audit information will soon be available directly in the Admin Console.
Analyze Classroom activity logs (coming soon): Admins using Education Standard or Education Plus can soon get deeper insights about Classroom adoption and engagement. Admins will be able to easily schedule exports of Classroom audit logs to BigQuery, where they can get adoption and engagement insights. Google is also building a customizable Data Studio template to help admins visualize Classroom data.
Learn more about Google Classroom Updates here.
Related: Get the FREE Google Classroom Cheat Sheets for Teachers and Students
Google Meet Updates
Mute All (rolling out now)

: The ability to mute everyone on a call and end a call for everyone attending. This is rolling out soon and will come to education customers first. 

Emoji reactions (by August): S

tudents will be able to more easily engage and express themselves with emoji reactions in Meet.

Meeting transcripts (later this year): Teachers will be able to receive meeting transcripts, share transcripts with students, review what was discussed during class or maintain a record for future reference.
End Meeting for Everyone

: Teachers will soon have the option to end meetings for everyone on the call, preventing students from staying on after the teacher has left — including in breakout rooms.

Moderation Controls on Mobile (coming this year)

: In the coming months, educators using tablets or mobile phones to teach will also have access to key moderation controls, like who can join their meetings or use the chat or share their screen, directly from their iOS or Android devices. 

Classroom and Meet will work together even better (later this year):

Every meeting created from Classroom is going to be even safer by default. 

When meetings are generated from Classroom,

students won't be able to join before the teacher

. 

Meet will also know who's on the Classroom roster, so

only students and teachers in the class will be able to join

. 

And every teacher in Classroom will be a meeting host by default

, so if there are multiple teachers, they'll be able to share the load of managing the class. 

And later this year,

meetings that aren't started from Classroom will also support multiple hosts

, making it easier to partner with others helping facilitate the class.

Policies for who can join your school's video calls (coming this year): In the coming months, Google be launching new settings in the Admin console so school leaders can set policies for who can join their school's video calls, and whether people from their school can join video calls from other schools. 
Google Meet Audit Log (now available): The Google Meet audit log is also now available in the Admin console. In the coming months, Google will be adding more information to these logs — like an external participant's email address — so admins can better understand how people are using Meet at their school. For educators with  Education Standard or Education Plus licenses, they are also making improvements to the investigation tool. Admins can now access Meet logs in the investigation tool, so they can identify, triage and take action on security and privacy issues. And later this year, admins will be able to end any meeting within their school from the investigation tool as well. 
Google Meet on low bandwidth improvements (coming): Because unreliable internet connections can make remote teaching and learning more challenging, they are also improving Meet to work better if you have low bandwidth. 
Improved performance on Chromebooks: Google has also made significant improvements to the performance of Meet on Chromebooks

. These include audio, video and reliability optimizations, better performance while multitasking and more. The improvements will make it easier for educators and students to choose a feature like grid view, where they can see images of other Meet attendees without affecting the performance of other apps. So if students are taking notes in a Google Doc while in a Meet, or running a Kahoot! game at the same time, they'll be able to see everyone. (By the way, they are also improving how Zoom works on Chromebooks.)

Schedule breakout rooms in Google Calendar (coming): They are also making additional improvements for educators with Teaching and Learning Upgrade or Education Plus licenses. Rolling out over the next few months, educators will be able to set up breakout rooms ahead of time in Google Calendar

. This will make it easier for teachers to prepare for differentiated learning, be thoughtful about group dynamics and avoid losing valuable time setting up breakout rooms during class.
Learn more about Google Meet updates here.
Chromebook Updates
Screen recorder (coming in March)

: Chrome OS will come with a built in screen recording tool (coming in the latest Chromebook update in March). With this tool, teachers and students can record lessons and reports in the classroom and at home. 

40 new Chromebooks (coming in 2021):

Many of them include convertible Chromebooks that function like a laptop and a tablet, and come with a  stylus, touchscreen, and dual-cameras for students to take notes, edit videos, create podcasts, draw, publish digital books and record screencasts. Every new Chromebook is equipped to deliver exceptional Google Meet and Zoom experiences — right out of the box. Google is designing devices that can better support students with limited access to the internet, or in countries with strong mobile broadband networks. These devices, called Always Connected devices, have an LTE connectivity option that allows you to connect via your preferred cellular network.

New accessibility features (coming soon): Making education products that work for all students, also means creating accessibility features

. And it turns out these features are helpful to everyone — including people with disabilities. ChromeVox, a full-featured screen reader, has

new features including improved tutorials, the ability to search ChromeVox menus, and smooth voice switching that automatically changes the screen reader's voice based on the language of the text. 

 

Google Admins:

Chrome Education Upgrade unlocks access to Google Admin Console

, making it possible for schools to centrally manage massive fleets of Chromebooks. Now, there are over 500 Chrome policies in Google Admin Console, including new ones like Zero Touch Enrollment, which make it easier to deploy and manage Chromebooks at scale — even remotely.

The Chromebook Resource Guide is now available to help you find the right Chromebook for whatever you're looking for — whether it's in-class learning, virtual learning, or devices for faculty and staff.

 
Learn more about Chromebook updates here.
Google Forms Updates
(Sorry, this one didn't make it into the podcast, but definitely worth mentioning here.)
Save draft responses (coming in 2021): Google also announced that we will soon be able to save draft responses in a Google Form and submit it later. (Yay! We've been wanting this a long time!)
What updates are you most excited about? Please share in the comments!
---
Google A to Z: The Google Glossary for Teachers
Want to Learn More About Using Google Tools in the Classroom?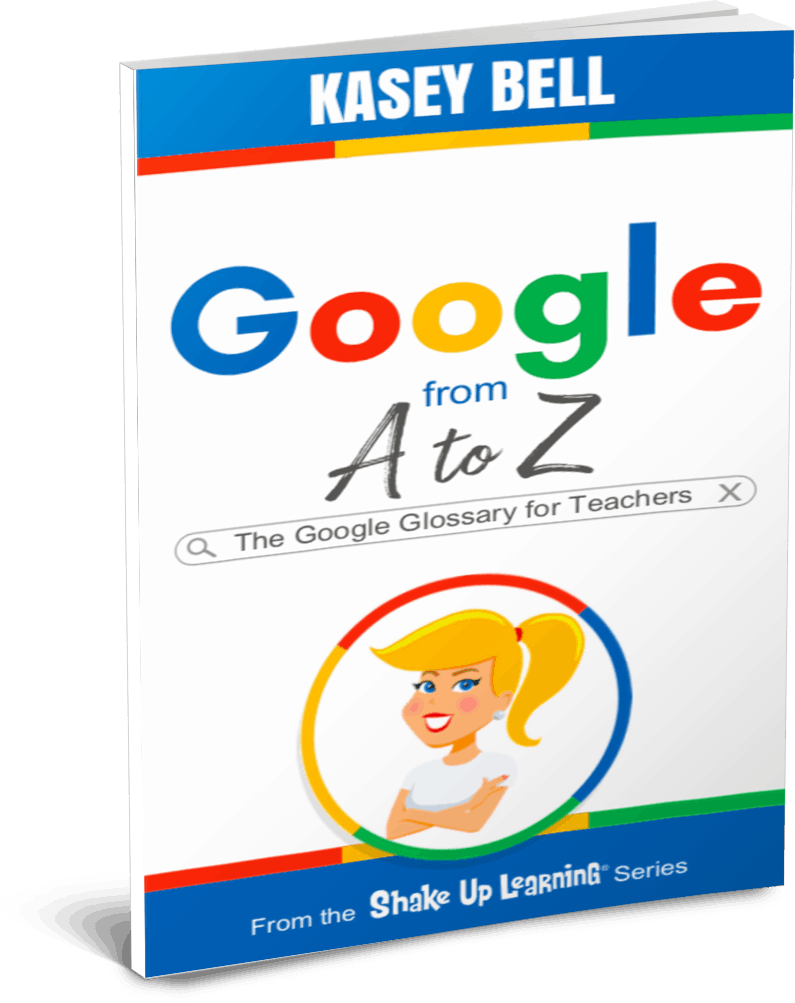 Learn more about all the Google tools available for teachers and students in Google from A to Z: The Google Glossary for Teachers!
Technology doesn't have to be complicated, especially with the Google from A to Z 40-page handy reference guide in your back pocket.
If your school has "Gone Google," then chances are you are aware of some of the most popular productivity tools, such as Docs, Slides, and Gmail. But Google offers so much more!
There are so many fun and engaging tools that you may not know about, and no matter what digital devices you use to support teaching and learning, you will find valuable tools to add to your teacher toolbox in this handy supplement.
Think of this as your Google dictionary–a glossary of Google tools and programs just for teachers and students!
© Shake Up Learning 2023. Unauthorized use and/or duplication of this material without express and written permission from this blog's author and/or owner is strictly prohibited. Excerpts and links may be used, provided that full and clear credit is given to Kasey Bell and Shake Up Learning with appropriate and specific direction to the original content on ShakeUpLearning.com. See: Copyright Policy.