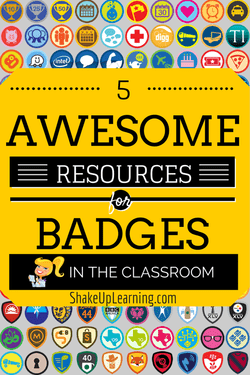 Gamify Your Classroom With Digital Badges!Adding game mechanics to your classroom doesn't have to be complicated. Digital badges are a great way to get started with gamification. Recognize learning achievements in your classroom with badges to motivate and challenge students to reach the next level. (Tip: Badges are also very motivating for teachers!)
There are several different approached to using badges in the classroom. Some websites and apps are strictly for creating and awarding badges, and some, more robust systems offer badges within their system. The following resources are just a start for those that are new to gamification, and all are iPad-friendly. I've included links and related resources as well.
---
Credly allows teachers to create badges, upload their own designs, and give credit through their platform. This easy-to-use application is available as a
web version
,
iOS app
, and has an open API to allow integration with other platforms as well. Below is a great tutorial for using Credly by Molly Schroeder.
---
Mozilla Open Badges
Mozilla Open Badges are NOT proprietary like most systems. This means that any teacher can create and issue badges that do not have to be tied to a certain platform. Ready to see how it works? Take the
Badges 101
Quiz to earn your first badge.
---
For All Badges
For All Badges is an iOS app that works in conjunction with For All Rubrics to align your rubrics with badges. For All Badges also integrates with Mozilla's Open Badges platform, and allows students to save badges to their "backpack."
---
Edmodo
Edmodo is a full, social learning platform with over 35 million users. With so many teachers and students already on board, it is worth mentioning that badges are integrated into this platform. After logging in to your Edmodo dashboard, go to the top toolbar>progress>student badges to check it out.
---
Class Badges
Class Badges is one of the more popular badging platforms. Class Badges allow the teacher to easily award badges aligned with learning goals. The video below is a great introduction to get you started. 
---
Be sure to check out these related posts:
Teacher's Guide to Badges in Education from Edudemic is a great resource for learning more about badges.
What are your favorite gamification resources? How have you used badges in the classroom or in professional development? Please feel free to share in the resources below.
© Shake Up Learning 2020. Unauthorized use and/or duplication of this material without express and written permission from this blog's author and/or owner is strictly prohibited. Excerpts and links may be used, provided that full and clear credit is given to Kasey Bell and Shake Up Learning with appropriate and specific direction to the original content on ShakeUpLearning.com. See: Copyright Policy.