In this episode, I'm sharing the must-have Google skills for teachers who use Google Classroom.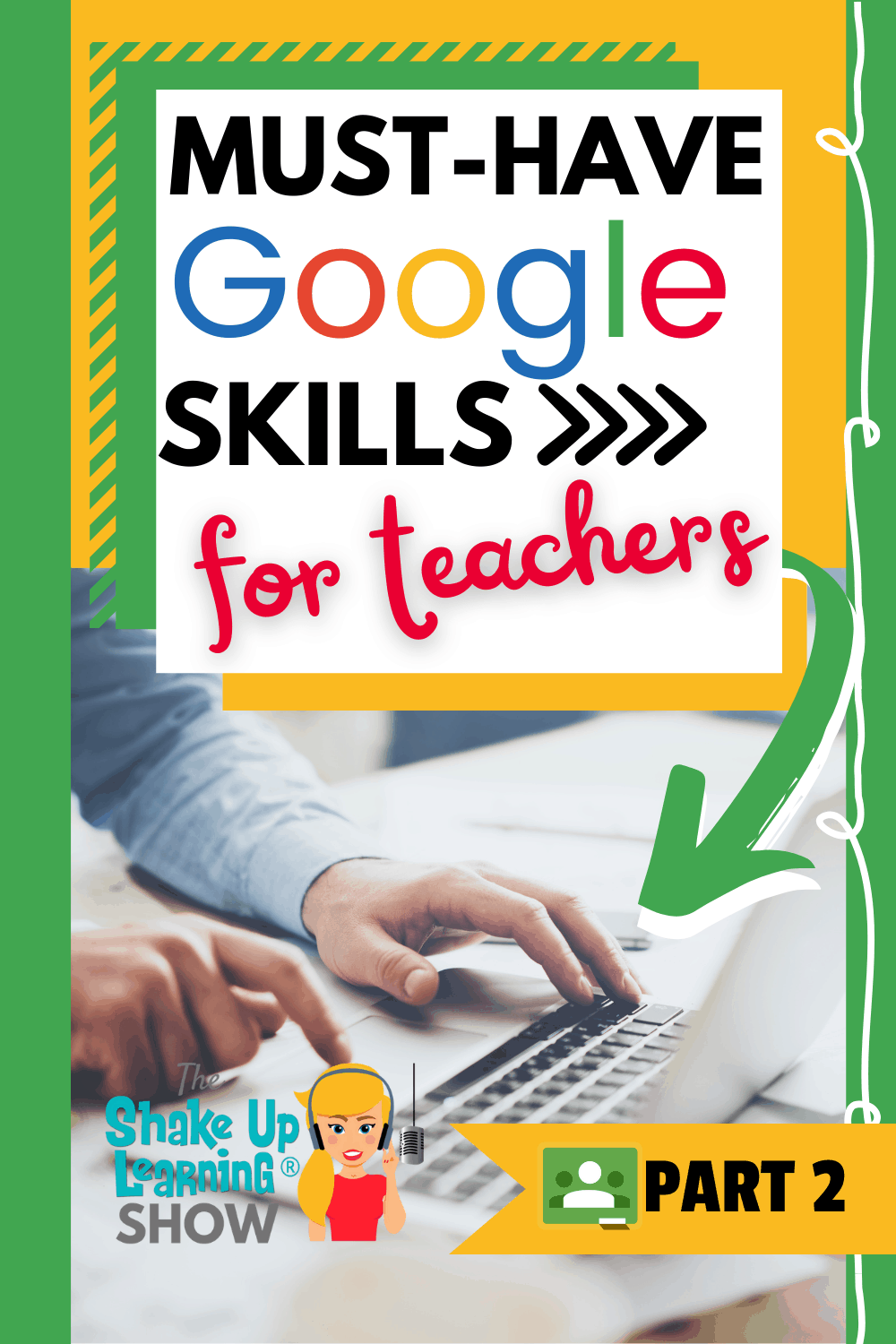 Let's learn how to make the most of Google Classroom–gain must-have skills, and a few tips and tricks to help you and your students thrive.
Google Classroom has evolved a lot over the years, and I have a lot of extra tips and resources for you in this blog post.
We are getting into the nitty-gritty of what teachers need to know and understand in Google Classroom.
(This is Part 2 of a 4-part series on Must-Have Google Skills for Teachers.)
Part 4 (Google Docs and Slides)
Listen to this article.
Shoutout
Thank you to all the educators in Washinton County Public Schools in Maryland participating in the Blended Learning with Google book study!
Quick Tip of the Week (Create a Custom Google Classroom Header)
Many teachers want to customize the header image that appears on the Stream page in Google Classroom. I've got a quick tutorial in the video below.
📺  Watch this quick video to learn how!
Subscribe to Shake Up Learning on YouTube
Must-Have Google Classroom Skills for Teachers
Google Classroom is an assignment manager and communication hub for teachers and students. Over the years, it has become a much more robust Learning Management System that many relied on during the pandemic.
The Google Classroom Cheat Sheets
In case you missed it, I created a set of Google Classroom Cheat Sheets for Teachers AND Students. They are completely FREE. Fill out the form below to download.

Related: Google Classroom FAQ
Create a class
If your school has a Google Workspace for Education account, you should use that email to create your classes. However, anyone over 13 years old can create a class using a personal Google Account.
At the top of the Classes page, click Add Create class.
Note: If you don't see Create class, your account only lets you join classes. Switch accounts or contact your Google Workspace administrator for help.
Enter the class name. (Think very purposely about the naming conventions you wish to use.)
(Optional) To enter a short description, grade level, or class time, click Section and enter the details.
(Optional) To add a subject, click Subject and enter a name or click one from the list that appears when you enter text.
(Optional) To enter the location for the class, click Room and enter the details.
Click Create.
Create Topics to Organize Your Classwork
Using topics in Google Classroom, you can organize the Classwork page into categories. These categories will help your students locate their assignments and resources.
Create a Topic
Click the classClasswork.
At the top, click CreateTopic.

Enter the topic name and click Add.
Related: 10 Google Classroom Tips You Didn't Know
Add a topic to assignments, quiz assignments, or questions
You can add only one topic to an assignment, quiz assignment, or question. If an assignment is posted to several classes, editing the assignment in one class doesn't update it in the other classes.
Click the classClasswork.
Next to the assignment, quiz assignment, or question, click More Edit.

Next to No topic, click the Down arrow  and choose an option:

To create a topic, click Create topic and enter a topic name.
To select a topic in the list, click the topic name.

Click Save.
I have an entire post on How to Organize Google Classroom. Take time to explore this post if you want more direction and organizational ideas.
Here's a quick overview of the most common ways to organize:
Organize by modules or unit of study
Organize by week
Organize by type of assignment (daily work, quizzes, tests, etc.)
Organize by subject areas (best for elementary)
Add a TODAY topic to the top
Organize by learning target
Of course, organization became even more important during remote learning. Check out these additional tips and strategies: 10 Google Classroom Tips for Remote Learning.
Related: Add Emojis to Your Topics and Assignments
Find the strategy that works best for you and your students.
Customize Your Stream Settings
Inside your class, go to the settings icon near the top-right to adjust the settings for your class.
Adjust Student Permissions
The default for Google Classroom allows students to post in the Stream, and comment on posts. During remote learning, you may find this feature helpful, or it may be causing issues. You decide what's best for your students.
Posts are ideas, questions, or information that students share. Students can add files such as images, links, or YouTube videos to their posts.
Comments are text-only responses to posts.
Students can't edit their posts or comments, but they can delete them. Teachers can delete any post or comment, and see deleted posts and comments.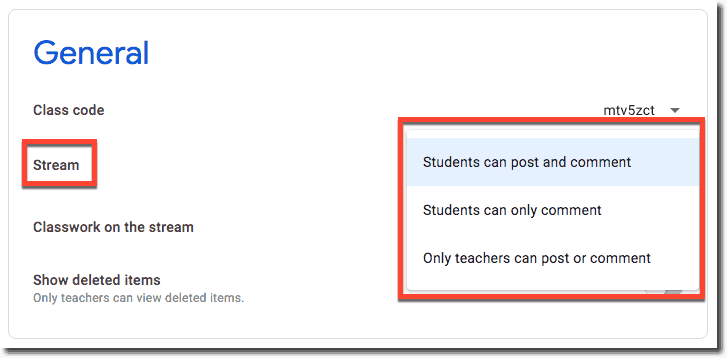 In the Class settings, under General, next to Stream, click "Students can post and comment" and then choose a permission:
Students can post and comment:
This option is the default. Students
can post to the Stream page and
comment on any item.
Students can only comment:
Students can comment on an
existing post, but can't create a post.
Only teachers can post or comment:
Students can't post or comment on the Stream page. This option mutes all students.
TIP: When discussing the use of student posts and comments, use this as a teachable moment to discuss online etiquette and digital citizenship skills.
(See also page 9 in The Google Classroom Cheat Sheet for Teachers.)
Classwork on the Stream Setting
Many teachers are annoyed with the Stream, where you can post announcements and see notifications of new items that have been added to the Classwork page.
Teachers can customize what appears on this page for each class. Inside your class, go the settings icon near the top-right and scroll down to the "General" Sections.
The Stream is your Google Classroom communication hub. This is where you post announcements and keep students informed.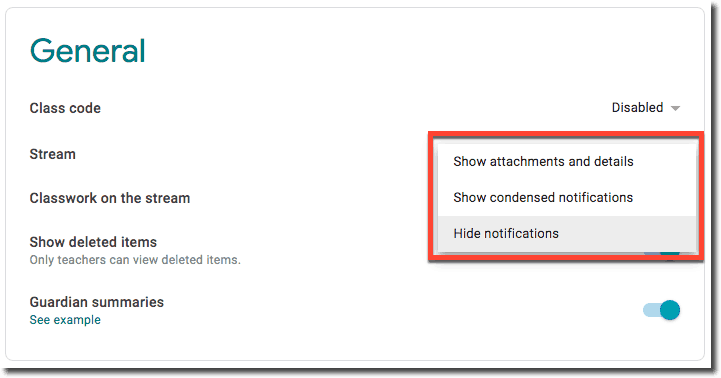 By default, the Stream will also show notifications of new items posted on the classwork page. For some, this feels like a duplication and can muddy up the stream. (Ha! See what I did there.)
If you're using the Classwork page, you can choose a collapsed or expanded view for Classwork notifications on the Stream page. You can also hide them entirely from the Stream page.
Go to classroom.google.com.
Click the class.
On the Stream page, click Settings.
Under General, next to Classwork on the stream, select an option:
You can learn more about all of the Class settings here.
Related: How to Package Your Digital Assignments
Create Assignments
Click the classClasswork.
At the top, click CreateAssignment.

Enter the title and any instructions.
You can continue to edit and customize your assignment. Otherwise, if you're ready, post, schedule, or save your assignment.
Related: 15 Google Classroom Tips for Teachers
Post Assignment to Multiple Classes
For those of you that teach the same subject across multiple class periods, you can create an assignment and distribute to multiple classes at once and save valuable time.
When you create a new assignment in Google Classroom,
1. Click the drop-down arrow next to the name of your class.
2. From here you can use the checkboxes to select each class that you would like to distribute the assignment.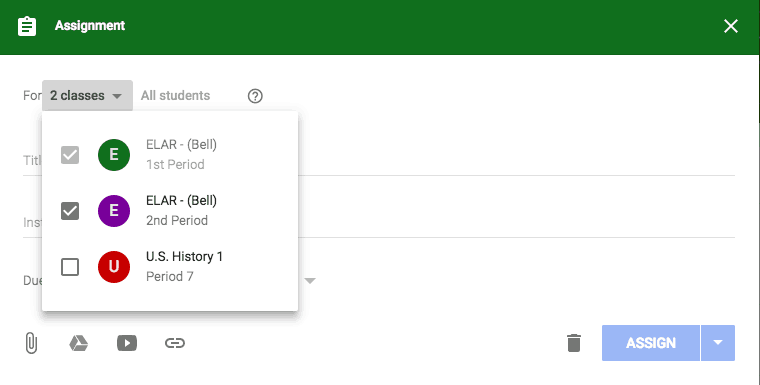 Notes:
If you need to edit the assignment, you will have to edit each assignment in each class, individually.
You can't post to individual students across multiple classes. Posts to multiple classes are shared with all students in the classes.
Schedule Assignments
Sometimes you need to create assignments ahead of time, so students don't see it in their feed or get an alert until you are ready.
1. Create your assignment.
2. In the bottom right, click the drop-down arrow and choose, "schedule."
3. Select the date and time you want the assignment to post.
4. Click, "schedule."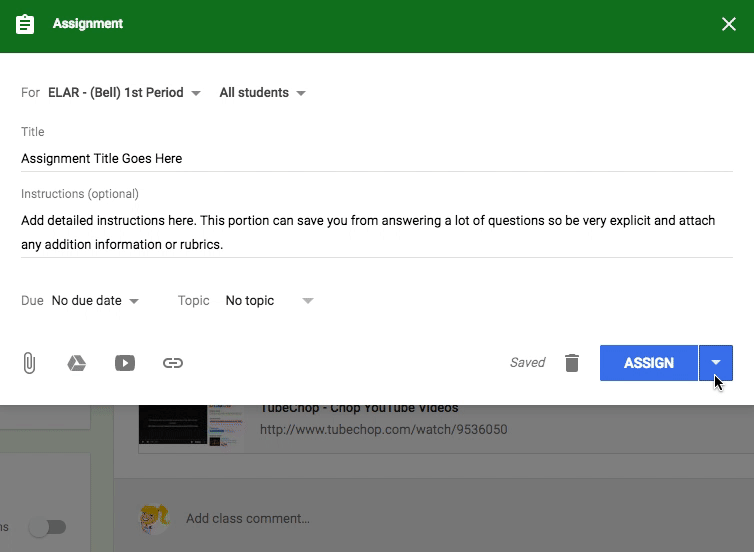 Notes:
Posts can only be scheduled for one class at a time. So if you want to schedule for multiple classes, these steps will have to be followed for each class. You can, however, save as a draft for multiple classes at once by selecting the checkboxes for each class.
Make Copies of Assignment Attachments
You can add attachments, links to outside resources and websites, YouTube videos, or Google Drive files to your assignment. When the file attachment is a Google Docs, Sheet, or Slide, you gain additional options for distribution and how students interact with the file.
After you select the Doc, Sheet, or Slide file, you will see a new drop-down menu option.

Students can view file—All students can read the file, but not edit it.
Students can edit file—All students share the same file and can make changes to it.
Make a copy for each student—(For Google Docs, Sheets, and Slides only) Students receive an individual copy of the file that they can edit. The student's name is automatically added to the document title. When a student turns in the assignment, the teacher sees the file labeled with the student's name.
Notes: 
The above options are for Google Docs, Google Sheets, and Google Slides only.
Once you click assign, you cannot edit these options. If you choose the wrong option, or simply change your mind, you will have to delete the assignment and start over.
If you attach a Google Forms quiz, grades can be imported directly to the Student Work page if there is no other attachment on the assignment.
Grade importing can't be enabled if there is another attachment on the assignment.
Invite Students
There are three ways for teachers to add students to your class.
1. Send an invite link—Students click the link to join.
Each class you create has an invite link. You can share the link with students so they can join your class.
Go to classroom.google.com.

On the class card, click More 

Copy invite link

.

Paste the link into an email for your students. When students get your email, they click the link to join your class.
2. Send an email invite—Students can join from the email or in Classroom.
You can send an email invite to individual students or to a group of students. Students can accept the invite in the email or in Classroom.
Note: To invite a group of students, you can use the email alias for the Google Group. You don't have to be a member or owner of the group, but you must be able to view group members and email addresses. If you can't view this information, ask your administrator to change the permissions.
Click the class you want to invite students to.

At the top, click PeopleInvite students .
Enter the email address of a student or group.
As you enter text, an autocomplete list might appear under Search Results.
(Optional) Under Search results, click a student or a group.
(Optional) To invite more students or groups, repeat steps 4 and 5.
Click Invite.
Note: If you have trouble adding an email address, it might be outside of your school's domain.
After you send the invite:
Your class list updates to show the names of invited students.

Your students can click Join in the email or on the class card.

3. Share a class code—Students enter the code in Classroom.
Each class you create has a class code. You can share the code with students so they can join your class. To share the code, paste it into an email, display it with a projector, or write it on the board.
Click the class

Settings 

.

(Optional) To copy the code so you can paste it into an email, under General, next to Class code, copy the code.

Along with the code, give the students these instructions:

Go to classroom.google.com.

On the 

Classes 

page, click Add 

Join class

.

Enter the code and click Join.
More Google Classroom Resources
---
(This is Part 2 of a 4-part series on Must-Have Google Skills for Teachers.)
Part 4 (Google Docs and Slides)
© Shake Up Learning 2023. Unauthorized use and/or duplication of this material without express and written permission from this blog's author and/or owner is strictly prohibited. Excerpts and links may be used, provided that full and clear credit is given to Kasey Bell and Shake Up Learning with appropriate and specific direction to the original content on ShakeUpLearning.com. See: Copyright Policy.