Let's face it. As teachers, your time is precious. You only have so much time with your students, and you want to maximize that time for learning.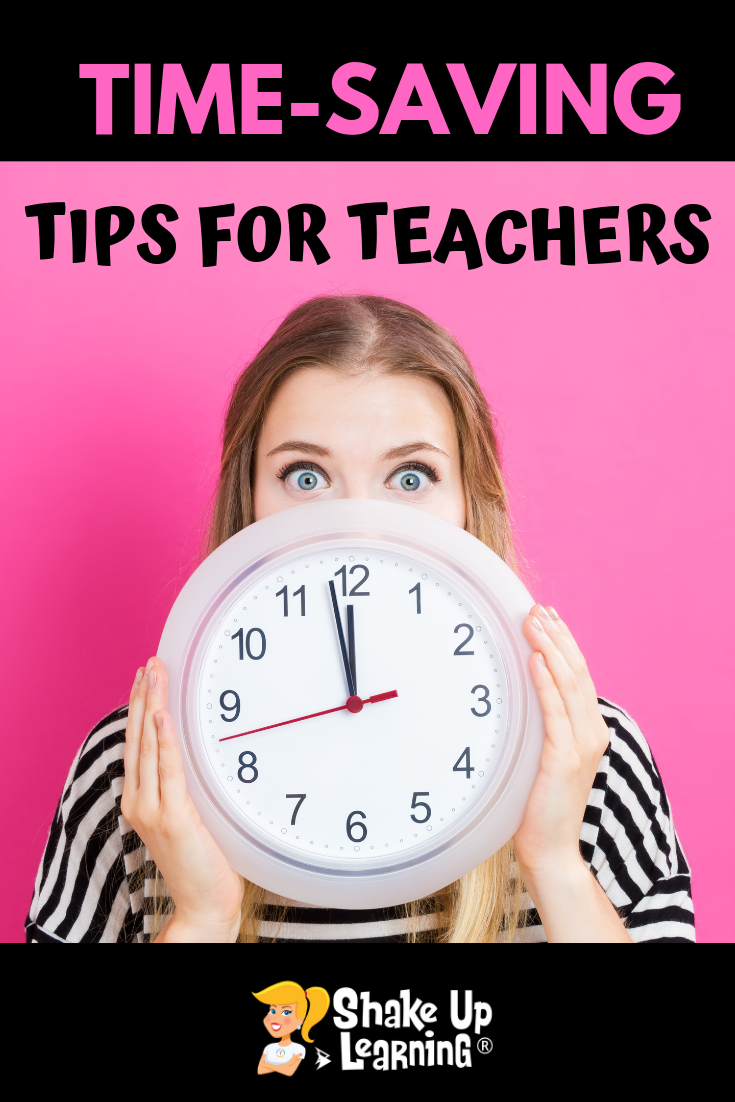 We don't want to end up wasting valuable time searching for documents, websites, or setting up our lessons.
We need to use technology to help us save instructional time, not add to it.
I asked the Shake Up Learning Community to share their favorite teacher time-saving tips.
This group of over twenty-thousand educators never fails to disappoint!
I highly recommend you join us so you can connect and learn from this impressive group.
And it's no surprise that these tips also happen to be very Googley!
Below you will find 10 excellent tips and tools to help you and your students save valuable classroom time.
This Episode Sponsored by Wacom
Wacom's intuitive and easy-to-use digital pen tablets and pen displays help teachers, and students, enhance classroom interaction and collaboration in all of today's learning environments – remote, hybrid, blended or in-person. Able to seamlessly connect with PC, Mac, or Chromebook computers and work with virtually any software, Wacom's family of digital pen products move easily between the physical and digital classroom and offer a natural writing and drawing experience to art, math, science, and language teachers seeking to build classroom interactivity and dialogue.
Listen to this article.
Time-Saving Tips and Tools for Teachers
Tip #1: Use Keyboard Shortcuts
If you have never taken the time to learn a few keyboard shortcuts, you really should. They can save you valuable time clicking around.
Google Chrome is the browser of choice, and there are many keyboard shortcuts to help you and your students navigate the web.
Note: Mac users, substitute Cmd for Ctrl in the keyboard shortcuts below.
Here are some of my favorites:
Ctrl + T = opens a new tab
Ctrl + Shift + T = reopens the last closed tab
Ctrl + (any number 1-9) = jumps to that tab in your window.
Ctrl + F = opens a search to find words on a page
---
You can find a complete list of Google Chrome keyboard shortcuts here for Windows, Mac, and Chromebooks.
I have also included a list of all of the keyboard shortcuts for Google Docs in the Google Docs Cheat Sheet that you can download here.
---
Tip #2: Use Classroom Screen
Classroom Screen is frequently shared by many teachers as a go-to favorite.
Classroom Screen is a web-based tool that gives teachers the ability to customize the webpage with their most-needed tools.
Quickly get a timer, text area, drawing tool, name picker, work symbols and more. Completely free.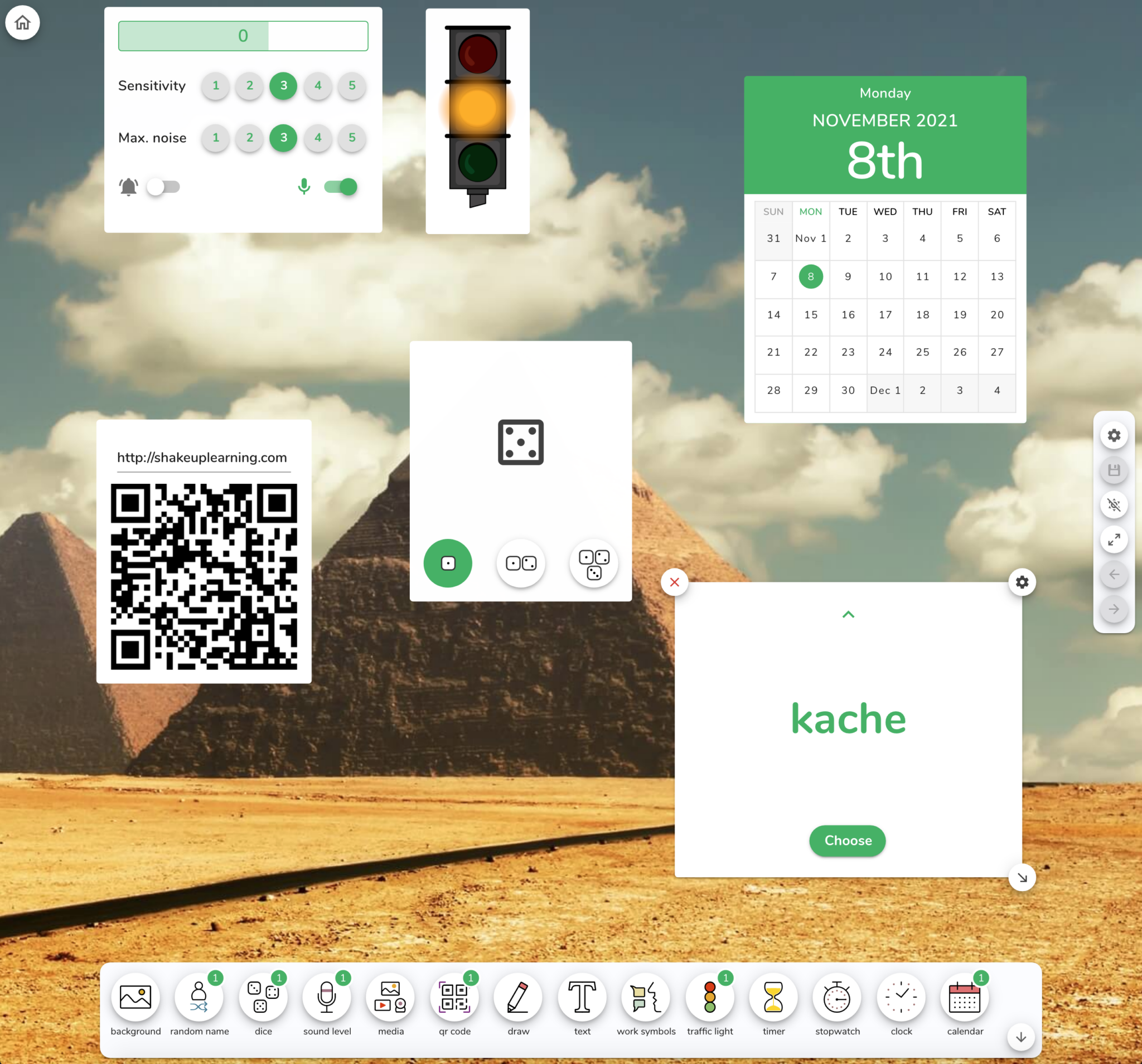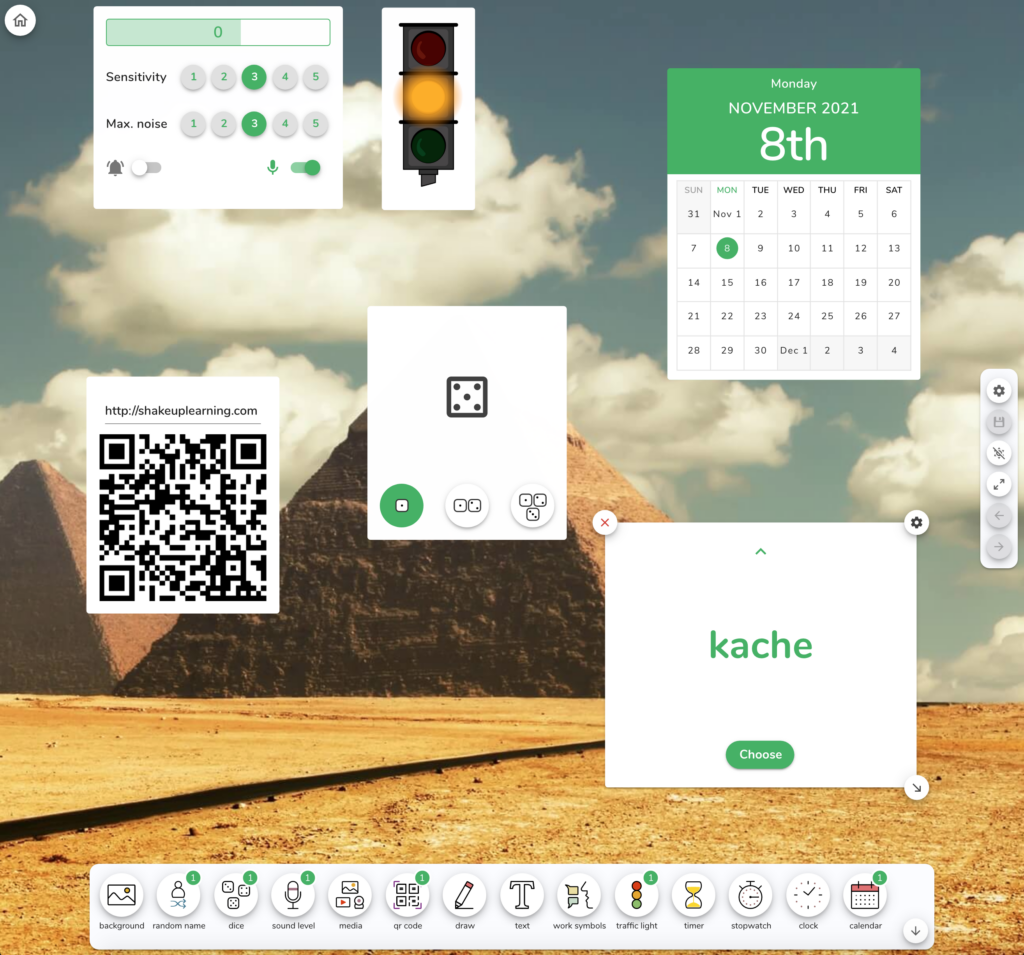 ---
Tip #3: Use the Chrome Bookmarks Bar
Chrome makes it easy to add bookmarks to the bookmarks bar, the bar directly below your search box which is called the Omnibox.
The bookmarks bar is a great place for your most frequently used websites and applications.
If you do not see your bookmarks bar, you can show it by using the keyboard shortcut Ctrl + Shift + B.
Not only can you easily add bookmarks to this bar by clicking and dragging from the icon at the front of the URL, but you can also create folders right there in the bar.
To add a folder, right-click on some blank space in your bookmarks bar and select "add folder."  You will then be prompted to name your folder. Tip: Keep it short and sweet!
Real estate in the bookmarks bar is very valuable, and sometimes you may want to edit the default names of your bookmarks to shorten or take it down to just an icon.
To edit a bookmark in your bar, right-click on the bookmark and select "edit." Here you can abbreviate your title, or just delete it if the icon is enough for you to identify your bookmark.

BONUS Tip: Click and drag your Google Classroom Classwork pages to the bookmarks bar for easy access!
The bar is not the only location for your bookmarks; you can also click on the star in the Omnibox to bookmark any page and save it elsewhere.
SHOW ONLY THE ICON IN THE BOOKMARKS BAR
---
Tip #4: Use Google Keep
Google Keep is quickly becoming a favorite teacher tool!
Google Keep is an online to-do list and note manager, and it saves to your Google Drive!
I frequently refer to Google Keep as the Instantpot of G Suite because it is so versatile.
Google Keep is also a part of G Suite for Education and is a great tool for students, especially secondary students.
Here you can keep track of not only your to-do lists and notes but also use the Save to Keep Chrome extension to save bookmarks to your keep notebook.
Teachers love to organize their bookmarks in Keep and use the labels to organize sites by class or subject area.
Learn more about Google Keep by getting this FREE Google Keep Cheat Sheet.
Keep is also a great place to save your notes from staff meetings and professional development.
AND, I love saving comments and images in Google Keep to use for student feedback. You can learn more about this method in my previous post, 4 Ways to Use Google Keep for Feedback and Assessment.
---
Tip #5: Use Chrome Profiles to Switch Between Google Accounts
Most teachers have more than one Google account, usually a personal and a school account.
You may have even more than two accounts as I do.
Logging in and out can be a huge time drain and really annoying.
The best way to toggle between accounts is by using a feature in Google Chrome called Chrome profiles.
Watch the video below to learn how to clean up the old, messy way and set up profiles for quick success!
Be sure you subscribe to Shake Up Learning on YouTube so you can access all of the latest tutorials and playlists!


---
Tip #6: Learn How to Search Your Google Drive
My Google Drive is not always the most organized, but that's okay.
I can find ANYTHING using the search inside of Google Drive.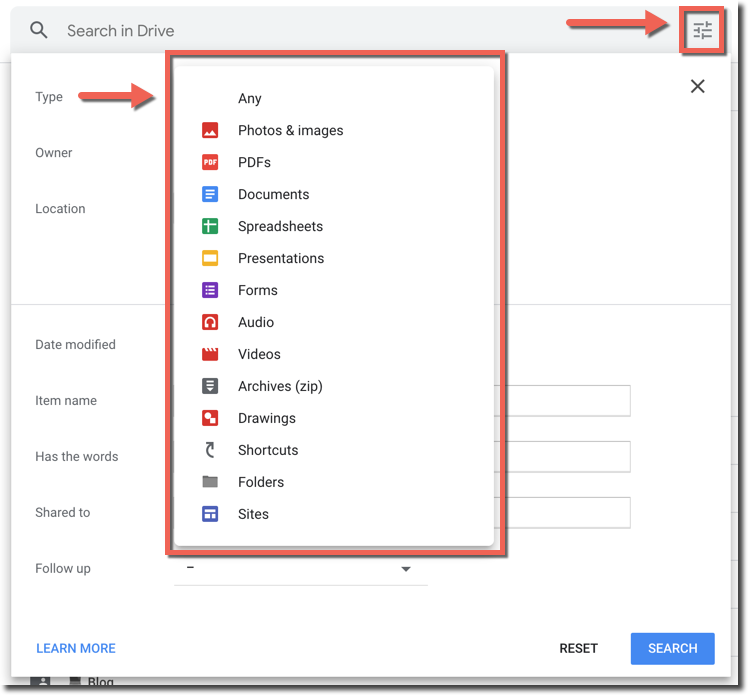 Even if I'm not sure what the file was named, who owns it, or the folder where I tucked it away, I can find it with the power of Google Drive.
Folders are great, but when you need to save valuable teacher time, just use the search!
Be sure you also click on that drop-down arrow in the search box to learn all the advanced searching fields.
I have an entire post on this to teach you all my tricks: 8 Fantastic Ways to Find Anything in Google Drive.
---
Tip #7: Use the Omnibox to Search Your Drive and Gmail!
Did you know that you can use the Chrome search box (aka the Omnibox) to search your Google Drive and Gmail?
Yes, you can!
This means you do not have to separately open Google Drive in order to search and open your files.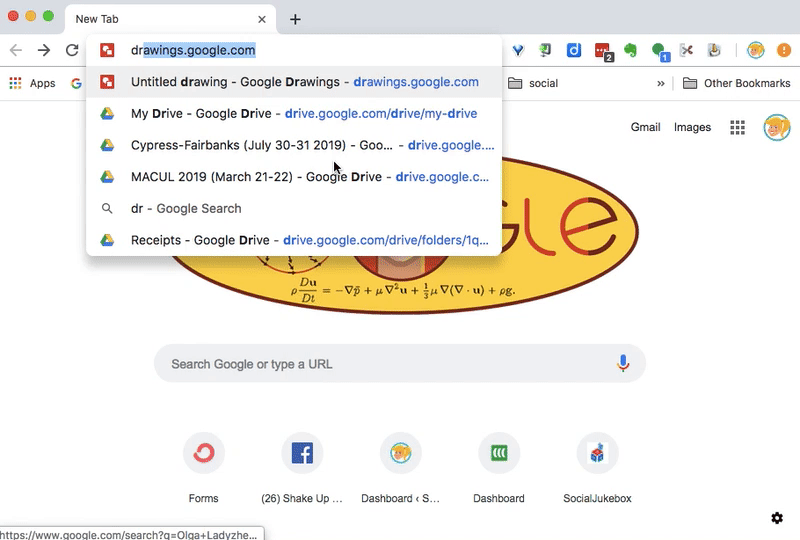 To do this, you will need to set up custom search engines in Chrome, and I promise it is super easy!
You can do this for all your favorite sites. You can even set up a custom search for ShakeUpLearning.com.
To create a custom search engine, follow the step-by-step directions in this blog post.
---
Tip #8: Use Chrome Extensions to Manage Your Tabs
I am a confessed tab hoarder, meaning I always have a ton of tabs open in Google Chrome.
Running too many windows and tabs can slow down your computer.
Luckily, I have strategies to help me save tabs for later so I don't use up all the memory in my computer.
My favorite, can't live without Chrome extension is OneTab.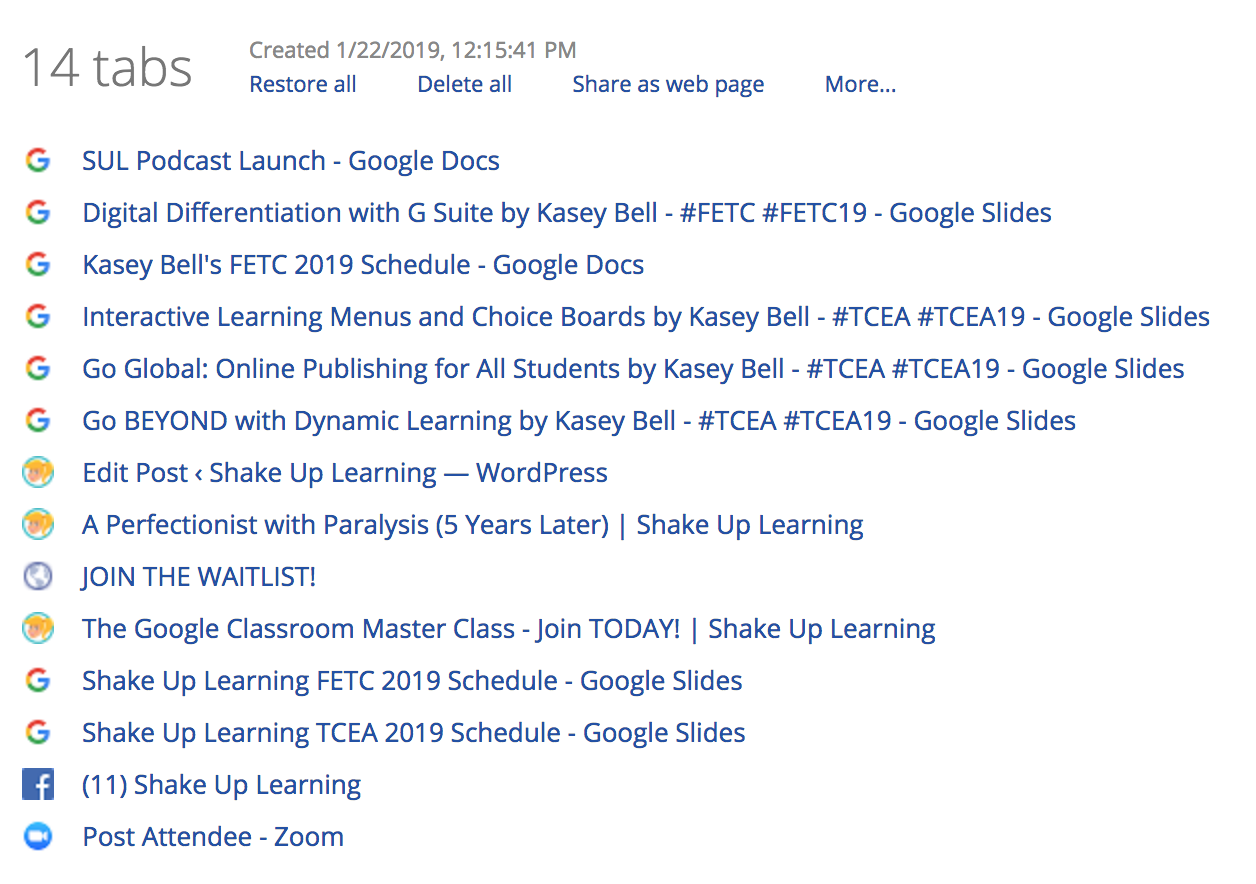 OneTab allows me to quickly close all of my open tabs and saves them in a new window for me.
It also gives me an easy way to re-open all the tabs at once, open individually, or even share all the links as a webpage or QR code.
Perfect for saving a group of links for students!
So when I am in a hurry and need to close my computer, I just click on the OneTab extension to save all my tabs.
Another extension that I like for saving and organizing my tabs is Toby for Chrome.
Toby allows you to create collections of tabs and organize with tags and more.
I like to use Toby to organize links for lesson plans and workshops that I deliver.
It's easy to use and drag-and-drop to organize your collections.
To see all of my favorite Chrome Apps and Extensions, explore the Chrome App and Extension Database and use the filter to find my faves.


---
Tip #9: Create a Google Classroom Class Template
Google Classroom has become a very robust application for teachers and students.
Google updates the platform often based on feedback from teachers.
One update that you may not have noticed is the ability to copy an entire class.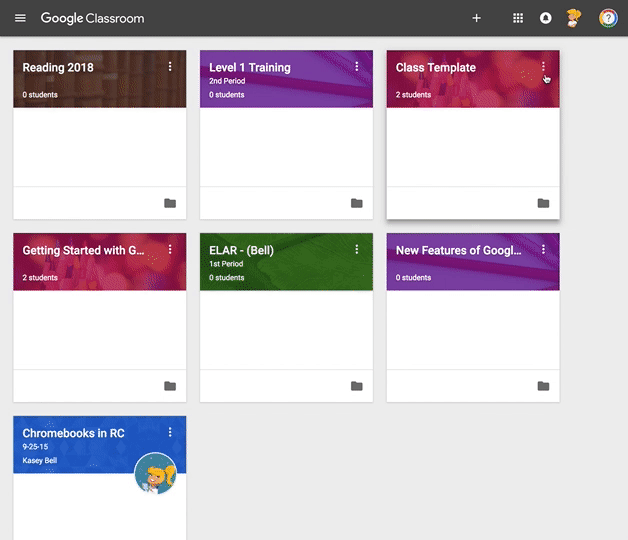 This can save you tons of time when you are setting up new classes at the beginning of the year or semester.
By creating a class template inside Google Classroom, you can easily create the ideal set up for your class, including topics and assignments, and copy these into a new class each year, each semester, and release assignments as you need.
Follow the step-by-step directions here to set-up your Class Template: How to Create a Class Template in Google Classroom.
For more Google Classroom tips and resources, visit this post: 350+ Google Classroom Tips, Tutorials, and Resources.
---
Tip #10: Use Voice Typing in Google Docs
Did you know that you and your students can voice type inside Google Docs?
This is a really great speech-to-text feature that can save you and your students valuable time!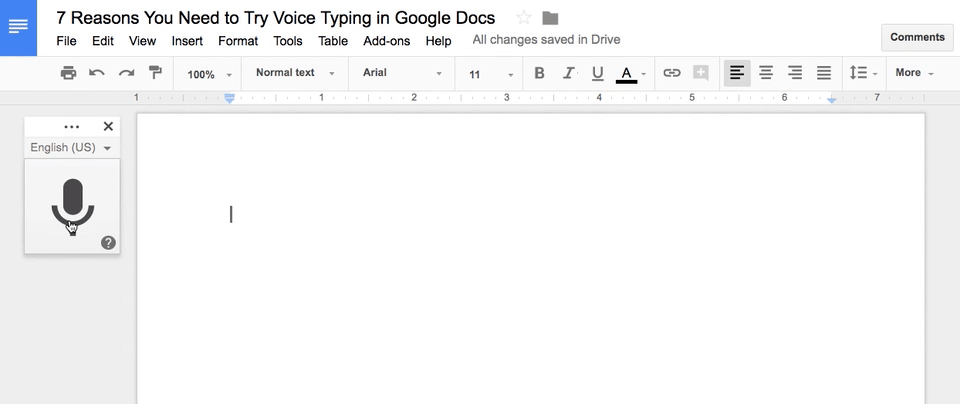 To enable voice typing, go to Tools>Voice Typing and give the program permission to access your microphone.
You can dictate right into the document!
You can also dictate formatting and punctuation.
To learn more about all of the uses for voice typing, check out 7 Reasons You Need to Try Voice Typing in Google Docs.
Oh, and it works on the mobile version of Docs as well!
---
Part 2 Coming November 23, 2021!
Teachers are always short on time, and I hope you have found some new tips in this article!
What other time-saving tips would you add? Please leave a comment below!
---
© Shake Up Learning 2023. Unauthorized use and/or duplication of this material without express and written permission from this blog's author and/or owner is strictly prohibited. Excerpts and links may be used, provided that full and clear credit is given to Kasey Bell and Shake Up Learning with appropriate and specific direction to the original content on ShakeUpLearning.com. See: Copyright Policy.