In this guest post and interview with Lisa Johnson (a.k.a. Tech Chef 4 U).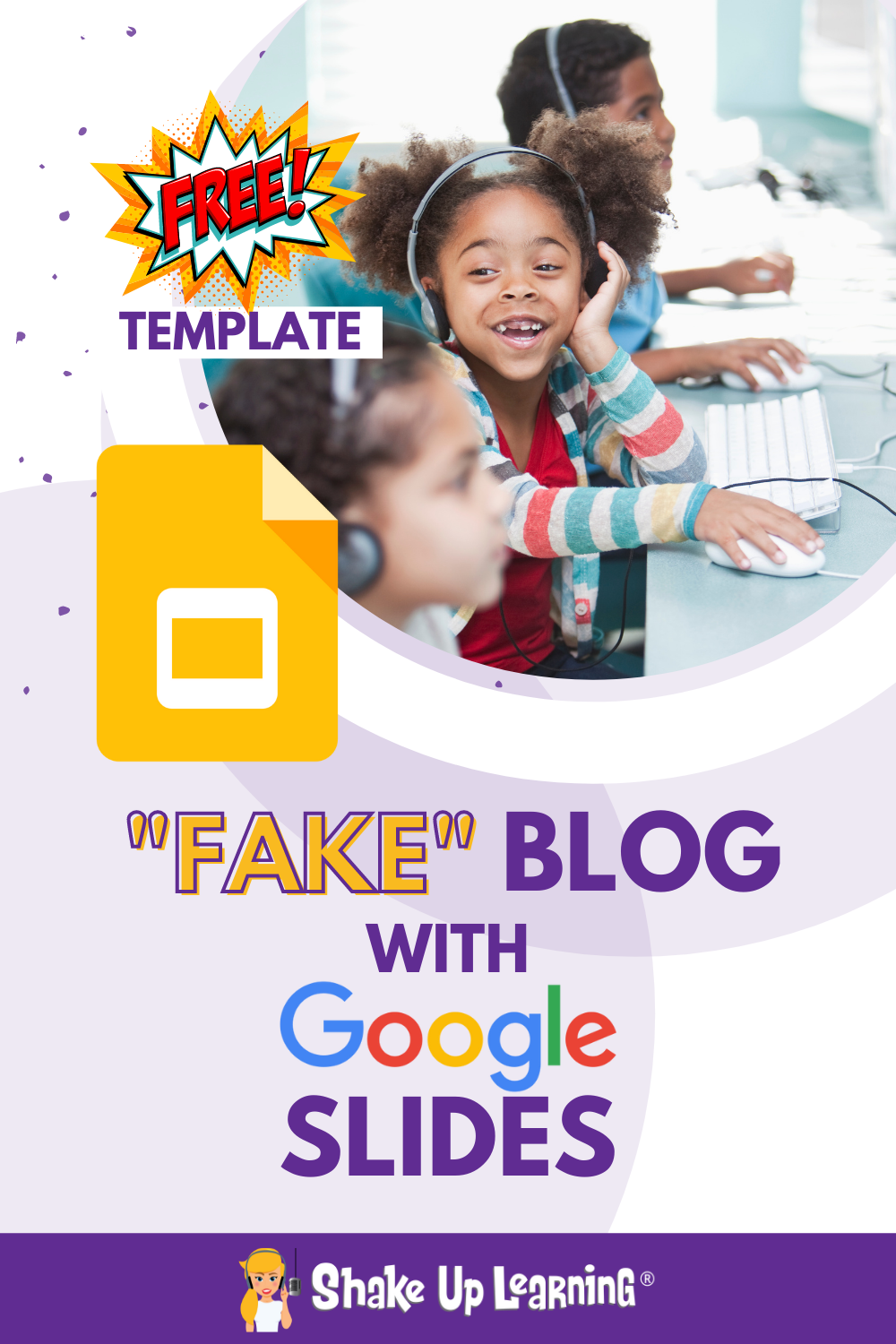 Lisa shares a great Google Slides template and lesson idea — The Fake Blog Post!
I know what you're thinking…why would you want or need to fake a blog with students?
Stay with us here.
There is so much you can do at any level with this template, and it is a great way to talk about media, blogging, writing, digital citizenship, and more.
The ideas are endless!
Listen to this article.
Below is a guest post by Lisa Johnson.
How to "Fake" Blogging in the Classroom (FREE Template)
Sometimes I create things because I get a wild hair. Other times, because a teacher is in need of something and they can't seem to find it online. In this case, a teacher at the high school had reached out to me. She wanted to set up a faux blog for a student and was looking for a template that wasn't public but mimics the blogging format. She also wanted the student to be able to share ideas freely (e.g. personally identifiable or confidential information) to support generalizing writing skills.
Related: 6 FREE Google Templates for Creative Productivity
I did a little googling and didn't find much. It is possible that I was using the wrong search terms. After twenty minutes or so, I just decided to create something myself. I decided to use Google Slides for a variety of reasons:
Familiarity: Most students have experience with this tool.
Login and Longevity: We didn't want anything "public" and we didn't want anything that wouldn't be easy to take with the student if they leave us.
Google Slides: Each slide acts as its own blog post and can be commented on.
Design: I suppose I could have created this in Google Docs but I don't know that it would have functioned the same way and really I love the whole digital binder idea with tabs/buttons that can be linked to other slides.
Simple: I didn't want to create anything that was too overwhelming for the student. After all, the main point was to get them writing.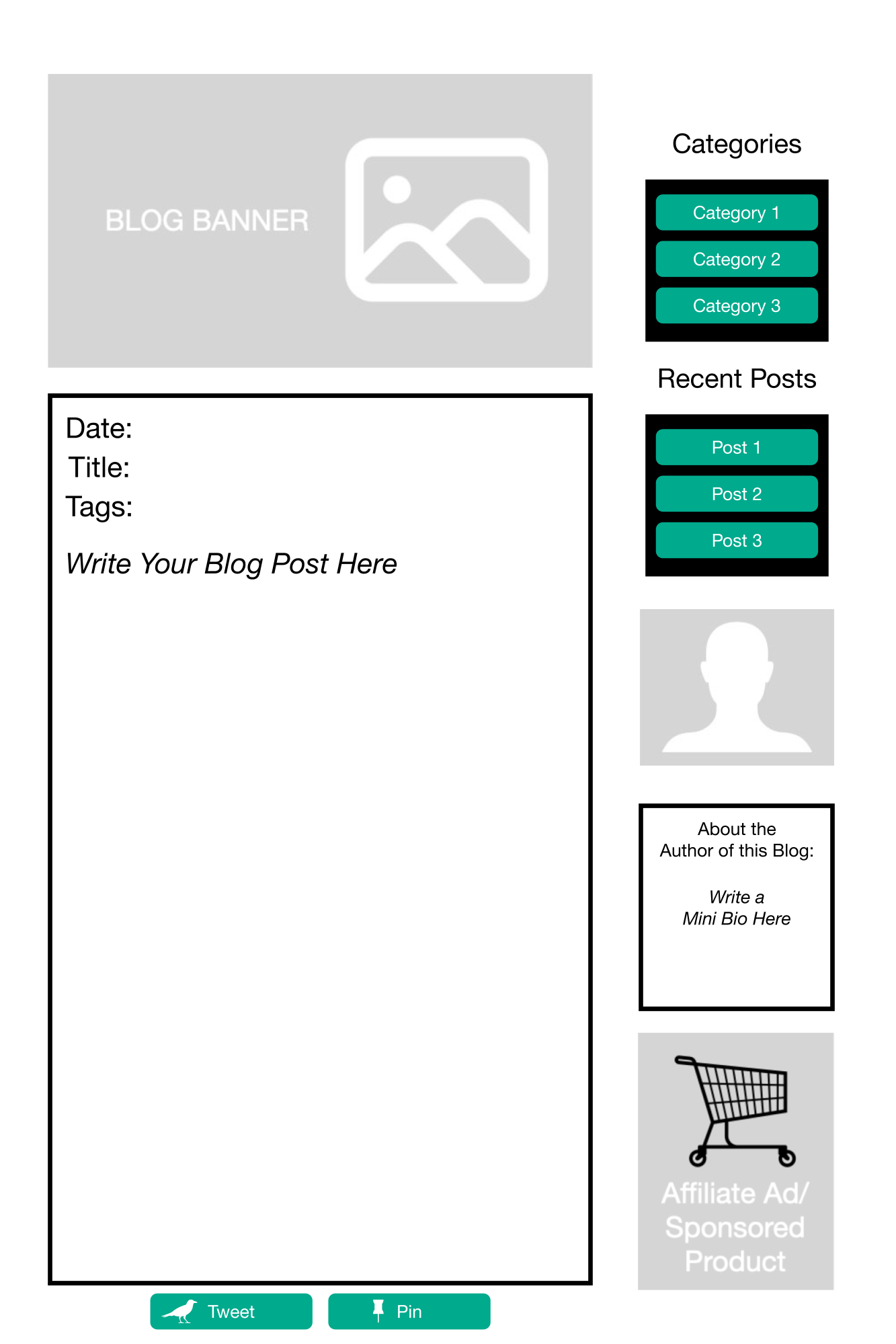 I am incapable of sending something boring. I mean I could have just created a text box and some basics but I truly believe that it is important to make things look and feel as much like their real-world counterparts as possible. I created 4 different versions. Each one is editable and can easily be modified.
Related: Productivity Tips and Tools for Teachers (e32)
Here are a few things to keep in mind about the templates:
Pages: One can duplicate pages so this could be used as a standalone fake blog for a literary or historical figure or be expanded to be a personal blog or writing assignment encompassing multiple slides (each slide being an individual post that could easily be linked to other posts using the tabs/buttons).
Links: As I mentioned, the tabs on the right panel can be used to link to other slides within the presentation – thus creating some navigation.
Customize Colors: Because this is created in slide software, all of the buttons and graphics are editable and the colors can be customized (if you or your students don't love the teal).
Gray Title and Bio Picture: I also added a placeholder for the gray blog title (as many blogs have a graphic above their post) and a place to add a bio picture. Students can replace these placeholder images by right-clicking on them and adding their own.
Possible Uses: I truly never know how the templates I create will be used. As I mentioned earlier, this template could easily be used like a fake social media template where one creates a fake blog post from a literary, scientific, political, or historical figure. It could also be used to promote the idea of blogging and writing in your classroom and truly just be a blog for students.
Cool "Real World" Features: As I tried to mimic the nature of real blogs, I added a few blog sidebar options such as categories, recent posts, favorite posts (like popular posts but these would be the student's favorite ones), place for a profile pic and mini-bio, a possible affiliate ad/sponsored product, and how to connect with the blogger socially. I should mention I am not endorsing having students create/use/link personal social media accounts to their fake blog… more than if they were writing a faux blog or even if it was their real blog, which types of social media would they use to promote it and/or connect with readers?
Related: 30-day Photo Journal Template
How to Access the Fake Blog Template (and more)
Thanks for letting me share my tips for creative instruction.
These FREE BLOGGING templates AND MANY MORE TEMPLATES can be found in the exclusive Creatively Productive Doc Locker on the Creatively Productive companion site.
✏️ Fake Blogging Template (Google Slides / Keynote)
---
 About Lisa Johnson
Twitter: @TechChef4U
Instagram: @NoteChef4u
Website: https://techchef4u.com
Location: Austin, Texas, USA
Title: Educational Technologist
School District: Eanes ISD / Westlake High School
Bio: Lisa Johnson (better known as TechChef4u) has 20+ years of edu experience ranging from teaching HS English & MS Math to international curriculum development, creating and presenting workshops, and even running technology integration camps across the state. She holds a Master's Degree in Curriculum, Instruction, & Tech and currently serves as an Educational Technologist for Eanes ISD which proudly supports an 1:1 iPad initiative from K-12.
Additionally, she has been recognized and selected as an Apple Distinguished Educator and PBS Lead Digital Innovator for Texas. Lisa is passionate about college and career-ready skills, social-emotional learning, executive functioning, instructional design, creating accessible slides and documents, and professional development for students.
She is a recognized voice in the edusphere and has been featured in the publications iPads in Education for Dummies and The Missing Voices in Ed Tech and has co-authored the global iBook hit Hot Apps 4 HOTS. Lisa enjoys "cooking up" purposeful, engaging, authentic resources to meet educator's needs.
Her latest recipes are the books Cultivating Communication in the Classroom and Creatively Productive. In her spare time, she delights in house sprucing, reading, bullet journaling and planning, filing away productivity hacks, snuggling with her cats (Harley and Quinn), and discovering new Netflix and Hulu series with her hubby.
© Shake Up Learning 2023. Unauthorized use and/or duplication of this material without express and written permission from this blog's author and/or owner is strictly prohibited. Excerpts and links may be used, provided that full and clear credit is given to Kasey Bell and Shake Up Learning with appropriate and specific direction to the original content on ShakeUpLearning.com. See: Copyright Policy.