In this episode, I share The Blended Learning with Google Toolkit, a free download to help teachers create dynamic,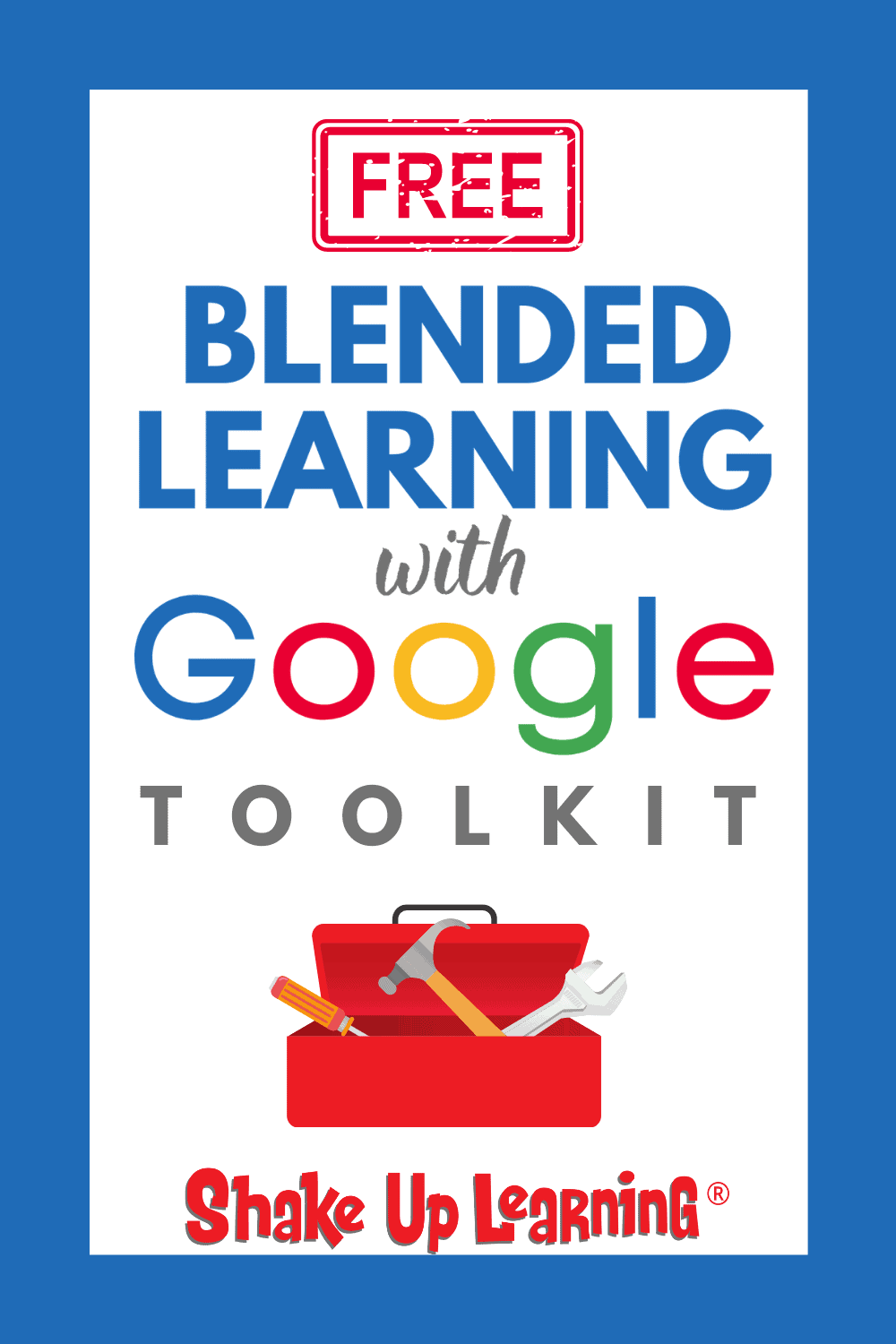 blended learning experiences for students with Google tools.
I will walk you through each step, share proven strategies, and recommend the right Google tool for the job.
Get access to this FREE PDF download that aligns technology integration strategies with Google tools!
(Scroll down and fill out the form on this page.)
Listen to this article.
Shoutout
Thank you to Becky Young for this tweet:
Almost done catching up #TCEA before the recordings disappear tomorrow! Watching @ShakeUpLearning #BlendedLearnimgWithGoogle session.

My son sees my screen and says

"Kasey Bell! Yay!"

So, @ShakeUpLearning you're a big hit with the 3rd graders 🤩

— TechyBeckyYoung (@TechyBeckyYoung) March 4, 2021
Quick Tip of the Week (Autofit Text in Slides)
Google Slides has a new feature that will now autofit your text in a text box, resizing the font size to fit.
Watch this quick video to learn how!
Subscribe to Shake Up Learning on YouTube
Blended Learning with Google Toolkit for Teachers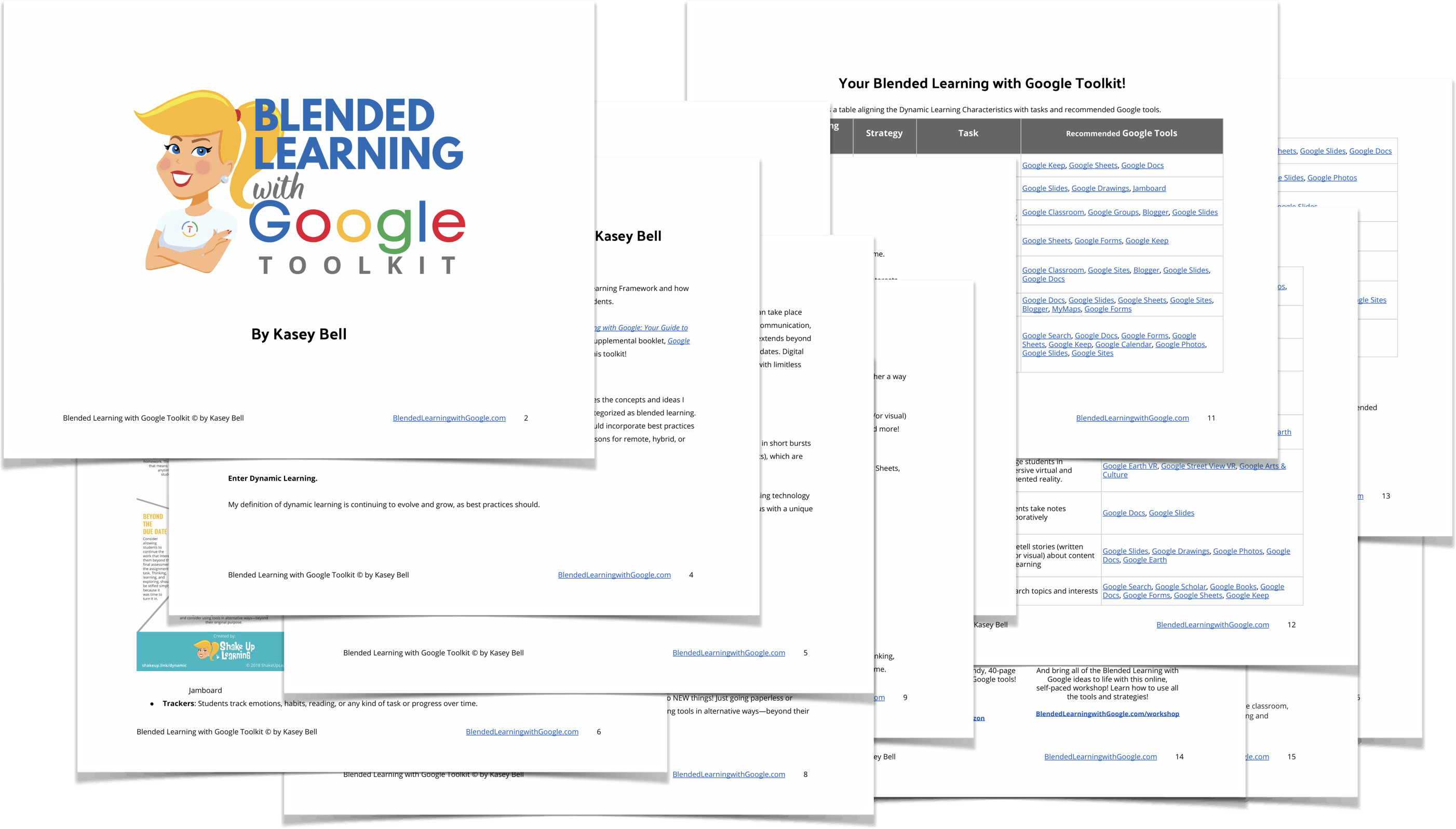 Ready to take digital learning to the next level?
The Blended Learning with Google Toolkit © will help you choose the best Google tools to support Dynamic Learning in your classroom.
Today, I am walking you through each step, sharing proven strategies to increase learning and engagement.
I am also going to tell you which Google tools are the best tool for the job!
Consider this your cheat sheet to the strategies and ideas shared in my new book, Blended Learning with Google: Your Guide to Dynamic Teaching and Learning.
I believe in the principles and ideas in this book so much, I'm sharing this toolkit for FREE!
Get access to this FREE 15-page PDF download that aligns technology integration strategies with Google tools!
Get Your FREE Toolkit by filling out the form below.
What is Dynamic Blended Learning?
"Dynamic blended learning is characterized by constant change and activity, growing and evolving over time. This learning can take place anywhere, anytime, and it is personalized and differentiated. It is learner-centered, giving students choice and embedding communication, collaboration, critical thinking, and creativity skills where they align with the learning goals. Dynamic blended learning also extends beyond the traditional bounds of the school day, schedule, and physical walls, and beyond the physical notion of hard and fast due dates. Digital tools are used for more than substitution, to do and create previously unconceived things. Dynamic learn- ing is boundless, with limitless opportunities." (page. 4 of Blended Learning with Google.)
Think of Dynamic Learning as Blended Learning on steroids! Dynamic Learning is something I introduced in my first book, Shake Up Learning: Practical Ideas to Move Learning from Static to Dynamic. Blended Learning with Google is a follow-up to the first book with a Google twist.
Below is a whiteboard explainer video to help you better understand the definition:
What is Static Learning?
"Static learning is learning that lacks movement, action, or change. With this unengaging model of education, learning happens in short bursts and is often demonstrated through one-and-done activities, short-term assignments, or worksheets (even digital worksheets), which are confined within the traditional bounds of the school system, school day, and school walls." (page. 5 of Blended Learning with Google.)
What does this have to do with Google?
Dynamic Learning is NOT about Google! It is about learning! We don't want to get distracted by shiny, techy tools. The purpose of using technology in any classroom is to support Dynamic Blended Learning. Digital tools like Google for Education present us with a unique opportunity to do things differently, to engage students in new ways, and to inspire them to explore and create.
Related: Blended Learning with Google (3-Part Podcast Series)
Does this definition only apply to Google? NO!
You will notice the word Google is not mentioned in the definitions or framework. In fact, the word technology doesn't even appear. That's because our focus is always on the end goal–LEARNING!
You can apply this framework using any digital tools that help you meet your learning goals, including Microsoft tools.
What is the Dynamic Learning Framework?
Below is the Dynamic Learning Framework. The Dynamic Learning Model is at the center of the framework, which focuses on five Dynamic Learning Characteristics (5 B's). These characteristics make it possible to go beyond static, one-and-done activities.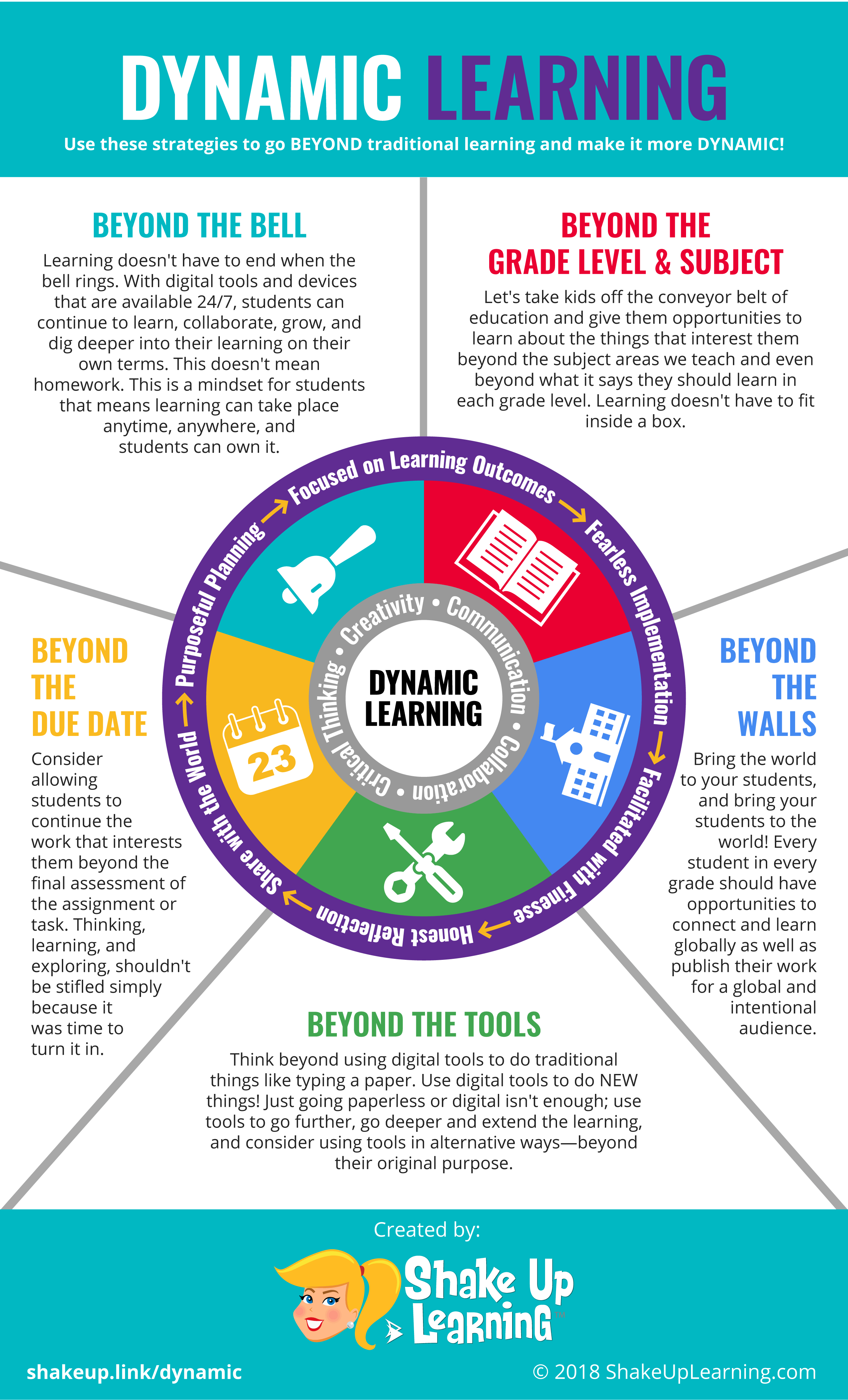 Related: Blended Learning with Google for School Leaders (FREE Webinar)
Beyond the Bell
Learning doesn't have to end when the bell rings. With digital tools and devices that are available 24/7, students can continue to learn, collaborate, grow, and dig deeper into their learning on their own terms. This doesn't mean homework. This is a mindset for students that means learning can take place anytime, anywhere, and students can own it.
Related: How to Create Dynamic Learning Experiences for Students (FREE Webinar)
Beyond the Grade Level & Subject Area
Let's take kids off the conveyor belt of education and give them opportunities to explore the world and move beyond the subject areas we teach. Learning doesn't have to fit inside a box. Help students discover their interests and passions by going beyond the curriculum.
Related: The Teacher's Guide to Digital Choice Boards
Beyond the Walls
Bring the world to your students, and bring your students to the world. Every student in every grade level should have opportunities to connect and learn globally, as well as publish their work for a global and intentional audience.
Related: Go Global: Online Publishing for All Students
Beyond the Tool(s)
Think beyond using digital tools to do traditional things like typing a paper. Use digital tools to do NEW things! Just going paperless or digital isn't enough; use tools to go further, go deeper and extend the learning, and consider using tools in alternative ways—beyond their original purpose.
Related: Collaborative Notes with Google Docs
Beyond the Due Date
Consider allowing students to continue the work that interests them beyond the assessment of the final assignment or task. Thinking, learning, and exploring shouldn't be stifled simply because it was time to turn it in. Let the learning live, grow, and evolve over time.
Related: How to Plan a Dynamic Learning Experience (FREE Template)
Dynamic Blended Learning Strategies
Ready to dig into the strategies that will help you accomplish everything above? Well, we can't fit it all in the post! Listen to the podcast episode, player embedded above, and download the toolkit!
The toolkit includes this AMAZING table that aligns each of the characteristics above with classroom strategies and the best Google tools to use!
In the toolkit, you will find ideas for storytelling, graphic organizers, discussion, image creation, student portfolios, blogging, research, choice boards, project based learning, collaborative notes, and much more!
What do you think? Will you try Dynamic Blended Learning?
Join the FREE Blended Learning with Google Book Study! (3 Hours of Credit)
YOU are invited to join the Blended Learning with Google Book Study!
Blended Learning with Google was designed for book studies! I couldn't just write a paper book. I had to make it an interactive experience and give you extra resources to go deeper and make reading the book a dynamic learning experience.
And yes, you can get 3 hours of professional learning credit for completing the book study.
Access the dates, reading schedule, calendar, and everything you need to know here.
© Shake Up Learning 2023. Unauthorized use and/or duplication of this material without express and written permission from this blog's author and/or owner is strictly prohibited. Excerpts and links may be used, provided that full and clear credit is given to Kasey Bell and Shake Up Learning with appropriate and specific direction to the original content on ShakeUpLearning.com. See: Copyright Policy.