In this episode, Kasey takes a deep dive into the uses of Google Forms.
There are so many ways to use Google Forms beyond a standard survey or quiz.
Learn how you can use Google Forms to engage students in new ways, use powerful add-ons, and save valuable time!
And don't miss out on the handy infographic with 30 Ways to Use Google Forms in the Classroom!
Listen to this article.
30 Ways to Use Google Forms in the Classroom

1. Bell Ringer
Google Forms is a great way to give students warm-ups or "bell-ringers" to see what they remember from the previous lesson.
2. Exit Ticket
Similarly, use Google Forms as an exit ticket to see what they learned during class that day. (Students must complete before they are allowed to leave. It's their ticket out the door.)
3. Student Interest Survey
There are lots of ways to get to know your students, but Google Forms is a great way to gather some basic information and keep it organized in a spreadsheet.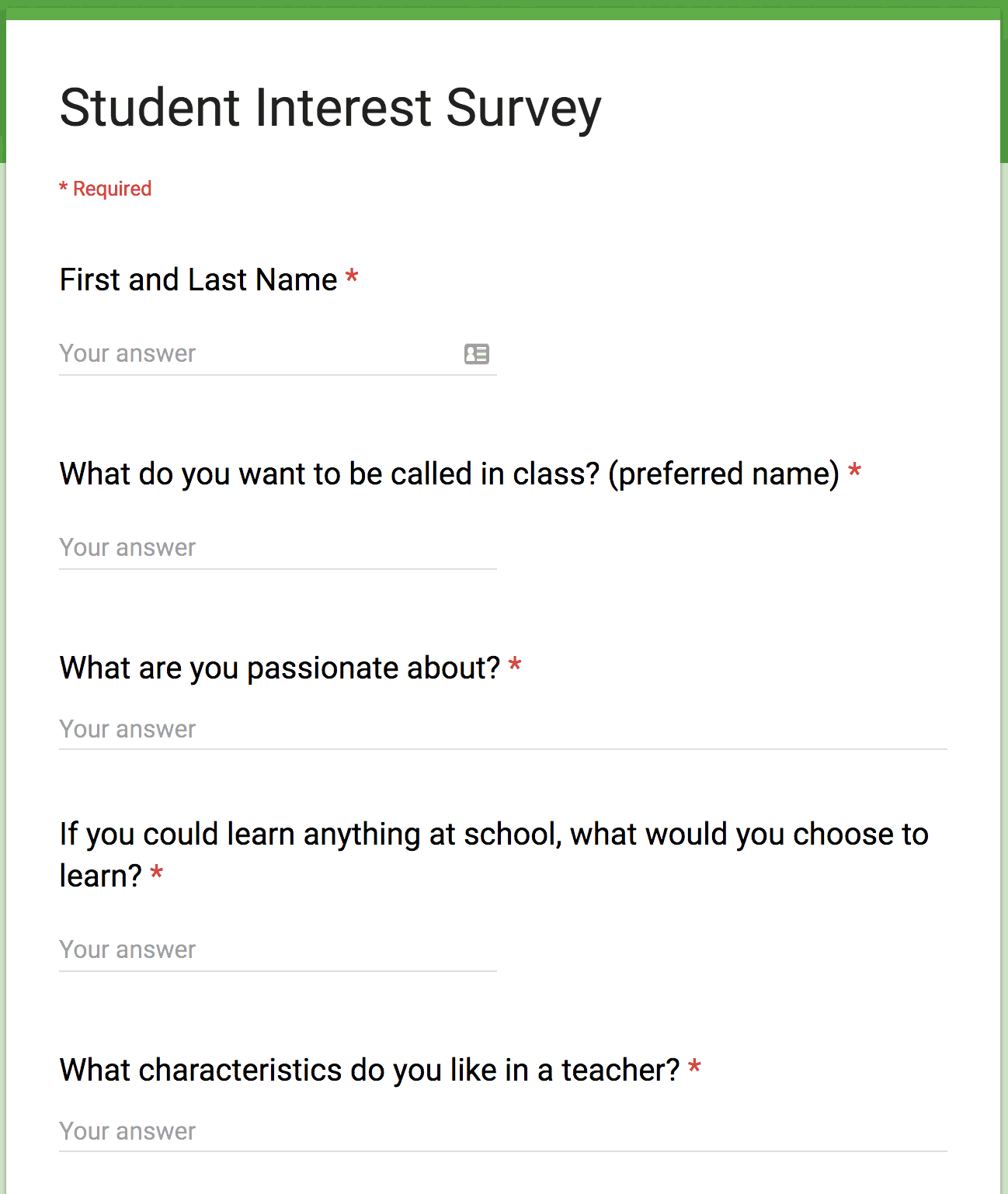 4. Parent/Guardian Survey
You can also use Forms to survey parents and guardians to learn about home life, internet access, and your students.
5. Permission Slips
Go paperless with permission slips and use a Form!
6. Review Content
I love to use Google Forms to help students review content. Try using the "Go to Section Based on Answer" feature to help students review questions that they answered incorrectly.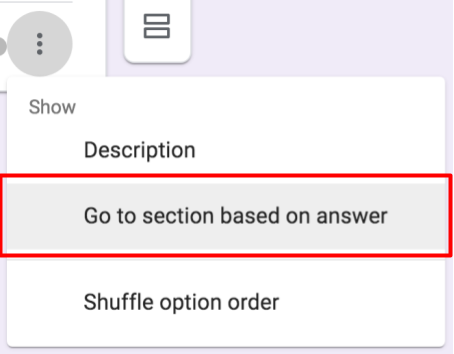 This is called branching, and it can get complicated, but very powerful.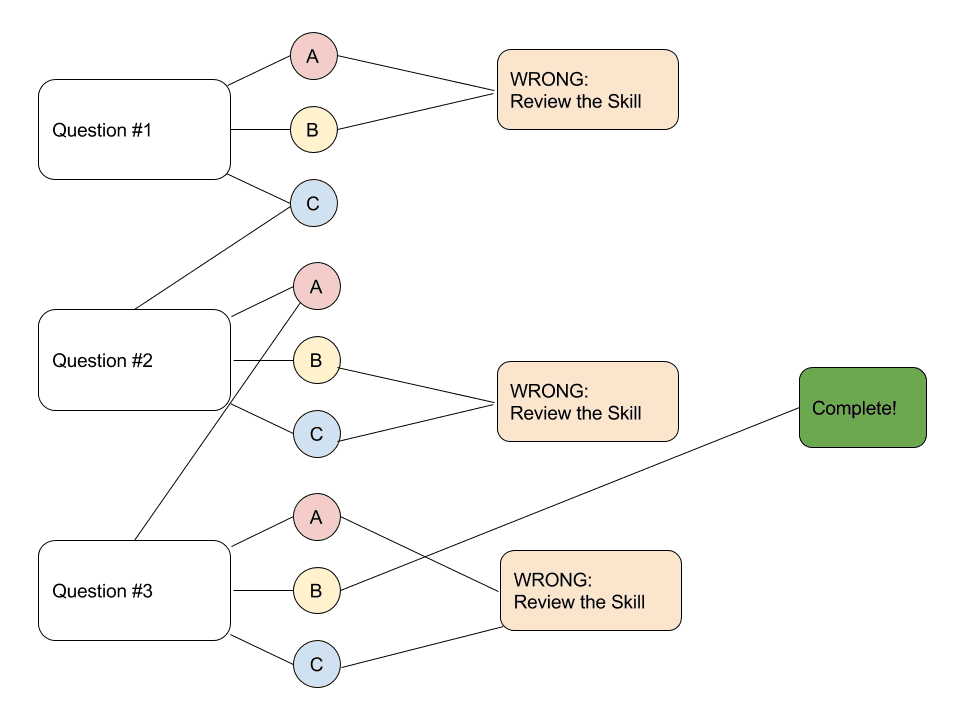 Here's a simple review example.
Learn how this works in this post.
7. Choose Your Own Adventure
This strategy also makes use of the "Go to Section Based on Answer" feature in Google Forms, but allows students to make decisions in a story–similar to a Choose Your Own Adventure book.
Here's an example of a Choose Your Own Adventure Google Form from Sylvia Duckworth.
8. Add Audio with Mote
Mote is a Chrome extension that allows you to use audio in your favorite Google Apps. With Mote, you can leave an audio question and students can respond with audio as well.
Related: 15 Ways to Use Mote in the Classroom
9. Collect Feedback and Comments on a Google Site
Google Sites is a great tool, but it's missing one important feature–comments! A workaround is to embed a Google Form on the bottom of your page to gather feedback.
10. Contact/Parent Information Forms
So much paper goes home to parents! Try a Google Form for collecting basic contact and parent information.
11. Sign Up for Meeting/Conference Time-Slots
With add-ons like Choice Eliminator 2 or Choice Removal, you can use Google Forms to have students, parents, or anyone sign up for a time-slot!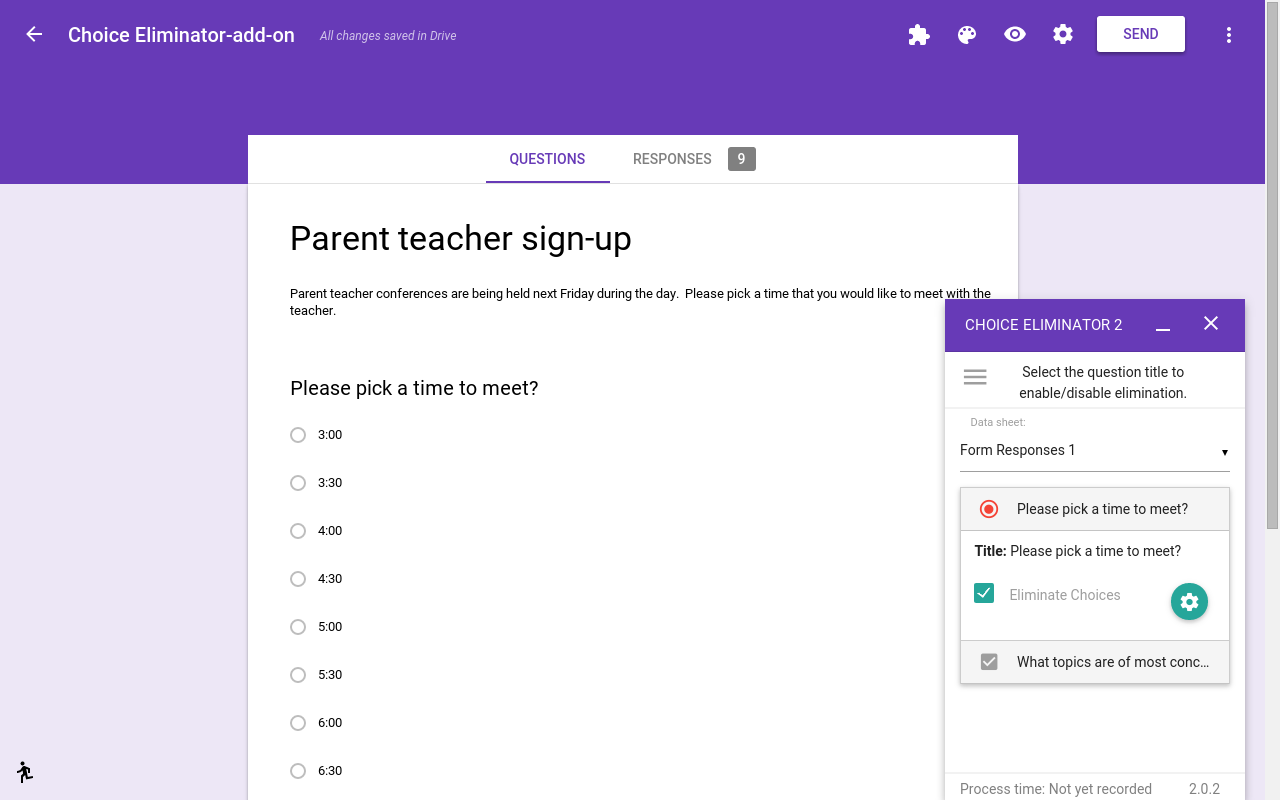 Install and set up the add-on, then you can add your options and have each option eliminated after it's selected so no one signs up for the same slot.
12. Generate Documents, Certificates, Lesson Plans, etc.
Did you know you can use add-ons like Autocrat or Form Publisher to create customized documents from the data entered in a form? Create docs, certificates, lesson plans, or anything else you need!
13. Take Notes
Yes, you can create a form with a paragraph response and use it to take quick notes and save them in ONE location!
14. Research Notecards
Remember taking index cards to the library? Try using Google Forms for students to enter their research information–book titles, page numbers, quotes, etc. Then it will be organized in Google Sheet.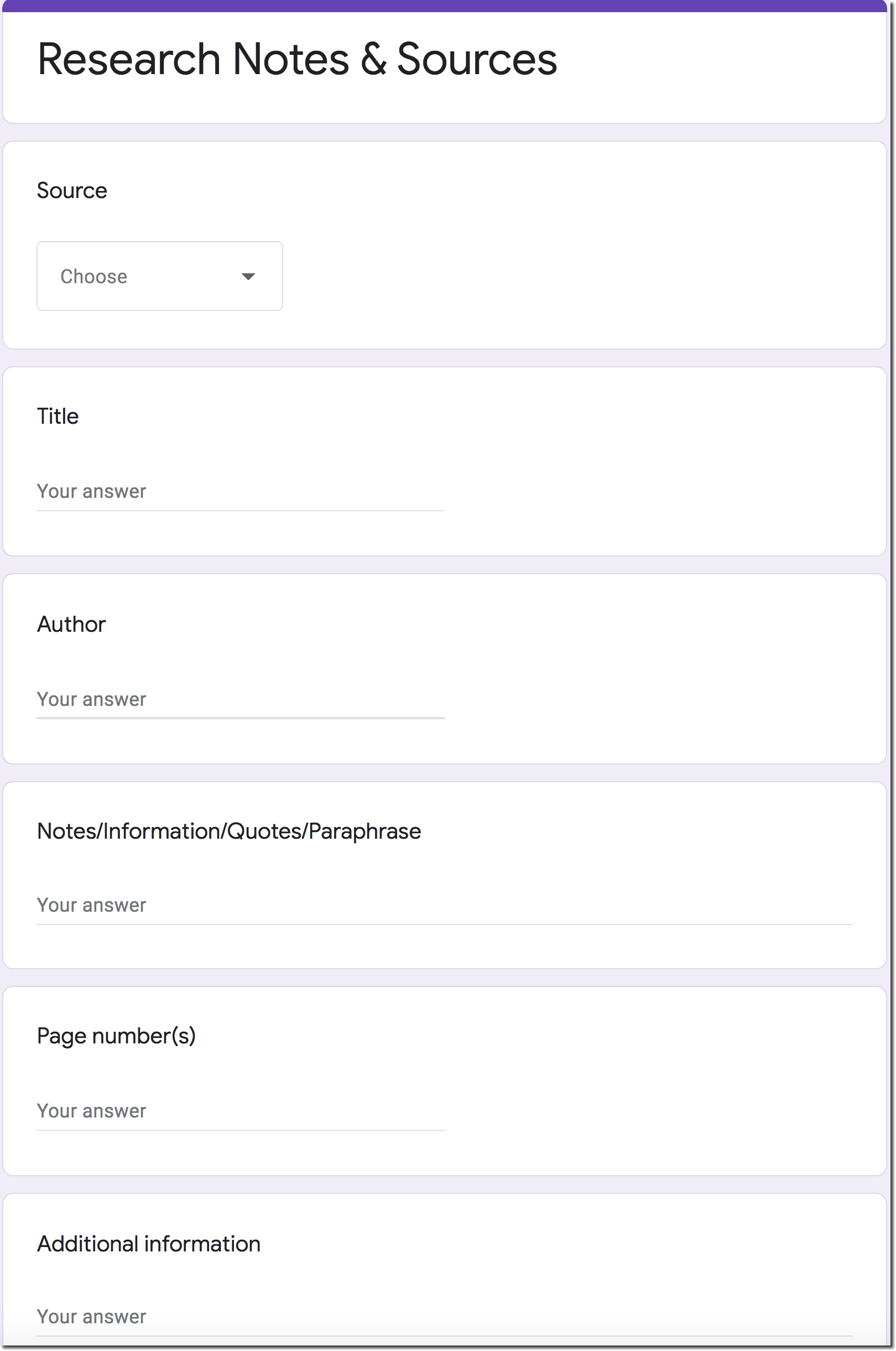 15. SEL Check-Ins
Social-Emotional Learning is more important than ever! Use Forms to check-in with your students emotional well-being.
16. General Quizzes & Assessments (pre and post)
Of course, Google Forms is a great tool for regular quizzes and classroom assessments. Don't forget you can use Forms for pre-assessment as well as post.
17. Checks for Understanding
Sometimes it can be challenging to know if your students have understood the content. Try using Forms for a simple check for understand to make sure they are ready to move on.
18. Collect Data/Polls/Research
As a survey tool, Google Forms is a great way for students and teachers to collect data, poll students or community members, and collect research.
19. Scavenger Hunt
Google Forms can be used for games like a Scavenger Hunt where the next clue is revealed after evidence has been submitted. Customize the confirmation message to communicate the next steps.
Go to the settings in your form, select the "Presentation" tab, then customize the message for your game.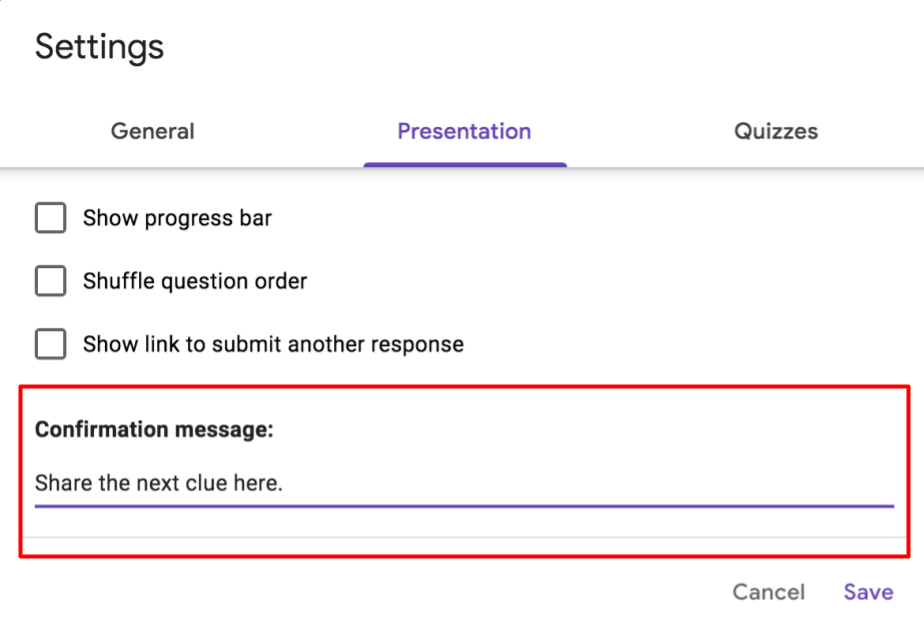 20. Complete Rubrics
Consider creating a Google Form for yourself with the information from your rubric and fill out the form for each item you assess. Then your selections will feed into a Google Sheet so you can easily see the results for your class in one location.
21. Reading Response and Log
As a reading teacher, I know how important it is to get students to track their reading and write thoughtful responses. Use Forms to have students submit their reading logs and responses each week.
22. Parent/Volunteer Sign-Up
Need help? Use Forms for parents to sign up to volunteer for special events, classroom support, etc.
23. Parent/Guardian Communication Log
As teachers, we have to keep a log of the communication we have with each parent. Use Google Forms to quickly add the parent information and a summary of the communication so you know you have it recorded.
24. Reflection
Reflection is an essential part of the learning process. There are many ways to have students reflect, but it can be quick and handy to submit reflections with a Google Form.
25. Discussion Starters
Sometimes it can be difficult to get students to discuss the topic at hand. Try using a Form to stimulate conversation ideas, so students are ready to share.
26. Progressively Harder Questions
This strategy also uses the "Go To Section Based on Answer" feature mentioned in #6 and #7 above.
As students answer questions correctly, they can be taken to questions that get progressively more difficult instead of every student just answering the same exact questions.
27. Self-Assessments
Use Forms to have students self-assess their own work. This is particularly helpful in group projects.
28. Student-Created Quizzes
Teachers aren't the only ones who should be creating with Forms. Students can use it to create forms and quizzes, too.
Have students create their own test or quiz! (They usually create something harder than the teacher!)
29. Escape Rooms/Breakouts
Escape rooms can require a lot of supplies, locks, etc. But you can create a digital version where students have to solve the form in order to get the next clue!
30. Amazing Race
And yet another great game idea is to use Google Forms for the Amazing Race. (I actually participated in one of these at the Google Innovator Academy and it was super fun!)
Here are detailed directions from Steph Pearson on how to set this up!
BONUS: Use Doc Appender for Student Observations!
Thank you to Jen Giffen for sharing this idea!
Document those conversations you have with students on the fly. Jen uses Doc Appender to feed all the information into a Google Doc so it's not so hard to read it on a Sheet. These Docs can also be shared with administrators and parents!
What would you add to this list? Please leave a comment!
---
The Back to School Conference (FREE)
Looking for more Back to School ideas to prepare for the "new normal"?
The Shake Up Learning Team is excited to announce a brand new online conference coming this September! It's completely free, online, asynchronous, and designed for K-12 teachers and educational leaders.
With a focus on adapting to the "new normal," this conference will help teachers and educational leaders learn new skills and strategies to engage students in online and blended learning.
With 30+ breakout sessions from education experts and special keynotes by Kasey Bell and Jen Giffen, this is sure to be an event to remember. Teachers will walk away with practical ideas to move learning forward. Leaders will learn about critical shifts, and how to lead meaningful change.
All presenters have been hand-selected from the Shake Up Learning Team, and special invited guests, including Jake Miller, Evan Robb, Angela Draper, and Jon Corippo. We even have a few sessions in Spanish!
With engaging presentations by the expert SHAKE UP LEARNING TEAM and invited guests, educators across the globe can take their teaching and leadership skills to the next level.
30+ sessions, including keynotes by Kasey Bell and Jen Giffen.
Video presentations are released each day of the conference week.
Videos available until Oct. 30, 2021 (or one-year access with the ALL-ACCESS PASS)
Topics include: Google tools, Dynamic Learning, Google Certification, Leadership, SEL, and Accessibility
GET CREDIT! Certificates will be available for each session.
© Shake Up Learning 2023. Unauthorized use and/or duplication of this material without express and written permission from this blog's author and/or owner is strictly prohibited. Excerpts and links may be used, provided that full and clear credit is given to Kasey Bell and Shake Up Learning with appropriate and specific direction to the original content on ShakeUpLearning.com. See: Copyright Policy.