Mote is a fantastic (and FREE) Chrome extension for teachers.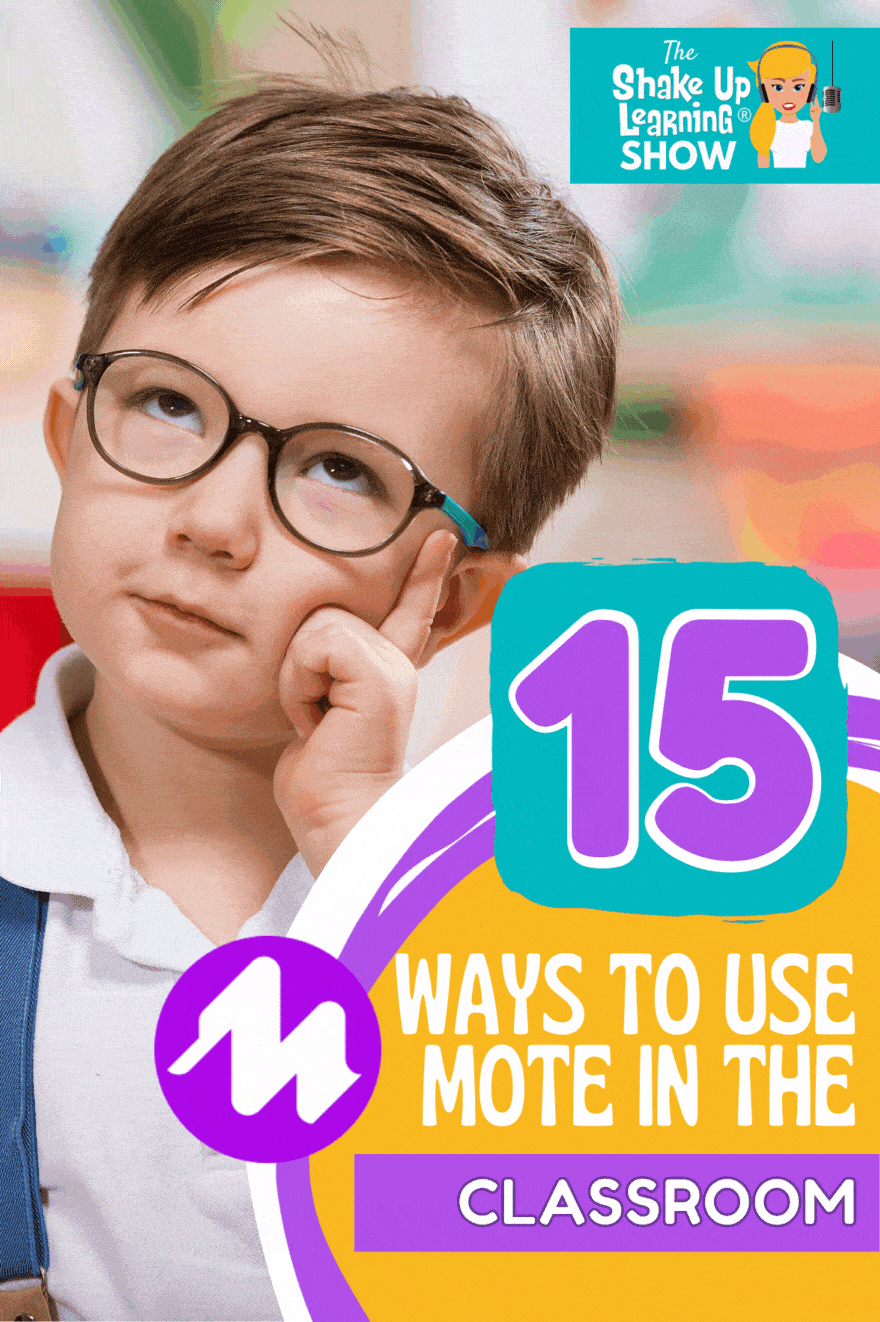 Learn how Mote helps support ELLs, STEM, and helps engage ALL students with 15 Ways to Use Mote in the Classroom.
In this episode, Kasey chats with teacher and Mote Community Leader, Eleni Kyritsis.
Eleni shares how Mote, a voice note extension, allows you to do so much more than just leave notes and feedback in your favorite Google tools.
Teachers, you are going to love using Mote to engage your students!
Listen to this article.
This episode is sponsored by Mote.
Shake Up Learning listeners can get an exclusive 3-month trial for Mote Unlimited by going to justmote.me/shakeuplearning. 
Shoutout
Thank you to Bobbie Rae Flores on Twitter for sharing her excitement and ideas as she reads Shake Up Learning: Practical Ideas to Move Learning from Static to Dynamic.
Quick Tip of the Week (Google Slides)
Did you know you can use Mote to record and insert audio in Google Slides in just a few steps? Super easy!
📺  Watch this quick video to learn how!
Subscribe to Shake Up Learning on YouTube
15 Ways to Use Mote in the Classroom
Mote is a FREE Chrome extension that allows you to leave voice notes and feedback, and much more! 
Mote allows you to talk more and type less. If you haven't explored all of the features of Mote, now is the time!
Teachers need to have it installed. Students do not have to have it installed, but it works more seamlessly if they do have it.
Jon Neale from Mote recorded a great demo tutorial for Shake Up Learning readers:
1. Voice Comments and Feedback
With one click of a button, you can record audio feedback for students and leave it as a comment in your favorite Google applications or Google Classroom. You can also record any time using the Chrome browser and paste the link wherever you need it to go–Canvas, Schoology, etc.
This is a huge time saver for teachers!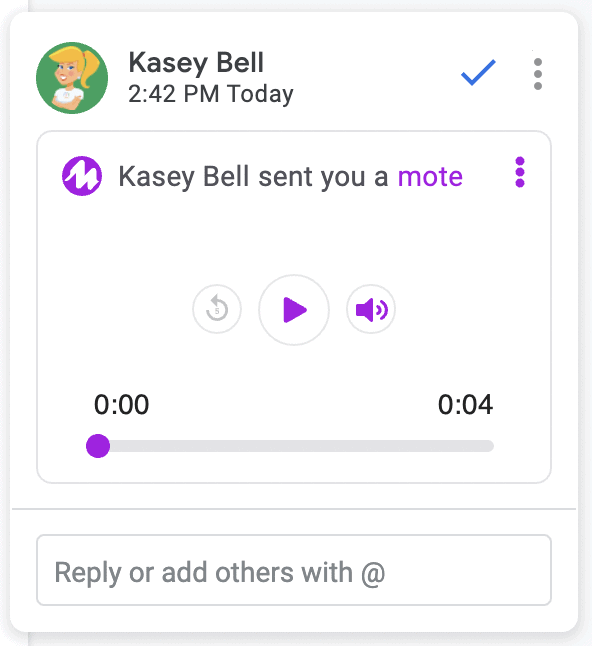 2. Transcribe and Translate Voice Comments (25 languages)
Mote also gives you the option to insert a text transcription with the audio. But it gets better; you can also translate that text into 25 other languages. (Available with Mote unlimited.)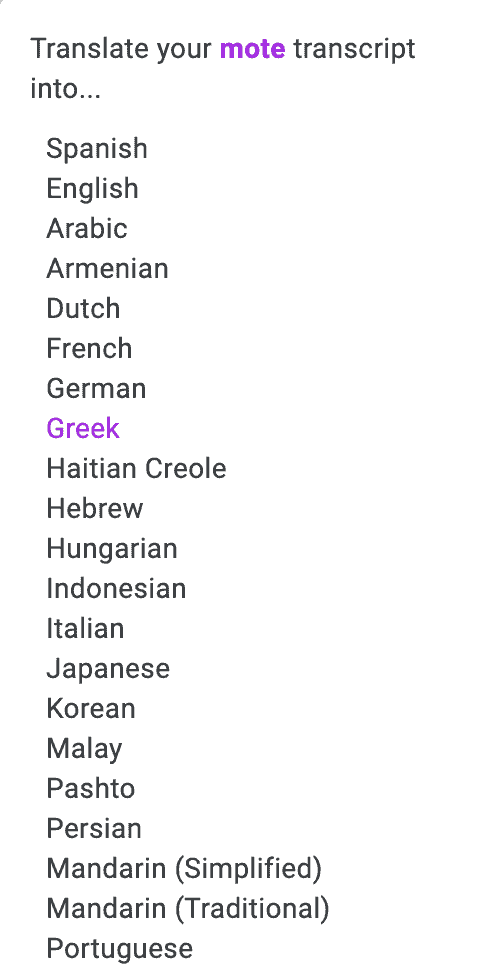 Emojis
Not only can you insert voice comments with transcription, but you can also insert emoji!
Here's a reminder about how to easily insert an emoji using mote.
To start, just type the symbol colon :
Then type at least two other letters, e.g. :he
Use up/down arrows to select your emoji, or 'delete' to try another combination of letters
Once your preferred emoji is highlighted, just hit 'return' to insert the emoji.
3. Support ELL Students and Improve Accessibility
Using the translation feature is a great way to support our English Language Learners. Record and translate into the student's first language. So they can hear it in the language they are learning and see the translation to reinforce the meaning.
Foreign language teachers will also love this feature for helping students learn a new language.

4. Google Classroom Comments & Instructions
Once installed, you will see the Mote icon inside Google Classroom posts. Add voice instructions to your assignments, leave voice comments, voice announcements, or use them in the grading workflow.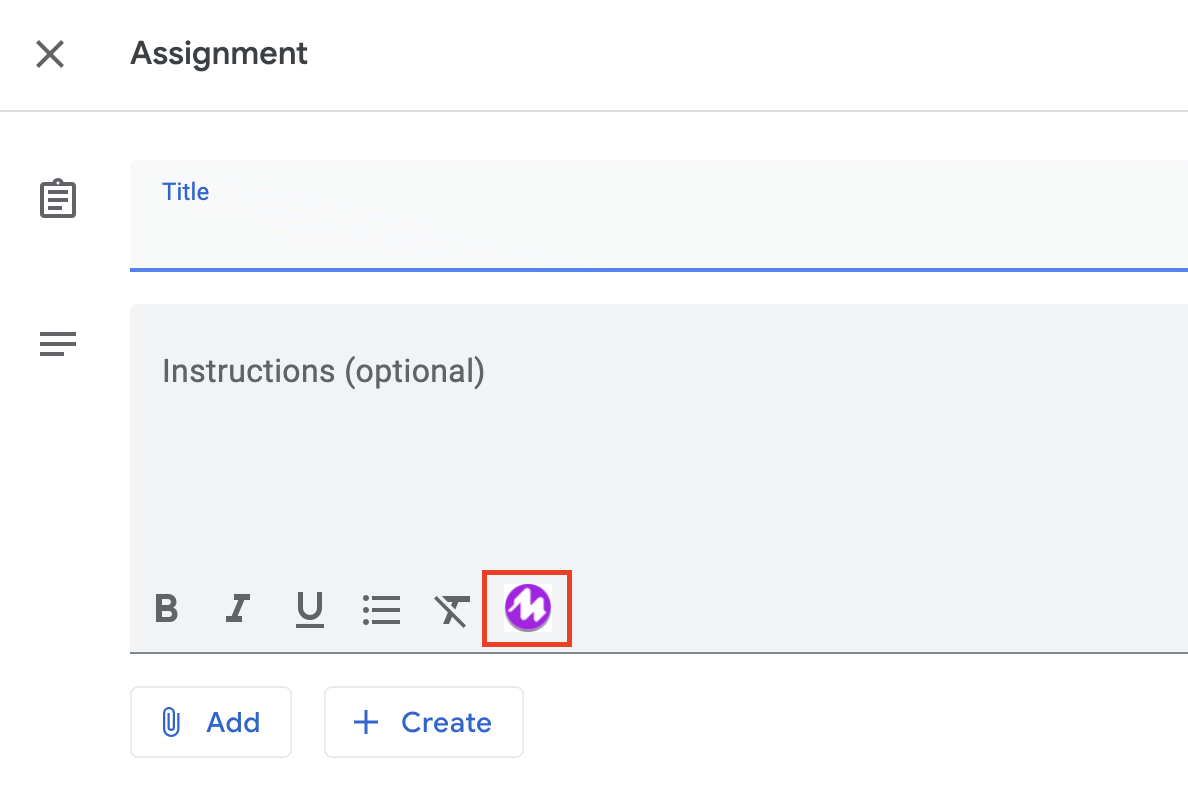 Learn more about using Mote with Google Classroom.
Related: 5 Chrome Extensions that Make Google Classroom Even More Awesome
5. Create a Bank of Voice Comments with Motebook
Save and reuse your voice comments with Motebook!
6. Support STEM with Scientific Notation (STEM Mode)
STEM, math, and science teachers, listen up! Use STEM mode to include scientific notation in your Motes.
Just enable STEM Mode and transcription in your Mote account settings from the extension icon.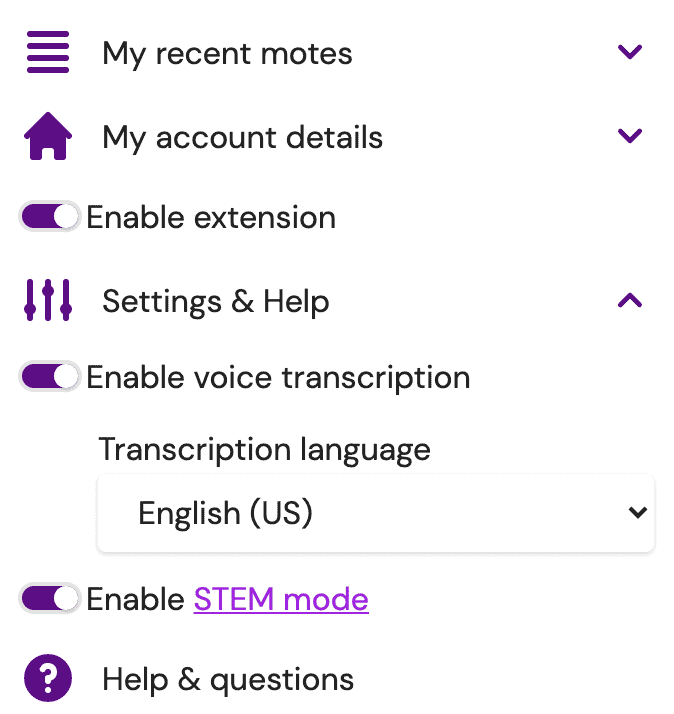 Now start talking like you do, and see motes appear with notation. Just like magic. For example, saying "C 10 H 16 N 2 O 3 S" will appear in your mote as:
7. Mote for Slides (Record & Insert Audio)
This is so easy! You can record and insert audio into Google Slides with Mote!
(embed quick tip video)
Related: 25 Ways to Use Audio in Google Slides Projects
8. Creative Writing in Slides
Eleni also suggests using Mote for creative writing in Slides. She gives her students a picture book as a writing prompt.
9. Choose Your Own Adventure Stories in Slides
Eleni uses Google Slides for students to create their own "Choose Your Own Adventure" style stories. By linking slide to slide, the stories can have different options. Then, they use Mote to add narration to their stories.
10. Student Reflections
Eleni has her students take a photo of their work, insert it into Slides, then record a reflection using Mote.

11. Improve Reading Fluency
Students can improve their reading fluency by using Mote to record themselves reading and listen to it.
12. Demonstrate Learning
Consider the many ways students can add a mote audio recording to explain their answers and demonstrate their learning.
13. Exit Tickets
You can also use Google Slides and Mote for exit tickets. Eleni likes to use "Two Stars and a Wish" to guide students through their exit tickets for the day. On the slide, they insert their mote recording to share their thoughts and questions.
14. Gmail
Mote is also available in Gmail.
With mote for Gmail, you won't ever have to proofread another email. You get to capture the enthusiasm of your voice, the warmth of your tone while saving a ton of time.
Before you begin, you'll need to allow permissions to approve mote in Gmail. Simply click the Mote icon in the browser bar (or the 'puzzle' icon if you can't see mote, then 'pin' mote to the browser).  Next, click "YES" in the purple pop-up.
Next, click "Allow" in the Chrome pop-up that opens in your browser. If you don't see this, just check to see if you have other Chrome windows open, and see if the approval pop-up has appeared elsewhere.
15. Engage Students
One of the best things about Mote is that you can actually see if students have listened to the Mote recordings.
And in Google Classroom, students can use an emoji to show their understanding of the assignment or indicate they need help.
Just Released! Mote for Google Forms!
📢 BIG News! 📢

Teachers: Voice notes in Google Forms would be awesome 💡
Us: We think that you'll love Mote for Forms! 💜

It's easy to use and is launching today in beta 🚀

As always, we look forward to hearing your feedback 🗣️

Get started today at https://t.co/E1GnNrlzyP! pic.twitter.com/FkjexAPKjb

— Mote (@justmoteHQ) April 23, 2021
Coming Soon to Mote!
Mote is working on a mobile app. Look for that to be released in the coming months.
Become a Mote Certified Educator #MOTECE
Demonstrate your mote knowledge and earn an exclusive certificate by becoming a mote certified educator.
Become a Mote Ambassador
Think you've got what it takes to reach the pinnacle of mote expertise? If you're already a #MOTECE, then you're ready to begin your journey to becoming a Mote Ambassador.
Spring semester applications for the Mote Ambassador program are now closed, but we'll be re-opening applications for the Fall cohort in August 2021.
---
About Eleni Kyritsis
Twitter: @misskyritsis @justmoteHQ
Website: elenikyritsis.com  www.justmote.me
Location: Melbourne, VIC Australia
Title: Community Leader (Mote) / Curriculum & Innovation Leader
School District/Campus (or Employer): Mote / Strathcona Girls' Grammar 
Bio: Eleni is an award-winning teacher with a passion for sharing her creative lesson ideas to enhance teaching and learning around the world. Eleni has been recognized for her outstanding contribution and support of the education community by being awarded the 2017 ACCE Australian Educator of the Year and the 2016 DLTV Victorian Educator of the Year. She is a Google Certified Innovator & Trainer, Microsoft Innovative Education Expert, Apple Teacher, and Hapara Certified Educator. Eleni has been honored by the opportunity to facilitate keynote presentations and professional learning workshops across the globe.
© Shake Up Learning 2023. Unauthorized use and/or duplication of this material without express and written permission from this blog's author and/or owner is strictly prohibited. Excerpts and links may be used, provided that full and clear credit is given to Kasey Bell and Shake Up Learning with appropriate and specific direction to the original content on ShakeUpLearning.com. See: Copyright Policy.