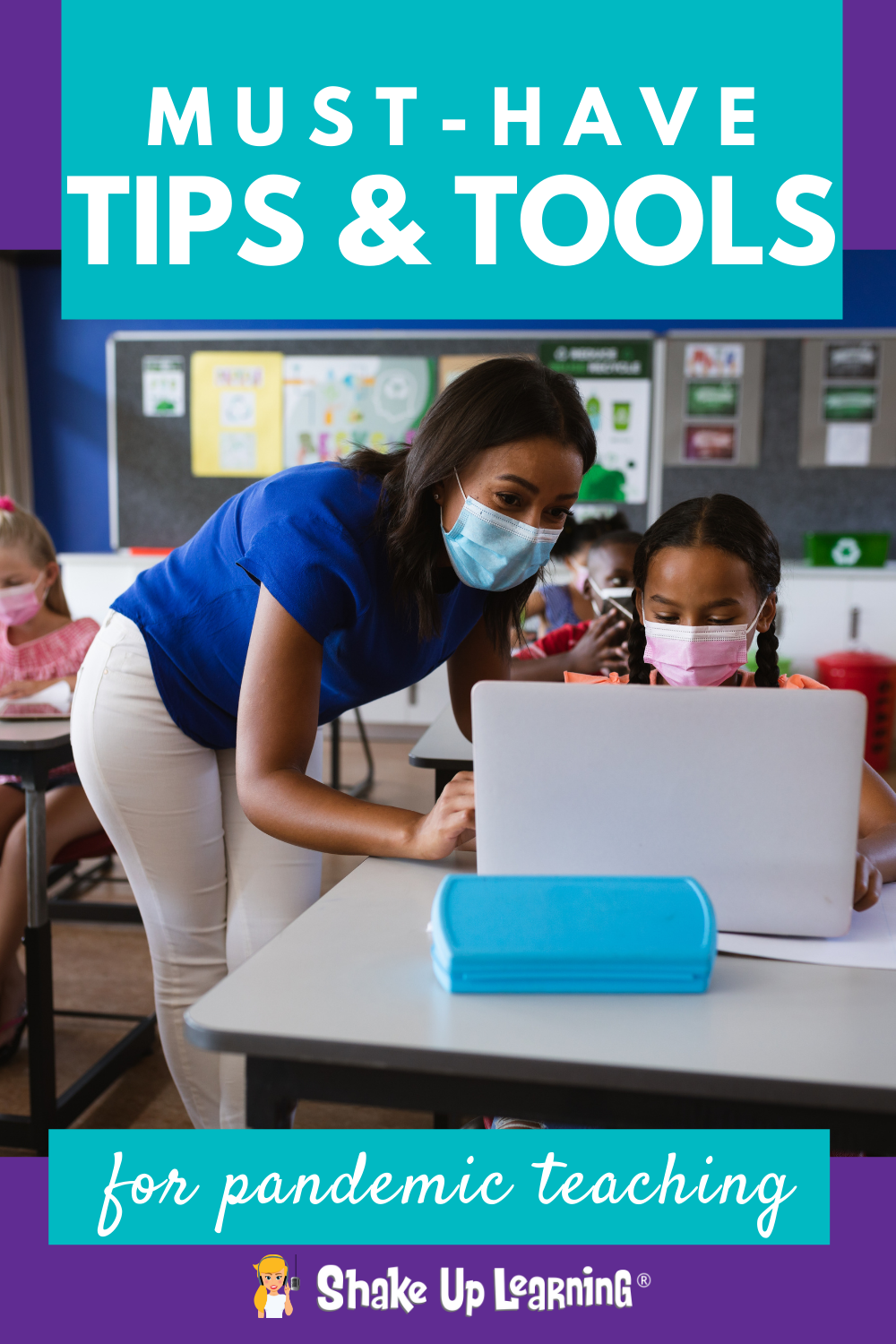 In this episode, Kasey shares her best Pandemic Teaching tips and tools. Everything you need to survive this school year and thrive beyond. Learn practice strategies, organization techniques, and a whole list of tools to make teaching this year EASIER!
While these tips and tools are extremely helpful in this pandemic environment of teaching, they are also helpful for any blended learning classroom.
Virtual learning is here to stay! This is why digital equity is so important.
Teaching students to be good citizens in a digital world has become a vital part of education. 
Listen to this article.
Must-Have Tips and Tools for Pandemic Teaching
Before we jump into the tips and tools, let's talk about the topics that have come to the forefront during the pandemic.
These topics & skills that have become MORE important than ever:
Digital Equity
Digital Skills for teachers and students
Digital Tools
Offline vs. Online learning
Streamlining Communication among all stakeholders
Privacy & Safety
Digital Citizenship
Grades ≠ Learning
Pandemic Teaching Tips
Remember Your Why
The negative attitude and animosity towards educators in this pandemic have been extremely disheartening. Much of this is causing a mass exodus of teachers. As many teachers are leaving the profession, and even more are debating if this is all worth it, I want you to take time to reflect. Reflect on the good, the bad, and the ugly. Get back to your why!
Why did you become a teacher? What does being a teacher mean to you? Once you have these answered use them to motivate your goals.
Goal Setting
A great way to refresh and start the new year is to do some goal setting. Using your reflection to see what you accomplished last year, brainstorm ideas and goals for the new year. Think of professional and personal goals. Do these align with your "Why"?
Kasey recommends using Lara Casey's Power Sheets for the last several years to reflect and goal set each year and revise each month. (Related: How to Work from Home and Get Things Done.)
Get and Stay Organized
Taking inventory of your organization's systems can also help us to feel less overwhelmed. A strong organizational system allows you to shift quickly. Consider sharing weekly plans with students and parents. This seemed to work better in remote learning rather than sharing only daily assignments.
How to share these assignments is another factor when thinking about organization. A great place for templates that can make sharing assignments easy is the Slides Mania website. Creating Slides to share assignments and details with students can allow for a smooth asynchronous learning experience.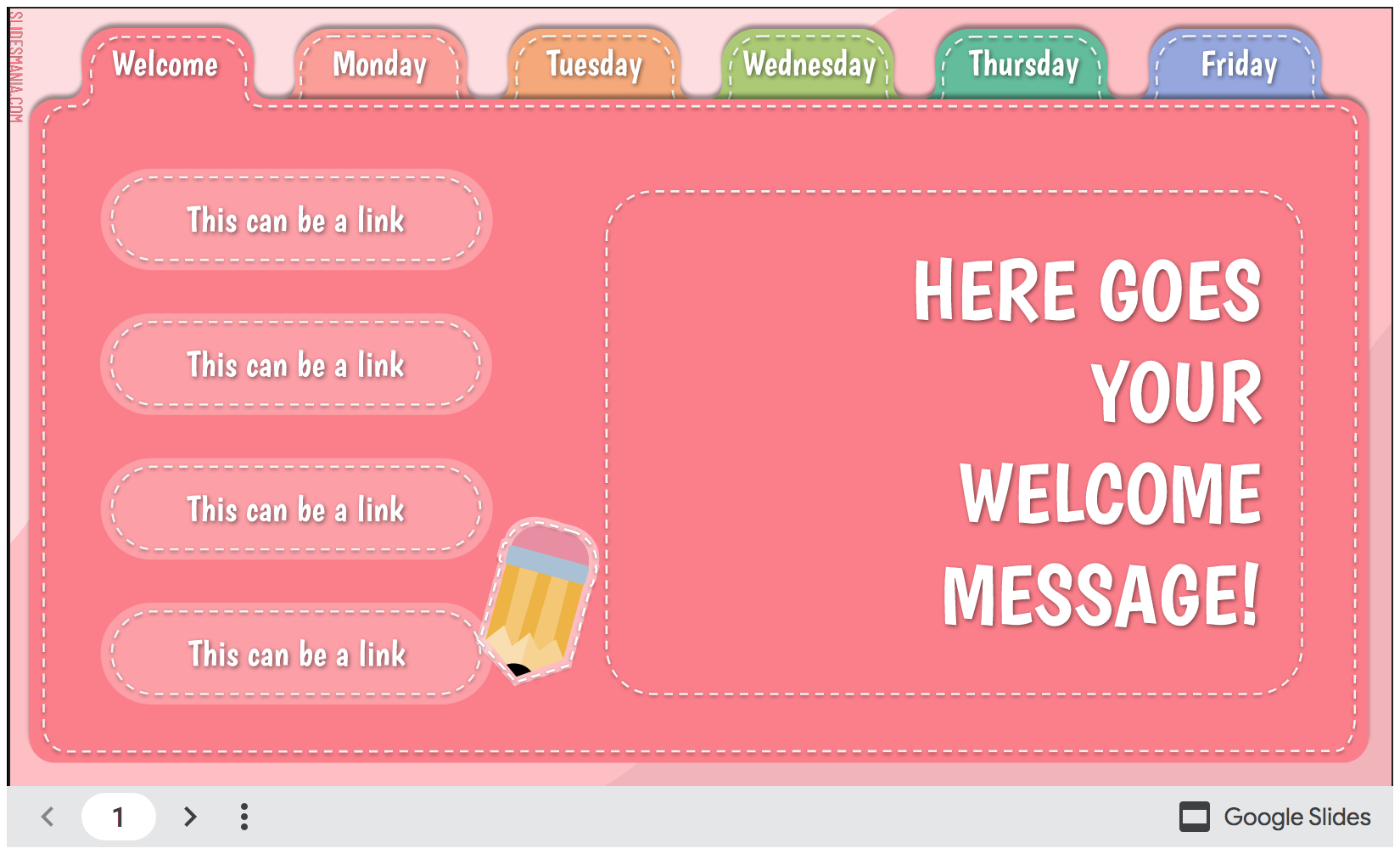 Embrace Asynchronous Learning
Kasey has shared many options and ideas for making this type of learning successful for any teacher. Whether it be using her choice board template ideas or producing videos for learning. Students are able to work at their own pace in this environment. It can also provide teachers with more flexibility whether in or out of the classroom.
Related: Synchronous vs. Asynchronous Online Learning
Related: Asynchronous Learning Tips for Teachers
Embrace Audio Learning
Utilizing many modes for learning is always a best practice for supporting learners. Some of these would include audio, text, images, or video. Offering as many as possible can help support all types of learners.
The Opportunity for Dynamic Learning
This is the concept of dynamic learning. Each of Kasey's books, Shake Up Learning, and Blended Learning with Google, share details about the pedagogical ideas of dynamic learning, along with example lesson plans. There are also several FREE resources that can provide educators with the tools they need to incorporate dynamic learning into their lessons.

If audio learning is your jam try this 3-part podcast series on Blended Learning with Google. Perhaps you'd prefer text, then this Blended Learning with Google Toolkit would be more your style.
Offline vs Online Learning
In this world of remote or distance learning, there is still a place for offline assignments and learning. This is especially vital when teachers discover how wide the digital learning gap might be for their students. Which is one more reason to consider how grading is established during this time. It's important that grades truly reflect the learning that is taking place. It can be difficult when teachers are living in survival mode most of the time. Incorporating a blended learning environment can help students and teachers feel more comfortable when the need arises for distance learning.
Related: Blended Learning Best Practices with Caitlin Tucker
Sharpen Your Saw
Another great way to sharpen your saw, so to speak, and gain back some motivation for this school year is to join other like-minded educators with an online book study facilitated by Kasey.
FREE! Join the Blended Learning with Google Book Study (3 Credit Hours!)
Participating in this professional development not only allows you to engage with other educators and Kasey, but you can also earn 3 credit hours! Learning from the book is only half of what this study can offer. The real magic happens through conversation with other like-minded teachers.
Must-Have Tools for Pandemic Teaching
It's not about Google or the Tech, it's about the learnings–just like it has always been. The tools and tech can be helpful for student learning, especially in this current pandemic environment. Choosing the right tool is an important factor, so knowing the options helps teachers make an educated decision.
Google is a great place to start since many schools are utilizing Google Classroom for a Learning Management System. Other LMS options like Canvas and Schoology can also utilize the entire G Suite of tools.
Aside from the Google options, there are add-ons like Pear Deck. This is a great tool for formative assessments. Peardeck provides student-paced options that can work well with remote learning. This tool provides several templates that make it simple to create.
Related: 15 Collaborative Tools for Your Classroom that are NOT Google
Another great tool is Nearpod. Although it may not be free, many schools have purchased this tool for their teachers to use while teaching remotely. It's truly a powerful tool with its interactive capabilities. Teachers can take previously created slides or videos and incorporate them into a Nearpod lesson to add interactive elements.
Have you discovered Lumio? This tool was developed by SMART and Kasey recently participated in a demo to learn more. Lumio combines all of your teaching resources no matter the format and allows you to gamify lessons or assessments. Teachers can also easily switch between student-paced and teacher-paced lessons. A real powerhouse tool for educators!
Every educator should be using Flipgrid! This video response tool has become a robust tool for learning in the pandemic and beyond. Do not be intimidated by the video option. There are many ways for students and teachers to share without needing to be on camera. Learn more about how this amazing tool can be used in your classroom by listening to episode 80.
Related: Flipgrid: The Go-To Remote Learning Tool!
A great tool for recording your computer screen is Screencastify. This Chrome extension has a free and paid version. The free option does provide much of what you will need to record and upload for any lesson. Students can also utilize this tool to share or explain learning.
Video Conferencing Tools Like Zoom or Google Meet
The two most popular video conferencing tools are Zoom and Google Meet. While asynchronous learning is the focus, there is also a place for synchronous opportunities to learn as well.
Tutorial Creation Tools Like Loom or Iorad
Going back to the idea of recording the computer screen can be an important part of remote learning. Whether it be showing students or parents where to click and where to go for specific tasks, Loom can help with tutorial creation.
A tool that was created specifically for the purpose of creating these screen tutorials and highly recommended by Jen Giffin, is Iorad. This tool is not free, but Jen is a big fan so it must be great!
Templates can make a teacher's life so much easier! Slides Mania is an amazing treasure box filled with templates for educators. Many were created by educators!
When using audio within lessons or for feedback, Mote is the perfect tool. In episode 107, Kasey shared 15 ways to use Mote in your classroom. For a quick tutorial on how to use Mote, take a look at this Quick Tip video.
Web paint is one she loves for capturing annotations to the screen which can then be shared with students.
Custom cursor is a favorite for not just changing the shape, but also the size. This allows for students to see better when viewing on smaller screens.
A helpful extension to silence the videos on websites is called Tab Mute. With a simple click, all videos playing can be muted at once.
Voice Typing (Speech-to-Text)
Voice typing is a great way to save time! This is available in many different apps, including Google Docs!
Too many open tabs? Use the Great Suspender to suspend tabs you aren't using without closing them and save RAM. This will help your computer run faster!
Extra Monitor
The luxury of a double monitor set-up cannot be undersold! This is highly recommended by Susan Vincentz on the Shake Up Learning Team. The extra real estate will help you see more windows at once.
For an interactive space online, Susan recommends using Jamboard. This is a giant digital whiteboard!
Other great collaborative tools include Padlet and Wakelet. Think of these as digital bulletin boards where digital information can be collected and organized.
Finally, a tool that can be incredibly useful for assessments is EdPuzzle. This fantastic tool allows you to make video lessons, yours and others, interactive. Students can answer questions, take notes, or write a response before moving on in the video.
These tools merely skim the surface of what's possible in the digital world of education. Learn more by exploring the Shake Up Learning blog and stay tuned for more episodes of the podcast.
Check out: 50 Remote Learning Resources for Teachers and Schools
© Shake Up Learning 2023. Unauthorized use and/or duplication of this material without express and written permission from this blog's author and/or owner is strictly prohibited. Excerpts and links may be used, provided that full and clear credit is given to Kasey Bell and Shake Up Learning with appropriate and specific direction to the original content on ShakeUpLearning.com. See: Copyright Policy.