It's time to chat about Synchronous vs. Asynchronous Online Learning!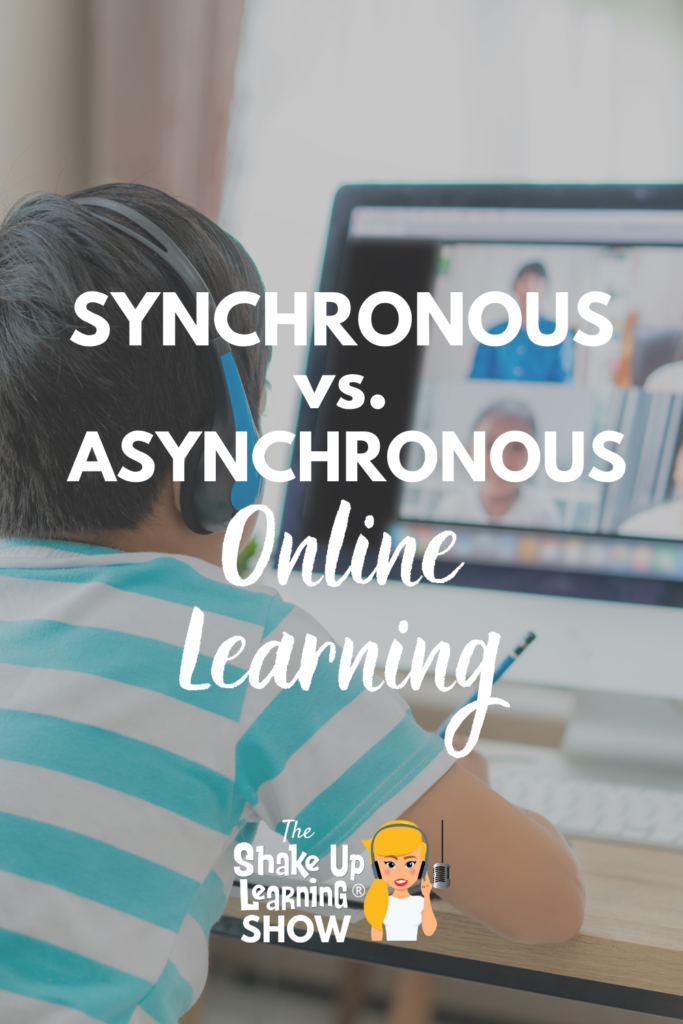 With teachers learning so many new tools and strategies this year to facilitate remote learning, I thought it would be useful to discuss the idea of synchronous vs. asynchronous online learning.
I've seen a lot of confusion about what these words mean, and I think that defining these, along with strategies and tools, will help us better approach remote learning, hybrid learning, and yes, even face-to-face and blended learning.
Is that enough buzz words for ya? I promise these ideas and terms will help!
Listen to this article.
Shoutout
I'd like to send a huge shoutout to Daisy Marino of RaysofSunshineinc.org for inviting me to write a daily Christian devotional.
You can read it here: In Everything, Be Thankful!
Quick Tip (Share Slides in Google Meet)
Publishing your Google Slides lessons to the web gives you a unique link that anyone can view. It is a full window player, so you only see the slides one at a time. Use this unique link when sharing your screen in Zoom or Meet instead of clicking on "present." This allows you to see more than one window at once.
Watch this Quick Tutorial Video!
Synchronous vs. Asynchronous Online Learning
Many teachers who have only taught in face-to-face classroom settings have been learning new strategies and hearing new vocabulary like asynchronous learning. I think there is some confusion, so I want to help clarify.
In general, the terms synchronous learning and asynchronous learning have historically referred to online learning. As the lines between online, distance, remote, and blended learning get blurred, these definitions will continue to grow and evolve.


Definitions
Synchronous online activities are those that require students and instructors to be online at the same time. Instructions, lessons, discussions, and presentations occur at a specific time. All students must be online at that specific time in order to participate. (NOT FLEXIBLE)
Synchronous Examples
Zoom/Google Meet live classes, for example, every student must join a Zoom call at 9:00 for a live lesson.
Students collaborating in a Google Doc/Slide at the same time
Assigned work time during a live meeting (even if they turn their camera off), For example: Work on X assignment from 11:00-11:30.
Asynchronous online activities are just the opposite. Teachers provide materials, instructions, lessons, and assignments that can be accessed over an extended period of time. Students are given a timeframe and/or due dates to complete the work and watch lessons and videos. Interactions and discussions take place using asynchronous tools like discussion boards that do not require everyone to be connected at the same time. (FLEXIBLE)
Asynchronous activities require some student autonomy, ability to self-direct, and monitor progress.
NOTE: Asynchronous online learning does NOT mean independent work time while synchronously connected.

Asynchronous Examples
Zoom or Google Meet video recordings where the lesson video is posted online, and students can watch at different times.

Students are contributing to a collaborative Google Doc/Slide at different times.

For example, Give a week's worth of assignments at the beginning of the week, and students take ownership to complete assignments within the time frame. (Flexible work time)
Blended Learning is a combination of face-to-face and online learning, so it combines any number of these strategies.
Strategies & Activities
Synchronous Strategies:
Direct instruction via live video
Small group instruction via live video
Live discussion
Guided practice
Facilitating live discussion
Facilitation live collaboration
Anything whole class and online at the same time (not usually independent)
Asynchronous strategies and activities: (independent, semi-independent, guided, self-paced)
Independent Reading
Exploring resources
Choice boards/Learning Menus
Project or problem-based learning
Personalized learning paths
Station rotation that is not live
Listening to podcasts or audiobooks independently
Watching videos independently
Research
Enrichment
The Tools
Many tools can be synchronous or asynchronous – depending on how you use them. However, there are several tools that lend themselves better to each strategy.
Synchronous tools:
Zoom live meeting
Google Meet live meeting
Microsoft Teams live meeting
Skype live meeting
Synchronous quizzes and games like Kahoot
Collaborative or cooperative work in Google Docs, Slides, Drawings, or Sheets (at the same time)
Anything that requires students to be in the same space at the same time, while doing the same task.
Instant message/chat
Live poll
Jamboard/Whiteboard collaboration at the same time
Asynchronous tools:
Discussion boards like Google Groups or posting a question in Google Classroom
Any video or audio recording tool: Loom, Explain Everything, Screencastify
Contributing to a collaborative Google Docs, Slides, Drawings, or Sheets (at different times)
Survey or poll
any tool that students can use without a live instructor or facilitator
Unexpected Benefits of Online Learning
Students who would never speak up in class will suddenly have a voice.
Clone yourself!  Post lessons, videos, and materials online so that you don't have to keep answering the same questions and reteaching for those that missed the lesson.
Free yourself up to become a facilitator, work with small groups, and become more student-centered.
If students are sick or absent, all the information and activities are available online.
Podcast Question of the Week: 
How can you use asynchronous online strategies with your students?
Post your answers in the Shake Up Learning Community or on your favorite social platform.
© Shake Up Learning 2023. Unauthorized use and/or duplication of this material without express and written permission from this blog's author and/or owner is strictly prohibited. Excerpts and links may be used, provided that full and clear credit is given to Kasey Bell and Shake Up Learning with appropriate and specific direction to the original content on ShakeUpLearning.com. See: Copyright Policy.