This week, I'm chatting about Blended Learning best practices with the blended learning guru, Dr. Catlin Tucker.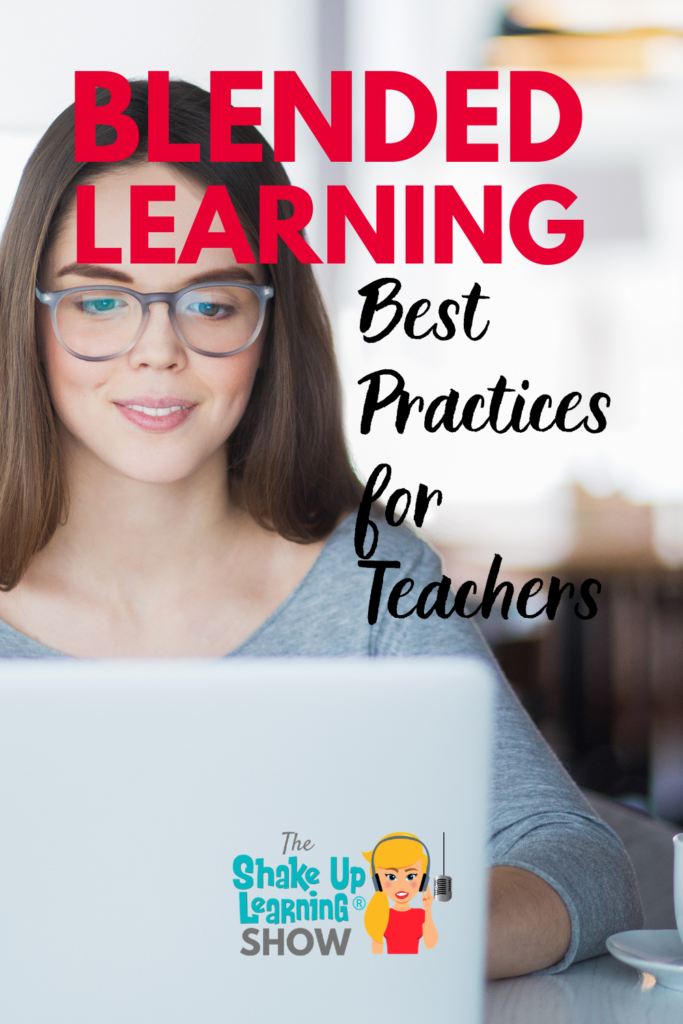 Catlin has written several books on the subject of Blended Learning, and she has been sharing many ideas to support teachers during this time of remote and hybrid learning.
In this inspiring interview, Catlin and I chat about blended learning strategies and models, and what's working right now!
Don't miss the amazing ideas that Catlin shares in this episode, including ideas that will help teachers and students survive concurrent teaching and learning.
Listen to this article.
Shoutout
Thank you to Jennifer Stadtmiller for sharing her experiences in the Google Certified Educator Academy!
"I first prepared for Level 1 using the Google Teacher Center. Using your class to prepare for Level 2 was so much more effective. You led us step-by-step through processes and gave us extra information during Lesson Checks. Thanks so much!!!"
Learn more about Google Certification and the online academies here: GetGoogleCertified.com
Quick Tip (Chrome – Pick Up Where You Left Off)
If you liked last week's tip on Chrome Tab Groups, you might want to adjust your settings in Chrome so that these groups reload when you open Chrome. If you want to pick up where you left off when you closed Google Chrome, you need to adjust your settings. This will allow you to reload things like Chrome tab groups and pinned tabs.
Watch this Quick Video to Learn How!
Blended Learning Best Practices (with Catlin Tucker)
Catlin Tucker has been a go-to resource for all things blended learning. She is a bestselling author, international trainer, keynote speaker, blogger, and podcaster at CatlinTucker.com.
In this interview, we chat about challenges teachers are facing in the midst of the pandemic and what strategies teachers can use in a concurrent classroom learning environment.


Losing the Benefits of Online Learning
Even those teachers who are very experienced feel like brand new teachers this year. The challenge of designing learning experiences for a concurrent classroom, where there are students physically in the classroom and students who are joining the class online, is overwhelming and extremely frustrating.
Catlin says there are many benefits to face-to-face learning and online learning. The way in which schools are approaching online learning right now is actually stripping away the many benefits.
Online learning should give students more control and agency over their learning. Instead, many schools are enforcing screentime and synchronous learning that don't give students or teachers the flexibility they need to succeed in this environment.
(Related: 5 Shifts Needed in Education Now)
Culture and Engagement in a Concurrent Classroom
The Community of Inquiry Framework brings together the ideas of a social, cognitive, and teaching presence.
"The Community of Inquiry theoretical framework represents a process of creating a deep and meaningful (collaborative-constructivist) learning experience through the development of three interdependent elements: social, cognitive and teaching presence."
Catlin says we need to cultivate that social presence. We also need to engage students to develop a cognitive presence online by positioning them as active agents in the learning process instead of reverting to old practices like long lectures.
For many teachers, school administrators' mandates mean that much of these decisions are out of their control. Many schools require teachers and students to remain synchronously connected all day and complete synchronous, whole-class activities all day.
Leaders need to remember that research shows us that the more a human being enjoys autonomy and agency, the more likely they are to be motivated. That applies to teachers feeling that they have the professional latitude to make the decisions they think are right for their students and their subject area. And for students as well, giving them more voice and choice in their learning.
At a time when student engagement seems to be at an all-time low, a topic teachers and administrators should care about, we need to give students and teachers more agency to improve the quality of learning.


What's Working Right Now
The teachers that have embraced the idea that less is more are having more success at this moment. It is impossible to take everything we used to do in a face-to-face classroom and dump it into a remote or hybrid classroom. Go deep, but don't try to cover as much in terms of the breadth, and allow students to engage in the messy work that is learning. Give yourself permission to not cover it all.
(Related: Online Learning Tips for Teachers and Schools [interview with a teacher in China])
Divide student work by prioritizing your standards, the MUST DO assignments, and the CAN DO assignments.
Plan for shorter periods of time instead of monster units. Focus on two to three weeks at a time instead of six or nine weeks.
Engage students in active and creative ways, prioritizing collaboration and shared spaces like Jamboard or Google Slides, where kids can come together and learn from each other.
Teachers who are doing this are having the most success right now.
Another strategy to try is to create more touchpoints with your students.
Make time for one-on-one feedback with students and small groups.
Build student conferencing into your weekly schedule to make meaningful connections with students.
It may not be perfect, but it will be more meaningful.
Related: 35 Remote Learning Resources for Teachers


Blended Learning Models to Try Now
Catlin has shared many blended learning models in her books and blog posts. She suggests adapting the station rotation, flipped learning, and playlist models for the concurrent or hybrid classroom.
To ensure all students (online or in-person) get equitable access and help from the teacher, use ONE consistent method for students to ask for help. That could be using Remind, online chat, ClassroomQ, Google Classroom, or whatever platform works for you and your students.
Adapting the Station Rotation Model for the Concurrent Classroom
The station rotation model has been around for a long time. It's a great way to differentiate and offer more flexible learning paths for students.
This model is NOT just for elementary! Even though stations have been more popular in the early grades. This is a strategy that can be used at any level.
Divide your students into three groups, and give your students a Teacher-led station, an online station, and an offline station. That way students do not have to rotate physically. The teacher still gets the opportunity to meet with small groups, differentiate instruction, and provide real-time feedback.
As kids are working on the online and offline activities,  they can control their own pace. The kids who are online are not forced to stare into a classroom at a whole group activity.
Using Videos in Station Rotation
Break your video activities into three parts: pre-video activity, video, and post-video activity.
We can begin the class with an activity to brainstorm, make predictions, and activate prior knowledge.
Then we can transition into the video and give students a buffer to watch, pause, rewind, rewatch, take guided notes, and the teacher can check-in on students and give feedback.
As kids transition out of the video, they can complete individual or collaborative group practice to try to take what they learned and do something with it.
Try This
Take something you plan to present live and chunk it into smaller pieces, focusing on one big idea.
Then record it in a video, strive for six minutes or less.
Think about how to foster collaboration with your in-class students and your online students. You could have in-class students brainstorming on post-its and online students using Jamboard, and allow them to self-pace through that video. Maybe give them 20 minutes to watch and pace themselves through the video activity.
Then transition students into a discussion. Try a 3-2-1 strategy: what are 3 important facts, what are 2 connections we can make, what's 1 question we have.
Remember, your videos do not have to be perfect! Keep it simple. Video frees you up to facilitate and help students, deliver small group instruction, and reteach struggling students. They can be watched, rewatched, and reused year after year. Use videos for instruction, directions, and modeling.
Related: Synchronous vs. Asynchronous Online Learning


Parting Wisdom from Catlin
Your work matters so much at this moment. You are appreciated. You are making a difference. Your students are lucky to have you. Embrace being a learner right now. Prioritize feedback from students to let them know you care.
Podcast Question of the Week
About Dr. Catlin Tucker
Dr. Catlin Tucker is a bestselling author, international trainer, and keynote speaker. She was named Teacher of the Year in 2010 in Sonoma County, where she taught for 16 years. Catlin earned her doctorate in learning technologies at Pepperdine University. Currently, Catlin is working as a blended learning coach and education consultant. Catlin has written a series of bestselling books on blended learning, which include Balance With Blended Learning, Blended Learning In Action, Power Up Blended Learning, and Blended Learning In Grades 4-12. She is active on Twitter @Catlin_Tucker and writes an internationally ranked blog at CatlinTucker.com.
Catlin's Online Course: Getting Started with Blended & Online Learning
© Shake Up Learning 2023. Unauthorized use and/or duplication of this material without express and written permission from this blog's author and/or owner is strictly prohibited. Excerpts and links may be used, provided that full and clear credit is given to Kasey Bell and Shake Up Learning with appropriate and specific direction to the original content on ShakeUpLearning.com. See: Copyright Policy.