Flipgrid has become the go-to remote learning tool for teachers!
When it comes to digital learning tools to support blended and remote learning, one tool has stood out above the rest in 2020,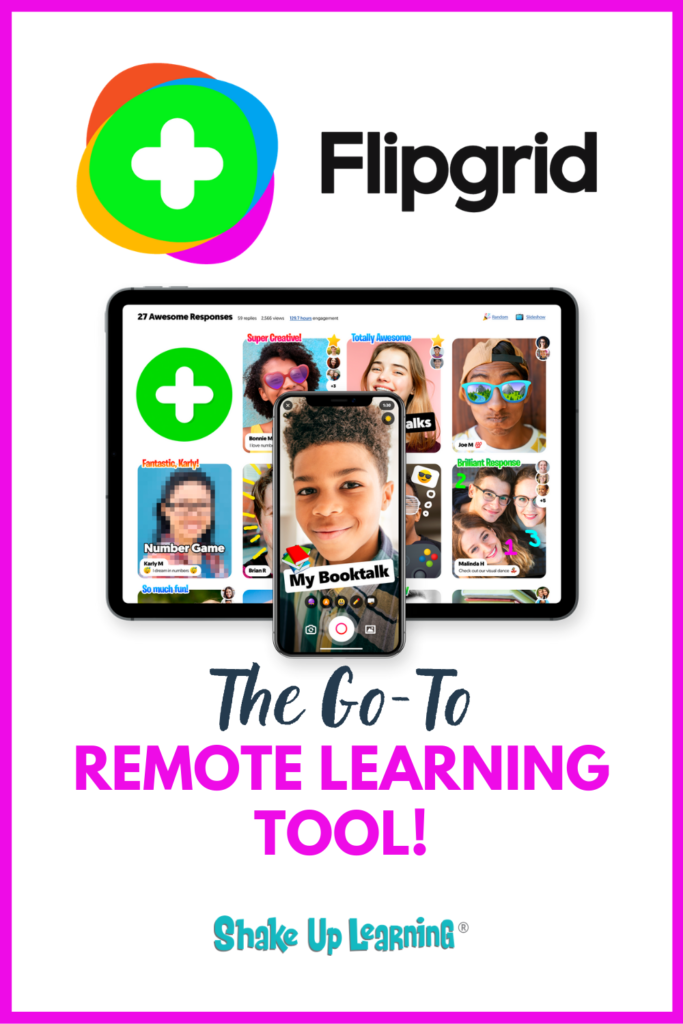 Flipgrid.
In this interview episode with three AMAZING "Flipgridders" and educators, Ann, Jess, and Jornea, share how you can use Flipgrid to support remote learning, building community, academic support, and more.
You'll also hear about some awesome Flipgrid updates and projects.
Before we jump in, I'd like to send a huge shoutout to Paige Sturges for her glowing review of the Google Certified Educator Academy!
Listen to this article.
Quick Tip of the Week (Add a Co-Teacher in Google Classroom)
Let's get back to basics! It's super easy to add a co-teacher to your class in Google Classroom.
Watch this quick video to learn how! 

Two New Google Books COMING SOON!

I am super excited to announce that I have two books that will be released in 2020!
Blended Learning with Google: Your Guide to Dynamic Teaching and Learning
Google A to Z: The Google Glossary for Teachers (supplement)
More information will be posted soon. Fill out the form below if you want to be the first to get the details on these two books!
Flipgrid: The Go-To Remote Learning Tool
Flipgrid has quickly become one of my favorite tools, especially for remote learning. With remote learning, we have seen Flipgrid move from that NICE TO HAVE platform to the NEED TO HAVE platform.
RELATED: The InterACTIVE Class in a Post-COVID World
What is Flipgrid?
Flipgrid is a FREE, asynchronous video discussion platform that gives every student a voice. The educator posts a prompt in Flipgrid, and then students respond via video. Then students have the opportunity to watch each other's responses and reply. It adds a layer of fun and collaboration to the classroom experience!
How Can Flipgrid Help Support Remote Learning?
During the emergency school closures, teachers were tasked with creating community in a completely different way. Building a community despite physical separation is a challenge, but educators across the globe have risen. There are so many ways that educators can use Flipgrid to connect with students.
Joe Merrill, a guest in e79, shared how he uses Flipgrid as a virtual "playground" for his littles. Many teachers are also using Flipgrid for social-emotional learning, digital celebrations, or even a virtual pet parade. Ann says she has been inspired by the silly connections, the emotional connections, and the heart connections she has seen from teachers using Flipgrid.
"If this time has taught us anything, it's that relationships with students are that much more important!" – Jess Boyce
Just because it's an asynchronous tool doesn't mean that you can't feel connected to your students. It can be personal, real, relevant, and unique.
Let's celebrate every unique voice!
Flipgrid provides that pathway for students to share their unique voices.
Educators are thinking about new ways and opportunities to meet the needs of students.
We are all in this together!
This is the opportunity for us to Shake Up Learning!
RELATED: 10 Awesome Ways to Use Flipgrid in Your Classroom [LIVE from ISTE] 
Flipgrid Ideas to Try
Ideas to try (fun and academic):
pet parade
birthday grid
morning announcements
good morning videos
exercise videos
school-wide showcase
daily check-ins
dance challenge
2 truths and a lie
would you rather
tongue twister challenge
discuss mindfulness, race equity, or other in-depth topics
have students explain their thinking
have students explain how they found the answer or solved the problem (math)
REFLECTION!
Check out this page for more Flipgrid Remote Learning ideas.

Check out the #Flipgridforall hashtag to find new ideas, connect with other educators, gain inspiration, and learn all bout Flipgrid!
Use the Flipgrid Discovery Library to find lesson ideas and inspiration from educators all over the world.
Flipgrid Accessibility Features
Flipgrid PD for Educators (FREE)
Flipgrid Updates
Learn all about the new Flipgrid updates like fonts, inking, boards, stickers, split-screen, screen recording, and more on this page.
Find and Follow Ann, Jess, and Jornea!
© Shake Up Learning 2023. Unauthorized use and/or duplication of this material without express and written permission from this blog's author and/or owner is strictly prohibited. Excerpts and links may be used, provided that full and clear credit is given to Kasey Bell and Shake Up Learning with appropriate and specific direction to the original content on ShakeUpLearning.com. See: Copyright Policy.