Working and teaching from home is a whole new ballgame, but it is possible to do it productively. I'm sharing my best tips to help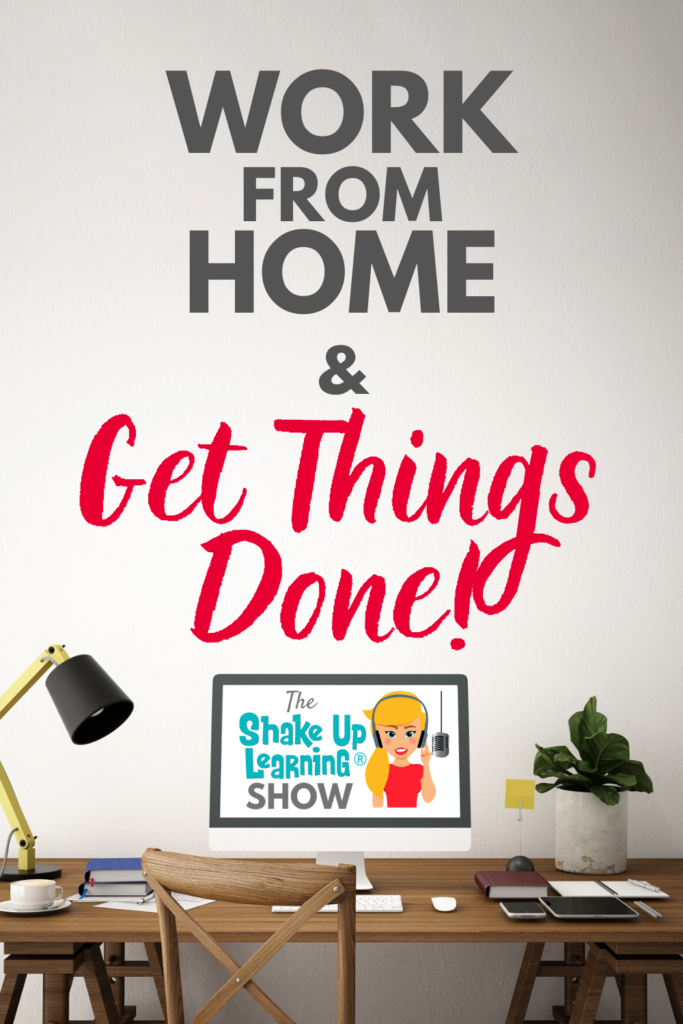 you work from home and get things done at the same time–everything from planning, eliminating distractions, prioritizing your to-do list, and my favorite hacks and strategies!
This is a trying time, but it certainly isn't impossible. I've been working from home for several years now, so I'm laying it all out there.
Truth be told, most of these productivity hacks are tips I would recommend whether you are working from home or school. But working from home does give you more flexibility to organize your day in a way that works for you in the home environment.
Shoutout
Jennifer Pearson checked back in after her bonus episode. She provided some additional tips and information for how you can get back some one-on-one time with your students through "office hours."
Please note, this post contains affiliate links. If you purchase something from my link, I will receive a small commission at no additional cost to you. Thank you for supporting Shake Up Learning.
Listen to this article:
Quick Tip of the Week: Bookmark the Classwork Page in Google Classroom
In Google Chrome, you can add it to your bookmarks bar for quick access.
To enable the bookmarks bar, click the 3 dots near the top-right in Chrome, then select bookmarks, and make sure the bookmarks bar is enabled.
Go to the Classwork page for the class you wish to bookmark.
Then you can simply click-and-drag the lock next to the URL in the Omnibox to add the bookmark to your bar.

Watch this video to learn how!
Work From Home AND Get Things Done!
Every single one of us has a different situation happening at home, but we can all still find ways to be productive each day. Working from home is a challenge even under the best of circumstances, so I wanted to share some amazing productivity hacks to help you navigate this time. I promise you can maximize your time at home and get things done!
Goal Setting
Have you set goals for the week, the month, or the year! Goals will help you stay focused on what matters and make things happen. Do you have a goal of cleaning out the garage, spring cleaning, cleaning up your Google Drive, or working toward a new degree? Take the time to set some personal and professional goals!
I use Power Sheets to set goals each year and to revisit and revise goals throughout the year. I've been using Power Sheets for around four years, and I love the focus and clarity they give me. Plus, they are super cute! I get out my gel pens and go to town brainstorming, journaling, and setting big goals.
Nighttime Routines for a Successful Day
Once you have clarified your goals, create some nightly routines.
Review your calendar and to-do list: Before you go to bed, check your calendar and to-do list for the week. Don't just look at the next day, look at the week as a whole, so you have a good high-level view of your week.

Try affirmations:

In case you're not familiar with affirmations, they are short sentences aimed to affect the conscious and subconscious and positively impact our mindset. Read them aloud or to yourself. Anything you're working through can be put into an affirmation to remind your brain of the goals you have.

Here are some

bedtime affirmations

from Hal Elrod, the author of

The Miracle Morning

.

Journal/Reflect: Reflect on the day. What went well? What didn't? Then journal through all the things that are currently causing your stress. Pour your heart out and let it go.

 
Morning Routines
I've always been an early riser, and I do believe this time in the morning helps me attack the day with more gusto! If you are working from home, you may also be working around your kids and your spouse, so getting up early may be your only alone time. Use this time to help you reset and prepare for the day ahead.
Here are some tips for setting up your day for success. Do these in whatever order works for you!
Prayer/Meditation
Exercise
Journaling
Morning Affirmations and Visualizations
Review Goals (If you have set goals, it's time to do it!)
Review To-Do List and prioritize
Select your three most important tasks for the day. (MITs)
Plan your day!
Customize this routine to fit your needs, your goals, and your schedule.
After I get up and ready, I have my coffee and do my daily devotional. This could be time to meditate, read a book, or devotional, whatever helps to give you space and put you in the right mindset for the day. I'm currently reading Dangerous Prayer by Craig Groeschel and Unshakeable by Christine Caine.
Tend to Your Daily Mindset Work
Morning Affirmations: Just like we had nighttime affirmations there are also daytime affirmations. There is something about reminding yourself about your goals each day that helps you prioritize them. Here's a daytime example from Hal Elrod.
Visualizations: Visualize reaching your goals. You can close your eyes and imagine or create a vision board. You can also create a vision board in Google Slides. 
Journaling: Then spend time journaling. Journal at night to de-stress and journal in the morning to write out what you need to get done that day.
Exercise: I prefer to workout in the morning, but feel free to work this into your day where it works for you. Especially during quarantine, make time to get some fresh air.
Get Down to Business
Review: Review your goals, your to-do list, and review your calendar. If you do these together, you'll be able to prioritize your tasks and make room in your day for small steps that move you forward. I use Omnifocus for my tasks. It's quite robust, but I also like Google Keep. There are a ton of to-do list apps. Find what works for you.
I use Google Calendar for my calendar app. Did you know you can have Google Calendar email your daily agenda every morning?
Prioritize Your Tasks: Determine your 3 Most Important Tasks for the day (MITs). There are several strategies to try, but I like using the Eisenhower Matrix to prioritize my tasks.
I don't use the Eisenhower Matrix every day, just when my list is long and overwhelming.
I also prioritize all of my tasks with a letter and numbering system that I learned from the Franklin Covey method.
Plan Your Day: Next, you'll want to plan your day. Block out the times you plan to work on certain tasks.
I love planners! There are so many fun and helpful options. I'm a fan of the Franklin Covey Planner, the Passion Planner, and the Slides Mania planner templates. 
I am completely digital with my daily planner. I have even customized the Slides Mania planner template with my branding, my personal way of organizing tasks, and my personal goals. I saved it as a PDF and import it into Good Notes on my iPad Pro, so I can write on the planner with my Apple Pencil 2. I LOVE IT!
Here's the planner template I used from Slides Mania. They also Lesson Planners, and directions on how to customize!
If you want to use mine, you can click here to make a copy.
Work from Home Productivity Techniques
Time Blocking: Most human beings cannot stay inherently focused for 8 hours at a time. Instead, try time blocking your day. For bigger projects, and things that require you to think critically, try blocking out 1-2 hours to work on ONE THING. For instance, plan your day with a 1-2 hour block of time to work on grading and feedback.

Pomodoro Technique: Take breaks! I use the Pomodoro Technique to stay productive within my time blocks. The Pomodoro Technique breaks work down into intervals. You work for 25-30 minutes and then take a 5-minute break. I like to use this time to walk around, stretch my legs, and pick up around the house or fold laundry. Then you go again. 
I use an app called Focus To-Do on my iPhone for Pomodoro timers.
Since most of our work is in front of screens these days, this is also a break for your eyes and from screen time.
When I first heard of this, I thought it was crazy and that it would break my flow. NOT TRUE! It helps me stay hyper-focused when I need to be.
I also recommend this technique for secondary students in the classroom doing deep work!
Turn Off Distractions and Notifications: Turn off the TV. Turn off your notifications. No, you do not need to know that someone liked your social post as soon as it happens! Notifications on your phone and computer are a HUGE distraction.
Limit your notifications to just your VIPs, and the things you MUST know immediately. During COVID-19, the news is important, but can also distract you. Find a balance, so this isn't ruining your focus or stressing you out. Instead, try batching these tasks and only checking updates, email, or other notifications 1-3 times/day.
Try Music or White Noise: Some people can focus well with music. Others need silence. Adults generally know if they can be productive with music playing. If I need a mood boost, I will listen to some of my favorite tunes. But I know that I will start singing and dancing and get distracted if I do that too long. I have learned that I work well while listening to classical music. Baroque piano music is a particular favorite.
There are also many ways to listen to white noise like the sounds of a restaurant or cafe, nature, rain, or even thunderstorms. Once upon a time, I used Noisli. I like how you can customize your own mix of sounds. I don't like that everything isn't free. I already pay for Spotify, and they have lots of options. You can also find great work music on YouTube, Amazon Music, Apple Music, or Pandora.
Batch Tasks: Batch your work tasks by working on time-consuming tasks only once or twice/day. Email can be a huge drain on your time and energy. Unless your job absolutely requires you to see and read an email as soon as it comes in, turn email notifications off! Check your email twice a day. You may need to communicate this to the people you work with, so they know your schedule and what to expect. 
I also batch my errands, so I can save gas and limit time sitting in traffic.
Don't forget self-care and grace! Take care of yourself, especially during quarantine. Take a walk, a drive, or escape in a hot bath!
Most important is to give yourself grace. No one is perfect, and there are now awards for the best "Quarantiner!"
You don't have to follow the same path every day, planning is key to get things done!
Resources: 
Book Recommendations:
Podcast Question of the Week
Share one thing you are doing to be more productive while you work from home.   

Post your answers in the

Shake Up Learning community

or on your favorite social platform.
Join our FREE Shake Up Learning Facebook group.
---
© Shake Up Learning 2023. Unauthorized use and/or duplication of this material without express and written permission from this blog's author and/or owner is strictly prohibited. Excerpts and links may be used, provided that full and clear credit is given to Kasey Bell and Shake Up Learning with appropriate and specific direction to the original content on ShakeUpLearning.com. See: Copyright Policy.