In this episode and blog post, I am sharing asynchronous learning tips for teachers.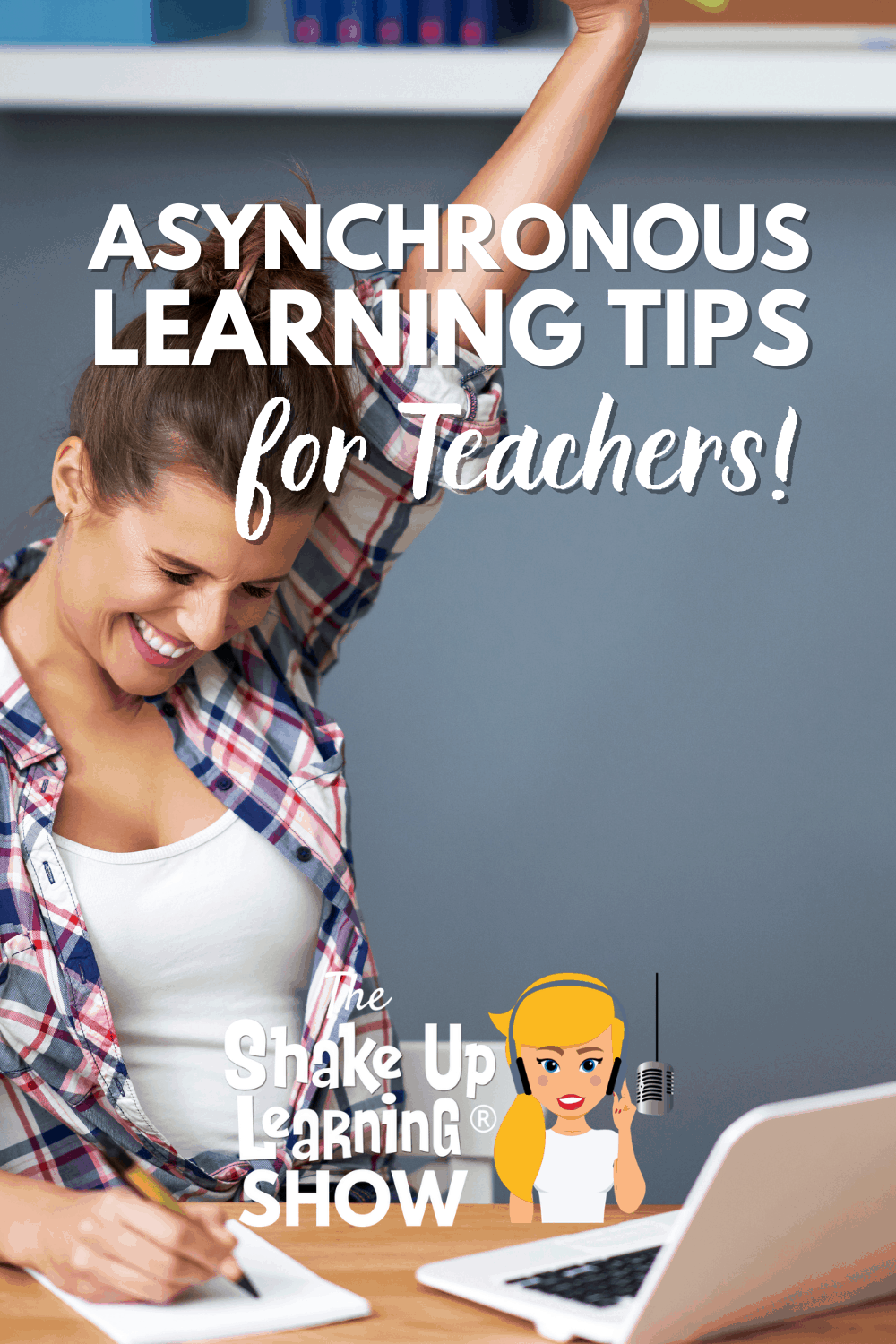 As more and more teachers and students adapt to online and blended learning, let's take a closer look at creating more meaningful asynchronous learning experiences.
Every student doesn't have to do the exact same thing at the exact same time.
Asynchronous online learning is a powerful tool for teachers.
Listen to this article.
Shoutout
Special thanks to TCEA and IDEAcon, and all of the amazing educators engaging in professional learning.
Work with Shake Up Learning and Kasey Bell
Quick Tip (Easy QR Code in Chrome)
Google Chrome has a new feature! In one-click, you can create a scannable, custom QR code of any website!
Watch this quick video to learn how!
Subscribe to Shake Up Learning on YouTube
Asynchronous Learning Tips for Teachers
In general, the terms synchronous learning and asynchronous learning have historically referred to online learning. As the lines between online, distance, remote, and blended learning get blurred, these definitions will continue to grow and evolve.
What is Synchronous Learning?
"Synchronous online activities are those that require students and instructors to be online at the same time. Instructions, lessons, discussions, and presentations occur at a specific time. (not flexible)" – Blended Learning with Google by Kasey Bell
What is Asynchronous Learning?
"Asynchronous online activities are just the opposite. Instructions, lessons, discussions, and presentations occur at different times for each student. Teachers provide materials, instructions, lessons, and assignments that can be accessed over an extended period.
Students are given a timeframe or due dates to complete the work and watch lessons and videos. Interactions and discussions take place using asynchronous tools such as discussion boards that do not require everyone to be connected at the same time (flexible)." – Blended Learning with Google by Kasey Bell
Asynchronous activities require some student autonomy and ability to self-direct, as well as monitoring of progress.
Example: Zoom or Google Meet video recordings where the lesson video is posted online, and students can watch at different times. 
Why Asynchronous Learning?
Both synchronous and asynchronous learning are important.
But there are some superpowers that lie with the flexibility offered by asynchronous learning activities.
Every student doesn't have to do the exact same thing at the exact same time.
Asynchronous learning can help build confidence and competence in our students, helping them take ownership of their learning and become more self-directed learners.
Yes, at this moment, we have come to rely on asynchronous learning more than ever. But these skills will be a good bridge into the new normal.
In and of itself, asynchronous learning IS STUDENT-CENTERED!
When we shift to the online environment, we have to think differently about our online activities and assignments.
Related: 7 Ways to Rethink Assignments
Generally, students prefer many asynchronous learning activities, especially recorded videos that they can watch and rewatch.
Asynchronous Learning Tips
Pre-assess Your Students!
This can happen synchronously or asynchronously to prepare for asynchronous learning.
If you don't know what your students know, you are going at this blind. Quite possibly, one of the most powerful tools teachers can use is pre-assessment. It may seem like it is too time-consuming, but it will save you and your students valuable time in the long run.
If we are teaching something students already know, we are often wasting valuable instructional time.
Pre-assessment can be a formal pre-test or quiz, but it doesn't have to be.
Can they explain the concept or skill using video or writing?
Pre-assessment strategies to activate prior knowledge:
KWL (What I Know, What I Want to Know, What I Have Learned): Yes, you can do this digitally–Docs, Slides, Jamboard, Padlet–all you need is 3 columns!
Discussion
Concept maps
Think-Pair-Share
Graphic organizers
Recorded Videos
Use short, recorded videos and make them accessible to students online.
Generally, you want to keep your videos to ten minutes or less, even shorter for the littles.
Think of it this way. Recording videos that can be reused over and over again, even reused in the coming years, is a powerful tool to have in your pocket.
You can create a database of videos to reuse year and year.
Instructional Videos
Think mini-lessons: Chunk content into bite-sized pieces focused on the learning goal.

Combine voice-over slides, screencast when necessary, and show your smiling face.
Feedback Videos
Personalize feedback for students by using video when you can.

Create a comment bank of videos to save time when you can't personalize. Screencastify is perfect for this! Just save the links in your Google Classroom comment bank or somewhere you access frequently!
Good Morning Videos
If you do not see all of your students face-to-face, consider recording good morning videos to help connect with your students.
Social-Emotional Learning (SEL) Check-in Videos
Take the time to check-in on your class, and if you have concerns about specific students, create a personalized check-in video for them.
Provide Student Choice
Consider creating videos to provide choice in learning for students.

Video-based choice explanations for choice boards (especially littles that can't read), station rotation options, or any kind of choice.
Student-Created Videos
Let's flip this around and think about how students can create and use recorded videos.
Introductions: Students can create a video to introduce themselves to the class. (Flipgrid is perfect for this!)
Peer-to-peer videos: Students can create videos to give feedback to their peers, make connections, support each other, and build classroom culture.
Tools for Student-Created Video:


Audio
Everything doesn't have to be video! Audio can be a powerful tool in your bag of tricks. Audio recordings will let students hear your voice even if they can't see you.
The audio file size is much smaller than video, so you can save bandwidth for low access areas.
Audio may not be as personal as video, but it is more personal than text.
Audio Creation Tools:
Garageband on Mac and iOS

Voice recorders apps available on just about any device
Related: 13 Tools to Record Audio on a Chromebook
Provide Multimodal and Multimedia Support with Your Videos and Audio Files
To better support your learners, be sure to provide additional resources with your video and audio to clarify. Think of different ways to present information like:
Images

Infographics
GIFs
Text
Differentiate
Don't forget to differentiate your asynchronous learning activities. Just because you are doing asynchronous learning doesn't mean that it is automatically differentiated.
Consider:
Creating videos for different skill levels.

Provide enrichment opportunities for students who are ready for more.
Allow students to progress on to the next learning goal, unit, etc.
Gamify your lessons. (Check out episode 96 about digital badges)
Collaboration
Be sure there is a purpose to the collaboration, not just to break up the mundane. If there is not a clear purpose, don't do it. Please do not use breakout rooms just because you can.
Assign roles, so students know what is expected.

Create check-ins and deadlines. (video chat, or feedback deadlines)

Constantly facilitate collaboration. 
Discussion/BackChannels
Students talking isn't necessarily a bad thing! Just because they are chatting with another student can be used for learning.
Guide discussion–design it, monitor it and respond to it.

Use the built-in comments feature that is available in many applications you already use.

Try Jamboard, Padlet, comments, or discussion boards.
What asynchronous strategies will you try with your students?
© Shake Up Learning 2023. Unauthorized use and/or duplication of this material without express and written permission from this blog's author and/or owner is strictly prohibited. Excerpts and links may be used, provided that full and clear credit is given to Kasey Bell and Shake Up Learning with appropriate and specific direction to the original content on ShakeUpLearning.com. See: Copyright Policy.