Voice Typing in Google Docs is a Game-Changer!
As a former ELA teacher, I am naturally drawn to technology that supports reading and writing.
Google Docs is fully-loaded with some features that can save us time in and out of the classroom, and oftentimes can even save us a little heartache when it comes to supporting students.
One tiny little feature that packs an amazing punch is Voice Typing in Google Docs.
Listen to this article.
7 Reasons You Need to Try Voice Typing in Google Docs
Voice typing is a speech-to-text feature that is built into the most popular word processor in the world, and it is available to you and your students if you have a microphone on your devices.
You can dictate all kinds of words, lists, and writing into Google Docs. You can also dictate formatting, punctuation, and editing. But wait…there's more! YOU CAN DICTATE IN OTHER LANGUAGES!!!!! WHOA!!!!
I have shared this little feature during my presentations, and I was reminded just last week how powerful this tool can be for any student, but especially for struggling students, ELL, and primary. So in this post, I will share seven reasons you need to try Voice Typing in Google Docs–for yourself, for your students, and to help support learning across the board. This is the tip you need to pass on! Every teacher needs to know this!
Text-to-speech has a bad reputation, but it has come a long way! Google has a fantastic text-to-speech engine that is built into the Chrome browser and used in the Google Assistant. If you have ever done a voice search, you have seen how well Google understands what you say. Now take this power and apply it to dictation into a Google Doc. This little feature works amazingly well! Think of Voice Typing like your personal stenographer! (Note: Voice Typing also works in Google Slides speaker notes.)
How to Enable Voice Typing in Google Docs (desktop version)
Step 1: Turn on Your Microphone
To use voice typing or voice commands, your computer microphone needs to be on and working.
Step 2: Start voice typing in a document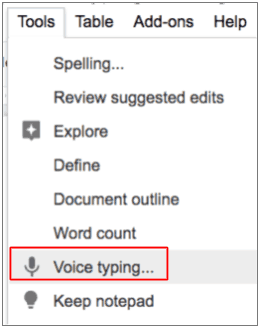 Check that your microphone works.
Open a document in Google Docs with a Chrome browser.
Click Tools  Voice typing. A microphone box appears.
When you're ready to speak, click the microphone.
Speak clearly, at a normal volume and pace (see below for more information on using punctuation).
When you're done, click the microphone again.
---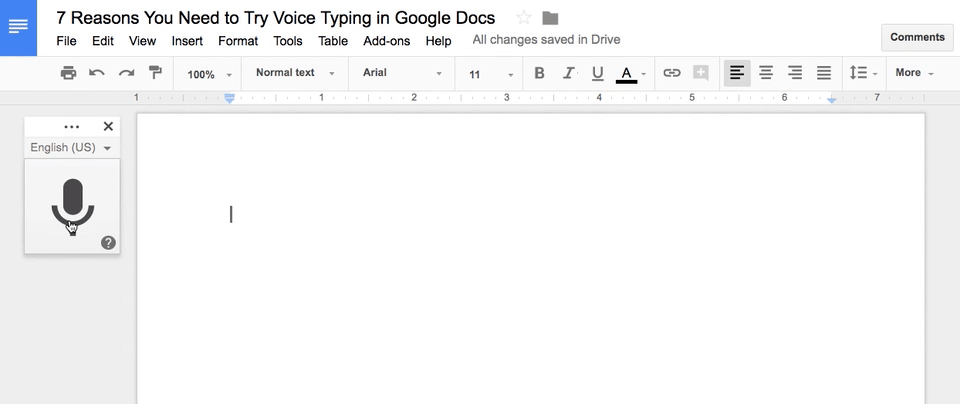 ---
7 Reasons You Need to Try Voice Typing in Google Docs
1. Time Saver
Chances are that you talk faster than you type, even if you have pretty good typing skills. Voice Typing can save you valuable time, especially valuable instructional time. Very few students have efficient typing skills these days. Having students type their essays and research, well anything for that matter, can be one of the most excruciating processes in the classroom. Use Voice Typing to maximize your time with your students.
I know what you are thinking…noise! Yes, if every student is dictating into Google Docs at the same time it could be a giant mess. But keep in mind that every student doesn't have to do the exact same thing at the exact same time. This also makes it easier to make use of limited devices. You could dedicate a time and space for recording/dictating, similar to how we manage recording videos and audio in the classroom. Don't immediately dismiss it because of the chaos. You can manage the chaos and make it work. Now, this may not be the way to compose everything, but it's worth a try to see what works best for you and your students.
---
2. Dictate and Format All Types of Writing with Your Voice
We use Google Docs for all types of writing and projects. Don't limit your use of Voice Typing to just the text-heavy essays. You can dictate anything into Docs, including
class notes,
meeting notes,
to do lists,
starter sentences,
thesis statements,
vocabulary,
spelling lists,
math word problems,
and just about any other type of writing!
---
You can also dictate formatting, punctuation, and correct mistakes with commands! Yeah!!!
You can use these phrases to add punctuation to your text:
Period
Comma
Exclamation point
Question mark
New line
New paragraph
---
After you start voice typing, you can use commands to edit and format your document.
For example,
---
Correct Mistakes with Voice Typing
If you make a mistake while you're typing with your voice, you can move your cursor to the mistake and fix it without turning off the microphone.
---
After you correct the mistake, move the cursor back to where you want to continue. To see a list of suggestions, right-click words underlined in gray.
---
3. Support the Littles Who Can't Spell Yet!
Our youngest learners can tell amazing stories. They can compose, they just don't have the spelling and composition skills yet, but they can dictate their sentences and stories in Google Docs without worrying about spelling or typing. What a great way to support young writers and help them feel successful! Bonus: Dictation can help students learn punctuation skills.
---
4. Support Struggling Writers at Any Age.
Writing is hard and it can be a struggle for writers of all ages. Voice Typing can be particularly useful for those that struggle, especially those with Dyslexia, Dysgraphia, or just struggle with the mouse and keyboard. Voice Typing can make a great companion or modification to help support struggling students. Accessibility is important for all learners.
---
5. Support ELL and Foreign Language — dictate in other languages.
As I mentioned earlier, you can dictate in other languages. At last count, this feature is available in 90 different languages! (See the full list of languages on the Google Voice Typing support page.)
To change the language, just use the drop-down above the microphone to choose your language.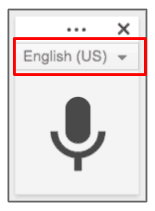 This is a fantastic way to support students who are learning new languages, whether that is an English Language Learner or a student in a Foreign Language class. Students can compose in their language of choice. They can even translate their document into another language. (Go to Tools>Translate Document)
For some students, this is a complete game-changer! Being able to compose in their native language can really help bridge the divide as students learn English. Be sure to share this tip with all the language teachers on your campus!
---
6. Dictate on the Go. (Google Docs Mobile App)
Did you know that Voice Typing works on mobile?!! Yep! You can dictate on the go. Students who have mobile devices can dictate directly into their device. This could expand the use of the feature beyond the classroom, as well as give you access across multiple devices in and out of the classroom. Just look for the microphone icon on your mobile keyboard to start dictating.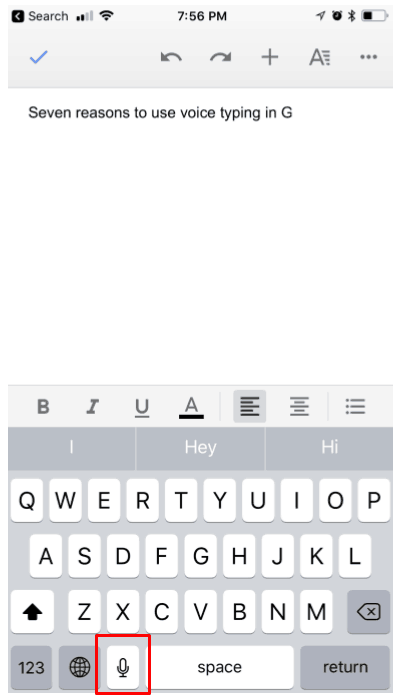 ---
7. We Need to Get Used to Talking to Our "Stuff."
This is something I talk a lot about in my keynote! We have to get used to talking to our stuff. Whether you are ready or not, text-to-speech is becoming a part of everything. I often feel like the world isn't ready to see me talking to my Apple Watch as I shop in the grocery store, but get ready. We will all be talking to our stuff and making great use of machine learning. That means that keyboarding skills will eventually go by the way side. The world is changing! Are you ready?
---
---
© Shake Up Learning 2023. Unauthorized use and/or duplication of this material without express and written permission from this blog's author and/or owner is strictly prohibited. Excerpts and links may be used, provided that full and clear credit is given to Kasey Bell and Shake Up Learning with appropriate and specific direction to the original content on ShakeUpLearning.com. See: Copyright Policy.