Shake Up Learning Show Podcast Quick Tip of the Week
Starting in Season 2 of The Shake Up Learning Show Podcast, I am sharing a quick tip to save you time and help you in your classroom. This page will serve as a resource and archive of all the tips.
Did you know you can convert images and PDF documents into a Google Doc and extract the text? This tip could save you valuable time!
You've probably heard about using the URL shortcut ".new" to create a new Google Doc, etc. (Learn how it works here.) But did you know there's a shortcut to create new docs with different Google accounts?
Do you ever get tired of changing the color of your links in Google Slides? Change the color of ALL of your links in the Master Slide! This is a HUGE time-saver for teachers.
Have you ever wanted to add your zoom link or additional information for students to the Google Classroom header? Yes, you can add your clickable Google Meet link, but what if you don't use Meet? This tip will help you add additional information and links to the header.
(Note: links will not be clickable, but can be copied and pasted)
In Google Slides, you can use the Master Slide to adjust the theme to your liking, add images, links, and other information that will appear of all of your slides. This is a HUGE time-saver for teachers.
There's a new citation tool in Google Docs, and it pretty awesome! Go to Tools>Citations to test it out. Add sources, parenthetical citations, and create a bibliography.
Google Slides gives us several options for formatting videos, like setting a start and end time (clipping a video), muting audio, and more.
Use the keyboard shortcut Ctrl + Alt + M to insert a comment in Google docs, sheets, slides, and drawings.
If you want to pick up where you left off when you closed Google Chrome, you need to adjust your settings. This will allow you to reload things like Chrome tab groups and pinned tabs.
Google Chrome has a hidden feature that allows you to name, color-code, and group tabs!
Publishing your Google Slides lessons to the web gives you a unique link that anyone can view. It is a full window player, so you only see the slides one at a time. Use this unique link when sharing your screen in Zoom or Meet instead of clicking on "present." This allows you to see more than one window at once.
Not only can you crop images in Google Slides and Drawings, but you can also crop them into shapes. It's called masking, and it's super easy!
NEW FEATURE! You can now invite students to join your class in Google Classroom with a link!
When you leave feedback in private comments for students, don't just tell students what to revise or edit; give them a resource link so they can review the skill!
Did you know you can tag students in Google Classroom comments? Yes, if you allow class comments, you tag students so they know you are responding to them. Simply type the plus sign followed by their email (+student@email.com).
Most teachers seem to have a love/hate relationship with Google Classroom notifications. Did you know you can customize what notifications you receive?
Did you know you can distribute assignments in Google Classroom to multiple classes all at once? It's super easy!
I love little URL hacks that make Google even better! This is a quick way to create a template link to share online and with other teachers. (Note: you don't need this link for students if you use Google Classroom.)
I've written about this tip in-depth here, but here's the quick tip version.
The key to making Google Slides interactive and more than a presentation tool is internal linking–linking objects and words to different slides, not just outside links. This one little tip can change how you view the tool and use Slides with students.
Save time creating Google Forms and Quizzes for students by reusing questions. It's super easy.
Click on the "import questions" icon in Google Forms, select the form from which you want to import questions, then select the questions, and click "import."
Tired of recreating Google Classroom classes and adding all your topics and organization? Create a reusable template to save yourself valuable time. (I've blogged about this in-depth here.)
Have you ever clicked send on an email and realized you made a mistake or forgot something? Gmail has a great "undo send" feature that will give you up to 30 seconds to undo a sent email!
If you are like me, you may find yourself with a lot of tabs open in the Google Chrome browser. One of my favorite features, pinned tabs, helps me organize my tabs and keep my most frequently visited website right up front! Just right-click on the tab and choose "pin."
Ever wonder how you can have a pretty row of Chrome bookmarks that are all icons? It's super easy!
Simply click-and-drag to add a bookmark to the bookmarks bar. Then, right-click on the bookmark to edit the text and delete it to take it down to just the icon or favicon.
Emojis are everywhere and are a great way to engage your students. Did you know that you can copy and paste emojis into Google Classroom and Google Drive? Yep! You can add them just about anywhere, including the titles of your Google files too!
Did you know that you do not have to give every student the exact same assignment at the exact same time in Google Classroom? It's super easy to differentiate, distribute modifications, assign group work, and more.
Click the drop-down arrow next to students on your Google Classroom assignment.
Uncheck "all students."
Select the student or group of students you wish to give the assignment.
Have you ever wanted to add a file to multiple folders in Google Drive? You can, and it's super easy!
Go to Google Drive and select a file you want to appear in more than one folder.
Use the keyboard shortcut Shift+Z to make the "Add to" dialogue box appear. Navigate to the subsequent folder in My Drive you want to appear.
Use the ADD button to add the file to the subsequent folder and it will remain in the original folder too.
This is only an option in My Drive as Team Drives do not allow files in multiple folders.
From Google Drive on the desktop, you can preview files without having to open them in a new tab by selecting the file and hitting "P" on the keyboard. This is great for checking information in a document without having to open and close new tabs.
This week's tip is for one of my favorite Google tools, Google Slides! Use Control + D (Command + D on a Mac) to duplicate a slide. You must have the slide selected in the left-hand slide sorter first! You can also use this keyboard shortcut to duplicate objects on the slide, like a text box, shape, or image. Easy peasy lemon squeezy! I use this ALL THE TIME!
Who doesn't love finding a good shortcut? Google created a handful of shortcuts: docs.new, sheets.new, and slides.new. You can easily pull up a new document, spreadsheet or presentation by typing those shortcuts into your address bar (aka Omnibox).
The Stream is your Google Classroom communication hub. This is where you post announcements and keep students informed.
By default, the Stream will also show notifications of new items posted on the classwork page. For some, this feels like duplication and can muddy up the Stream. (Ha! See what I did there.)
If you're using the Classwork page, you can choose a collapsed or expanded view for Classwork notifications on the Stream page. You can also hide them entirely from the Stream page.
You can learn more about all of the Class settings here.
Private comments are a powerful feature!
Some teachers take the private comments feature a step further and make it part of the assignment by requiring that students add a reflection as a private comment after they submit their assignment. Sean Fahey suggests using an open-ended question or give students a prompt like, "What did you like most about the assignment?" or "What part challenged you the most?"
Be sure to add this to your directions, so they don't forget!
Sometimes, navigation in Google Classroom can be frustrating and take a few too many clicks to get where you want to go. Since the majority of your time will be spent on the Classwork page, I recommend bookmarking it.
In Google Chrome, you can add it to your bookmarks bar for quick access.
To enable the bookmarks bar, click the 3 dots near the top-right in Chrome, then select bookmarks, and make sure the bookmarks bar is enabled.
Go to the Classwork page for the class you wish to bookmark.
Then you can simply click-and-drag the lock next to the URL in the Omnibox to add the bookmark to your bar.

Right-click on the bookmark to edit the name or shorten it.
I like to bookmark the Classwork page for each of my classes in Google Classroom. It saves me tons of time!
Did you know you can get a direct link to a specific assignment or topic in Google Classroom?
Yes! This Google Classroom tip is super handy when you need to refer students to something specific.
To get the link, go to the Classwork page and click on the 3 dots on the assignment. Then click on "copy link."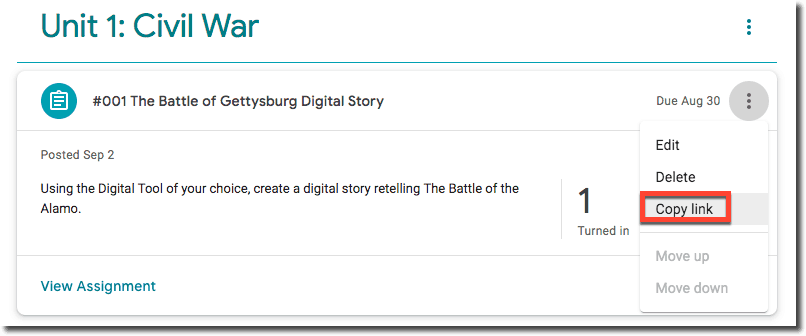 Add this link in a comment for students, send in an email, or post it in another platform or document.
Similarly, you can also link to an entire topic in Google Classroom. Just go to topic on the Classwork page, click the 3 dots, then "copy link."
Numbering your assignments is one of the best tips I ever received. It helps you organize files not only in Classroom but also keep Google Drive neat and tidy.

This tip is also one I recommend in the previous post, 6 Tips for Getting Started with Google Classroom.
This week is not so much a tip, but I hope you will learn tips from others here. Use this Flipgrid to show your home workspace, tips, tools, and lesson ideas.
This tip comes from Ronnie Williams. Ronnie shares how to copy and "magic" paste – which is pasting to match the style. This will save you tons of time reformatting text after you pasted. Use the keyboard shortcut Control + Shift + V instead of the regular Control + V to paste. (Command + Shift + V on a Mac).
Check out this blog post from Jake Miller about a slides timer extension. Clay Smith is an educator in New York City, and he created a Chrome extension that allows you to put a live timer on your slides!
Got students working in one slide deck? This may be collaborative, a slide per student, groups, or the entire class. Here's a quick tip to view what's going on in several slides at once. Use the grid view button in the bottom left of Google Slides to see several slides at once.
Need a quick timer for your classroom? Try using Google Search. Go to Google Search and type in the type of timer you need for your classroom, i.e., 10-minute timer, and then hit submit. A timer will show at the top of your search, automatically start, and allow you to project it full screen. Easy peasy!
This week I wanted to share a Chrome extension that I almost forgot that I use because I use it so frequently. It's called Eye Dropper and it allows you to go grab any color off of a webpage and save it to a palette. You can pull the hex code and incorporate them into your projects.
This week I have two quick tips for you. There are two Chrome extensions that I use every day and had to share them with you. Check out Tab Scissors to split your Chrome tabs into two screens. Then once you need to put them back together, use Tab Glue.
In any Google Doc, use the keyboard shortcut, Control + Shift + 8 (Command + Shift + 8 on a Mac), to add a bullet to your document. This keyboard shortcut is amazing if you need to add bullet points quickly to a doc.
In your browser, use Control + F (Command + F on a Mac) to find words and phrases on any webpage. This keyboard shortcut is unbelievably helpful when you're scrolling through really long pages of information, particularly in Google Classroom. ​
In Google Chrome, use Incognito mode to check that your public links are accessible and shared correctly. Incognito is a unique browser window that will not automatically log you into any accounts.
In Chrome, click on the 3 dots > select New Incognito Window. (Also works on mobile.)
Or use the keyboard shortcut:
Control + Shift + N (PC and Chromebook)
Command + Shift + N (Mac)
I use this trick to check my links to Google files, Google Sites, and other links I share with the outside world. Check all the links you post for parents, or share outside of your classroom. (Here are 8 Awesome Reasons to Go Incognito.)
Please note: If you don't have access, your Google admin can disable this feature in your school account.
One-Tab Chrome Extension: Whenever you find yourself with too many tabs (like I do), click the OneTab icon to close all of your open tabs and save in a list. When you need to access the tabs again, you can either restore them individually or all at once.
When you click on a link in your browser,
hold the CONTROL key down when you click on a link to open that link in a new tab.
hold CONTROL + SHIFT when you click on a link to open that link in a new window.
(On a mac, use COMMAND instead of CONTROL)
Quick Tip: In Google Chrome, you can re-open your last closed tab with this simple keyboard shortcut:
On Windows and Chromebooks: Control + Shift + T

On Mac: Command + Shift + T