Ready to Join Google Classroom?

Getting started with Google Classroom is easy, but these tips will make things even better!
Join the Google Classroom revolution! It will completely change the way you deliver assignments, communicate and collaborate in your class, and give your students future-ready skills!
Google Classroom is a free application designed by Google to help students and teachers communicate, collaborate, organize and manage assignments, go paperless, and much more!
This application was developed by Google specifically for students and teachers, and they want it to be your go-to assignment manager for Google Drive and beyond.
Google Classroom is a very clean, easy-to-use application, but there are a lot of best practices you will learn along the way.
I've put together some of the tips I have learned while using Google Classroom into this handy infographic.
Set your classroom up for success and get ready to be amazed at the ease and simplicity Google Classroom brings to your workflow.
[Tweet "6 Tips for Getting Started with #GoogleClassroom [infographic] #gsuiteedu #googleedu #edtech"]
---

6 Tips for Getting Started with Google Classroom
If you are just getting started with Google Classroom, these 6 tips for getting started with Google Classroom will help you think about your setup and organization.
Before you get started, be sure to download the FREE Google Classroom Cheat Sheets for Teachers and Students.
1. Use Google Chrome
To maximize the features in Google Classroom, teachers and students should use the Google Chrome browser. Google Chrome is a fantastic learning environment for all things Google!
Here are 5 Chrome extensions that make Google Classroom even better.
2. Create Naming Conventions for Your Classes
Create a consistent and descriptive naming convention for your classes before you begin creating classes inside Google Classroom. Consider including the semester or school year to keep things organized. Example: 7th Period U.S. History 20-21.
Here are more Google Classroom tips you didn't know.
3. Create Naming Conventions for Your Assignments
Consistency in naming your assignments will help you and your students find what you need. Consider numbering your assignments and be descriptive. Be sure to include the learning goal! This will also help you locate files in Google Drive. Example: #035 Poe Author Study.
Using Google Classroom remotely? Check out these Google Classroom Remote Learning Tips!
4. Use Topics to Organize
Create topics to organize your content, assignments, and resources. From the Classwork page, click on "Create" to add new topics. I suggest creating a topic for year-round resources so they are easy to locate, like "Class Resources." Consider what topics fit your curriculum the best.
See also, How to Organize Assignments in Google Classroom.
5. Differentiate Assignments
Make use of one of the great features of Google Classroom that allows you to give assignments to individual students or groups of students. Every student doesn't have to do the exact same assignment at the same time. Get the details here: How to Differentiate Assignments in Google Classroom.
6. Use the Mobile App
Get the mobile app for you and your students to access Google Classroom anytime, anywhere. Bonus! The mobile app will send push notifications to let students know when they have a new assignment. Available for iOS and Android. Learn more about features of the mobile app and other tips in this post.
---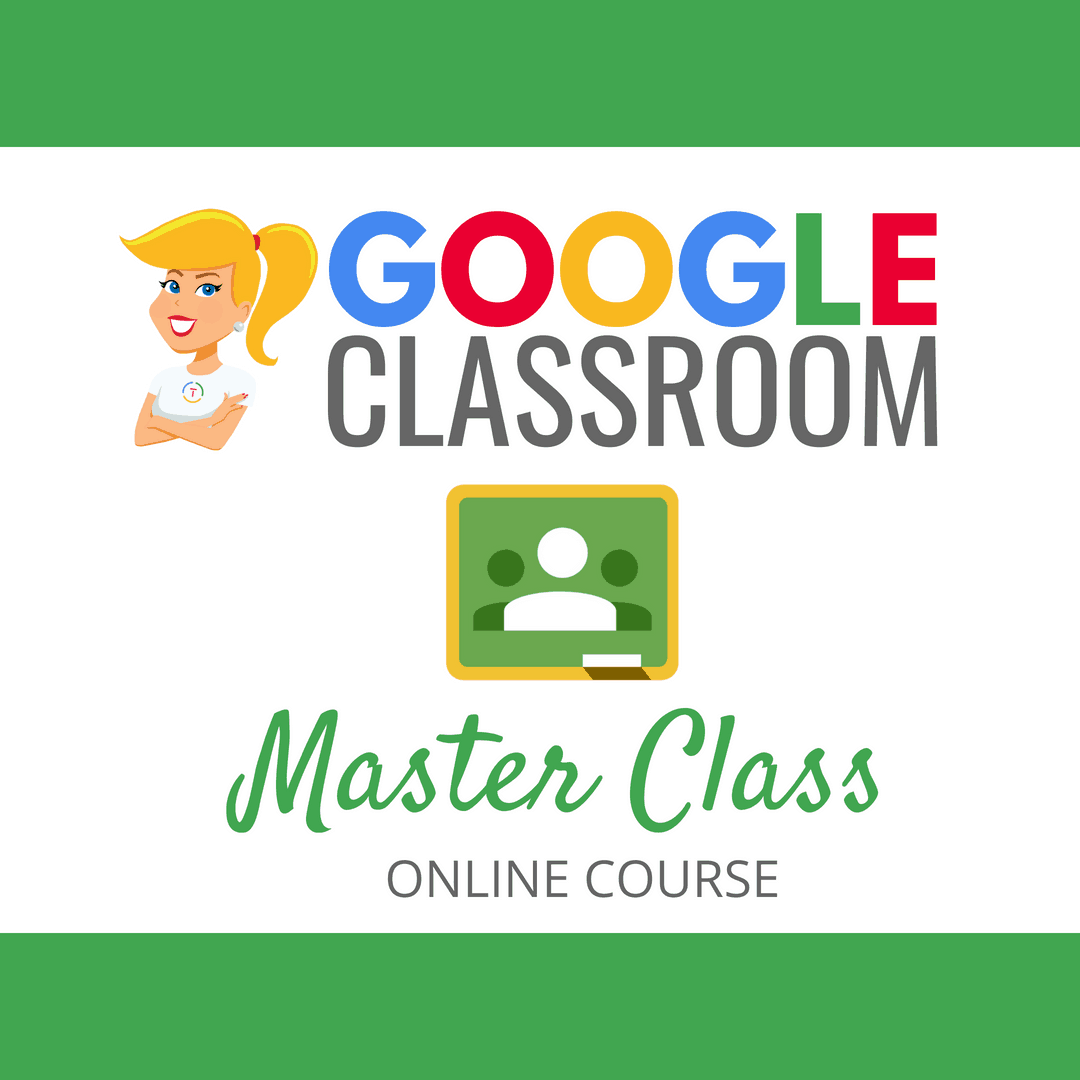 Learn all about the new updates to Google Classroom and take your skills to the next level. This course will give you everything you need to get started using Google Classroom and best practices to help you make the most of this tool.
Perfect for the beginner to intermediate skill levels! Consider this your video guide to Google Classroom!
NEW Bonuses just added on Google Meet integration and Remote Learning tips!
Click here to learn more and to ENROLL TODAY!
---
Learn All About the Course
Who Should Join the Google Classroom Master Class?
Beginners can learn everything they need to get started.
Intermediate level users can focus on learning more advanced features, tips and tricks, and best practices.
Go at your own pace.
Let's dig in! This class is for all skill levels!
What's Included in the Google Classroom Master Class?
Self-paced
Video-based lessons
6 BONUS Lessons
PDF Downloads
Supporting Resources
Best Practices and Tips
6 hours of professional learning credit
Purchase orders are accepted
Bulk license discounts
Get your whole team, campus, or district on board
---
Click here to learn more and to ENROLL TODAY!
© Shake Up Learning 2023. Unauthorized use and/or duplication of this material without express and written permission from this blog's author and/or owner is strictly prohibited. Excerpts and links may be used, provided that full and clear credit is given to Kasey Bell and Shake Up Learning with appropriate and specific direction to the original content on ShakeUpLearning.com. See: Copyright Policy.