Here are the BEST Blog Posts of 2019!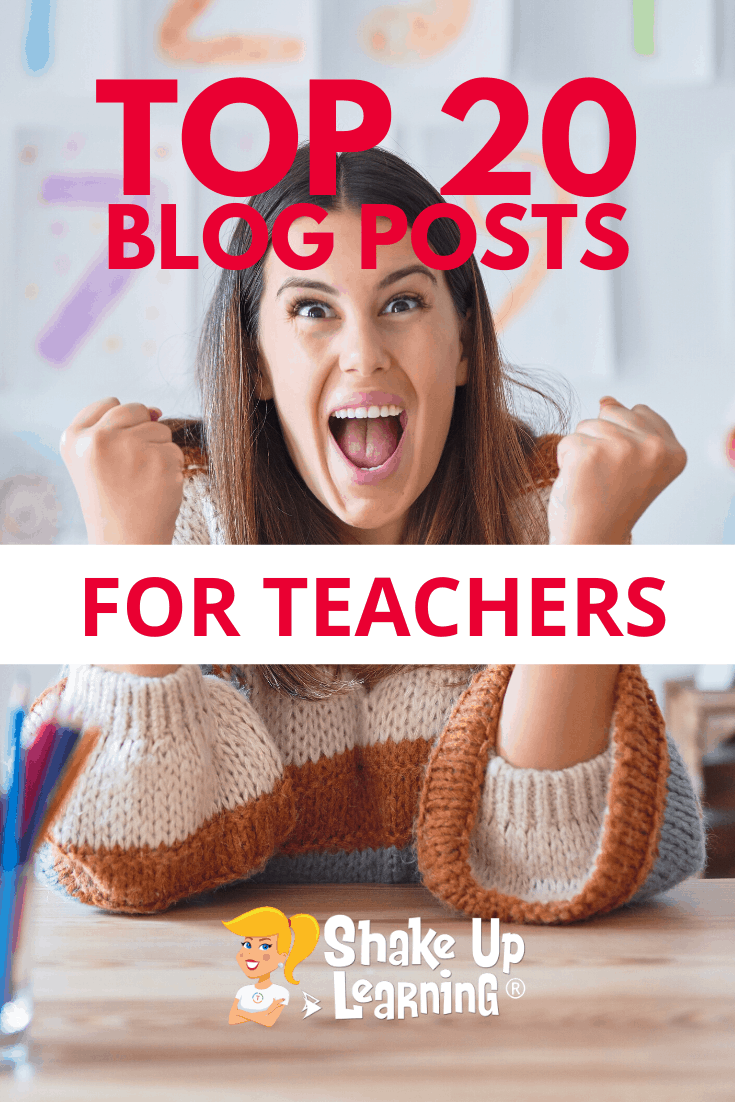 I have put together a list of the BEST and most popular Shake Up Learning blog posts from 2019.
I can't believe we are saying goodbye to another decade.
To all of my readers, thank you for helping me learn and grow as an educator! I learn so much from all of you!
Shake Up Learning turned five in 2019, and now we are headed into our sixth year. I have plans to make 2020 the best year yet!
Reflection is a critical part of the learning process for teachers and students, so I like to take a look back.
I like to take a deeper look at what blog posts and podcast episodes were the most popular, and generated the most comments and traffic.
The goal of this blog has always been to provide teachers with educational technology resources, tips, and tricks, and help teachers find ways to integrate technology meaningfully in the classroom.
This list helps me decide what content to create and how to best help teachers in 2020.
What Do YOU Want to See in 2020?
I want to serve my audience! Help me better serve you by completing this short, 60-second survey. (The form is also embedded at the bottom of this post.)
This survey is your chance to let me know more about you and what you need in 2020.
---
The Top 20 Posts of 2019
Drumroll please…Here are the most popular blog posts and podcast episodes of the year!
This is a post that I update every year, and it is always at the top of the list! Learn about 60+ applications that integrate with Google Classroom.
We waited, and we waited for this, but it is finally available for everyone! Learn how you can insert audio files into your Google Slides presentations. This post includes a podcast tutorial and video tutorial!
In this podcast episode, I share my best technology integration tips. HINT: It's not about the tech; it's about the learning!
In this FREE webinar, I will explain all the certification options and what it takes to get there. You will get step-by-step info and tons of free resources.
This post and podcast episode is for instructional and tech coaches, and everything in between. I share best practices to help you transform your campus.
These tips come from the Shake Up Learning community, and they will completely change how you use Google Classroom! Get the best tips in this post!
This handy cheat sheet for teachers and students will help you learn the ins and outs of Google Docs, learn keyboard shortcuts, and more! This was the number one freebie of 2019. Did you get your copy yet?
Stranger Google was one of my most popular presentations in 2019, and I share all the goodies in the post. If you want to learn about the lesser-known Google tools and experiments, this post is for you!
The Google Docs Explore Tool gives you some handy features to help you and your students. Check out these five awesome features.
Google Classroom is always getting new features. Grab a seat in this FREE, on-demand webinar to learn about the latest updates.
Did you know you can easily create drag-and-drop activities with Google Slides? Yep, and it's super easy. In this blog post, podcast, and video tutorial, I will show you everything you need to know!
Take your Google Classroom skills to the next level with these pro tips! I have put together my best Google Classroom tips and shared them in this post.
I LOVE choice boards, and they were a game-changer for my classroom. In this blog post, podcast, and FREE eBook, I share my best ideas, tips, and templates to help you implement in your classroom.
Ready to start working on Level 1 certification? I have three awesome freebies to help you get there! In this Level 1 toolkit, you get my free ebook: The Complete Guide to Google Certifications, the Level 1 Capacity Matrix (a self-assessment of the skills and concepts), and another free eBook: How to Pass the Google Certified Educator Exams.
I know you REALLY want to put your worksheet in Google Classroom, but let's make sure we do this purpose! In this episode, I will give you some new ways to think about worksheets, and yes, I will also teach you how to put your PDF worksheet into Google Classroom.
Are you making the most of your Chromebooks? There are so many tools available to help your students create and learn. In this podcast episode, I will share some of the best apps you are not using.
Just because you can give feedback in Google Classroom doesn't mean it's meaningful for students. Let's take a closer look at ways to make feedback more meaningful and actionable.
Google Certification is one of the hottest topics on this blog, and this freebie is the #2 download of the year. Learn all about the Google Certification options and what it takes to get there in this free ebook.
Math teachers rejoice! In this podcast episode, Craig Klement shares with me his best ideas for using technology in math at any level. Sit back and let this episode blow your mind!
Is your Google Drive a hot mess? In this blog post and podcast episode, I will give you thirteen tips to help you get everything clean and organized! What a great way to start 2020!
Got a minute? Leave us some feedback below.
© Shake Up Learning 2023. Unauthorized use and/or duplication of this material without express and written permission from this blog's author and/or owner is strictly prohibited. Excerpts and links may be used, provided that full and clear credit is given to Kasey Bell and Shake Up Learning with appropriate and specific direction to the original content on ShakeUpLearning.com. See: Copyright Policy.