Some math teachers struggle with integrating technology into the classroom. So, I enlisted the help of my friend and edtech expert, Craig Klement, to share 10+ Ways to Use Technology in the Math Classroom.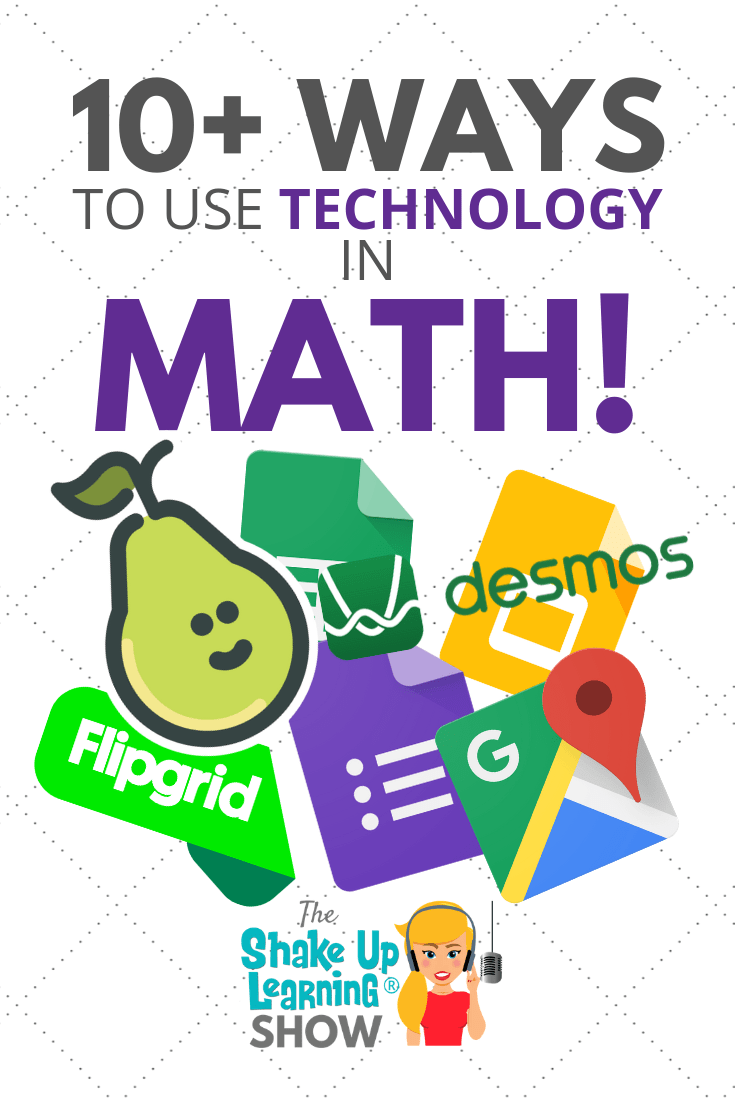 Integrating technology in the math classroom can go far beyond substitution, digital worksheets, and simple quizzes.
In this blog post and podcast episode, my guest, Craig Klement, will share free tools, templates, and lesson ideas you can use across grade levels.
Together, we will explore some of our favorite G Suite tools, Pear Deck, Desmos, Flipgrid, and more!
Hang on tight, because Craig has a TON of ideas and links to share with you!
Listen to the podcast version (audio) of this post using the player below:
Shoutout
Congratulations to Barbara Sutelan, a newly Level 1 Google Certified Educator.
Barbara is also a graduate of the Shake Up Learning Google Certification Academy. You can learn more about the online courses and grab some free Google Certification resources at GetGoogleCertified.com.
Do you have a question or idea to share on the podcast? Leave me a message here.
10+ Ways to Use Technology in the Math Classroom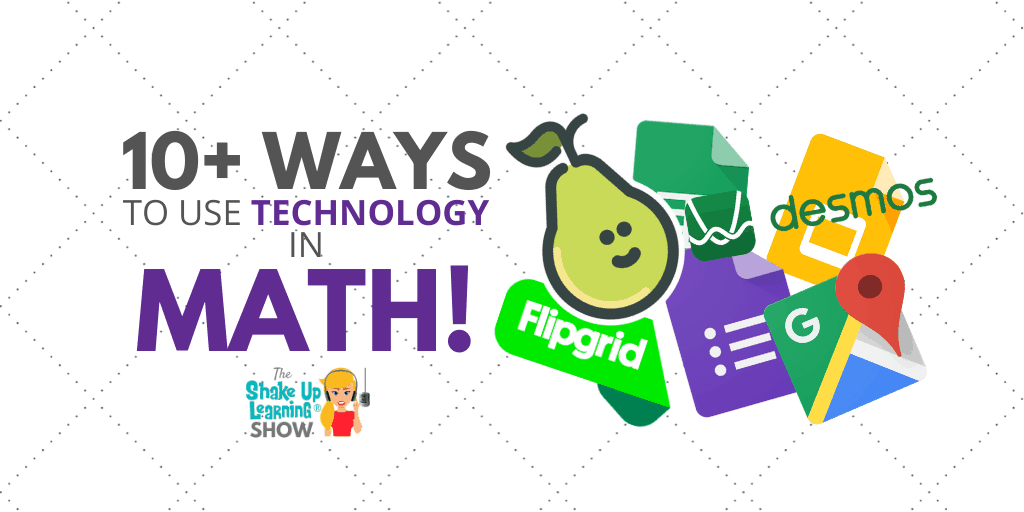 Craig Klement shares 10 ways to use technology in the math classroom that go beyond just making it a paperless classroom.
We have the capabilities to learn and engage students in new ways and create more dynamic learning experiences than were previously possible.
Using technology in math can be so much more than just annotating digitally. Although it may seem cool, it's not an improvement in learning. On some apps and devices, it's actually much more difficult to write on a screen instead of paper.
Google Slides tip: Give everyone edit access to a Google Slide deck through Google Classroom. Ask students to take a picture of their paper and insert it on a slide. The teacher can see everyone's thinking in one place, provide feedback in the comments, and allow students to critique the reasoning of others (peer feedback).
Desmos originated as an online graphing calculator, but now you will find interactive lessons for many grade levels.
Elementary
The Fractions Challenge – "In this activity, students will practice adding and subtracting fractions. They will create expressions to match given criteria (e.g., the greatest value, the least positive value, etc.). Students will reason abstractly and structurally, arguing that their expressions are the greatest or least possible."
Adding Whole Numbers – "n this activity, students practice adding whole numbers in the context of a card game. The goal of the game is to create two groups of cards, each with the same sum. Whoever uses the most cards wins!"
Talking Time – "This activity helps students understand the different ways that people talk about time. They will read different descriptions of time—for example 5:15, 15 after 5, or a quarter after 5—and try to set a clock to that time. Teachers will see which time formats are easier or harder for students."
Desmos just released some more elementary activities! Click here to view.
Secondary
Taco Trucks– "In this activity, students use the Pythagorean Theorem as a tool to solve problems involving diagonal distances. In a quick prelude, students reason with the Pythagorean Theorem and rates in a situation that they may encounter in their daily lives: taking a shortcut to save time. Students then determine the best path to a Taco Truck from a spot on the beach. The activity culminates in a class-wide race!"
Polygraph: Parabolas – Ask questions to guess which graph your classmate picked.

Marbleslides: Lines

– "In this delightful and challenging activity, students will transform lines so that the marbles go through the stars. Students will test their ideas by launching the marbles, and have a chance to revise before trying the next challenge."

Sketchy derivatives for Calculus

– "In this activity, students respond to a variety of graph-sketching prompts to demonstrate (and deepen) their understanding of the graphs of derivatives."

Retro Desmos

by Kurt Salisbury and John Rowe
Alice Keeler's Templates for Elementary Math
Alice Keeler is a former math teacher, and she often shares many ideas and templates you can use in class. Here are a few that Craig recommends:
Flipgrid is a video response tool (and so much more). In math, students can explain their thinking and how they have solved a problem on video–even holding up their paper in front of the camera.
This is a great strategy for any grade level and helps students learn how to communicate using mathematical language.
Stacey Roshan's post on using Flipgrid in Calculus.
With Pear Deck, you can take any Google Slides presentation, add interactive questions, or embed websites directly into your lesson, and send it to student devices so they can participate in real-time while you present.
The basic version of Pear Deck is free, but my listeners can now get a complimentary 60-day trial of Pear Deck Premium with no credit card required.
This will give you access to features like the teacher dashboard, personalized takeaways, and more.
Pear Deck Math Templates
Pear Deck has a collection of math templates that your students will love, including "Which One Doesn't Belong," drawing number lines, shapes, and more!
Check out this video below for a quick overview:
HIGHLIGHTS
0:27 — Which of these doesn't belong
2:19 — Showing Work and Discussing Different Approaches
3:45 — Geometry
4:13 — Graphing
5:17 — Verbalizing Reasoning
5:45 — Desmos Calculator Embed
6:41 — Number Slide
Using the Pear Deck drawing tool in math:
Identify a shape
Label the parts of a shape
Number lines
Use a blank slide to have students annotate
Use a coordinate plane as a background and have students graph an equation
Guided Class Discussion in Pear Deck
Purposefully display wrong answers anonymously 

What might have caused the student to think this way? Talk through it as a class.

Draggable

Agree/Disagree, Function/Not a function, rational/irrational, even/odd, drag different shapes
Besides just using Google Forms for a quiz or regular assessment, you can take advantage of the branching functionality.
This is called "Go to Section Based on Answer," meaning based on how students answer the question, they are taken to a different page.
For instance, if a student gets the answer incorrect, they can be taken to a page that will reteach the skill. This is assessment FOR learning.
I have a post that goes into this branching idea in detail here: How to Differentiate Questions in Google Forms.
This feature also lets us do some other fun things like "Choose Your Own Adventure," style forms, as Mandi Tolen shares in this blog post.

Craig created this Road Trip Activity and guest post for Ditch That Textbook–inspired by this episode on Google My Maps on The Google Teacher Tribe Podcast.
Craig developed this activity for a group of seniors to prepare for a test that wasn't required and used Google My Maps as a choice board with activities on different locations on the map.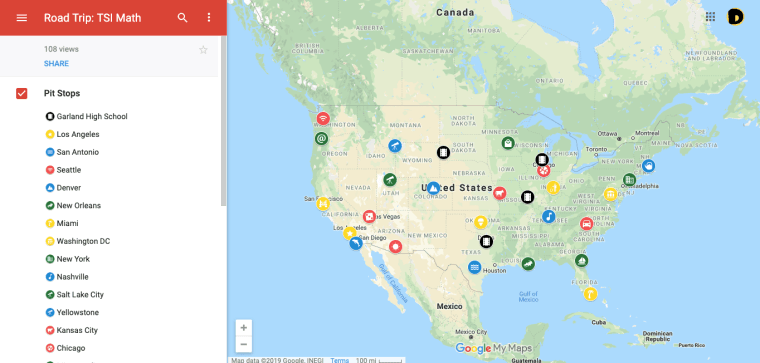 Each "pit stop" included a different activity to help them review for the exam. Make it fun and let them listen to some road trip music and bring some snacks!
Using the Frayer Model to Teach Math Vocabulary
The Frayer Model is a graphic organizer for building vocabulary skills. The options can vary but generally look like Alice Keeler's example below.
Craig likes to create a collaborative slide deck (one deck that every student in the class can edit), and assign each student (or group) a vocabulary word and a slide. Then he would facilitate a scavenger hunt for examples at school and take a picture to insert on their graphic organizer.
Here's Alice Keeler's Frayer Model Template.

What Do You Do When You Aren't 1-1?
Craig has several suggestions for those who struggle with getting enough devices for all of your students to do activities like the ones above.
Craig suggests setting up stations using the device(s) you have available and have students work in groups or rotate to other non-tech activities. You could also use station time to pull students for small group instruction.
"Plickers is a free, interactive tech tool that uses printable "paper clickers" instead of clicker devices. Each student is assigned a unique Plickers card that has a black and white image similar to a QR code."
Plickers is a great low-tech option for checking for understanding and assessing student work.
"Doceri is the professional iPad interactive whiteboard and screencast recorder with sophisticated tools for hand-drawn graphics and built-in remote desktop control. "
Craig used Doceri in his one-iPad classroom to help students solve a problem or find a mistake while projecting so the whole class can learn together.
He loved handing over the iPad to let the students lead the class and talk about learning and even learn from mistakes.
Other Recommended Resources
Recommended Books for Math Teachers
Podcast Question of the Week
How can you use technology to go beyond simple substitution for paper?
Post your answer to your favorite social media platform using the hashtag #ShakeUpLearning, or share it in the Shake Up Learning Community on Facebook!
About Craig Klement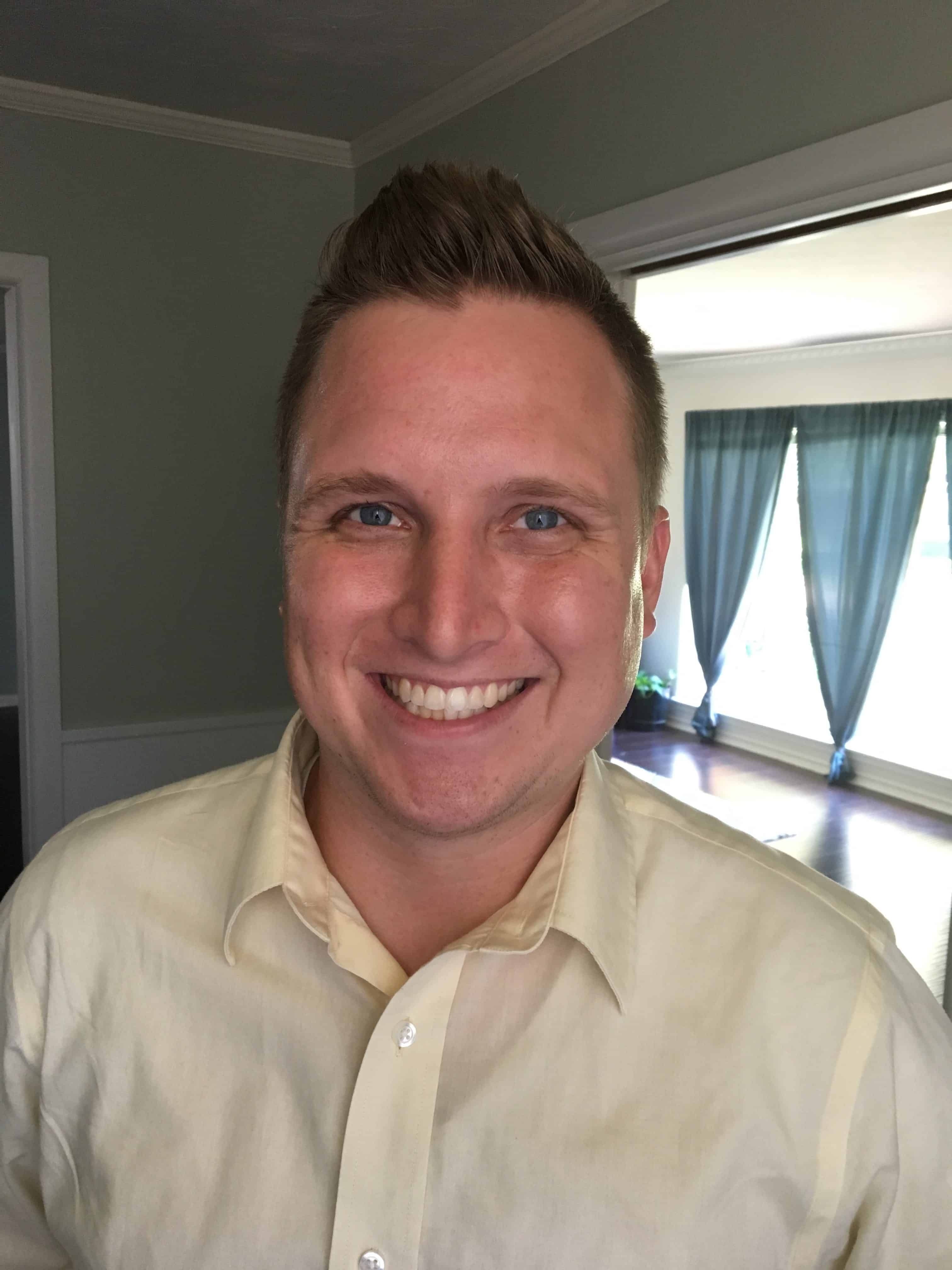 I am the RTI Facilitator at Garland High School. I get to meet with struggling students and collaborate with teachers and parents to help these students become successful. Another big aspect of my job is helping coach teachers and trying to improve learning at my school.
I taught on level and intervention math for 8 years (6 in Louisiana and 2 in Texas) and spent 1.5 years as an edtech coach. I believe in using technology to transform the learning experience for students. I am also a Certified Google for Education Trainer and use Google tools to help me work smarter, not harder.
Life with my family is never boring. My beautiful wife and 4 wonderful children keep me going. The highlight of my day is coming home to running feet, hugs and kisses, or even surprise water balloon attacks. I am an amateur softball coach for my oldest daughter. We love reading books, playing LEGOs, and playing outside.
© Shake Up Learning 2023. Unauthorized use and/or duplication of this material without express and written permission from this blog's author and/or owner is strictly prohibited. Excerpts and links may be used, provided that full and clear credit is given to Kasey Bell and Shake Up Learning with appropriate and specific direction to the original content on ShakeUpLearning.com. See: Copyright Policy.
Shake Up Learning QUICKSTART GUIDE
Join the email list to get the latest information about the Shake Up Learning Book AND Get the FREE 20-Page Quickstart Guide that will help you Shake Up Learning in your classroom this year!