Did You Know You Can Create a G Suite Template by hacking the link?
Yes! This G Suite trick will let you change some words in the URL of your file and magically create a template link!
This is a game-changer, y'all! Templates make life easier, especially as a teacher. I make copies of interesting G Suite files and templates all the time. Sharing is caring!
Templates make it easier to share learning activities, lesson plans, Hyperdocs, and more.
Keep reading to learn how this little hack can save you time and frustration!
[Tweet "Create #GSuite Templates with This Mind-Blowing Hack! #gsuiteedu #googleedu #edtech "]
The Problem with File>Make a Copy
I find myself saying File>Make a Copy about 20 million times a day! I'm probably exaggerating a tad…but so many people want to make a copy of files in G Suite. They end up requesting access when they don't actually need access. They just need to make a copy.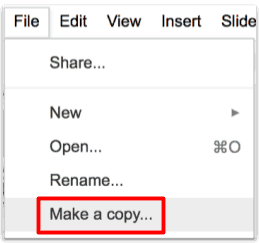 The Problem with Forcing a Copy
It is easy to make a copy, but sometimes we need to force a copy. This is still one of my favorite Google tricks. It involves changing the word, "edit," in the URL to the word, "copy." Users will then see the prompt below asking if they want to make a copy. Voila! To learn this simple trick, get step-by-step directions here: How to Force a Copy of Google Docs.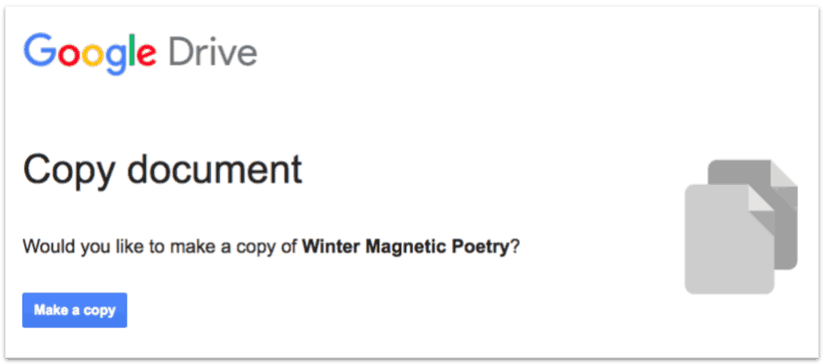 The problem is that this is a completely blind action. You can't see what you are making a copy of and sometimes you aren't even sure if you want a copy, like when you are looking at lesson plans or Hyperdocs.
The Answer: The Template Link!
Enter the template! Now, templates are not new to G Suite, but they haven't been super easy or pretty. The old template gallery was yuck-o. The new one is better, but you can only upload within your own domain, so worldwide sharing just doesn't work…until now!
I learned this URL trick from my friend, Tony Vincent. (The man is a genius and has taught me so much over the years. His blog, LearninginHand.com was one of the first blogs I ever followed.) Similar to the force a copy trick, you simply change some words in the URL.
To change a Doc, Sheet, Slide, or Drawing to a template link, replace the word, "edit," with the words, "template/preview." Hit enter/return, and you will see a preview window with the magical, "Use Template," button.
**Keep in mind that sharing rules still apply, so it still has to be at least viewable to whoever is "using the template." To learn more about all the sharing options in G Suite, check out my Guide to Google Drive Sharing.
How to Create a Template Link

[Tweet "Whaaat!!!! This cool hack lets your turn your doc into a TEMPLATE link! #gsuiteedu"]
The Magical "Use Template" Button
Once you click the "Use Template," button, the file is added to your drive and named exactly as the template. Oh, and it doesn't have that annoying, "Copy of …" wording!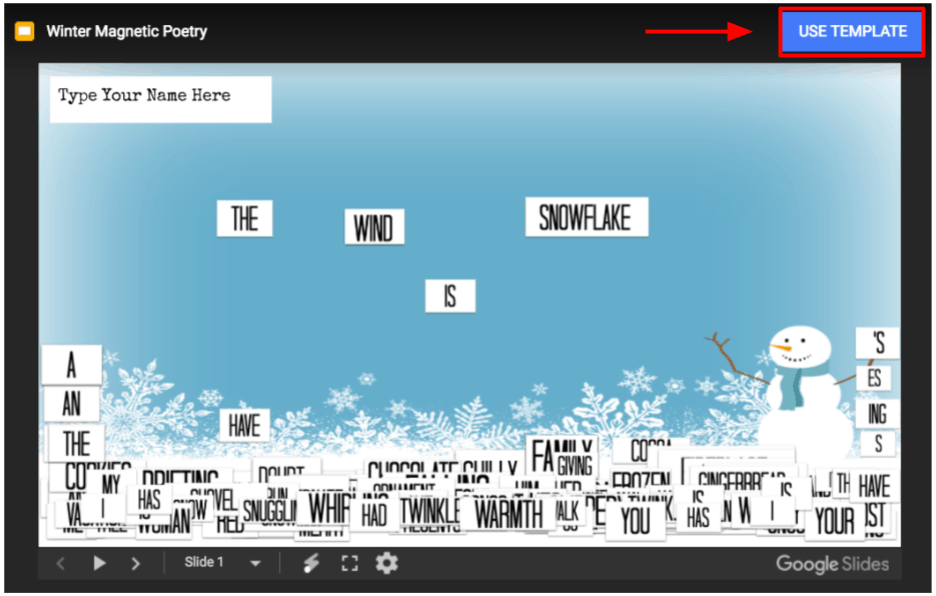 Quick Tip Video
Where Does This Work?
You can use this hack in Google Docs, Google Slides, Google Sheets, Google Drawing, and even Google Forms (but there is a catch with forms)!!!! As I said earlier, remember that the user needs at least viewing rights to the docs, slides, sheets, or drawings. In Google Forms, it is a bit more complicated. They will need to be added as a collaborator in order for this to work.
*NOTE: This option doesn't work well on mobile devices. I would only recommend this for desktop/laptop.
About Winter Magnetic Poetry
In case you are interested in the example I used above, you can find the Winter Magnetic Poetry template and blog post here.
---
What do YOU think? Test it out and see how it works for your templates and files, and leave me a comment below.
© Shake Up Learning 2023. Unauthorized use and/or duplication of this material without express and written permission from this blog's author and/or owner is strictly prohibited. Excerpts and links may be used, provided that full and clear credit is given to Kasey Bell and Shake Up Learning with appropriate and specific direction to the original content on ShakeUpLearning.com. See: Copyright Policy.