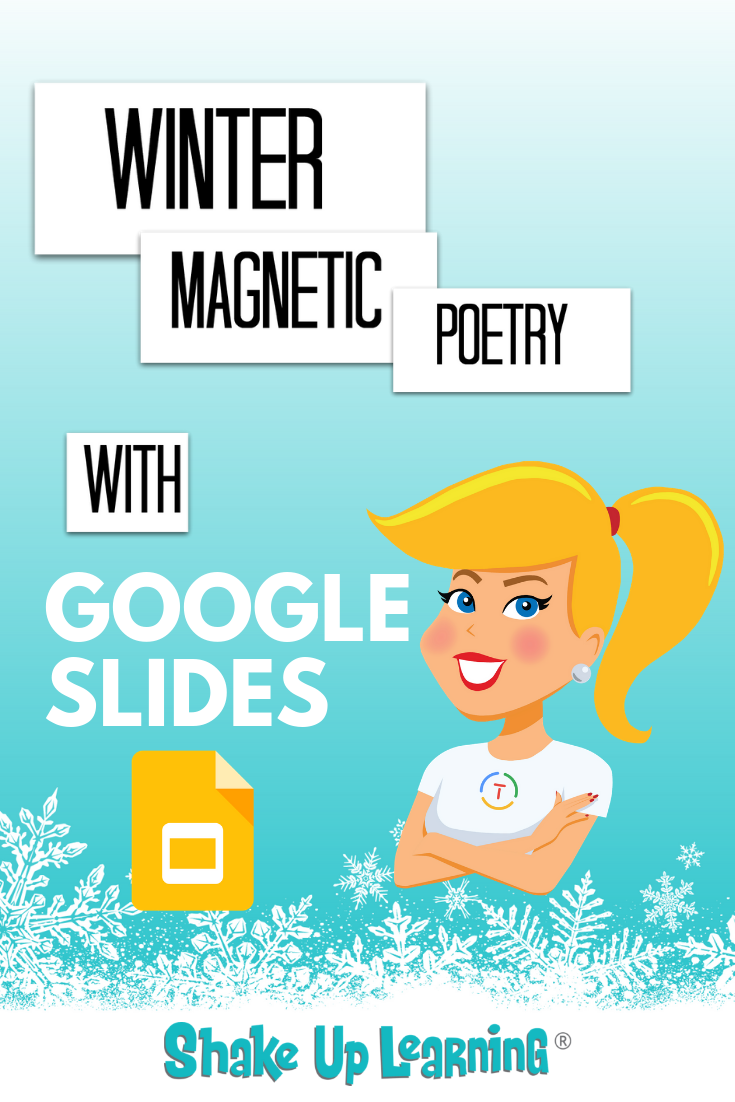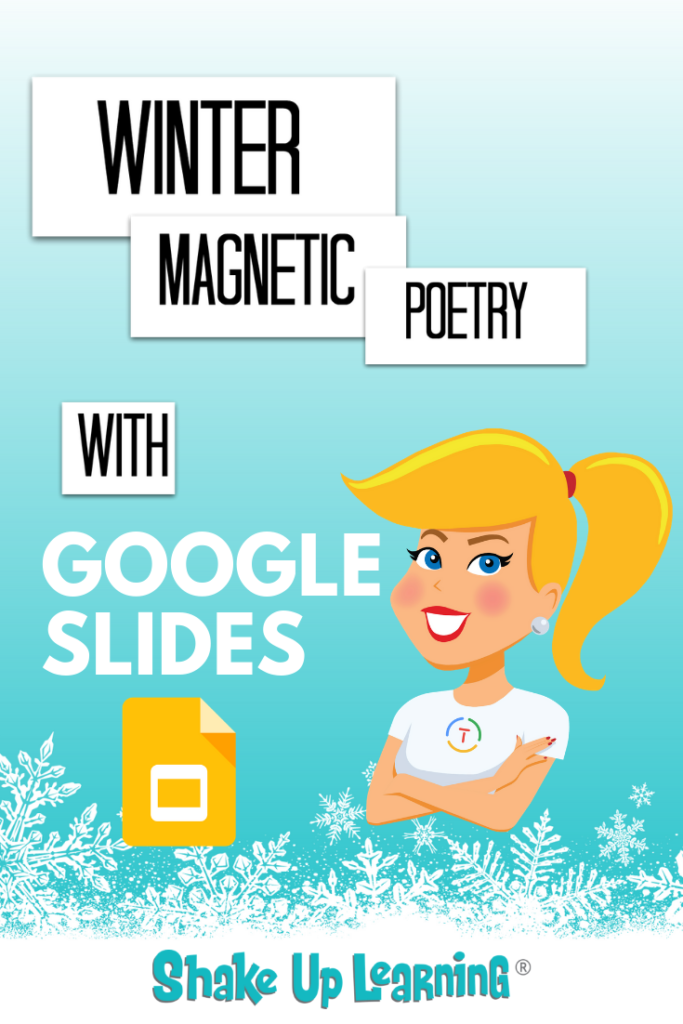 Let's have some fun with Winter Magnetic Poetry with Google Slides!
Winter is coming! Well, at least for some of you. Things are still pretty warm here in Texas!
This is the third installment of magnetic poetry templates that I have shared.
---
Magnetic Poetry
What is Magnetic Poetry?
This digital template takes the idea from the original refrigerator magnet game, where you are challenged to write poetry, phrases, sentences, or even stories with a limited word bank of little magnets.
What a fun and creative activity for students!
---
Google Drawings v. Google Slides
As mentioned above, I have shared a few different versions of these over the years. The first versions were shared in Google Drawings.
---
I love Google Drawings and have used it in the past templates to help teachers see the flexibility and creativity that this tool can offer. But to offer more variety, the winter version was created in Google Slides.
---
Winter Magnetic Poetry with Google Slides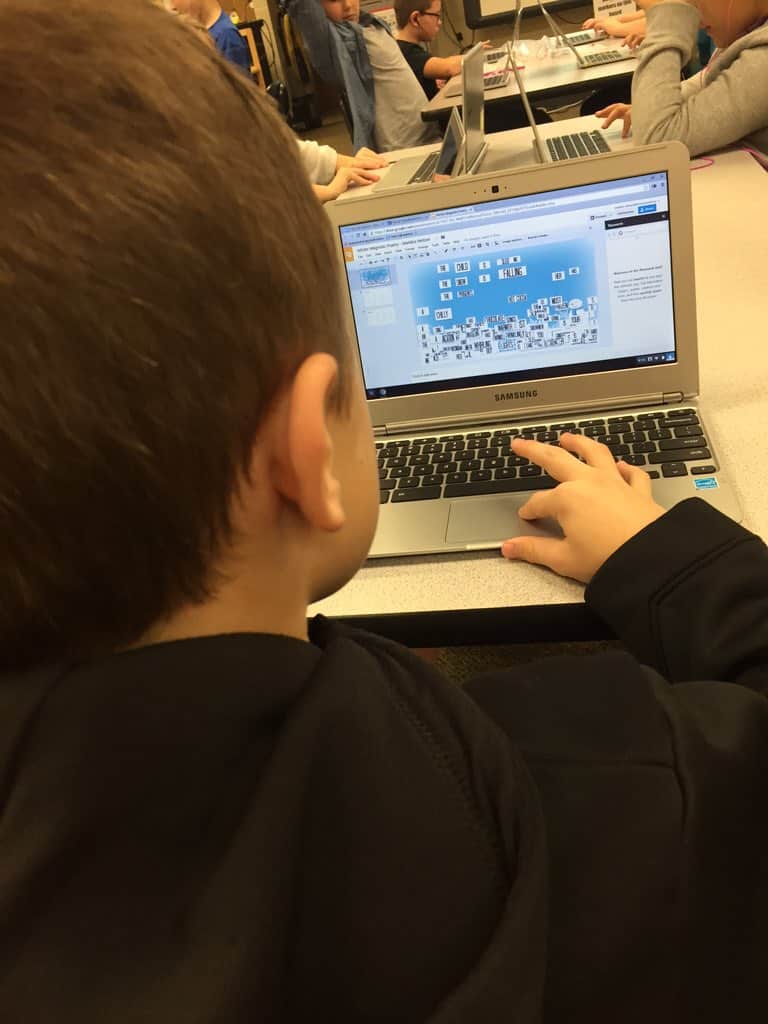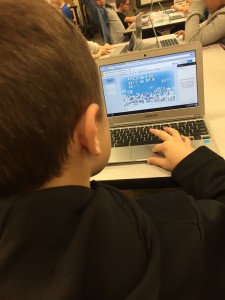 I created this version to offer some teachers some other options and to show you how the same idea that I created in Google Drawings can also be done in Slides if you prefer.
---
Here are some of the options Google Slides will give you in this version:
Google Drawings is not currently compatible on mobile devices, but Google Slides is compatible. Be sure to download the Google Slides App for iOS or Android.
Teachers always ask about locking the background in Google Drawings, so that students don't accidentally move it. In Drawings, you can't lock the background, but you can in Slides.
The background in this Google Slides template is "locked," meaning the background image is set as the background on the slide. (Note: The background can still be changed if you prefer, just right-click on the slide.)
I have included a word list in the template for you and your students.There are over 100 words.
---
(This word list was a collaboration, generated by students from Lynn Kleinmeyer's school in Iowa, words from the glossary in Winter: The Coldest Season of All, and some extra articles and nouns to bring it all together.)
---
Remember, you can always add your own text boxes to add new words. They will not have the same look as the images I created, but that's no big deal.
---
Let students make it their own. Although, I do love the challenge of only working with the words that are there, like in the
original magnetic poetry kit
, do what works for you and your students.
---
Get Your FREE Copy of the Winter Magnetic Poetry Template
Ready to get started? Use the links below to make a copy of the template.
---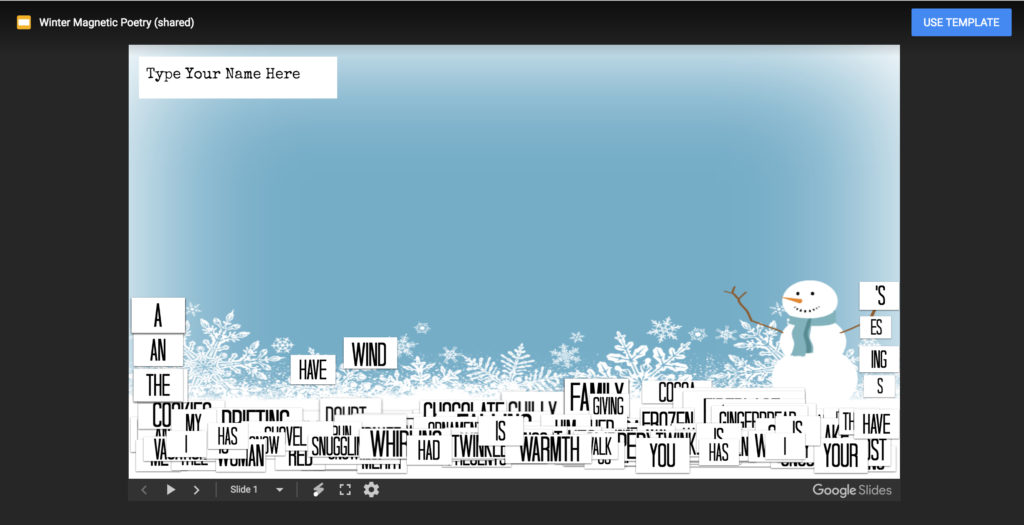 ---
PLEASE DO NOT REQUEST TO VIEW! Use one of the links above to add a copy to your Google Drive. Requests will not be granted because it is already viewable.
---
Remember, this can be a collaborative student project or done individually. Have fun with it, and please share your pictures with me on social media!! It warms my heart to see students using these templates! And if you have created other versions, please share in the comments below!
---
This template was originally created for the Winter Around the World Project in 2015.
The Winter Around the World Project is a globally collaborative project in which students share their winter stories, songs, poems, illustrations, and photographs. It is open to students of ALL ages around the world!
The wonderful Shannon Miller and Lynn Kleinmeyer asked me to collaborate on the Winter Around the World Project and create a special winter edition of magnetic poetry. It was an honor to collaborate with these dedicated librarians and educational leaders!
The winter projects was gathered in this collaborative Google Slides presentation, then be published as an eBook that was shared around the globe!
---
---
How to Create Magnetic Poetry Mini-Course
Want to learn how to make your own magnetic poetry and other types of interactive lessons?
Jump into my FREE mini-course, How to Create Magnetic Poetry with Google Slides and Drawings.
In this course, are two, quick, video-based lessons to show you how to create the background and create your own word images. All self-paced! Learn when and where you want! Easy peasy!
---
© Shake Up Learning 2023. Unauthorized use and/or duplication of this material without express and written permission from this blog's author and/or owner is strictly prohibited. Excerpts and links may be used, provided that full and clear credit is given to Kasey Bell and Shake Up Learning with appropriate and specific direction to the original content on ShakeUpLearning.com. See: Copyright Policy.