If you really want to transition your classroom from static teaching to Dynamic Learning, you have to rethink traditional assignments and the use of digital tools. In this post, I share 7 Ways to Rethink Digital Assignments.

Dynamic Learning is all about going BEYOND traditional assignments and traditional learning, even BEYOND what was previously possible.
You can learn all about the Dynamic Learning Framework in this short, and super cool whiteboard explainer video.
I've seen many teachers struggle with technology integration–how to make it meaningful, how to shift from teacher-led to student-centered, and how to move past the idea of digital substitutions.
I hope this list and infographic will give you some inspiration and new ideas for your classroom.
Be sure to also explore my Top 20 Tech Tips for Teachers, or get ALL of my favorite tips and strategies in my book, Shake Up Learning: Practical Ideas to Move Learning From Static to Dynamic.
7 Ways to Rethink Digital Assignments
1. Use Digital Tools to Do New Things
Don't get me wrong, I still believe that substituting digital tools for old-school analog and paper-based strategies still has it's place, but if that's all you ever do with students, you are missing the boat!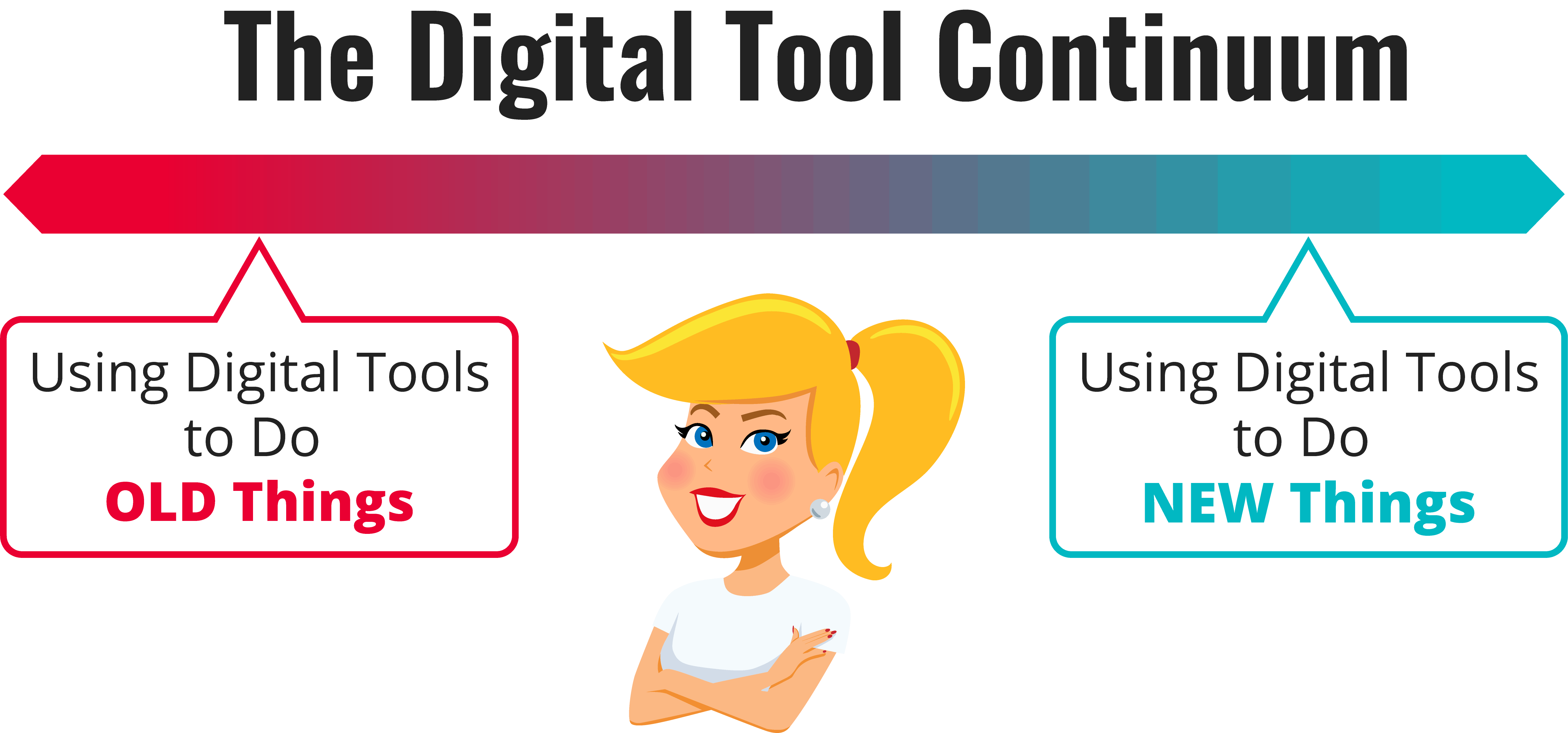 Think beyond using digital tools to complete only traditional assignments such as papers and reports. Use digital tools to do new things. Just going paperless or digital isn't enough. As my good friend Alice Keeler says, "Paperless is NOT pedagogy."
Use some of these new tools to go further, go deeper, and extend your students' learning. Reach beyond what you think a digital tool can do and should be used for, and challenge your students to demonstrate their learning in a new way.
I call Google Slides the Swiss Army Knife of the G Suite tools.
Google Slides can be used for much more than just presentations. You can use it to create games, interactive assessments, stop-motion video, eBooks, and more.
(Learn more about Slides here: 25 Things You Didn't Know Google Slides Can Do!, and the soon-to-be-released course, The Google Slides Master Class.)
Of course, Google Slides is just one example. We have no shortage of digital tools these days. Don't let yourself limit the tool's possibilities. Think beyond the tool's original purpose and how your students can get creative, and use new digital tools in unexpected ways.
2. Use Digital Tools to GET Information Instead of Disseminating It
We often think of ways to deliver content using digital tools, which is fine, but getting students involved and interacting with content is better.
Instead of thinking how you can deliver a lesson using digital tools, consider ways to open up your lessons to allow students to GIVE you information, check for understanding, feedback, comments, ideas, reflections.
Create Interactive Learning Experiences Use digital tools that allow students to interact with the information in some way, like interactive graphic organizers, virtual manipulatives, interactive videos, and multimedia annotation.
3. Give Timely Feedback
Instant information at our fingertips means we can assess work and give students more timely feedback through comments, chats, and messaging systems.
If we only give feedback after the assignment has been completed and "turned in," we are doing students a disservice. Guiding and coaching them toward the learning goal along the way is a research-based strategy that has proven to be much more valuable than just giving students comments when it is too late for them to actually make changes or act upon the feedback.
4. Provide Instant Collaboration
Collaboration between students can happen any time, any place. With hundreds of collaboration tools like G Suite, Nearpod, Pear Deck, Padlet, Book Creator, and more, it can be instant and synchronous so that students can work together in real time no matter the location.
It is sometimes hard to admit that students learn better from each other than just direct instruction from the teacher. Cooperative learning, collaborative learning, and peer learning are all research-based strategies that can help students go deeper with their learning and retain it.
Looking to go BEYOND Google tools for collaboration? Check out my 15 Collaborative Tools for the Classroom That Are NOT Google.
5. Give Students Choice
Probably one of the best ways to explore this idea is to give students choice in creating and demonstrating their learning. This will open the door to not only more creative content but creative uses of digital tools.
Don't automatically dismiss a tool because you don't think it's perfect for the job. Every time I have done this, a student has blown me away with an innovative use of digital tools.
On the flip side, students also need to learn to let go and move forward when a tool isn't working. With our guidance, they can make these decisions while also realizing it's okay to take risks, even if they don't always pan out.
One of my favorite ways to give students choice is through Learning Menus and Choice Boards. Be sure you check out a previous post on the topic that includes FREE templates: Interactive Learning Menus with G Suite.
It's also super easy to incorporate choice in Google Classroom or your favorite learning management system. Here are some ideas to help: Digital Differentiation with Google Classroom.
6. Use Digital Tools for Formative Assessment, Not Just Summative
When technology became more widely available in schools, and a dedicated computer lab was all the rage, most used it as time to type a paper, do research, or create a PowerPoint or brochure.
Today, with so much technology at our disposal, teachers can maximize digital tools to engage students throughout the learning cycle instead of focusing only on summative products. I see this as a mainstay in many classrooms, even those that are one-to-one.
Even when we consider some of the more tangible products we have created in our classrooms—the tri-fold, the brochure, the diorama—they're still pretty static and finite.
They're not the kinds of projects that grow and morph and inspire kids to keep learning. When we approach learning with a dynamic learning mindset and give students the freedom to create in their own way and to demonstrate the learning in their own way, we can move beyond a project like the diorama where you can run out of physical space, run out of ideas, and once you check the requirements off the list, it is done. And what if we don't have a one-and-done checklist?
7. Use Limitations to Push Creativity
What if we allow students to meet, adjust, and expand their learning goals throughout the school year? For instance, sometimes less is more. Sometimes our limitations will help us see creative solutions that others fail to see. Embrace these limitations, as they just might lead to something new and innovative.
Even when we plan carefully, we can miss the opportunities to be creative in new ways.
Sometimes limitations can force us to get more creative. Students may complain that they can't find EXACTLY what they want for their creations, but when we have limited choices it can force us to be more creative with what we have. (Ever tried a Mystery STEM design challenge?)
Maybe you don't have a device for every student. Maybe your school won't purchase the tool you want. Maybe you don't have a lot of time to complete a project. Dig deep for some optimism, and use what you have when you have it. You won't know what you and your students are capable of if you never try.
---
Want More Ideas?
Read the Shake Up Learning Book!
Dynamic Learning is at the heart of my book, Shake Up Learning: Practical Ideas to Move Learning From Static to Dynamic.
Consider this your guide to classroom transformation.
This isn't a book about technology, Google, silver bullets, or pie-in-the-sky thinking. This is a book about LEARNING!
In this three-part book, you will explore
WHY it's time to Shake Up Learning,
WHAT changes we can make in our classrooms to support dynamic learning experiences, and
HOW to plan meaningful lessons for your classroom.
Shake Up Learning is a powerful guide and planning tool to help educators at all grade levels make the most of technology.
---
© Shake Up Learning 2020. Unauthorized use and/or duplication of this material without express and written permission from this blog's author and/or owner is strictly prohibited. Excerpts and links may be used, provided that full and clear credit is given to Kasey Bell and Shake Up Learning with appropriate and specific direction to the original content on ShakeUpLearning.com. See: Copyright Policy.
Shake Up Learning QUICKSTART GUIDE
Join the email list to get the latest information about the Shake Up Learning Book AND Get the FREE 20-Page Quickstart Guide that will help you Shake Up Learning in your classroom this year!
Summary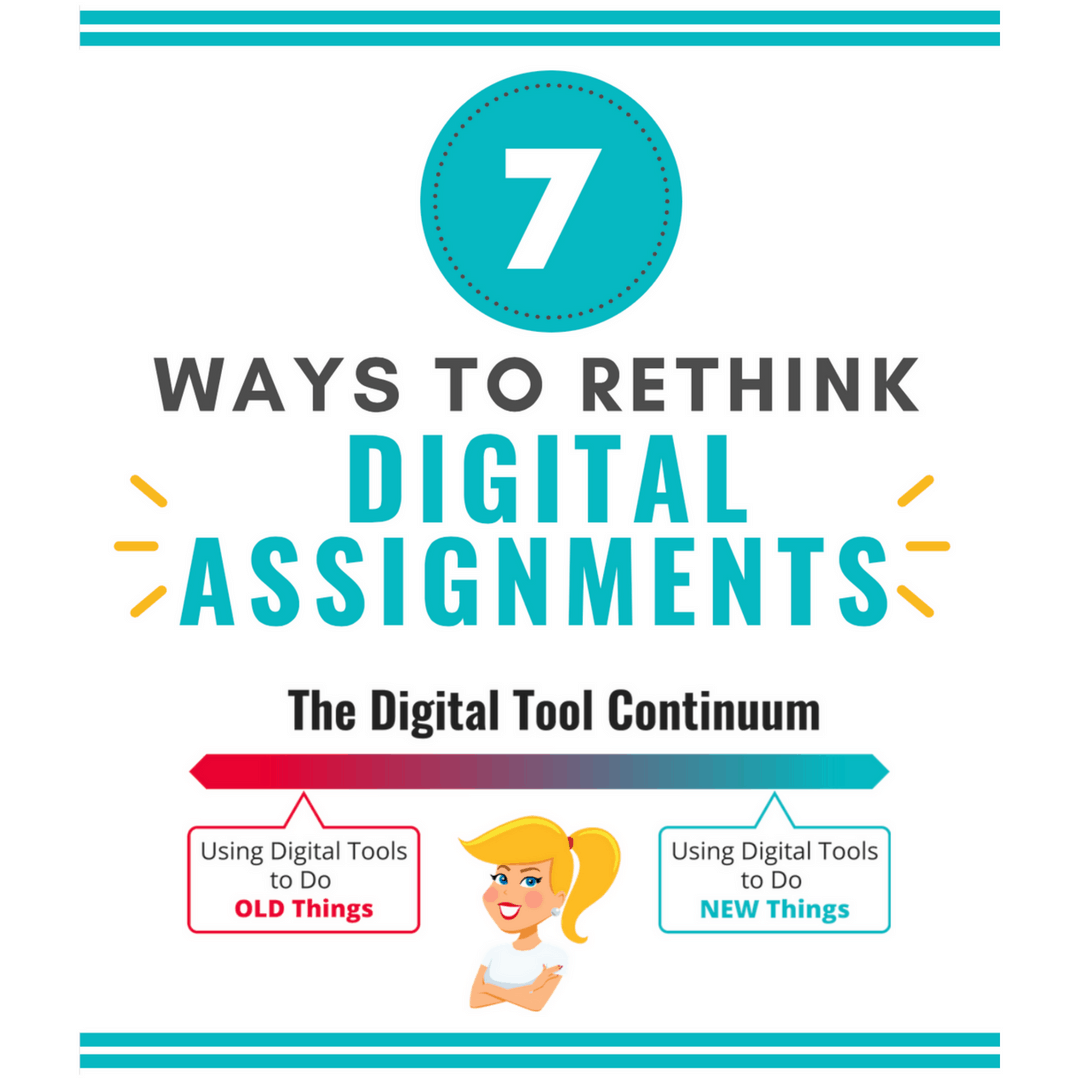 Article Name
7 Ways to Rethink Digital Assignments
Description
If you really want to transition your classroom from static teaching to Dynamic Learning, you have to rethink traditional assignments and the use of digital tools. In this post, I share 7 Ways to Rethink Digital Assignments.
Author
Shake Up Learning
https://iqe4efxsuu-flywheel.netdna-ssl.com/wp-content/themes/shakeup/images/header.png