Differentiate with Learning Menus and Choice Boards
I love learning menus, and it is one of my favorite ways to incorporate student choice and to differentiate learning. And with digital tools like G Suite for Education, it's super easy to make menus interactive, digital, and more dynamic! Digital Differentiation offers teachers and students many ways to reach all learners.
---
"…at its core, differentiated instruction means addressing ways in which students vary as learners." – Carol Ann Tomlinson
[Tweet "Interactive Learning Menus with @GoogleforEdu #edtech#gsuiteedu"]
What Are Learning Menus?
IT'S ALL ABOUT CHOICE! Learning menus (aka choice boards) are a form of differentiated learning that gives students a menu or choice of learning activities. Learning menus and choice boards can be created in a variety of styles and mediums. They've been around for a long time and originated in a static, paper format. But with digital tools, we can bring the menus to life with interactivity and creation. Menus can be a simple list, a tic-tac-toe or bingo-style game, or get as creative and intricate as you like. Check out my Pinterest board for ideas.

Learning Menus Can Be Used with Any Age Group
I have found that menus and choice boards tend to be more popular among elementary teachers, but I used them in my middle school classroom, and now I use them in professional learning workshops with adults. Any grade level can use learning menus!
Learning Menus Can Be Used in Any Subject Area
Since learning menus are so flexible, they can easily be created and adapted for just about any subject area. So no excuses! Any teacher who is willing to try can make use of this student-centered strategy.
[Tweet "Any teacher who is willing to try can make use of this student-centered strategy. #edtech"]
Are Learning Menus Hyperdocs the Same Thing?
No, but they could be part of a Hyperdoc assignment. I love Hyperdocs! But these two are not one in the same. Keep in mind the definition of learning menus stated above. It is simply a menu of choices from which students can choose. Student choice is the big idea behind learning menus and choice boards.
A Hyperdoc is a complete packaged assignment that also meets some additional criteria. A Hyperdoc doesn't have to include choice, but it could. To learn more about Hyperdocs, visit their site or read the AMAZING book by Lisa Highfill, Sarah Landis, and Kelly Hilton.

Creating a Tic-Tac-Toe Learning Menu in Google Docs
One easy way to dip your toes into the learning menu water is a Tic-Tac-Toe menu. A Tic-Tac-Toe can be used for anything from short activities to more long-term projects, both assessment FOR learning (formative) and assessment OF learning (summative).
Below is an example of a Novel Unit Tic-Tac-Toe menu that I created as a summative project. It was created in Google Docs, nothing fancy, just a table and some color. Depending on how you want to use, you can add links, rubrics, images, video and more. (Click here to use my blank tic-tac-toe template.)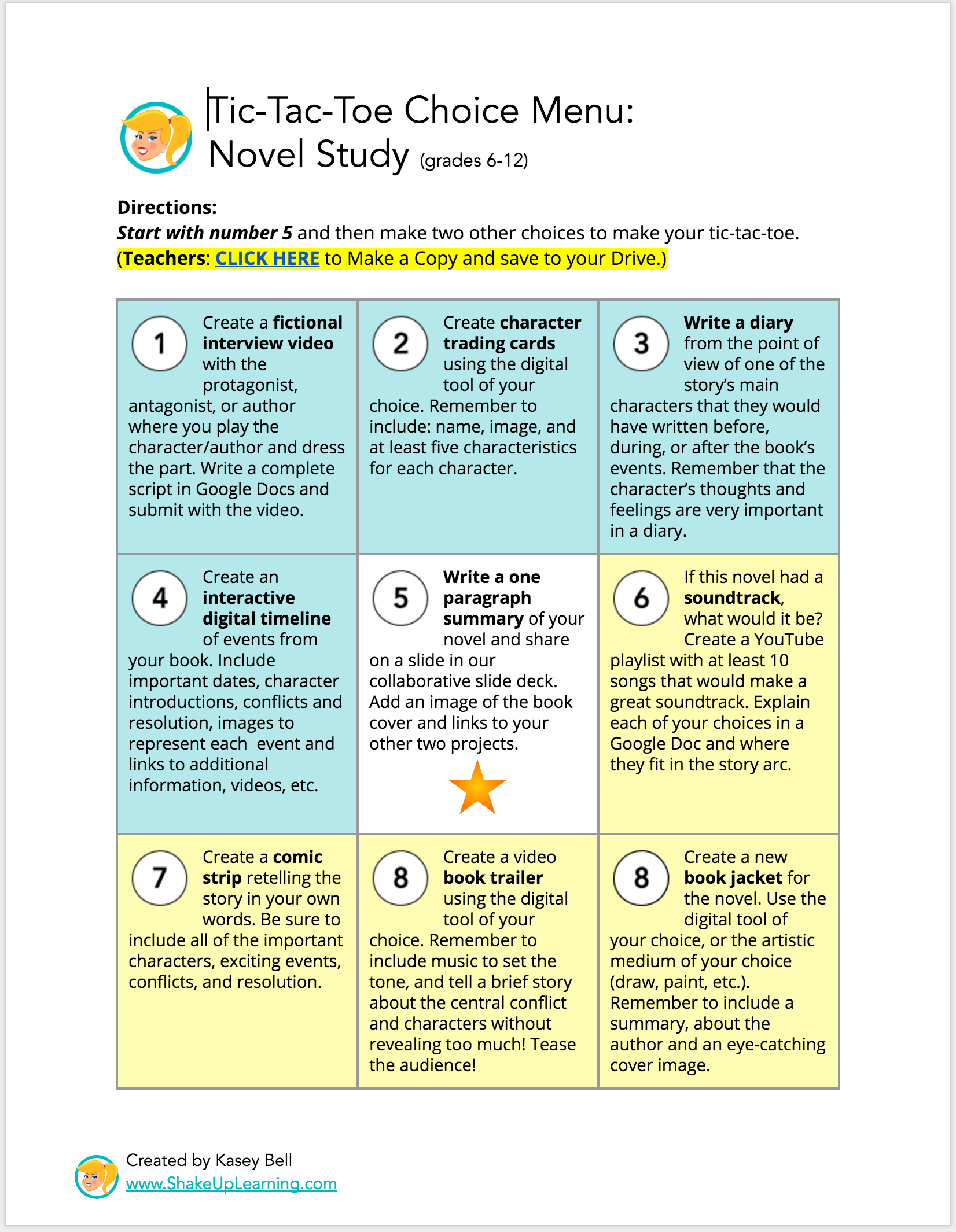 CLICK HERE to use the Novel Study Tic-Tac-Toe template.
On mobile? CLICK HERE to make a copy.
Learning Menu Design
Remember when you are creating a learning menu to align it with your learning goals! First, I use the middle square as my non-negotiable, the one activity that I want every student to complete. This could be reading an article, watching a video, or in this case; every student will write a summary and add it to a collaborative Google Slide deck where they will also add links to their other projects. Everything in one place!
Some teachers also make the middle square a free space where students can propose their own ideas to demonstrate their learning. LOVE THIS IDEA!
I had some students who would try to find the easiest or fastest way to complete the tasks. But if you pay attention to the learning design, you can design it so that it gives choice and flexible learning paths, not just an easy completion grade.
I use the color to guide the learning design. Because I use the middle square as a non-negotiable, I control how they make the tic-tac-toe just a little bit more. Every student will do the middle square and one from the blue and one from the yellow. In this summative example, students are mostly creating, but in the example below, you will see how it can also work for activities that guide the learning.
Below is a professional learning example that I designed for teaching Google Chrome. As a trainer, I typically have very mixed groups in my training sessions (multiple grade levels, subject areas, and tech savviness). I usually address general skills, and apps and extensions that are applicable across all grade levels and subject areas as a whole group.
Then I move into an activity like the Chrome PD Tic-Tac-Toe learning menu to allow teachers to dig deeper into their own subject areas and grade levels AND move at a pace that is comfortable for their level and learning style.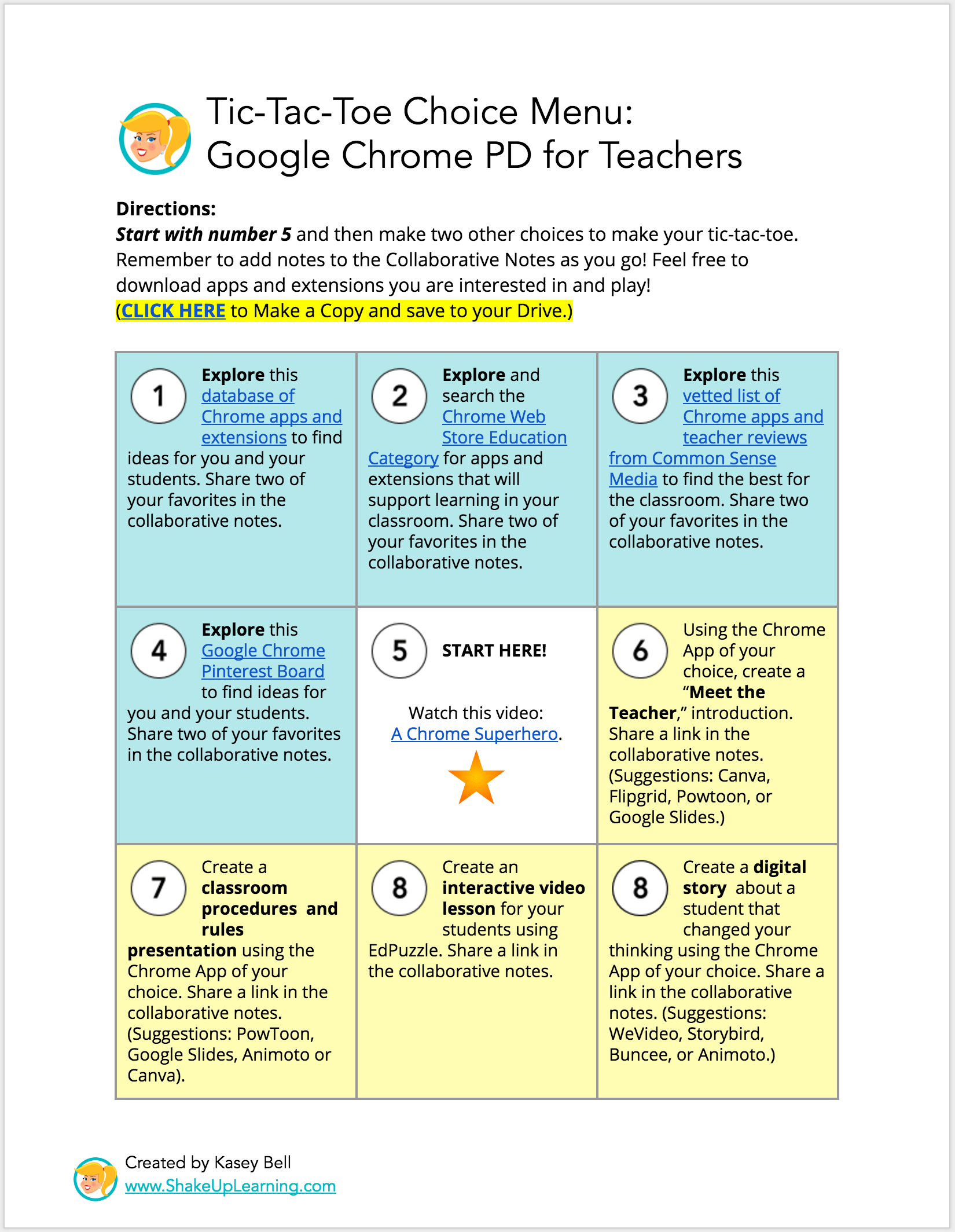 CLICK HERE to use my Chrome PD Tic-Tac-Toe template.
On mobile? CLICK HERE to make a copy of the template.
Other Types of Learning Menus
As I said, a tic-tac-toe is just one type of menu. It happens to be a favorite of mine because they are easy to design and are not too overwhelming. But I have used many other types of menus, and I have been curating ideas on this Learning Menu Pinterest Board.
Digital Menu for Student Creation with Google Slides by Tommy Spall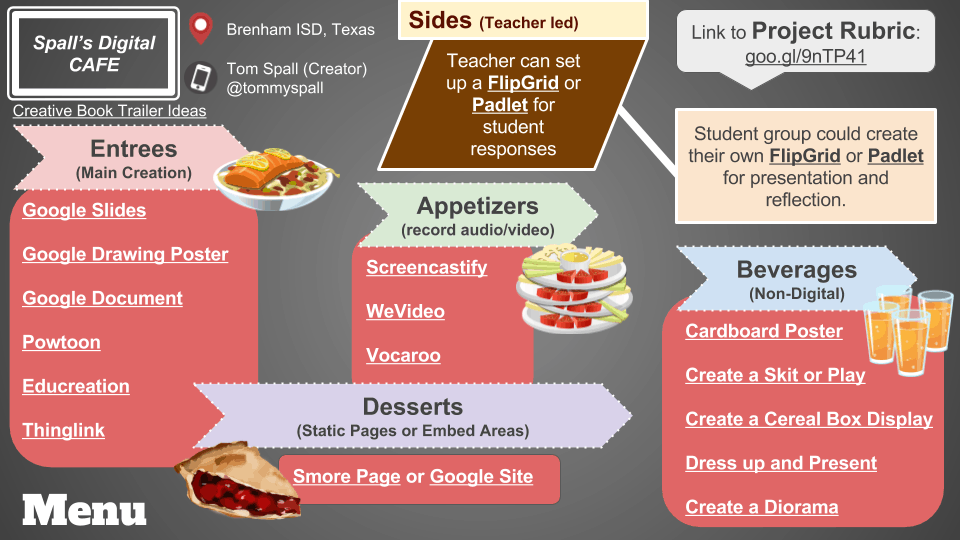 Below is a Google Slide example of a learning menu that takes on the look of a restaurant menu from my friend, Tommy Spall. Follow him @TommySpall. (You can thank me later!) Click here to make a copy of Tommy's template that includes linked slides to lots of Googley projects and room for you to make it your own. (If you are on mobile and having trouble with the template link, try this make a copy link.)
---
---
Professional Development BINGO Board by Amber Teamann and Melinda Miller
Another option is to make it a full out BINGO board, like in this example from my friend Amber Teamann and her collaborator Melinda Miller. (Follow them at @8Amber8 and @MMiller7571, and yes, you will thank me for this one, too!)
Amber and Melinda are both elementary school principals. They issued this BINGO PD Challenge to her teachers over the summer, and I thought it might inspire you with some other options for choice and challenges in your classroom or professional learning. You can learn more details about PD Bingo in Amber's blog post.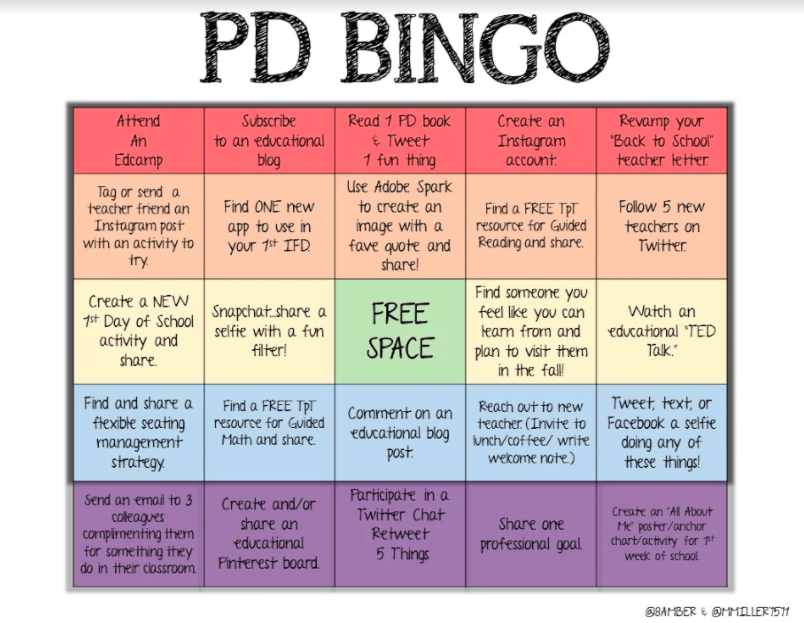 Using G Suite to Create Learning Menus
The possibilities are truly endless! Consider all the ways you could use G Suite to create learning menus and the extended activities and links. Try thinking of the ways you could create menus using these G Suite tools:
Google Docs
Google Slides
Google Drawings
Google Sheets
Google My Maps
Google Sites
---
How to Use Google Templates and Assign in Google Classroom
---
If you enjoyed this post, you will love the more in-depth look at the power of choice boards and more examples in this post and podcast episode.
© Shake Up Learning 2023. Unauthorized use and/or duplication of this material without express and written permission from this blog's author and/or owner is strictly prohibited. Excerpts and links may be used, provided that full and clear credit is given to Kasey Bell and Shake Up Learning with appropriate and specific direction to the original content on ShakeUpLearning.com. See: Copyright Policy.