How to Plan a Dynamic Learning Experience (FREE TEMPLATE)
Dynamic learning doesn't happen by accident, you have to purposefully plan experiences for students that are aligned with your learning goals, integrate strategies that push beyond the bounds of traditional learning, and integrate the four c's. This post is designed to give you everything you need to plan a Dynamic Learning Experience for your students.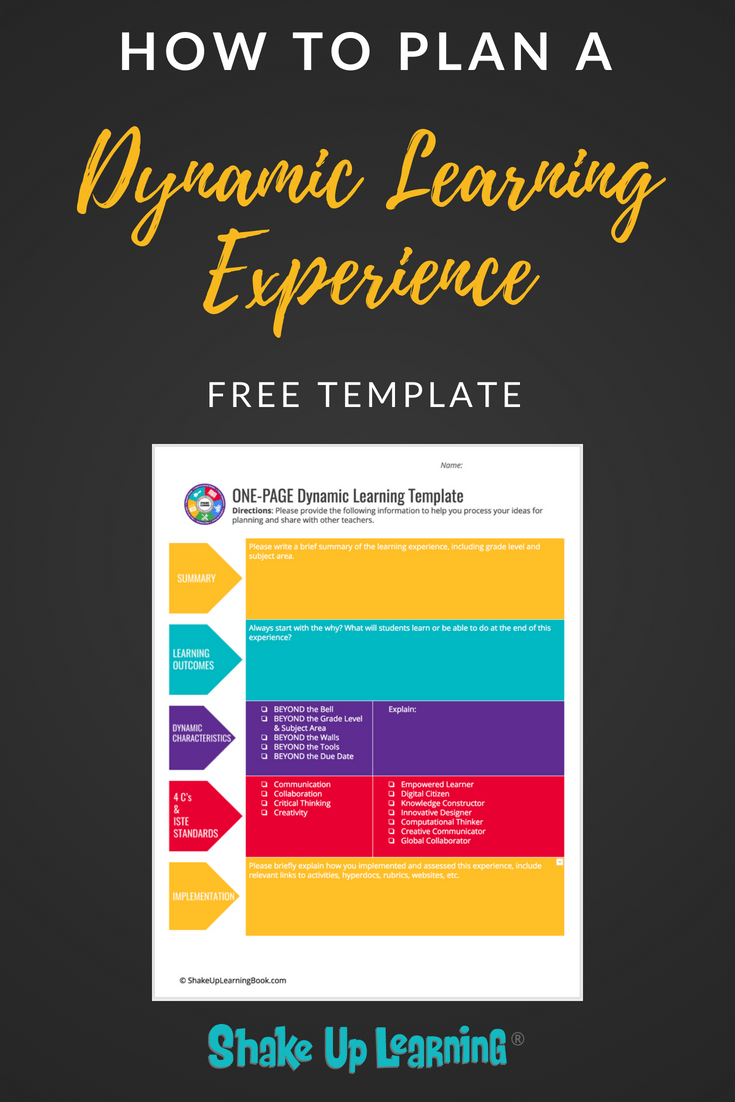 "Begin with the end in mind." —Stephen Covey
Lesson planning is nothing new, but if you struggle to find ways to integrate technology meaningfully, planning is the first step in making this a reality. If you work through the planning process with intention— and align it all with the learning needs of your individual students—you can approach dynamic learning with confidence, purpose, and meaning.
I usually refer to this as the "eating your veggies," part of the job. It's not necessarily fun, but planning is a CRITICAL part of the process if you really want to transform your classroom!
The purpose of giving you a planning roadmap is not only to help you think through the process but also to get you to share your learning experiences with others. I want to get you thinking about the entire process.
When you really begin to break down your plan, you can see the gaps, the missing pieces, and the opportunities to become more dynamic.
What is Dynamic Learning?
Dynamic learning is characterized by constant change and activity. This learning takes place organically, growing and evolving through more unconventional means, with the learner collaborating, creating, and communicating to demonstrate progress and mastery. Dynamic Learning also extends beyond the boundaries of a traditional school day, beyond the physical location of the classroom, beyond using tools as digital substitutes, or even the traditional notion of hard-and-fast due dates.
If this concept is new to you, take a moment to read this post: How to Push the Boundaries of School with Dynamic Learning. This will give you a good overview, as well as an outline of the Dynamic Learning Framework.
If you are thirsty for more, please check out my book, Shake Up Learning: Practical Ideas to Move Learning From Static to Dynamic.
[Tweet "How to Plan a Dynamic Learning Experience for Students (FREE TEMPLATE) #shakeuplearning #edtech"]
The Dynamic Learning Model
Below is the Dynamic Learning Model which is all about learning, not technology.
Notice the lesson cycle in the last ring of the model. It begins with purposeful planning that is focused on learning outcomes!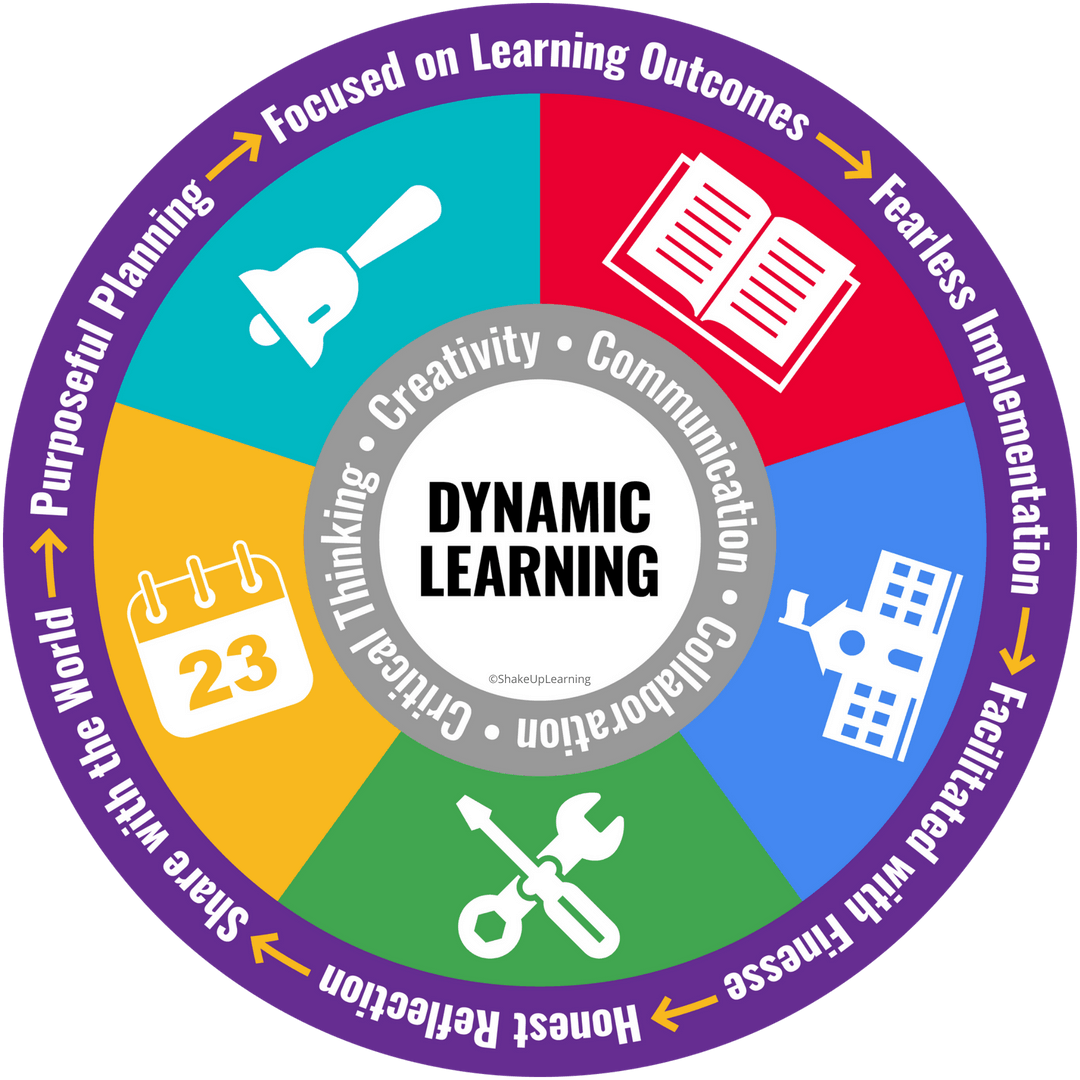 (Learn more about the power of Dynamic Learning and all the pieces of the model here, or in my book, Shake Up Learning: Practical Ideas to Move Learning From Static to Dynamic.)
The outer ring describes the entire Dynamic Learning lesson cycle:
Purposeful Planning
Focused on Learning Outcomes
Fearless Implementation
Facilitated with Finesse
Honest Reflection
Share with the World
This post will focus on number one and two, planning with a focus on learning outcomes.
Purposeful Planning – > Focused on Learning Outcomes
Renowned educator, author, and innovator, Stephen Covey, had it right in so many respects. Planning and prioritizing anything requires that we look ahead and determine what the end looks like, whether that is the end of a learning experience or a personal goal, such as running a marathon. Before you begin to integrate anything new in your lessons, whether it has to do with technology or not, think about the end of the learning experience.
What do you want your learners to discover, learn, and question? What are the learning goals?
Pre-Planning and Brainstorming
Let's start working on YOUR PLAN. You can do this on your own, collaborate with a partner, or work with your team. I've created a Google Doc for you to copy and write your plan digitally. Use this document to brainstorm!
1. Identify desired results. (Always start here!)
What are the big ideas we want learners to understand and use?
What unit of study are you currently planning, or will be planning soon?
What are your learning targets?
2. Pose essential questions for the learning experience
What provocative questions will foster inquiry, understanding, and transfer of learning? Learn more about essential questions https://shakeup.link/essques.
What questions can you ask students to help them focus on important aspects of the topic?
3. Determine assessment evidence.
How will we know learners have understood the big ideas? How will you know they "get it"?
4. Plan learning experiences and instruction.
What learning activities will facilitate understanding of the big ideas?
5. Determine the necessary technology for learning.
Will you use technology? How will technology enhance and support the learning of the above learning targets?
6. Set dynamic learning goals
How will you make this learning experience more dynamic? How can you step out of your comfort zone and take risks? Will your experience be student-centered? Will it be authentic? Set some goals for yourself!
How will this lesson extend beyond a normal one-and-done activity? What opportunities will learners have to continue the learning?
Be specific on how learners will communicate, collaborate, and extend the learning.
The Dynamic Learning Experience Template (DLE)
Once you have developed your ideas, it's time to get the plan in motion. I have designed a planning template for creating Dynamic Learning Experiences. Of course, it should come in handy with any type of lesson planning, so feel free to use and revise to fit your needs.
Click here to use the DLE template link, or make a copy.
I know this looks pretty intense, but keep in mind it is designed to help you think through EVERYTHING! You will not need to be this detailed, once you get the hang of things.
And for those of you that are intimidated by the more lengthy planning document, I have created the ONE-PAGE template (screenshot below). Click here to make a copy.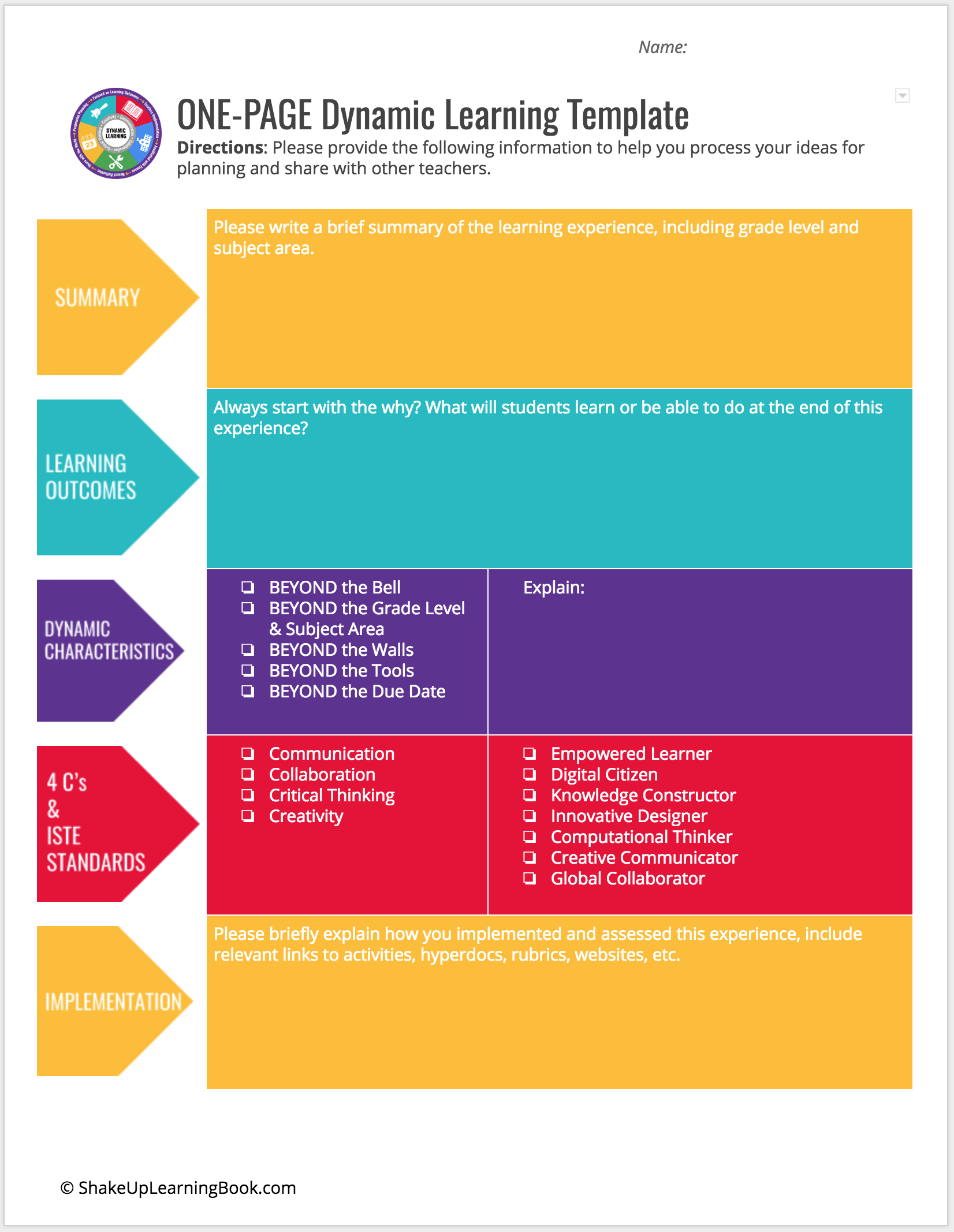 Share Your Lesson Plans With the World!
I have started a lesson plan database and I want you to contribute! Submit your lessons here so other teachers can use and revise to fit their classroom.
---
The better the plan, the better the implementation, and the greater chances for success! Remember, it's okay to take a risk and try something new! Good teachers are always willing to step outside their comfort zones and make the magic happen.
---
Get the Shake Up Learning Book!
ABOUT THE BOOK
In this three-part book, you will explore WHY it's time to Shake Up Learning, WHAT changes we can make in our classrooms to support dynamic learning experiences, and HOW to plan meaningful lessons for your classroom.
Shake Up Learning is a powerful guide and planning tool to help educators at all grade levels make the most of technology.
Educator and blogger Kasey Bell guides you through the process of using technology and proven techniques to make learning dynamic. You'll discover . . .
Practical strategies to help move from static teaching to dynamic learning
Straightforward and easy-to-use templates for crafting engaging learning opportunities
Tips and tricks for fearless implementation of powerful lesson plans
Advice for moving from one-and-done activities to learning that evolves and inspires throughout the school year–and beyond!
Don't take my word for it, read one of the 200+ five-star reviews on Amazon!
---
© Shake Up Learning 2023. Unauthorized use and/or duplication of this material without express and written permission from this blog's author and/or owner is strictly prohibited. Excerpts and links may be used, provided that full and clear credit is given to Kasey Bell and Shake Up Learning with appropriate and specific direction to the original content on ShakeUpLearning.com. See: Copyright Policy.
Shake Up Learning QUICKSTART GUIDE
Join the email list to get the latest information about the Shake Up Learning Book AND Get the FREE 20-Page Quickstart Guide that will help you Shake Up Learning in your classroom this year!