How to Differentiate Assignments in Google Classroom
I am often asked about differentiation strategies that will work in the Google Classroom application. Google Classroom is a very robust tool that can make differentiating digital assignments a reality. I often present on digital differentiation, and until now, differentiation in Google Classroom has been more of creative thinking than what teachers and students truly need.
---
NEW Feature! Give Assignments to Individual Students or Groups
Yay! Teachers rejoice! One of the features we have been waiting for is finally available–the ability to give assignments to EXACTLY who you want, meaning an assignment meant for one student, a few, or even groups of students within a Class in Google Classroom. This is a huge update and one that I couldn't wait to get my hands on.
Teachers often need the flexibility to differentiate assignments for students based on ability, learning styles, reading level, etc. In this case, the teacher chooses the assignment for each student/group of students.
To give an assignment to individuals or groups, simply use the new drop-down menu to select the students that you wish to receive the assignment (+>Create Assignment>All Students drop-down list). Here you can select, "all students," or just select the individual or groups of students you want to give the particular assignment to. Voila! Isn't that beautiful?
Of course, this also offers teachers ways to give special assignments inside Google Classroom, like independent study, special types of make-up work, extra credit, and genius hour assignments.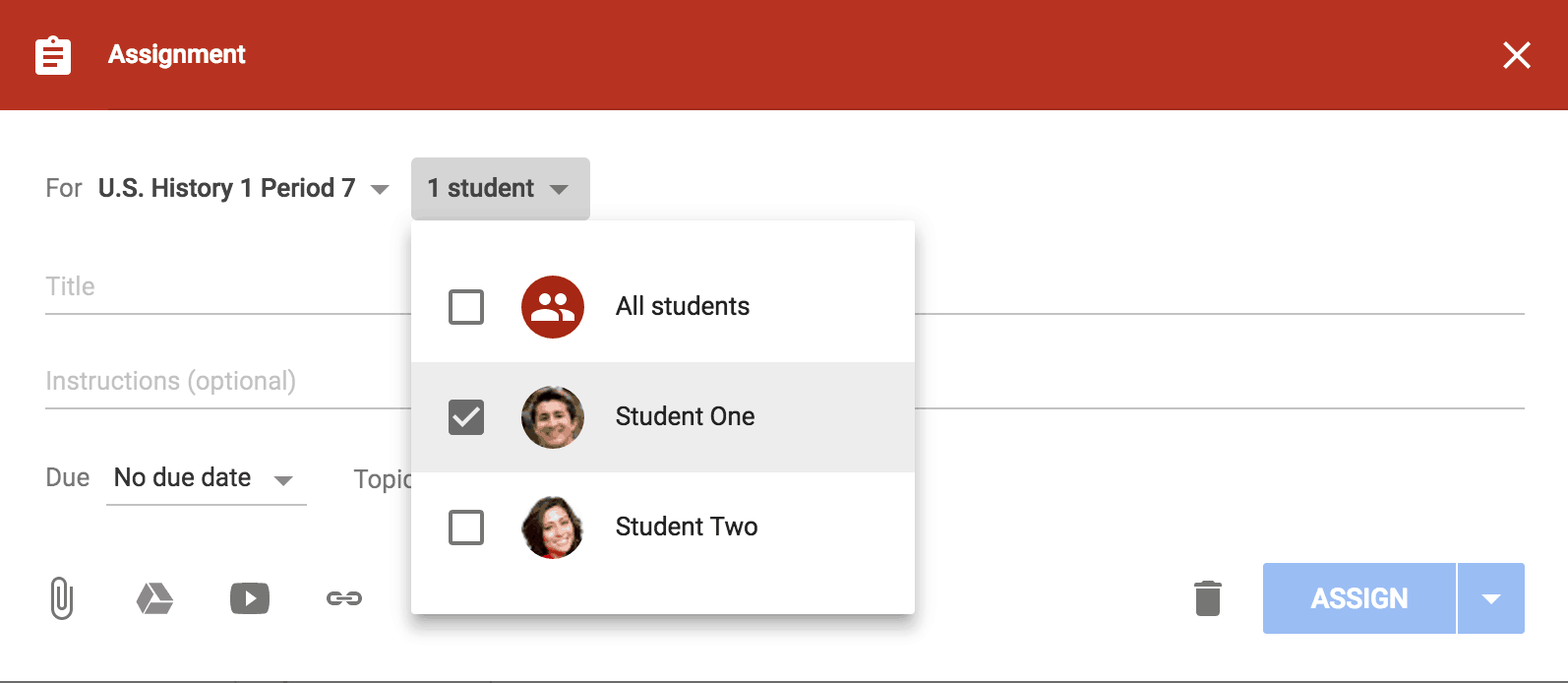 Now differentiation goes far beyond just giving different students different assignments. It should be much more purposeful and meaningful than that! Another common way to differentiate is to offer student choice. This could be the choice of topic, product, or process, depending on your assignment and learning goals. Below are a few more ways to introduce choice inside Google Classroom.
[Tweet "How to Offer Student Choice in Google Classroom #googleedu #SUL #edtech"]
Tips for Creating Differentiated Assignments in Google Classroom
Numbering these types of assignments could get confusing. For your own sanity and organization, consider not just a number, but a group or individual identifier in the assignment title. (Ex: Group 4, Special Assignment, Extra Credit, EC Sarah Jones, or come up with your own consistent naming convention.)
Get specific with your directions! The more information that is available in Google Classroom, the fewer excuses students have for not completing the assignment and the fewer interruptions you are likely to have.
Attach a rubric if you have one.
If these are collaborative/group activities, designate a group leader in the assignment. The group leader is responsible for creating any new files and turning these in through Google Classroom for the entire group. This method will help alleviate some of the file ownership issues in Google Classroom when trying to turn in work. Consider asking students to submit a reflection at the end of group work to help you get the whole picture of the learning process.
---
Student Choice
Student choice is a great way to differentiate and allow students to take a more flexible learning path while tapping into interests and learning styles. It is possible to use the Google Classroom platform. Luckily, it's very easy to build in choice in Google Classroom assignments. If you create an assignment with multiple Google files where each student gets a copy, you will have a file management mess. You will end up with files that are not used, and students confused on which file they should turn in through Google Classroom. To avoid this mess, try one of the options below. (See my post on Interactive Learning Menus for another interesting way to give students choice.)
Create the assignment with an assignment number and detail the choices in the directions and/or in an attached (view only) document. (Note: This is also great way to use digital learning menus and choice boards.)


---

You can also attach links to digital tools that may be offered as a choice for completing the assignment. (Example: Using one of the digital tools below, create a digital story retelling, "The Tell-Tale Heart," in your own words. Then add links for the digital tools you would like them to choose from, like Powtoon, WeVideo, etc.)


---
---
Students will then choose to attach their own files to complete the assignment (as shown in the animation above).


---
Long-Term Projects and Modifications
Another solution that some teachers are using to keep track of group work or even modify work for individual students is to create separate classes inside Google Classroom for each group, or even for individual students. (Note: This is really only worth the time if these groups are long-term, or reused. Also a great option for students who require regular modifications.)
---
How do you differentiate assignments in Google Classroom? Please share in the comments below! I know there are some experts out there that can help us all learn!
---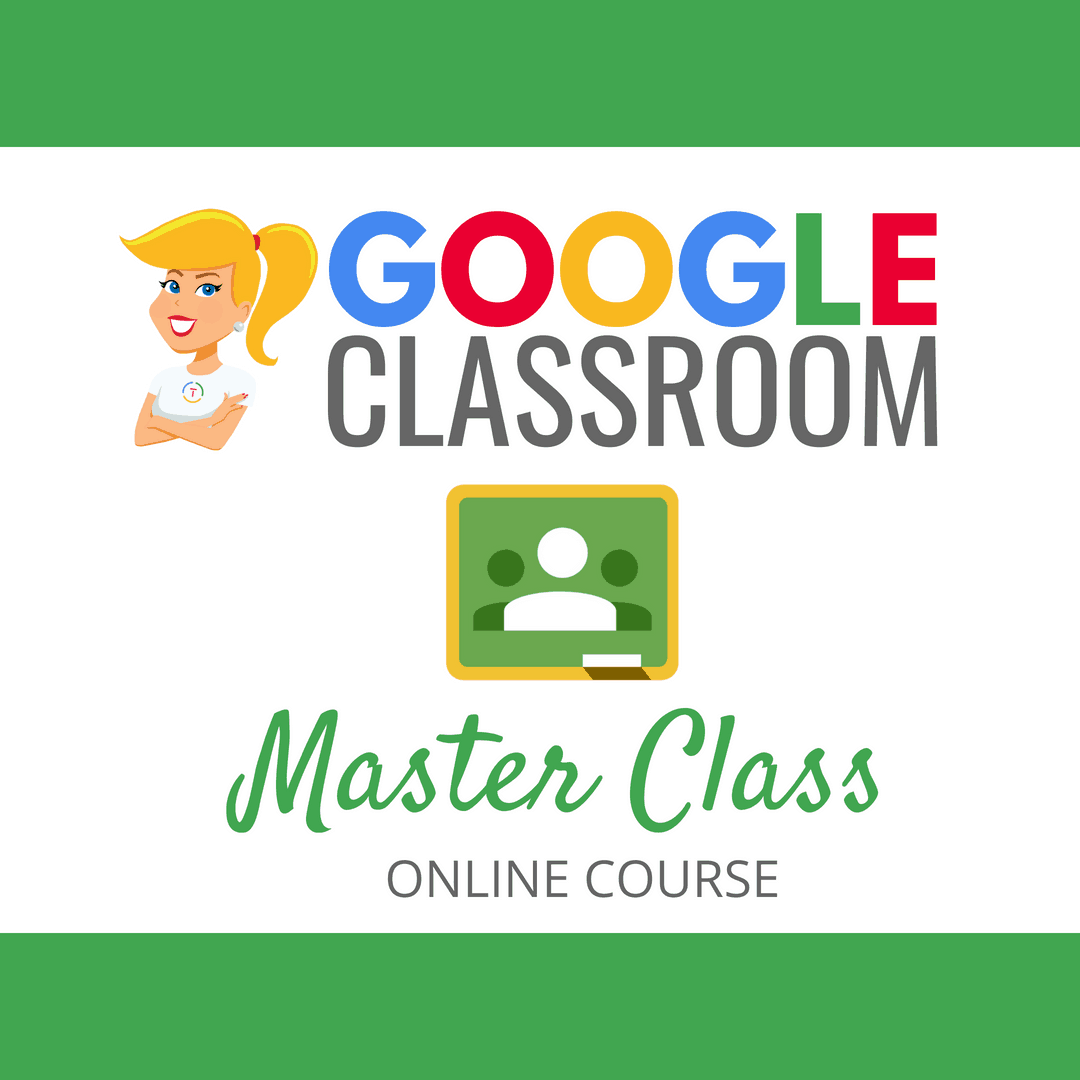 Learn all about the new updates to Google Classroom and take your skills to the next level. This course will give you everything you need to get started using Google Classroom and best practices to help you make the most of this tool.
Perfect for beginner to intermediate skill levels! Consider this your video guide to Google Classroom!
Click here to learn more and to ENROLL TODAY!
---
---
---
 Other Google Classroom posts you may like: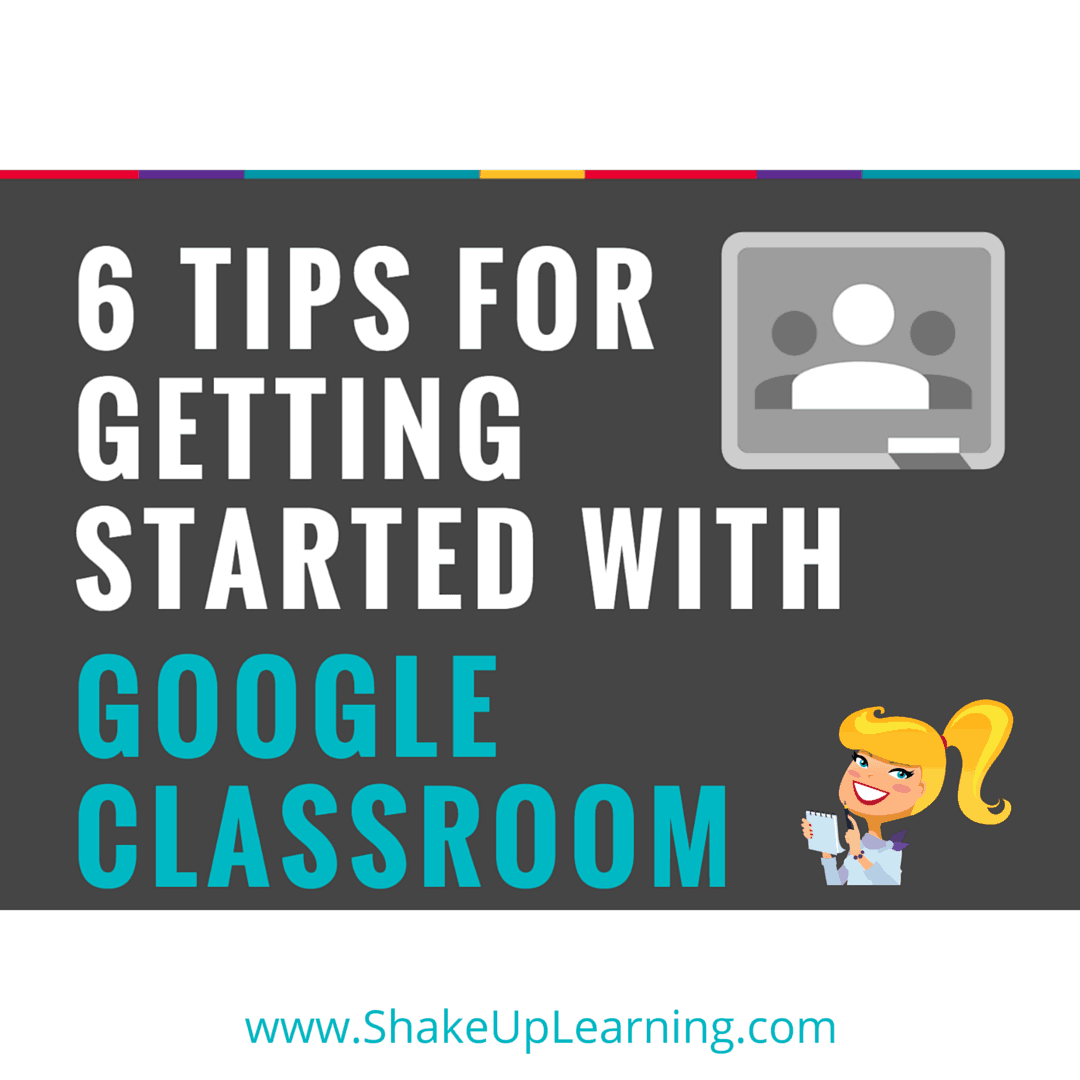 © Shake Up Learning 2023. Unauthorized use and/or duplication of this material without express and written permission from this blog's author and/or owner is strictly prohibited. Excerpts and links may be used, provided that full and clear credit is given to Kasey Bell and Shake Up Learning with appropriate and specific direction to the original content on ShakeUpLearning.com. See: Copyright Policy.