Around the U.S., teachers are gearing up for back to school–gathering ideas, planning lessons, and getting their classrooms ready for learning.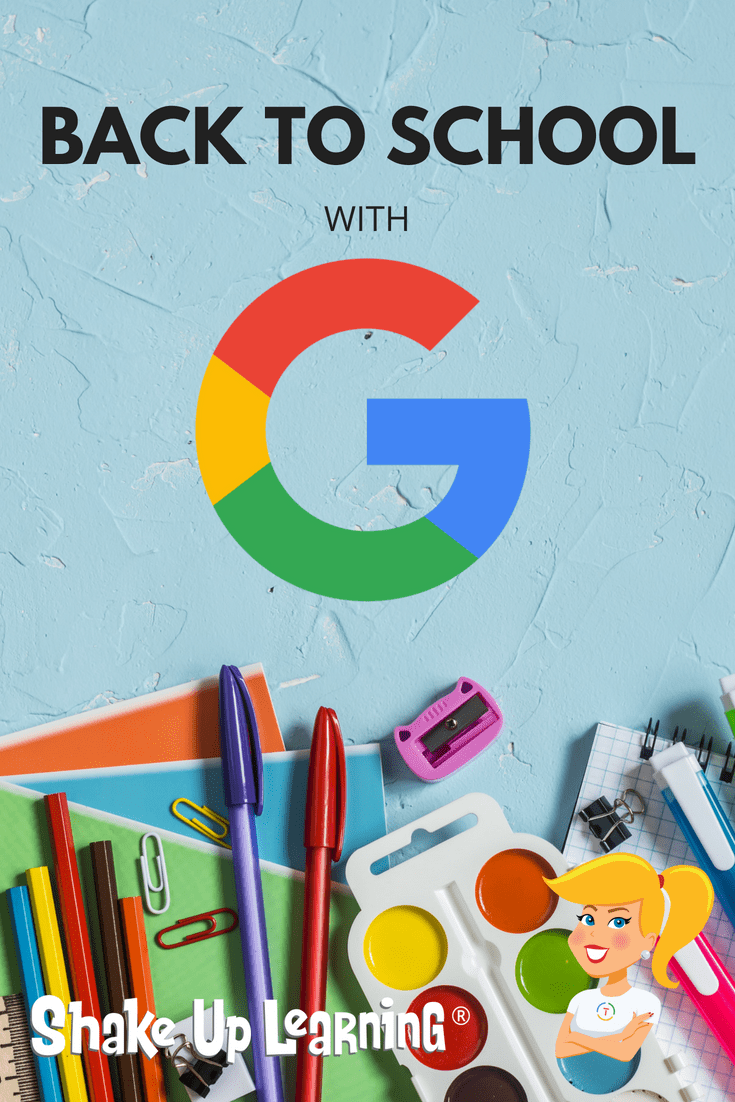 Google tools can help you kick off the school year, get organized, and have some fun.
So I thought now was a great time to share a few back to school activities with my favorite Google tools.
No matter what grade level or subject area you teach, there are always a few ways that Google tools can help you and your students save time and get creative.
Below are a variety of ideas to help get to know your students, build relationships, do some goal setting, create, and play some games.
Be sure to share your favorite ways to use G Suite for back to school in the comments below this post!
Here are six ideas for going Back to School with G Suite.
#BacktoSchool with #GSuiteEdu (6 Activities for the Classroom)! #googleclassroom #edtech #shakeuplearning
Student Interest Survey with Google Forms
One of the most important things teachers can do during the first few weeks of school is to build relationships with their students. We want to know what they like, what they don't like, where they struggle, and their learning style.
There are lots of ways to get to know your students, but Google Forms is a great way to gather some basic information and keep it organized in a spreadsheet.
The answers to some of these types of questions may not be something students are comfortable sharing with the entire class, so a Google Form is a great way to give students a safe space to share.
Depending on what age you teach, these questions will vary. Below are some ideas to get you started.
What do you want me to call you in class? (preferred first name)
What is your favorite color?
What is your favorite food?
What are you passionate about?
If you could learn anything at school, what would you choose to learn?
Do you like to be recognized for your accomplishments in front of the class?
What characteristics do you like in a teacher?
Is there anything that you struggle with in class?
What do you do if you don't know how to answer a question or problem?
How do you learn best?
What do you want me to know or understand about you?
Do you prefer to work in groups or on your own?
Do you like to read aloud?
What are your favorite books?
Do you enjoy reading?
---
The beginning of the school year or semester is the perfect time to build a growth mindset and set some goals with students.
Visualization is one of the most powerful exercises for the mind and for reaching your goals.
A vision board is a collection of images and words that represent the things you want in life–the things you want to do, the things you want to learn, the things you want to be.
Vision boards also support Dynamic Learning and the ISTE Standards for Students! This is just one small way we can empower learners in our classrooms this year.
Through my book, Shake Up Learning, and the Dynamic Learning Model and Framework, I shared some ways to go BEYOND, including a mindset to take learning BEYOND the BELL. One strategy to go BEYOND the BELL is to have students set their own learning goals.
As the teacher, you can help students write their own learning goals, both goals aligned to what they are learning in class, but also BEYOND. What problems would they like to solve? What's something they've always wanted to learn?
Remember to revisit the vision boards on a regular basis so students can see how far they've come and where they still want to go.
Google Slides is the perfect medium for creating digital vision boards, and you can get all the details in this previous blog post. (P.S. Vision boards are also great for teachers and professional learning goals!)
See also: Student-Created Vision Boards with Google Slides
Track Learning Goals with Google Keep

While we are on the topic of goal setting, let's talk about the power of tracking learning goals with a tool like Google Keep. Google Keep is a robust G Suite tool that can help teachers and students create and share notes, lists, and reminders.
As mentioned above, goals should be revisited on a regular basis so using a digital tool to save and track your progress is going to make this an even more powerful experience for students.
No matter what you call them, student objectives, learning targets, or goals, we all know how important it is to help students understand what they are and recognize success when they reach them. Teachers can create notes and lists of learning goals for a particular unit and share.
Students can then refer to these throughout the unit, confer with their teacher to ensure they reach them, and celebrate success!
Bonus idea: Add badges and images to Keep to gamify the process.
Start simple: Ask students, What are three things that would make today great. Try to keep them from being "grade," focused with their goals.
My suggestion is to have students set a small number of goals for your class, and at least one personal learning goal. This will also help you go BEYOND the Bell, and maybe BEYOND the Subject Area and Grade Level as well, supporting students as they pursue their interests.
You can learn more about this idea in my book, and in a previous post, 15 Ways for Students to Use Google Keep.
Check out all of the awesome things you can do with Google Keep by visiting my Google Keep Resource Page, and picking up a copy of the Google Keep Cheat Sheet.
---
One topic we always seem to discuss the first couple weeks of school revolves around what students did over the summer break. I've got a fun way to get kids creating and sharing their summer through the Summer Magnetic Poetry activity.
You know those fun little magnets that challenge you to create a poem with just a small word bank (usually on the refridgerator)?
You can use magnetic poetry with a theme, like, "What did you do over the summer?" Or try the Halloween or Winter versions later in the year.
Even if you don't teach poetry, this template can be used as a quick game or challenge.
In addition to giving you this FREE template, I'm also giving you a FREE mini-course tutorial to show you exactly how I created this activity using Google Slides and Google Drawings.
Now, you can create whatever kind of magnetic poetry you want and use whatever vocabulary works with your curriculum.
This template is easy to use and revise to make it your own. It contains a lot of essential words and some fun, summer words. The word bank is on the second slide so students can easily copy and paste from the word bank onto the background slide. (Great for practicing copy and paste skills!)
Click here to view the template. | Click here to make a copy.
---
Student-Created Google Classroom Headers
Customizing Google Classroom headers can help you and your students visually identify each class.
Of course, you, as the teacher can create and customize headers yourself if you prefer, but how fun would it be to get students creating! You could even make it a contest. Students could work in groups using Google Drawings to design and vote for their favorite.
It's really easy to create Google Classroom Headers using Google Drawings. I have step-by-step directions for you here. However, keep in mind that patterns work best because Google Classroom is responsive and resizes to fit different screens so the image will expand and shrink. In addition, the title of the class appears centered over your image.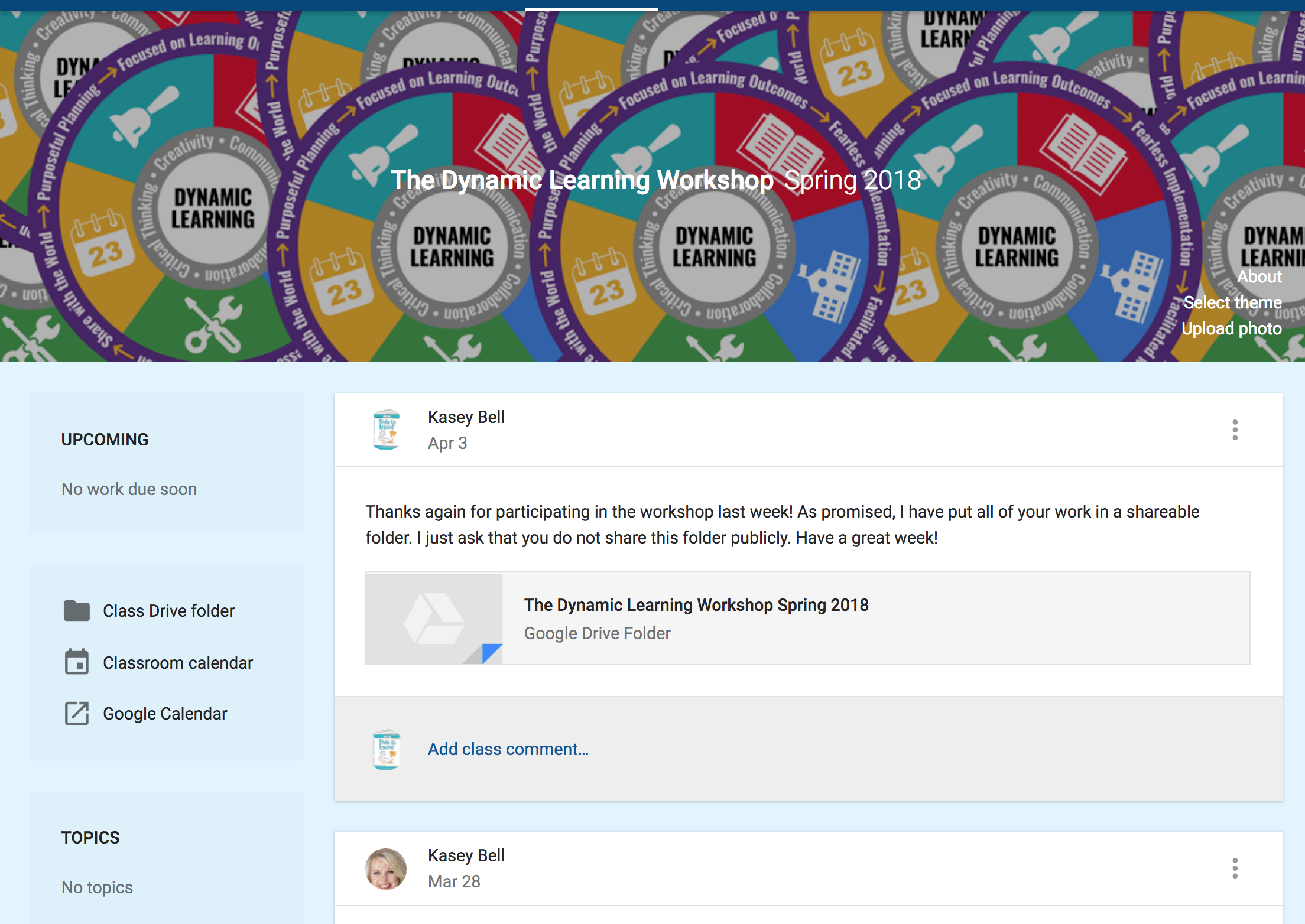 How to Organize Assignments in Google Classroom
Speaking of Google Classroom, I wanted to be sure to give you some quick tips and organization ideas for your Google Classroom Classwork page.
---
Emoji Scavenger Hunt
Emojis have become a whole new language and way to communicate. Sometimes students don't know the real world objects that emojis are based upon.
Emoji Scavenger Hunt is a super fun game from Google Experiments, technically not part of G Suite for Education but Googley nonetheless.
Using the camera on your device, tablet or phone will work best, students identify emojis in the real world. The application uses artificial intelligence to try and determine what's in the picture and see if it matches the emoji.
This game could be a fun collaborative activity for students to work together, get to know each other, and have a lot a fun along the way.
---
What are your favorite Back to School activities? Please share in the comments below.
---
© Shake Up Learning 2020. Unauthorized use and/or duplication of this material without express and written permission from this blog's author and/or owner is strictly prohibited. Excerpts and links may be used, provided that full and clear credit is given to Kasey Bell and Shake Up Learning with appropriate and specific direction to the original content on ShakeUpLearning.com. See: Copyright Policy.
Summary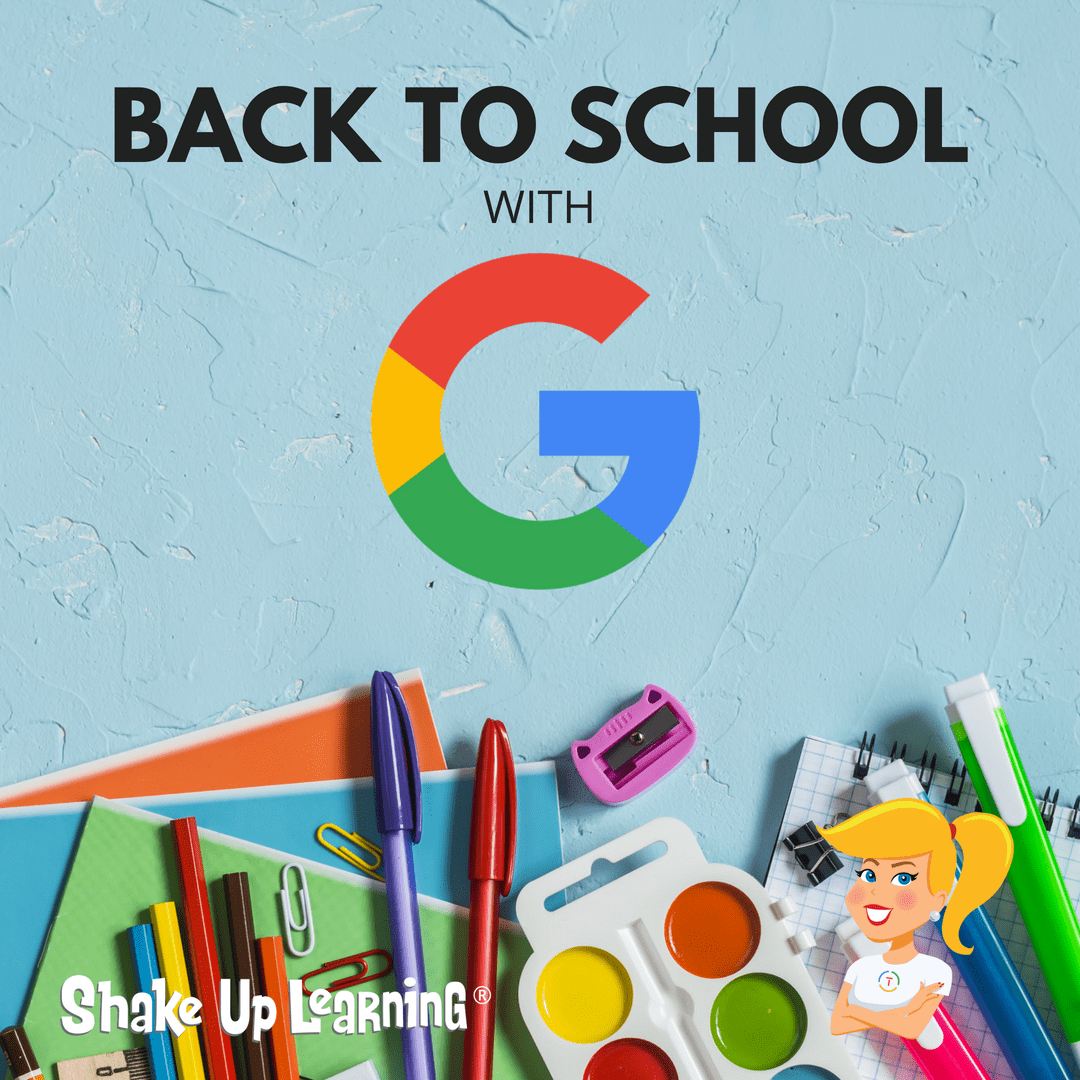 Article Name
Back to School with G Suite: 6 Activities for the Classroom
Description
Ready for Back to School? Google tools can help you kick off the school year, get organized, and have some fun. Here are six ideas for going Back to School with G Suite.
Author
Shake Up Learning
https://iqe4efxsuu-flywheel.netdna-ssl.com/wp-content/themes/shakeup/images/header.png