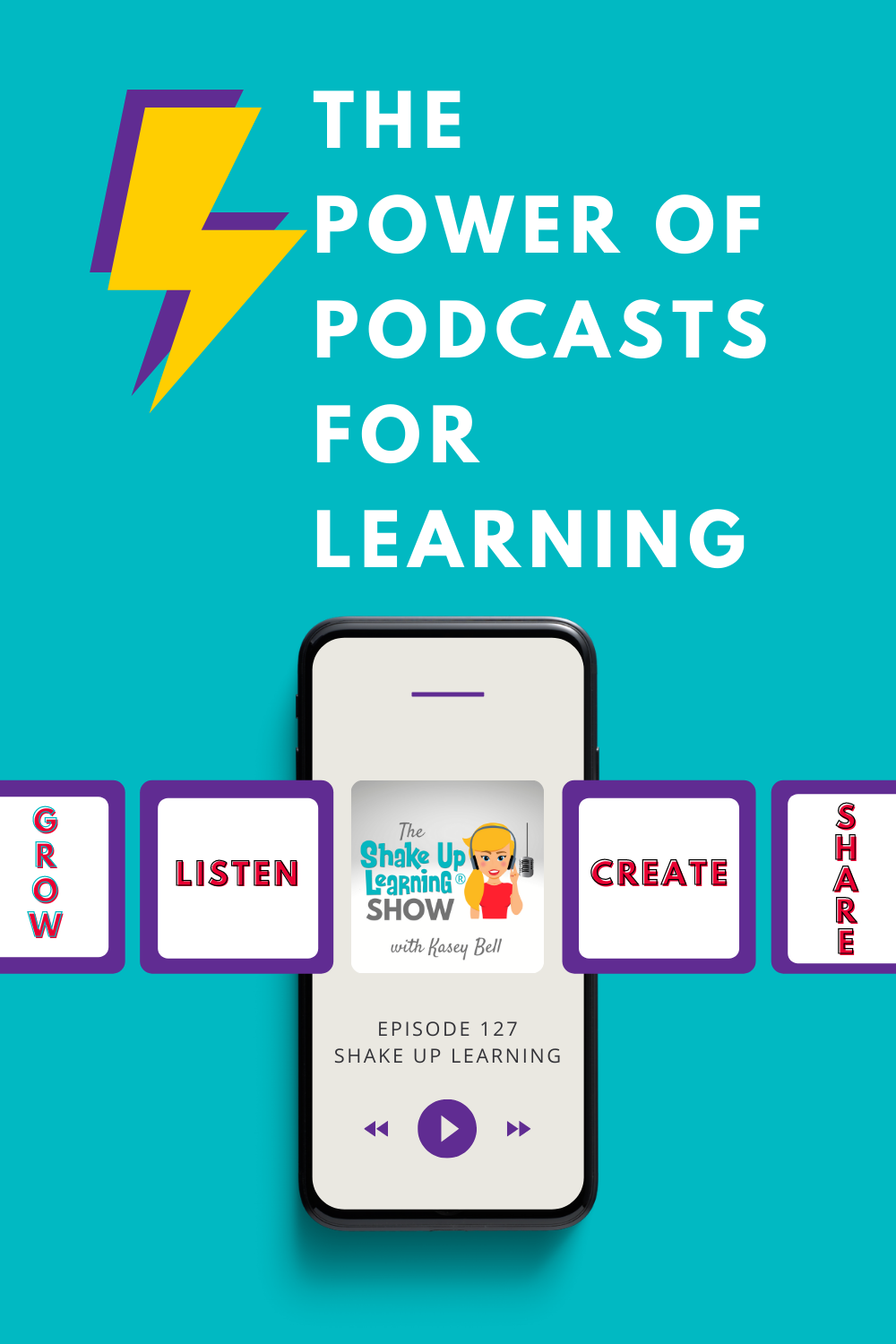 Podcasts are a powerful tool for learning! In this episode, Kasey talks about all sides of podcasting–what it is, how to listen, how to use them in the classroom, and how to create! 
Maybe you're reading these show notes and have never listened to an episode. Auditory learning isn't for everyone, which is why this is the perfect episode to start with if you're new to podcasts. 
Podcasts can be published by anyone, anywhere, on countless platforms. On-the-go listening has made podcasts incredibly popular. Apple introduced podcasting in 2005 with the popularity of its iPods. But it wasn't until Serial, a true-crime podcast debuting in 2011, that skyrocketed the listening audience. Breaking with the typical format, Serial used a storytelling structure in episodes that were released weekly. Much like our favorite television shows. 
Listen to this article.
The Power of Podcasts for Learning
Today, there are 2 million active podcasts with 48 million episodes available. When listeners were asked why they listen, 3 out of 4 answered to learn new things. A precedent for learning has been set. 
Types of Podcasts
The structure of a podcast has many different forms. Some of those include: 
The Interview 

The Solo 

The Panel 

Conversational and co-hosted 

Non-fiction storytelling 

Fiction storytelling 
Each of these structures provides a different purpose to reach a particular audience. Different structures work best with specific contents and purposes for sharing. Some shows, like The Shake Up Learning Show, utilize several structures depending on the content of the episode. 


Podcast Categories
There is a podcast for just about everything under the sun, or including the sun. Whatever the content that you teach might be, you're guaranteed to find a podcast episode to go with it. Some of the most popular categories include: 
True Crime

Comedy

Sports

Fiction

History

Business

Society and Culture

Kids & Family

Education

News

Religion and Spirituality

TV & Movies

Technology

Arts

Health and Fitness

Music

Science

Leisure

Government
Teachers can use podcast episodes for a number of reasons in the classroom with students. But there are also wonderful podcasts to help teachers gain professional knowledge as well. 


Podcast PD
If listening to podcasts is a newer concept for you, read advice from Jen Giffen on how to best listen to podcasts. The advantage of learning from a podcast is that you can listen when doing just about anything. That means your everyday activities can be done while listening and learning. 
Here is a list of recommended podcasts for teachers: 
School administrators are now accepting podcasts as a way of gaining professional credits. They might be embedded during a face-to-face training session to help enhance the content. Listeners can always answer questions in a Google Form or share during a discussion to demonstrate evidence of learning. For the Shake Up Learning Show, there is a question of the week posed at the end of each episode which can be used as well. Or utilize podcasts over an extended period of time through a PD choice board. 
Podcasts and Students
If podcasts can teach teachers, then there must be something for students as well. Consider these ideas for using podcasts as content in the classroom: 
Use podcasts as a station

An option on a choice board

Enrichment

To enhance text and other media (read-alongs)

Improve listening skills

Improve note-taking skills while listening

Use a Google Form to submit evidence and reflection
Here are some great places to start if you're looking for content, but of course searching for your topic would also work. 
Another option for using podcasts in the classroom is to have students create them. Kasey shares how her class produced an episode of Miss Bell's Chime Time to share their best writing. While in 2005 this project took more time than it would now, Kasey still hears about the positive impact it had on her students from that year. 
Other ideas for producing student-created podcasts include: 
School and community news

Storytelling (Retelling/Historical/Fictional)

Celebration of success

Overcoming failure

Interview (experts, family, community, other students)

Audiobooks

Oral reading of their own writing

Book reviews/trailers

Reflection

Record a presentation

Explain answers to a problem

Perform/sing
Here are some teachers creating podcasts in their classrooms if you'd like a great example: 
There are also a few great resources to help teachers navigate the production of a classroom podcast. 
How to Produce a Podcast
The good news is that there isn't any need for fancy equipment or software. As long as you have access to a computer with recording capabilities then it can be done. A separate microphone can provide higher-quality audio, but it's not a must-have. There are several free options available to record and edit your podcasts. 
There are also a few free, easy-to-use options for publishing as well. 
To learn even more about podcasting with your students this episode of The Shake Up Learning Show can help. When you have published with your students be sure to share. 
© Shake Up Learning 2023. Unauthorized use and/or duplication of this material without express and written permission from this blog's author and/or owner is strictly prohibited. Excerpts and links may be used, provided that full and clear credit is given to Kasey Bell and Shake Up Learning with appropriate and specific direction to the original content on ShakeUpLearning.com. See: Copyright Policy.