Podcasts have become a very important part of my professional learning and a must-have resource for many teachers.
I love listening to my favorite podcasts, and I love the fact that I can subscribe in my favorite podcatcher, Overcast, and get notified every time a new episode is released.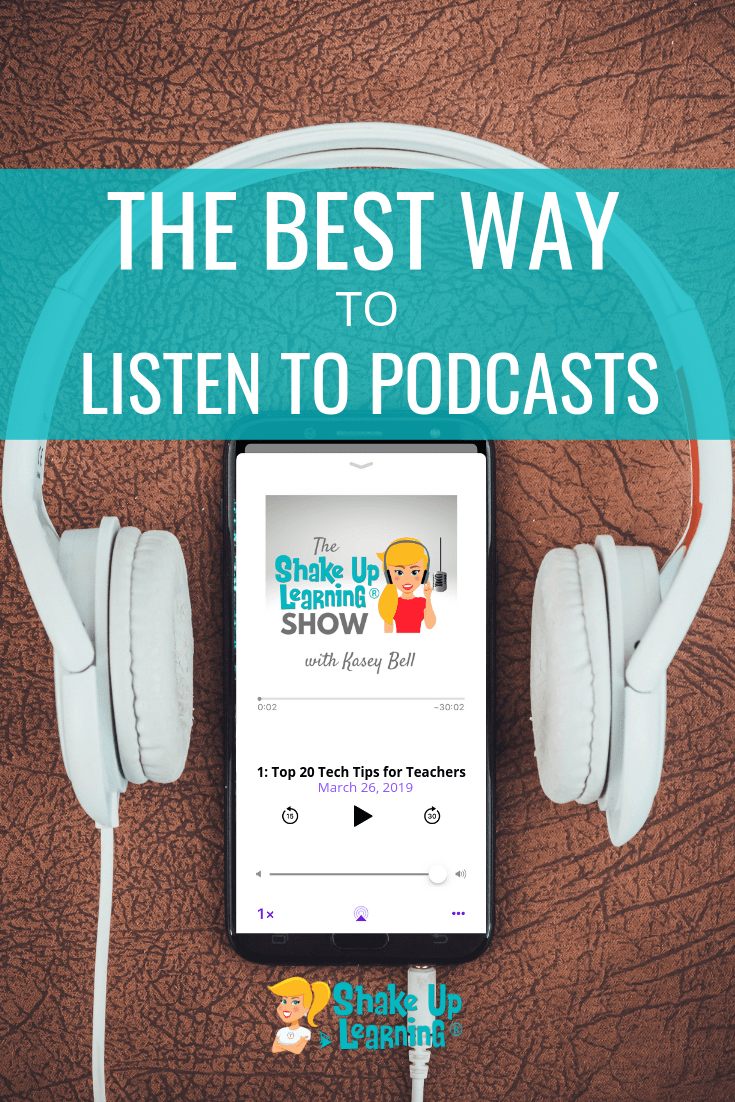 Since many teachers are new to podcasting, I asked my friend and colleague, Jen Giffen, co-host of the Shukes & Giff Podcast to write this guest post to help teachers find the best way to listen to podcasts, and find the podcatcher (a podcast listening application) to fit their needs and preferences.
Note: If you are brand new to podcasts, you may also want to check out The Teacher's Guide to Podcasts to get a full overview, or How to Podcast with Your Students to learn more about classroom applications.
Below is a guest post by Jen Giffen, co-host of Shukes & Giff Podcast.
The Best Way to Listen to Podcasts
Have you ever been in the faculty lounge and overheard colleagues engaged in a great conversation that inspired you? Did you wish you could just sit and listen? Well, my friend, podcasts are what you need!
Podcasts are like radio talk shows. A host (or hosts) shares insights, sometimes with a guest, on a topic or theme. They are created by people from all walks of life. The education landscape is rich with great podcasts – look no further than searching @EduPodNet, #PodcastEDU or #PodcastPD on social media and you will find a TON of shows to meet your needs. And podcasts are not only about education, but you can also find shows on social justice, brain research, marketing, you name it.
My favorite thing about podcasts is that they are not an add-on to your already busy life. There is no need to carve out extra time to listen…you can listen in the car on the way to or from school, at the gym as you take care of your physical health, or while on your lunch break.
Podcasts generally come with accompanying show notes, so don't worry about hearing something great and falling off the treadmill as you furiously try to jot down notes about that great classroom management strategy! The notes are often full of links to discussion points and people to connect with that are mentioned in the show.
How Do You Listen to a Podcast?
Some podcasts are embedded on websites (like here on Shake Up Learining), but for on the go listening, you will need a podcatcher (this is the app that you will use to listen to the podcast). Most are free, some are paid for more advanced features like listening across devices.
If you are on an iOS device consider using the native Podcast app; on an Android, Spotify comes highly recommended.
Most podcast apps have basic features: the ability to subscribe to shows, speed up or slow down playback, and sleep timers. But there are other features you might want to consider.
7 Handy Features in a Podcast App (aka "Podcatcher")
Trim Silence
Many players will trim silence in episodes to maximize your listening time without compromising the audio quality.
Voice/Volume Boost
This feature normalizes the volume to make shows easier to listen to when in noisy places (car, public transit, etc.)
Ability to Download Single Episodes
Some podcatchers make you subscribe to a show before you can get any content, others allow you to import single episode without subscribing. Single show import is a great feature if you just want to sample a show or have been told about a specific episode.
Customizing the Play Queue
The ability to customize the queue is a great way to keep up with your favorite shows. Customization can facilitate things like adding a new show to play next in the queue.
Ability to Create Playlists/Stations
Playlists can be created based on status (played/unplayed), or topic (education/entertainment). Playlists can create filters so you can listen to shows that fit your mood or learning needs.
Social Media Sharing
The ability to connect with friends in a podcast app can prove to be a great way to find great new shows.
Device Syncing
Many apps now have cloud syncing, so you can go from listening on your phone to your Apple watch or a smart home device like Google Home or Alexa.
Once you find an app that meets your needs, use the app's search feature and start typing in a topic or show name (maybe one that you found in the hashtags above).
When you find a show you like, subscribe. Once you are subscribed, new shows will be downloaded automatically to your listening queue.
Once you have your shows loaded, play with settings in your podcatcher. You can likely create playlists, categorize shows, move favourite shows to the top of the queue when downloaded, set show to download manually instead of automatically, and more. Oh, and when it comes time to listen, know that you can speed up the audio playback…so you can listen in 1.5 speed if you listen quickly like me.
Recommended Podcast Apps (aka "Podcatchers")
Choosing a podcatcher is a personal choice. Below are some of our favorites.
Jen's Favorite Podcasts
Check out some of my fav podcasts – The Google Teacher Tribe, Educational Duct Tape, Check This Out, Cult of Pedagogy, or The EdTech Takeout. Oh, and (shameless plug) Kim Pollishuke and I would love for you to check out our show – #ShukesandGiff the podcast where we share EdTech treasures we love.
Kasey's Favorite Podcasts
Check out this post for a list of Kasey's favorite podcasts for teachers.
Happy listening, and happy learning!
---
About Jen Giffen
Jen Giffen, formerly a secondary English and Math teacher, currently works as a Digital Literacy Resource Teacher (DLRT) with the York Region District School Board just north of Toronto, Canada. She is a Sketchnoter and Google for Education Certified Innovator (#WDC17). Her teaching passions centre around EdTech and finding ways to reach struggling students.
---
© Shake Up Learning 2023. Unauthorized use and/or duplication of this material without express and written permission from this blog's author and/or owner is strictly prohibited. Excerpts and links may be used, provided that full and clear credit is given to Kasey Bell and Shake Up Learning with appropriate and specific direction to the original content on ShakeUpLearning.com. See: Copyright Policy.