This post combines two of my favorite things, podcasts and choice boards–a Podcast PD Choice Board for Teachers! Yay!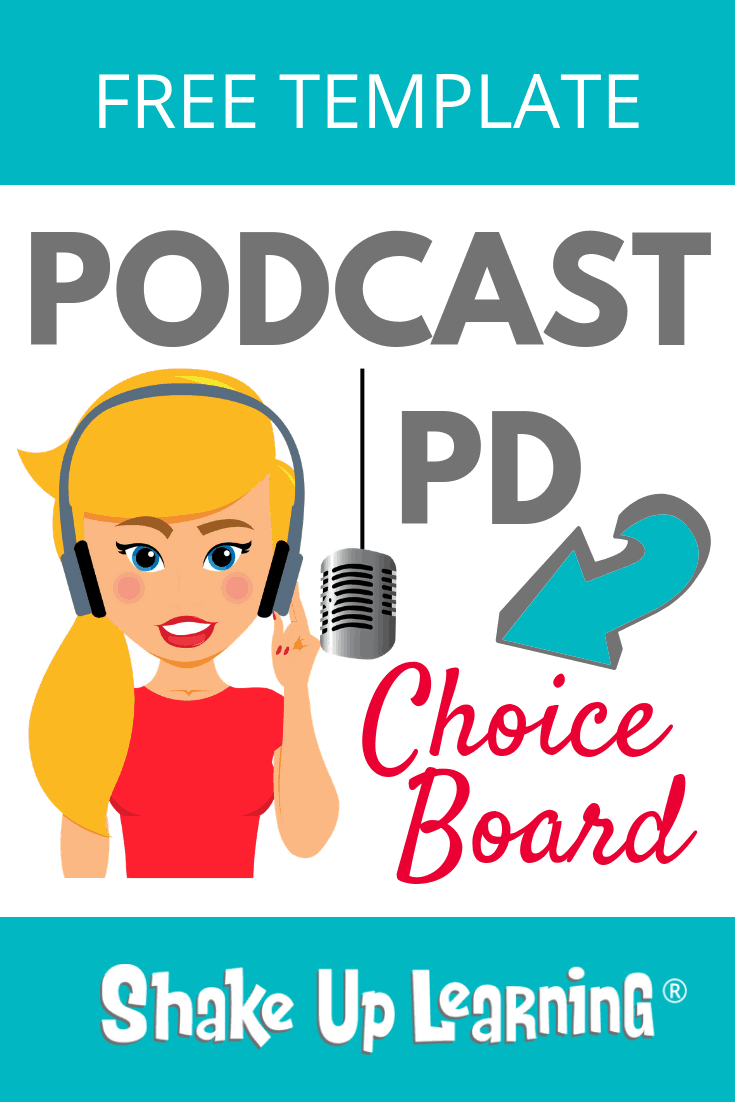 This post was designed to help give the Shake Up Learning readers even more ideas for how to use podcasts for professional learning at your school or on your own.
I put together this Podcast PD Choice Board, inspired by Meredith Akers' Podcast Tasting that was shared in episode 12 of The Shake Up Learning Show.
It includes choices from both the Shake Up Learning Show Podcast and my other podcast, The Google Teacher Tribe.
Get the Podcast PD Choice Board (Vol. 2) here.
Get the Podcast PD Choice Board (Vol. 3) here.
Use this on your own, or if you deliver professional development to educators, feel free to adapt this for your school or organization.
I've also included a blank template if you want to create something from scratch.
Podcast PD Choice Board (FREE Template)
If you are new to choice boards (aka learning menus), be sure you get your FREE Guide to Digital Choice Boards and learn all about these wonderful tools for student choice and differentiation.
I love using choice boards in the classroom AND in professional learning experiences.
Below is the Podcast PD Choice Board (made with Google Drawings) with many episodes to choose from!
Click Here to Make a Copy | Use the Template (best for mobile)
Don't have Google? Download the PDF.
Podcast PD Choice Board Blank Template
If you'd like to create your own from scratch, I've created a blank template that you can use below.
Click Here to Make a Copy | Use the Template (best for mobile)
Looking for some educational podcast recommendations? Check out my list here.
© Shake Up Learning 2023. Unauthorized use and/or duplication of this material without express and written permission from this blog's author and/or owner is strictly prohibited. Excerpts and links may be used, provided that full and clear credit is given to Kasey Bell and Shake Up Learning with appropriate and specific direction to the original content on ShakeUpLearning.com. See: Copyright Policy.