It's NOT about Google, y'all! It's about the LEARNING!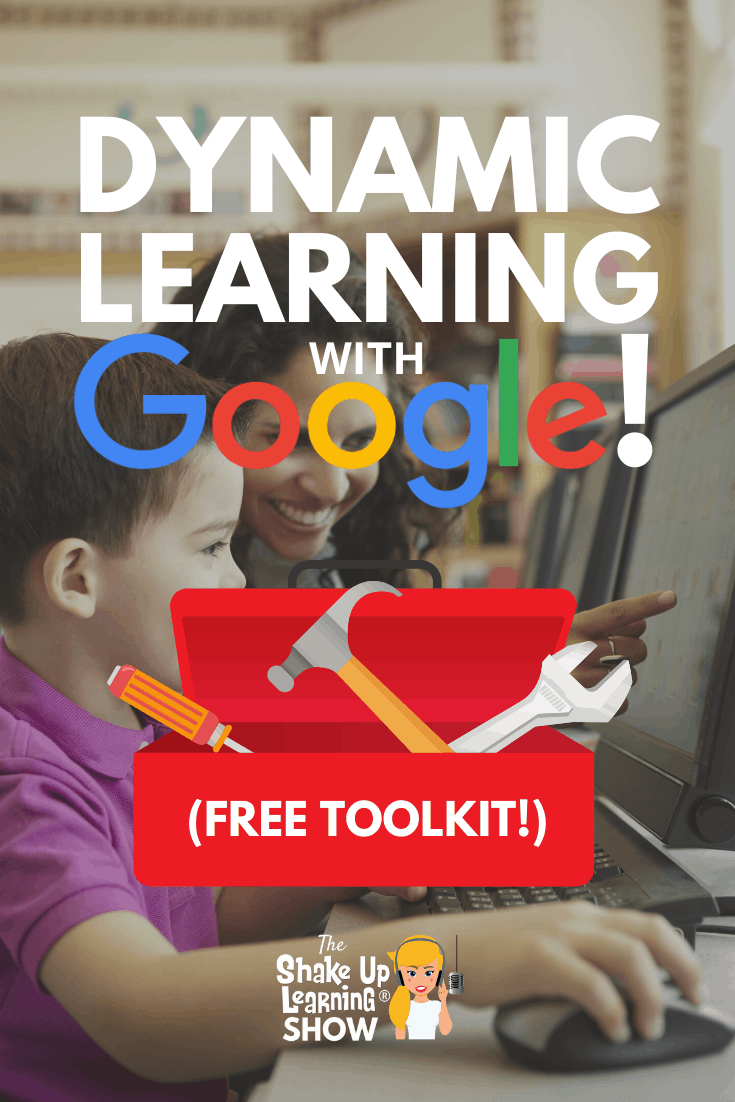 Ready to move the learning in your classroom from static, one-and-done activities, to more dynamic learning—Dynamic Learning with G Suite? This 4-part podcast series will show you how you can use G Suite tools to support dynamic learning experiences for your students!
Let's take a deep-dive into meaningful technology integration supported by our favorite Google tools.
In part two, Kasey talks about the power of going BEYOND the tool and how we can use Google tools to do NEW things!
BONUS: Get the Blended Learning with Google Toolkit to help you find the best tool to support Dynamic Learning in your classroom.
It's really NOT about Google, it's about the opportunity we have to use these tools to support Dynamic Learning experiences with our students.
Did you miss part 1? Listen to episode 44 here to make sure you don't miss anything!
Listen to this article:
Shoutout
Thank you to Chelsea Hurst for leaving us a question. Do you have a question or idea to share on the podcast? Leave me a message here.
Quick Tip of the Week
To open a link in a new tab or window:
hold the CONTROL key down when you click on a link to open that link in a new tab.
hold CONTROL + SHIFT when you click on a link to open that link in a new window.
(On a mac, use COMMAND instead of CONTROL)
All tips will be archived on this page.
Dynamic Learning with Google (Part 2)
In part two, we are moving on to our next characteristic in the Dynamic Learning Framework, Beyond the Tool(s).
We are going to talk about three classroom strategies to help you go Beyond the Tool, storytelling, research, and data. Then we will look at which Google tools can help support these strategies in the classroom.
Get the FREE Blended Learning with Google Toolkit
(Formerly called the Dynamic Learning with Google Toolkit)
This FREE Blended Learning with Google Toolkit © will help you choose the best Google tools to support Dynamic Learning in your classroom.
The Blended Learning with Google Toolkit will help teachers learn more about blended learning strategies with recommended Google tools for each strategy!
Get access to this FREE PDF download that aligns technology integration strategies with Google tools!
Beyond the Tool(s)
Think beyond using digital tools to do traditional things, like typing a paper.
Use digital tools to do NEW things! Just going paperless or digital isn't enough, use tools to go further, deeper and extend the learning, and consider using tools in alternative ways–beyond their original purpose.  Reach beyond what you think a digital tool can do. 
I prefer to think of technology integration like a continuum where we progress from one end to the other. Most teachers begin by using technology at the substitution level, and that's OKAY!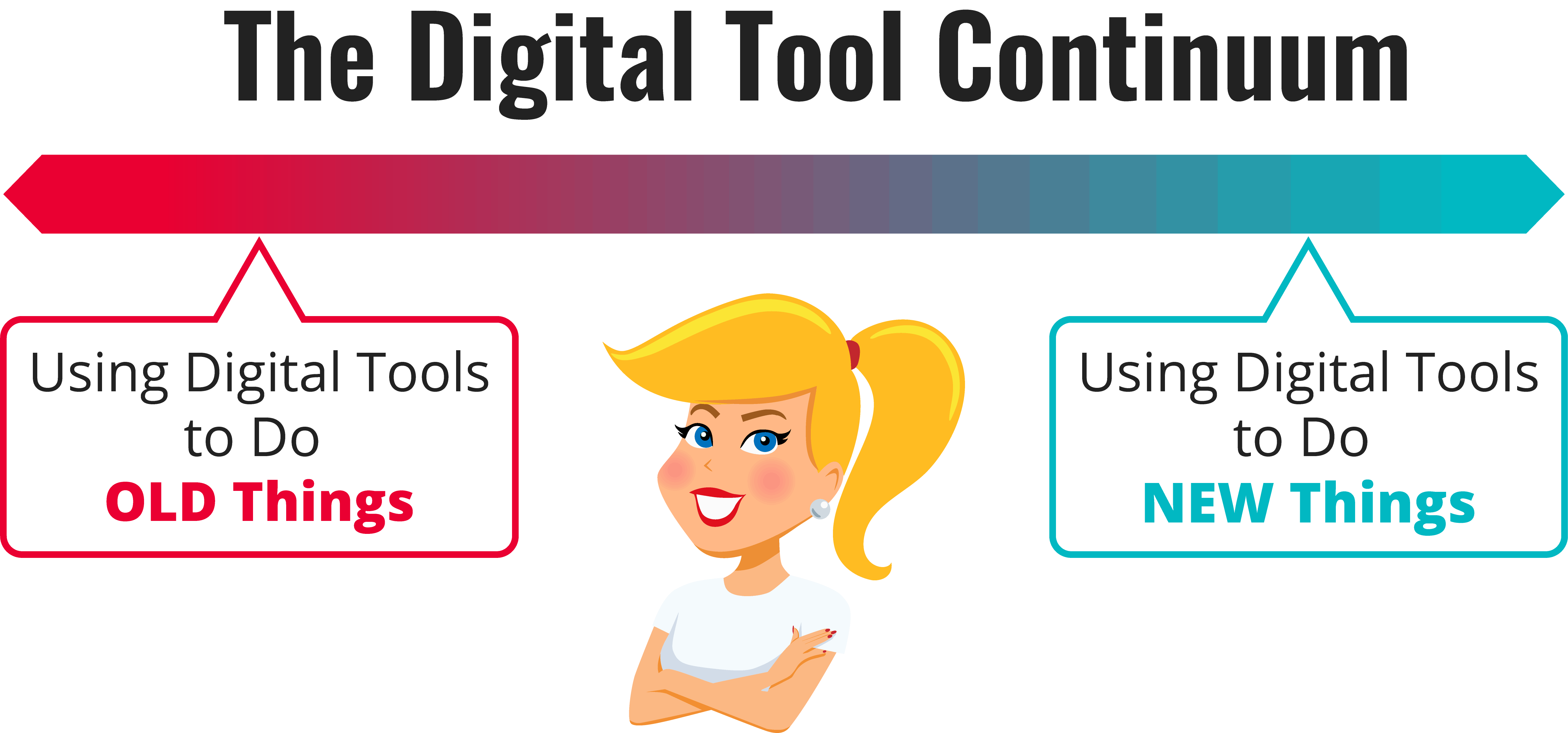 But we also want to find opportunities to make the most out of the opportunities that technology gives us and find ways to use digital tools to do NEW THINGS!
For instance, Google Slides is one of the most versatile tools in G Suite. In fact, I like to call it the "Swiss Army Knife of G Suite" because it offers so many ways for students to create and do new things!
But when we are talking about using digital tools in the classroom, remember there are two sides to this coin. One, there is the consumption side of digital tools–using tools to find information. Two is the creation side of digital tools–giving students opportunities to create original products.
In order to be purposeful in this process, I don't want to break this down by tool and risk allowing the tools to drive the learning. We will approach it by activity.
Keep in mind that even though we are discussing each dynamic learning characteristic separately (the "Beyonds"), they do not have to exist in a silo. You can include as many characteristics as you like as long as it helps your students reach their learning goals.

Beyond the Tool with Storytelling
We all have stories to tell in the classroom. Whether it's an original story, perhaps a narrative or expository piece of writing, or telling stories with images and video. We can retell events in our words; we can change perspectives, we can invent and create. Most of all, we need to see our students as storytellers!
Stories can be told at just about any grade level or subject area. Kindergartners can create picture books or alphabet books. P.E. students can explain health concepts, exercises, or rules of a sport. History students can retell a historical event. Language arts students can retell a story or novel from a different perspective. Science students can explain the steps in their experiment. Seriously, every classroom has the opportunity to tell stories.
Using Google Docs, students can not only use docs to compose their writing, but they can make the experience more dynamic by using the explore tool to research and synthesize information online and from their Google Drive. (See all 5 Ways to Use the Explore Tool.)
Students may also be using features native to Google Docs that help them through the writing process–something you won't find on your piece of paper–like spelling and grammar check, feedback from the teacher and peers with comments and suggested edits, or saving different versions in version history. Or you can take things a step further and incorporate add-ons like Kaizena to leave voice comments.
Anything that helps students better engage, create, and collaborate is going BEYOND, and therefore, part of a dynamic learning experience.
Stories can also be told more visually using tools like Google Slides. Students can create eBooks, individually or collaboratively. Add some interactive links to create a Choose Your Own Adventure story!
With the new addition of audio in Google Slides, students can add background music to set the tone for their stories, or narrate.
I have a ton of Google Slides resources and podcast episodes that cover this very topic!
Comic strips are one of my favorite integration strategies, and these are super easy in Google Slides or Drawings. In fact, there's a fantastic lesson from my book by Sylvia Duckworth, where she shares step-by-step how to do this.
Kick things up a notch with Google Photos where you can save photos and videos taken by students, even create quick videos to tell your story.
Beyond the Tool with Research
I think back to the days when we had to do all of our research in the library with index cards and the good old' Dewey Decimal System. The reality of research in the twenty-first century looks much different with information at our fingertips; it may seem easier, but completely overwhelming!
Google Search is the largest search engine in the world! But are you teaching your students how to use it properly, how to filter out the junk, how to use advanced searches to find the most relevant information? Google Search Education is a great place to find free resources and to help your students become better searchers.
Let's not forget the lesser-known search engines from Google, like Google Scholar. Google Scholar is a searchable database of scholarly literature, including a variety of formats like books, journals, etc. Secondary students can use Google Scholar to find credible resources for their research projects.
Google Books offers students a place to access and read books and magazines, cite sources, translate sources, and even set up alerts for specific topics. Google Books is a great companion tool for secondary student research.
Of course, Google Docs is an obvious choice for writing a research paper. Still, we can make things more dynamic by taking advantage of the collaboration features, using the EasyBib add-on to create a bibliography, or using voice typing to dictate into the document. 
Beyond the Tool with Data
We live in a world that is now inundated with data! Data is quickly becoming an important component of every job and business. Giving students the tools to gather and analyze data is a must!
Google Forms and Sheets are two apps that I like to think of as a couple! They work hand-in-hand together. 
Use Google Forms to collect data, then use Google Sheets to analyze your results. 
Yes, even primary teachers can give students experience with data! Data doesn't have to be complicated. We can break it down into important, bite-size pieces. 
Consider giving the little ones a teacher-assisted survey with images where they select their favorite color or food. Then use Google Sheets to create a simple chart and talk to students about what it means. These conversations will set them up for success as they grow.
Secondary students should be creating their own forms and analyzing their own data. Google Forms isn't just a teacher tool! We need students to learn this tool and how it can help them get information.
How is this dynamic? Remember, dynamic learning is all about going BEYOND what was previously possible. One of the reasons that data has become so important is because it is so much easier to gather with technology. Data that used to take us years to compile and process is now available in seconds.
Don't forget the importance of analyzing data. Google Sheets it the number one feared Google tool. I promise it's not scary. Just learning some basics like sorting, filtering, and using formulas to tally or average your numbers is a great start.
Podcast Question of the Week
How can you go BEYOND the tool and give your students opportunities to do new things with technology?
Post your answer to your favorite social media platform using the hashtag #ShakeUpLearning, or share it in the Shake Up Learning Community on Facebook!

© Shake Up Learning 2023. Unauthorized use and/or duplication of this material without express and written permission from this blog's author and/or owner is strictly prohibited. Excerpts and links may be used, provided that full and clear credit is given to Kasey Bell and Shake Up Learning with appropriate and specific direction to the original content on ShakeUpLearning.com. See: Copyright Policy.
Shake Up Learning QUICKSTART GUIDE
Join the email list to get the latest information about the Shake Up Learning Book AND Get the FREE 20-Page Quickstart Guide that will help you Shake Up Learning in your classroom this year!