It's NOT about Google, y'all! It's about the LEARNING!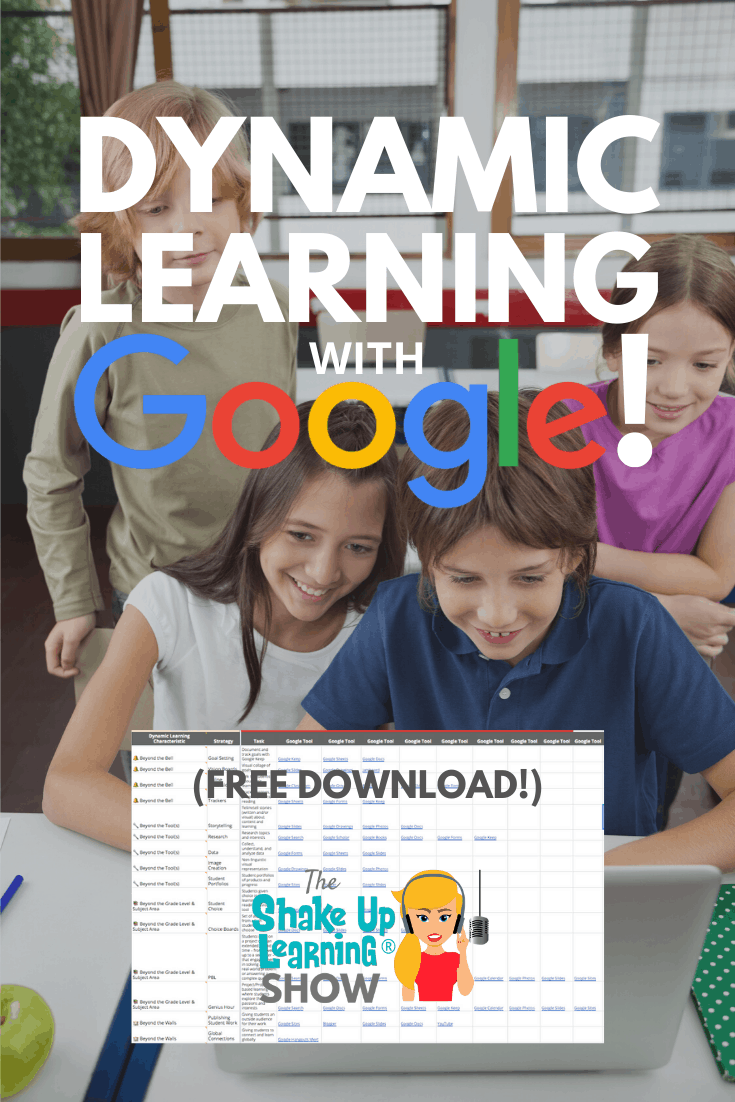 Ready to move the learning in your classroom from static, one-and-done activities, to more dynamic learning—Dynamic Learning with G Suite? This 4-part podcast series will show you how you can use G Suite tools to support dynamic learning experiences for your students!
Technology presents us with a unique opportunity in education, an opportunity to create more dynamic learning experiences for our students. We have to start thinking differently about our assignments. One-and-done doesn't cut it anymore. The learning needs to live, grow, connect, and go beyond traditional ideas. We need Dynamic Learning!
This blog post and podcast episode is NOT about Google or G Suite, but how to use these tools to support dynamic LEARNING in the classroom.
Dynamic Learning is at the heart of my book, Shake Up Learning: Practical Ideas to Move Learning From Static to Dynamic. It's my passion. It's my blood, my sweat, and frankly, a lot of tears! I want to help teachers like you to Shake Up Learning.
BONUS: Don't miss out on the FREE download for this series! The Blended Learning with Google Toolkit is an alignment document that shows you how the Dynamic Learning characteristics align with classroom strategies and which Google tools to use in your classroom! (Fill out the form below to access.)
Listen to the podcast version of this post below:
Shoutout
Thank you to Ashley Brown for leaving us a question. Do you have a question or idea to share on the podcast? Leave me a message here.
Quick Tip of the Week
In Google Chrome, you can re-open your last closed tab with this simple keyboard shortcut:
On Windows and Chromebooks: Control + Shift + T

On Mac: Command + Shift + T
All tips will be archived on this page.
Dynamic Learning with Google
You can dive deeper into Dynamic Learning by listening to the first five episodes of the Shake Up Learning Show. This binge-worthy series on meaningful technology integration was the kick-off to my podcast and will give you a detailed look at the Dynamic Learning Model and Framework.

I would also like to personally invite you to join one of the Shake Up Learning book studies that we conduct throughout the year. You can find the latest information and schedule on this page: shakeuplearning.com/bookstudy.
What is Dynamic Learning?
Dynamic Learning is characterized by constant change and activity. This learning takes place organically, growing and evolving through more unconventional means, with the learner collaborating, creating, and communicating to demonstrate progress and mastery. Dynamic Learning also extends beyond the boundaries of a traditional school day, beyond the physical location of the classroom, beyond using tools as digital substitutes, or even the traditional notion of hard-and-fast due dates.
The Dynamic Learning Characteristics
When you think DYNAMIC, I want you to think BEYOND! (Read full definitions here.)
BEYOND the Bell

: a lifelong learning mindset for students.

BEYOND the Grade Level and Subject Area:

helping students tap into passions and interests that are outside the given curriculum.

BEYOND the Walls

: publishing student work for a global audience, and bringing in global connections and collaborations.

BEYOND the Tools

: using digital tools to do new things.

BEYOND the Due Date

: mentoring and coaching students to continue learning even after the project has been assessed.
If the Internet is down, and you have to change your digital lesson to pencil and paper, the lesson should invariably lose something. Meaning, if your lesson is using technology in a dynamic way, it just can't be replicated on paper.
The Dynamic Learning Framework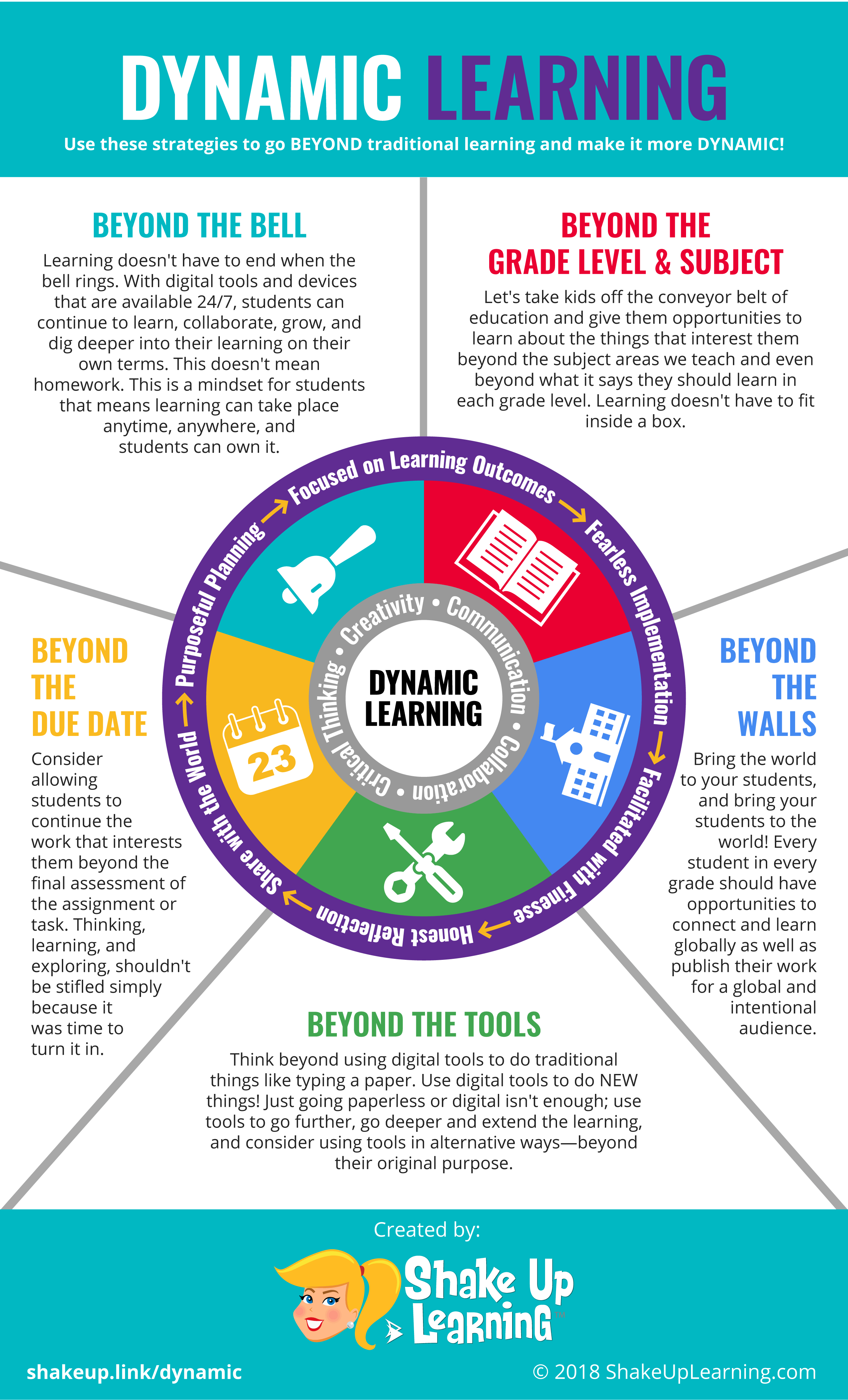 You can download a printable PDF version of the graphic here

Using Google Tools to Support Dynamic Learning
So how does Google come into play? Well, Google and G Suite for Education offers educators and students many tools that will support the Dynamic Learning Framework. Remember, this is not about Google–not about getting carried away by shiny tools, but about how we can use these tools to support learning.
There are many lesson plans available in the Shake Up Learning book, as well as my online database of shared lesson plans, and most involve some sort of Google tool.
But today, I want to share with you some quick wins, easy tips to help you see the reality of Dynamic Learning in your classroom.
Get the FREE Blended Learning with Google Toolkit
(Formerly called the Dynamic Learning with Google Toolkit)
This FREE Blended Learning with Google Toolkit © will help you choose the best Google tools to support Dynamic Learning in your classroom.
The Blended Learning with Google Toolkit will help teachers learn more about blended learning strategies with recommended Google tools for each strategy!
Get access to this FREE PDF download that aligns technology integration strategies with Google tools!
Beyond the Bell
Learning doesn't have to end when the bell rings. With digital tools and devices that are available 24/7, students can continue to learn, collaborate, grow, and dig deeper into their learning on their own terms. This doesn't mean homework. This is a mindset for students that means learning can take place anytime, anywhere, and students can own it.
Beyond the bell is a lifelong learning mindset for students. Please don't assume this one simply means doing things after the bell rings! It's much more than that. We want students to recognize learning, know how to seek out their own learning, and have a growth mindset.
Google tools can help support this mindset in many ways. 
Beyond the Bell with Goal Setting
Goal setting is a research-based strategy that is common among adults, but it's something we should instill in our students at an early age.
We want students not only to understand and reach the learning goals we set in the classroom but also set their own goals. This is where it gets personal. Goals setting with students will allow you to get to know them and cultivate relationships.
But this doesn't have to be complicated. Even the little ones can set mini-goals. For instance, ask them, "What's one thing that would make today great?" Or "What will make you smile today?"
With the older students, it is important that we don't tie grades to a goal. What I mean by that is that grades are often reflective of many other things like turning in late work, etc. Associate the goal with the learning! What is it they will know or be able to do when they reach this goal? 
We can use many different Google tools for goal setting. Google Keep is a favorite of mine. It's an easy way to document goals and revisit them on a regular basis. You could also track goals in Docs or a fancy Google Sheet. The point is to articulate goals on a regular timeline and to revisit every one to three weeks, so you don't lose sight.
Vision boards are a visual way to imagine reaching your goals. Traditional vision boards have images and words that help you stay focused on what it will look like when you reach your goals. Google Slides and Google Drawings are perfect partners for this image-driven creation!
Beyond the Bell with Trackers
As an adult, I often track my steps and progress over time. In the classroom, my students tracked their reading–pages read, books completed. But the power of tracking can help our students not only reach their goals but establish good habits and emotional control.
Social and Emotional Learning, or SEL, is an essential component of success for students. Trackers offer students a way to recognize emotions and social queues, as well as show growth over time.
Google Sheets is a great application for tracking habits, emotions, reading, health, and even moods.
My friend and colleague, Lisa Johnson, has included many trackers in her book, Creatively Productive. Most of her templates are available in Google Sheets and Numbers. By using a spreadsheet template, we can create a quick and easy way to track. (Check out her guest post and access her free templates here: 6 FREE Google Templates for Creative Productivity.)
Podcast Question of the Week
How do you help build a growth mindset with your students?  
Post your answer to your favorite social media platform using the hashtag #ShakeUpLearning, or share it in the Shake Up Learning Community on Facebook!
Links and Resources Mentioned in this Episode:
The Shake Up Learning Community on Facebook
The Shake Up Learning Show Episode 1: Top 20 Tech Tips for Teachers
The Shake Up Learning Show Episode 2: The 4 C's: The Superfoods of Learning
The Shake Up Learning Show Episode 3: A Framework for Meaningful Technology Integration
The Shake Up Learning Show Episode 4: Easy Lesson Plan Makeovers for Your Classroom
The Shake Up Learning Show Episode 5: How to Plan for Technology Integration
The Shake Up Learning Show Episode 41: 25+ Ways to Use Google Keep for Teachers and Students
The Shake Up Learning Show Episode 32: Productivity Tips and Tools for Teachers and Students
6 FREE Google Templates for Creative Productivity
© Shake Up Learning 2023. Unauthorized use and/or duplication of this material without express and written permission from this blog's author and/or owner is strictly prohibited. Excerpts and links may be used, provided that full and clear credit is given to Kasey Bell and Shake Up Learning with appropriate and specific direction to the original content on ShakeUpLearning.com. See: Copyright Policy.