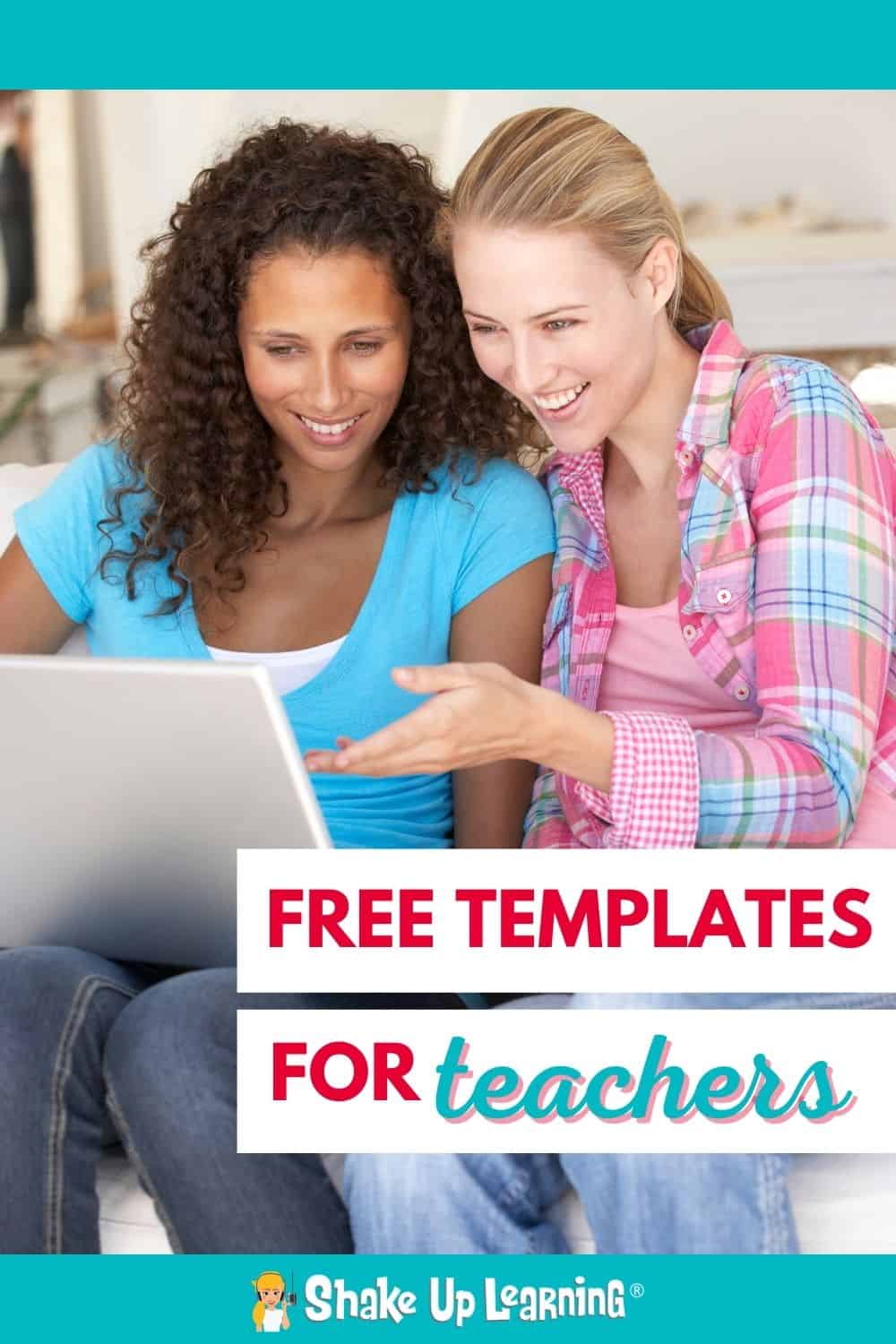 In this episode, Kasey chats with Sarah Kiefer, a Shake Up Learning Trainer and the co-founder of TemplatesforTeachers.com.
Learn all about the free templates that Sarah has created and curated, get tips for adapting templates for your classroom, and learn how to create your own templates!
When colleagues communicate and share, a kind of teacher magic happens.
That's how Sarah and her colleague, Beth Kingsley, developed their website Templates for Teachers.
Sarah had created a project that Beth thought would work for her students.
That got them thinking; there might be lots of other teachers who could use a similar template. They were right! 
Listen to this article.
FREE Templates for Teachers: Where to Find Them and How to Create Them
Why Templates
Creating or using a template is not the same as turning a paper worksheet into a digital worksheet. Sarah shares how a colleague came to her for advice on creating an engaging digital lesson for a writing unit. Sarah asked her to share ideas for what she would traditionally do in her classroom with paper materials. This conversation led to the discovery that students could write and design their own digital magazines. 
TemplatesforTeachers.com
Sarah and Beth were also inspired by other educators who choose to share their templates and materials for free. Their site is loaded with tons of free templates for K-12 classrooms K-12.
Educator Tony Vincent created his website Learning in Hand, which has a number of tutorial videos to help upgrade digital content and teach students how to work with digital material.
Eric Curts shares his tech knowledge on Control Alt Achieve where you will find a number of Google-related resources for teachers and students.
There is also the amazing Paula Martinez; despite not being an educator or designer, she has created and shared an enormous collection of Google Slide templates for educators on her site SlidesMania.
Go to TemplatesforTeachers.com to check out the amazing collection of FREE templates that Sarah and Beth have curated and created for teachers!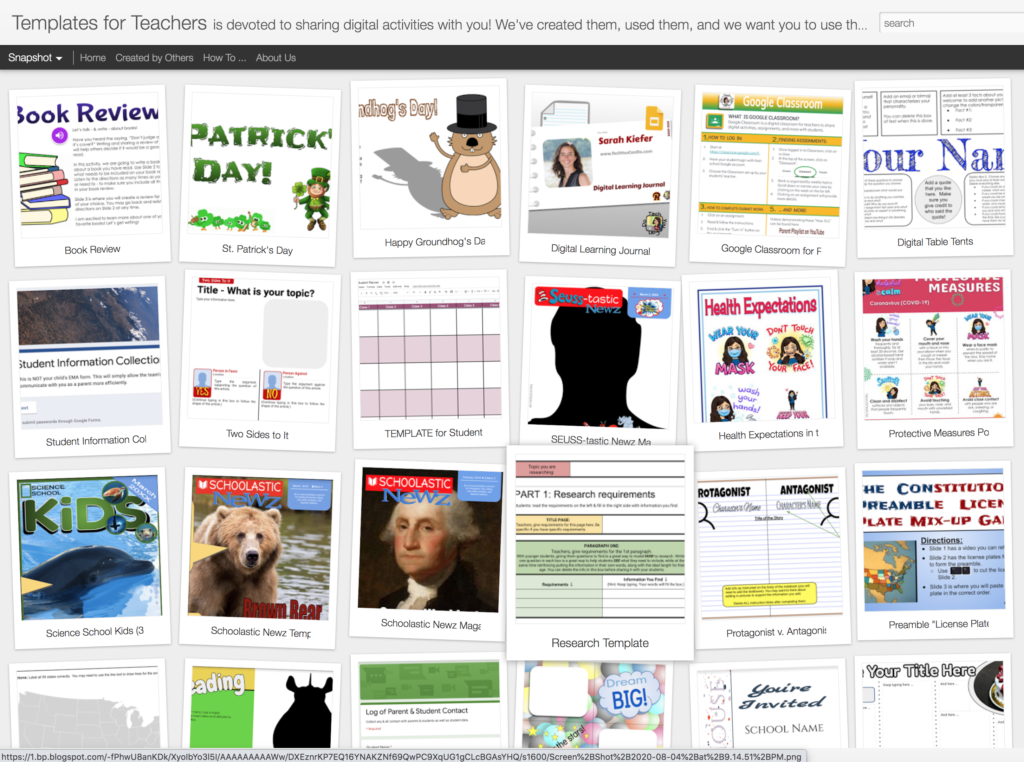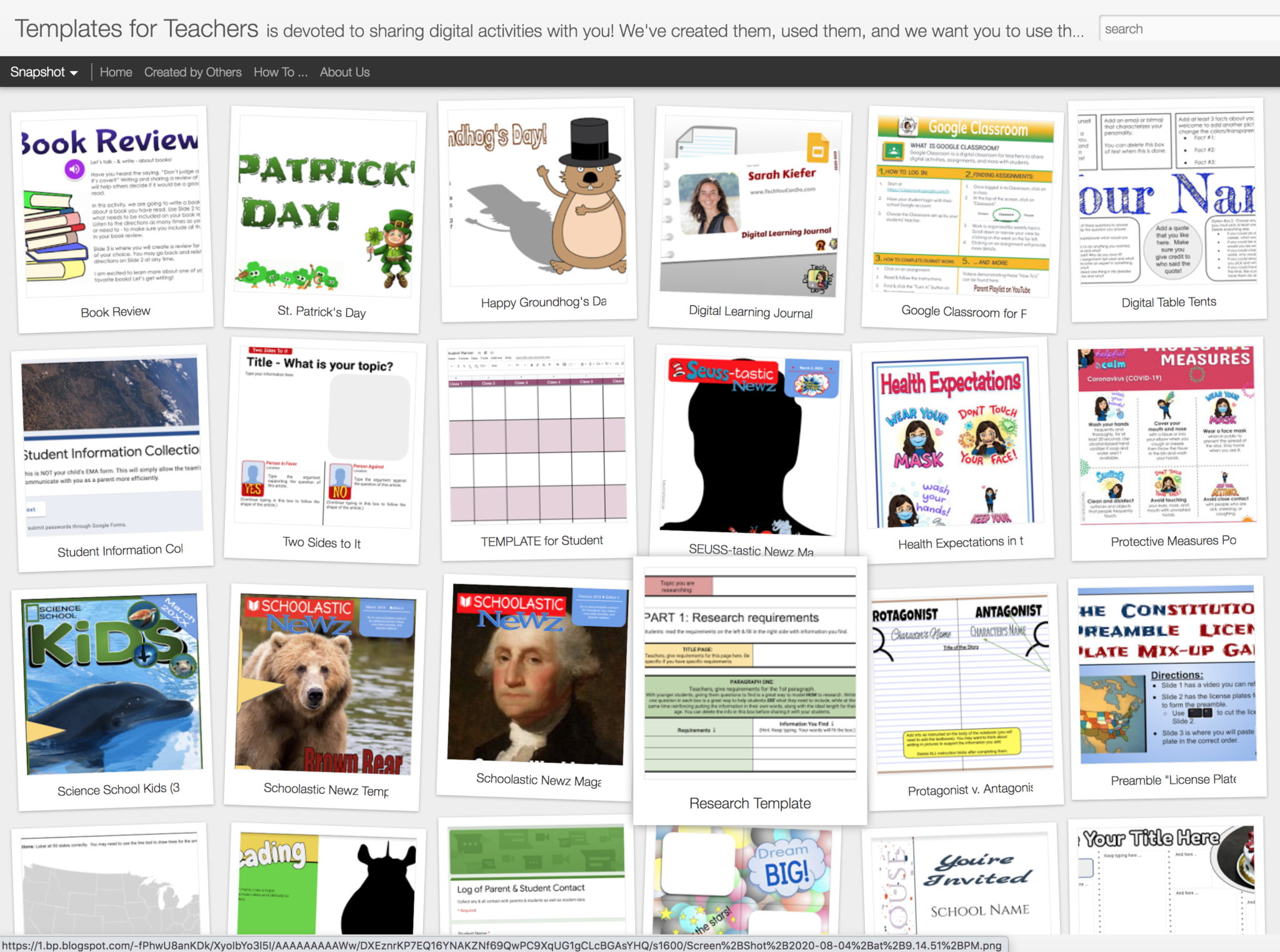 Sarah shares that the best way to navigate her website is to start with the labels. On the right side, there are four gray blocks that expand when the cursor hovers over them. The labels share templates by the topic and digital tool.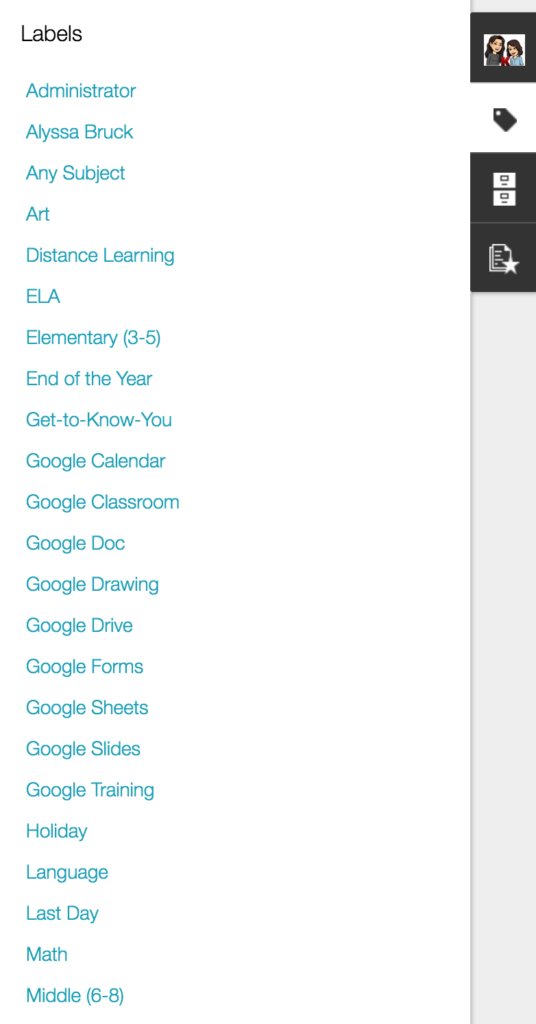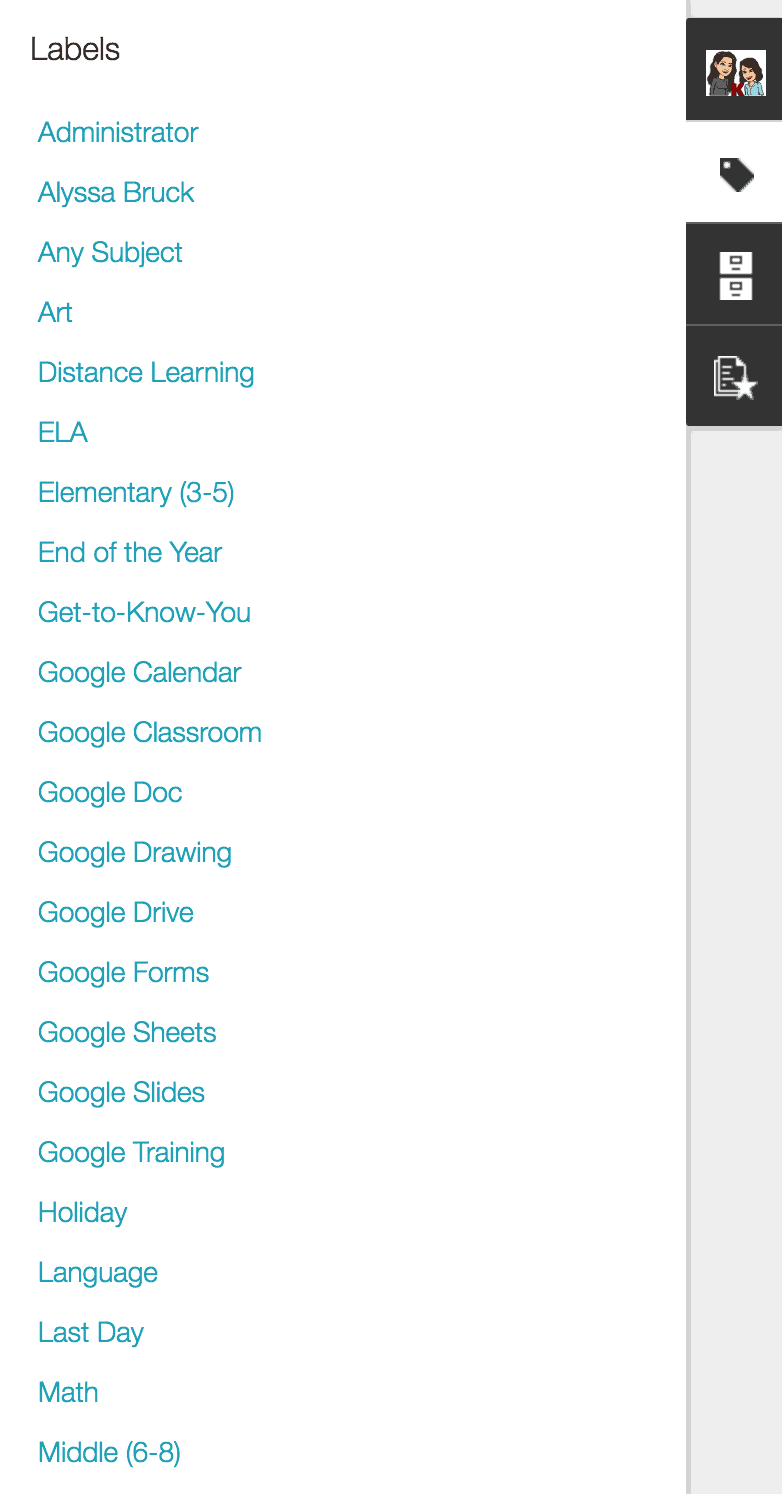 Using and Adapting Templates
Having these resources can help save teachers time, but Sarah and Kasey remind teachers that what works for one classroom doesn't always work for another. This is why it's so important to always start by asking what specific goal should be accomplished through this lesson or unit. Templates are a great place to start, as well as, a great place to spark ideas. 
Templates for Teachers will give teachers ideas on how to adapt each template for their classroom. (see example below)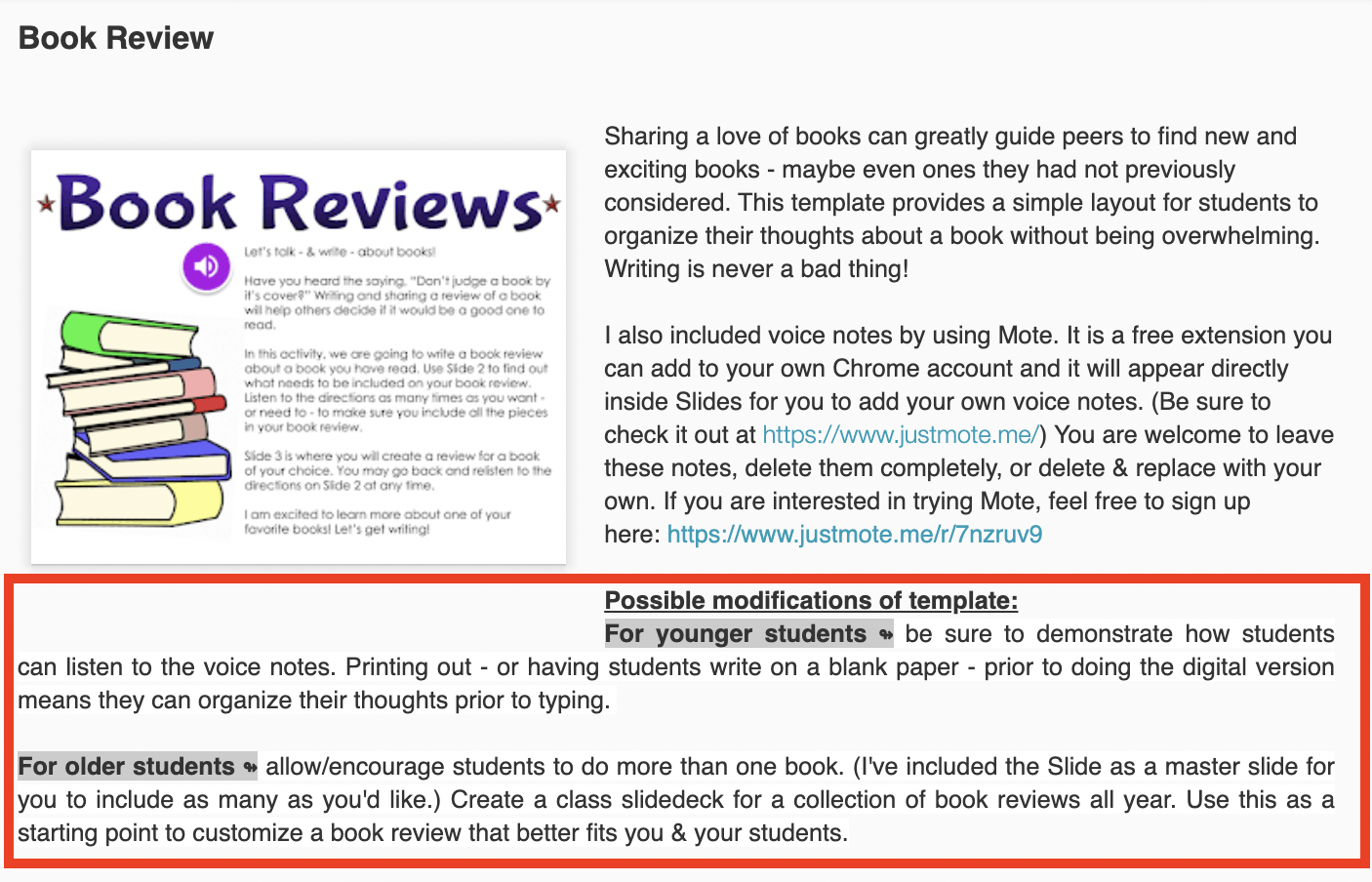 Related: FREE Google Templates from Shake Up Learning


Making Templates
When creating a template for your classroom it helps to begin with the end in mind. What goal should students be able to achieve by the end? This is important because the next step is choosing the right tool to make it happen. While Slides might be the most obvious choice there are advantages to using other tools. Take a look at the How To link on Templates for Teachers to learn more about the opportunity of each Google tool.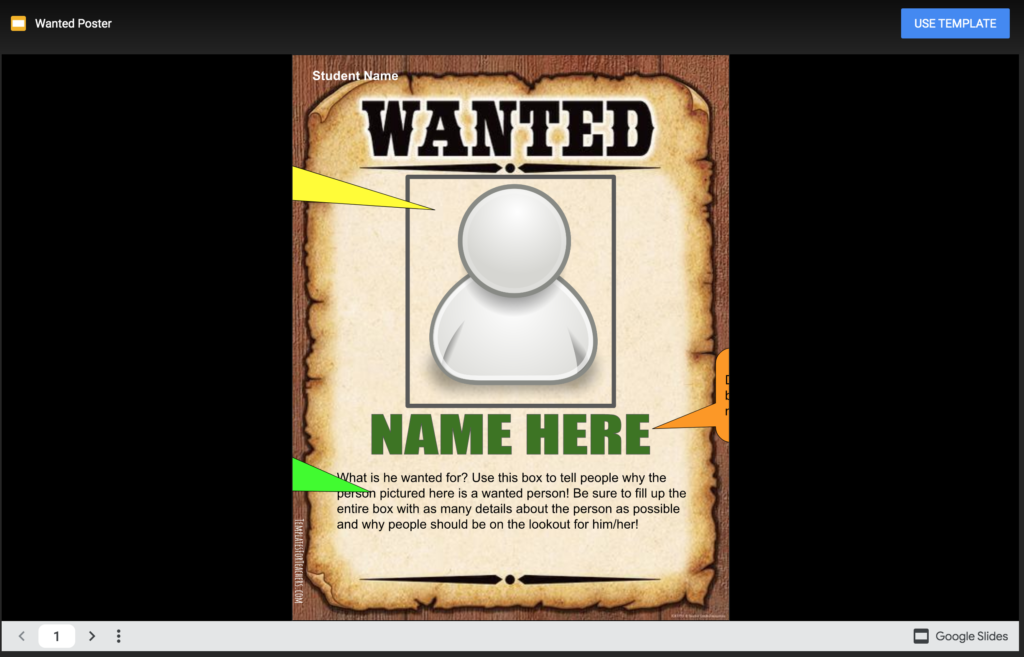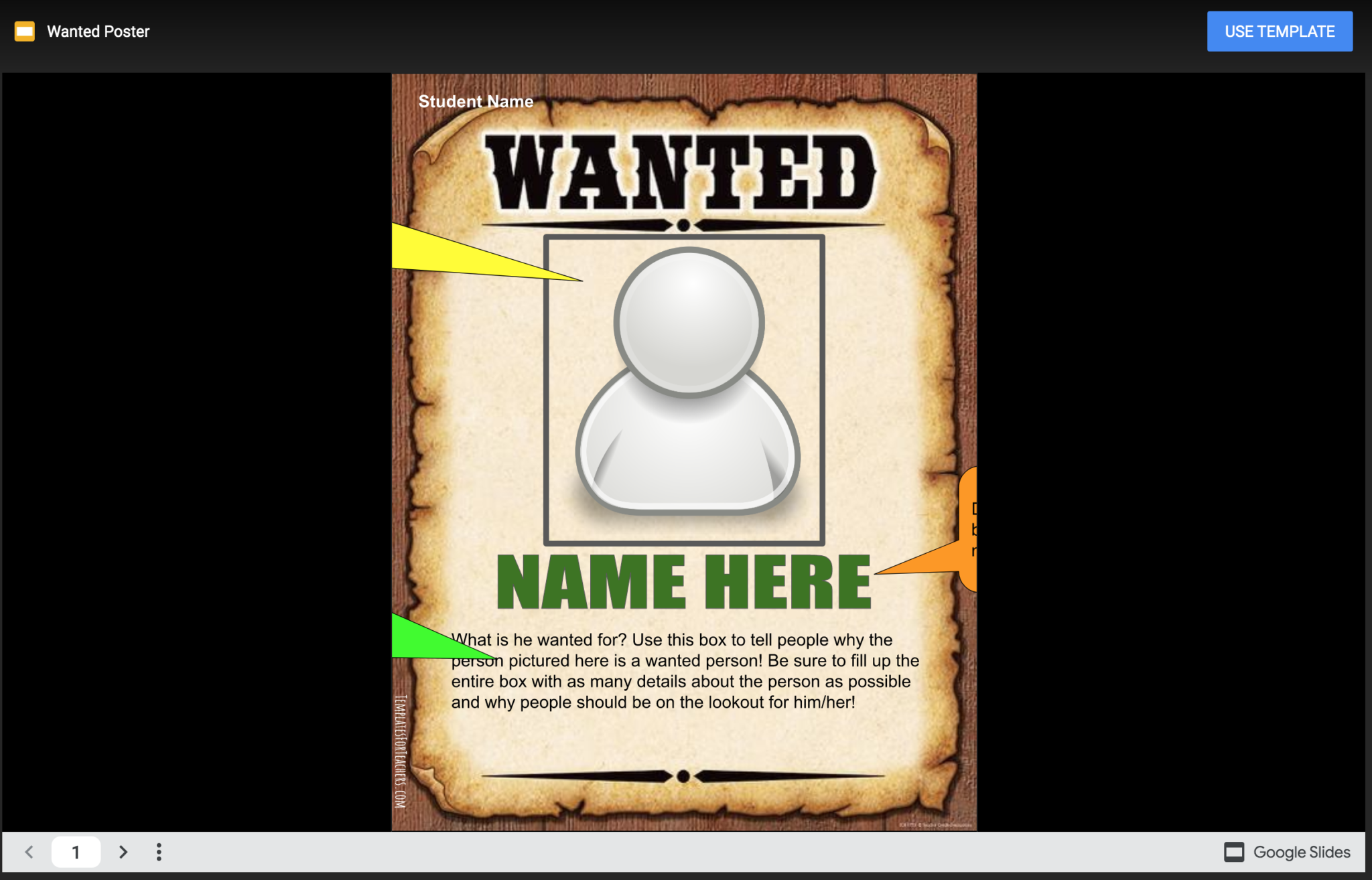 Kasey reminds us that Google Drawings is like having one big digital canvas for students to work with, while Slides is like having lots of smaller canvases. In Slides, classes can work collaboratively, but it does help to talk with students about the "professional courtesy" of collaborative work. 
Related: Create with FREE Google Templates
Layering quick lessons for collaboration etiquette is always helpful. Another great idea to build into first-time lessons is time to play. When starting a new digital platform it helps to let students play around with the different options and discover their creative possibilities. 
Related: 6 FREE Google Templates for Creative Productivity
Creating a magazine layout template allowed students to write and create. They didn't have to spend time trying to determine what width the columns needed to be or how to make headings and body text in separate sizes. Students with greater tech knowledge can use that to add to their designs and show off their creativity. Kasey reminds us that a digital magazine is a major upgrade when students can incorporate links and video.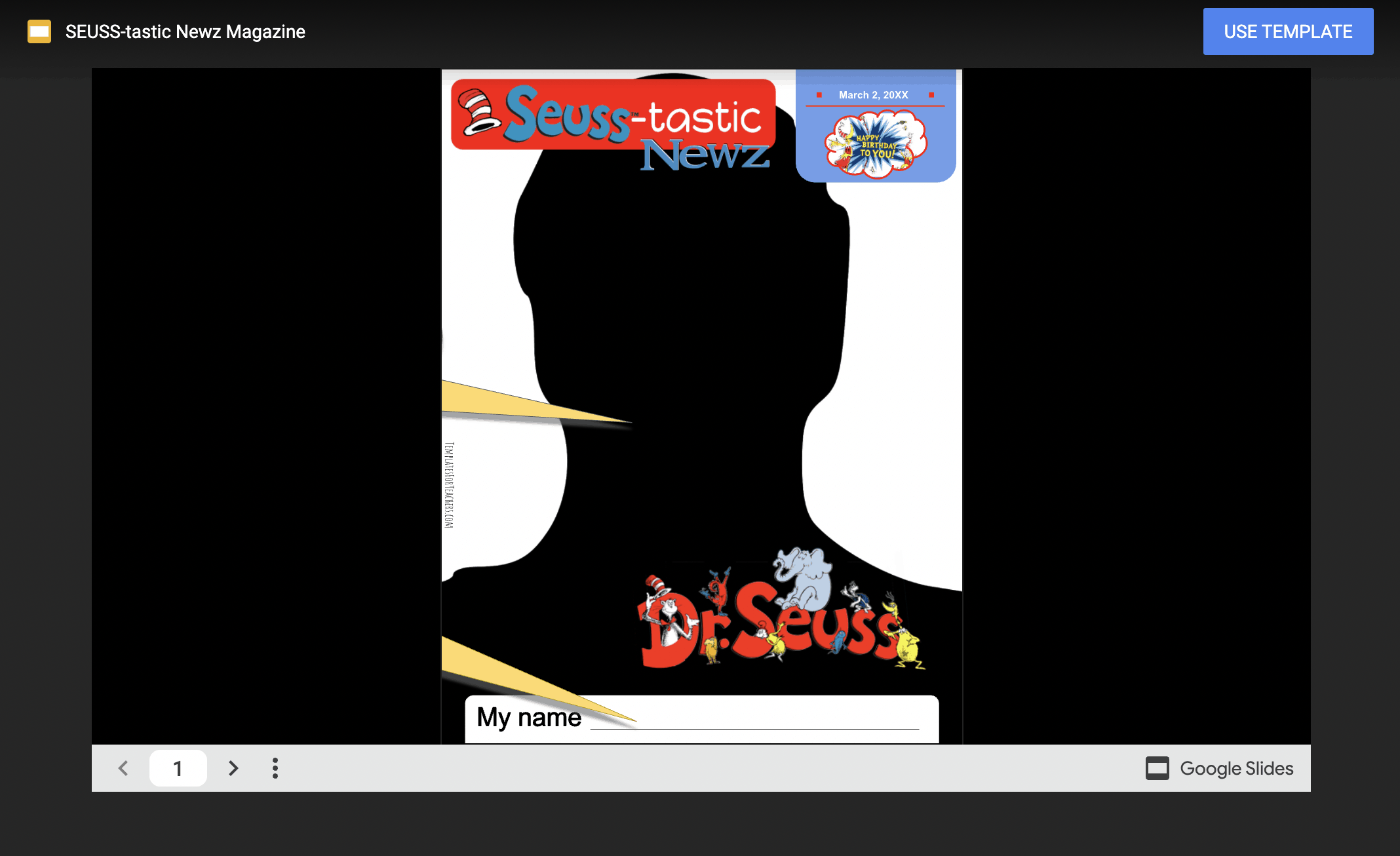 Sarah reminds us that when we incorporate the four C's and give students more room to create, it can help us grow our lessons for the following year. Let kids' creativity shine and the possibilities are endless. 


Common Courtesy for Templates
One of the most important Google skills for teachers and students to know is how to make a copy. When teachers use templates with their students it's important to explain how they will make a copy of the template so they become the owner of the file and can edit. Requesting access is never an option! On Templates for Teachers, most links will force a copy. 
Related: How to Create Template Links
At the end of the day, templates can be a great way to save time, spark new ideas, and engage our students with digital upgrades to a paper product. If this is a topic your school would like more training on Sarah is available for professional development on this topic and several others. You can also find her work on the blog Tech You Can Do. 
Related: How to Force a Copy of Google Files
How to Assign Templates in Google Classroom
About Sarah Kiefer
Sarah Kiefer is a Technology Integration Specialist. She spent 14 years in the classroom and now supports two elementary buildings and helps teachers & students use technology in meaningful ways. Sarah is a wife and mom to three daughters and blogs at www.TechYouCanDo.com.
Current Certifications: Google Certified Educator Level 1, Google Certified Educator Level 2, Google Certified Trainer, Google Certified Innovator, Wakelet & WeVideo Ambassador; Mote Certified Educator; Master Screencaster
Sarah's most popular presentations topics: Google tools, Schoology, WeVideo, Wakelet
Work with us!– Bring Sarah or one of the Shake Up Learning Trainers to your school or event.
© Shake Up Learning 2023. Unauthorized use and/or duplication of this material without express and written permission from this blog's author and/or owner is strictly prohibited. Excerpts and links may be used, provided that full and clear credit is given to Kasey Bell and Shake Up Learning with appropriate and specific direction to the original content on ShakeUpLearning.com. See: Copyright Policy.