When you ask Lisa Johnson (a.k.a. TechChef4U) to write a guest blog post, she gives you an EPIC blog post with FREE templates! Today you get 6 FREE Google Templates for Creative Productivity!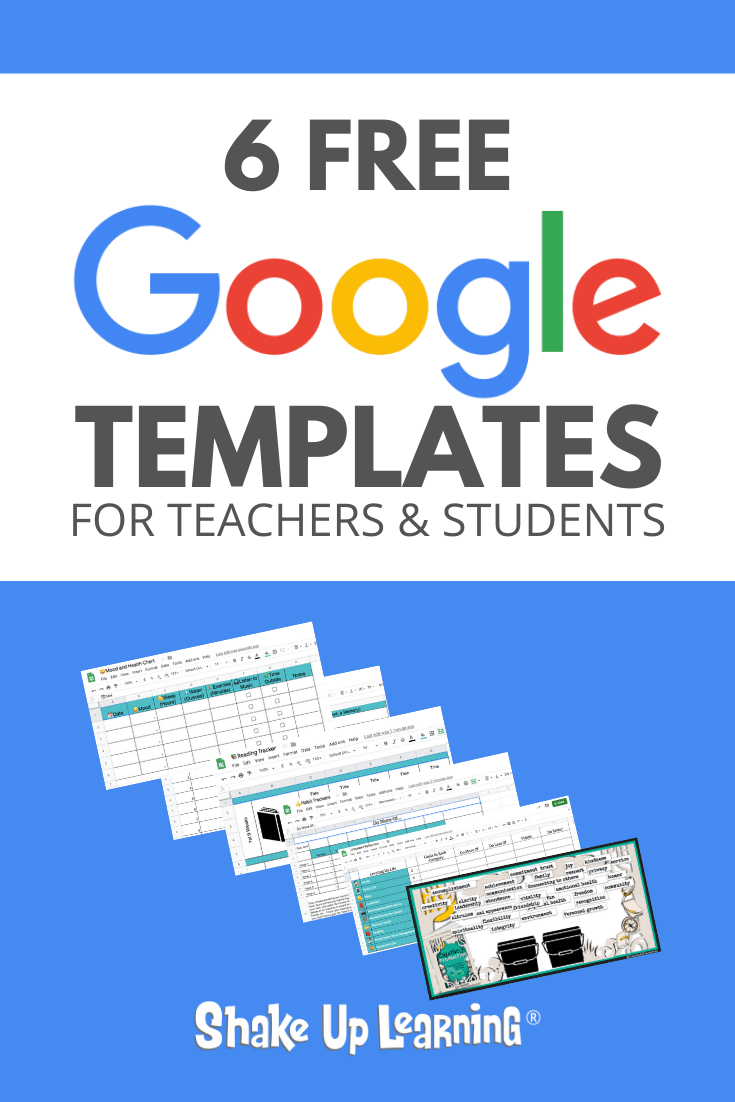 I cannot say enough about how much I admire the work of Lisa Johnson! I've already had her on the podcast, and shared her two amazing books on this blog–but in this guest post, she is giving us even more–FOR FREE!
Productivity isn't just for adults, it's a skill we need to cultivate in our students, and Lisa gives us some awesome Google templates that will make this a breeze!
In this post, Lisa Johnson shares six activities and templates from her book, Creatively Productive. These templates will help you and your students become more creative, productive, and reach your goals.
Guest post by Lisa Johnson
6 FREE Google Templates for Creative Productivity 
I think I have always loved productivity and life hacks. And I definitely love creating tools and templates for others to use. I work at a K-12 1:1 iPad institution so I typically create things in Apple and iOS native apps like Pages, Keynote, and Numbers or as a PDF for annotating or analog use. 
During the productivity tips podcast with Kasey Bell, she challenged me to create Google versions of all of the tools and templates I was creating. (You can listen to the episode using the player below.)
While I had Google versions for some of the tools, I have spent the past month or so creating Google versions for each of the 6 activities that are included in the Creatively Productive book (and even a few that aren't).
While these tools/templates are created for student use, they could also be used personally, professionally, or with adult learners. And they are perfect for revisiting goals in the new year, at semester, or whenever.
For each of the 6 tools I am sharing, I provide a quick summary and any links to additional support resources.
All of these FREE templates (which come in PDF, Sheets or Slides, and/or Numbers) can be found in the exclusive Creatively Productive Doc Locker. (Fill out the form at the bottom of this post to access all of Lisa's templates.)
1. Values Sort Google Slides Template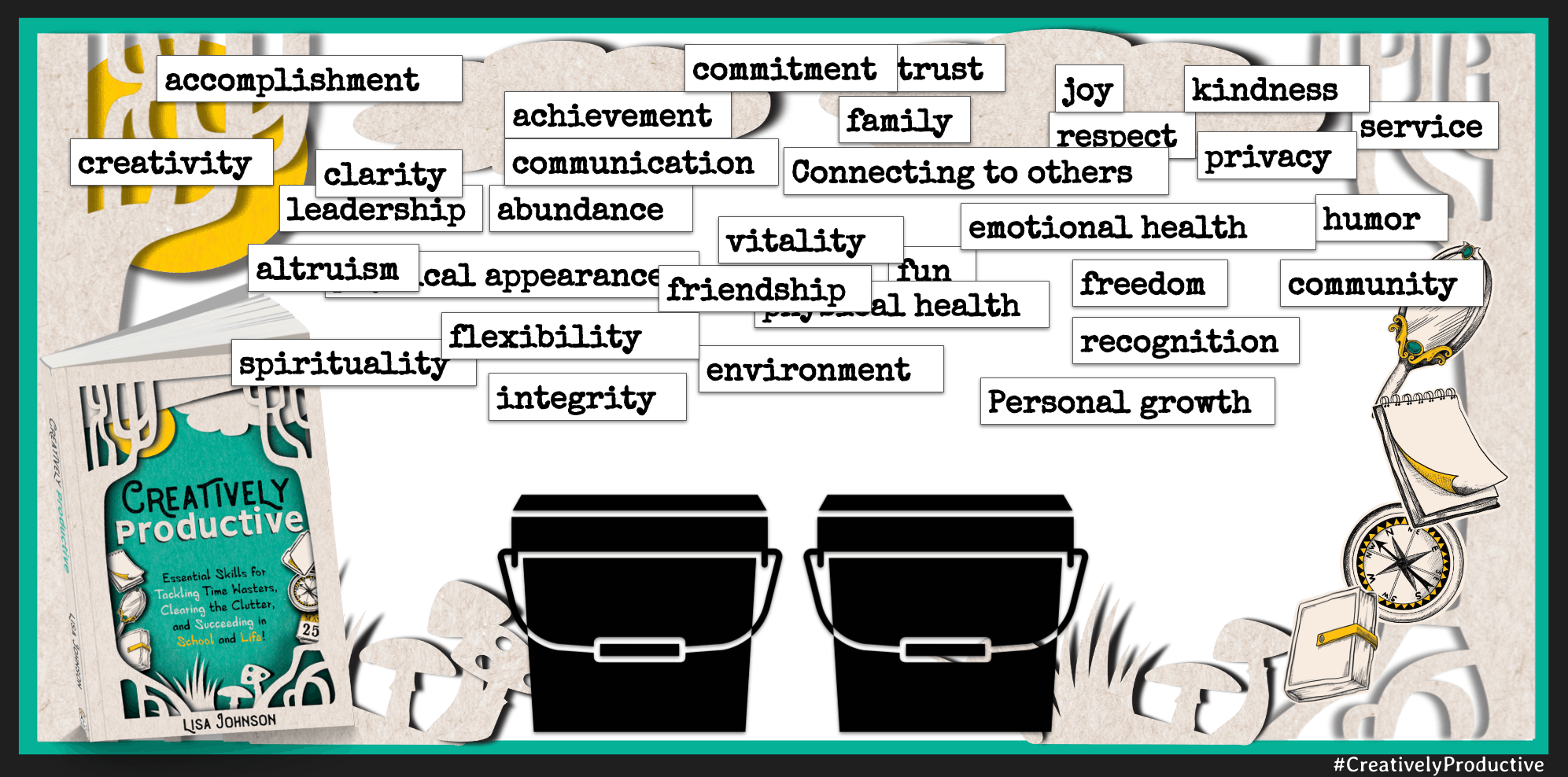 Too often we set goals without really being aware of our inherent values. For example, one of my inherent values is to be creative or have to time to create. I find that if I start setting goals and I don't factor in time for this, then they seem to fall flat, because at my core, these values are my fuel.
I have a whole blog post on this activity and a video. This is a great activity for the beginning of the year or even mid-semester. You could also do a values sort with a historical figure or literary character. And you could even have students evaluate the values of a social media feed as part of a digital citizenship lesson.
✅ Values Buckets (Google Slides / Numbers)
2. Level Up Student Reflection Google Sheets Template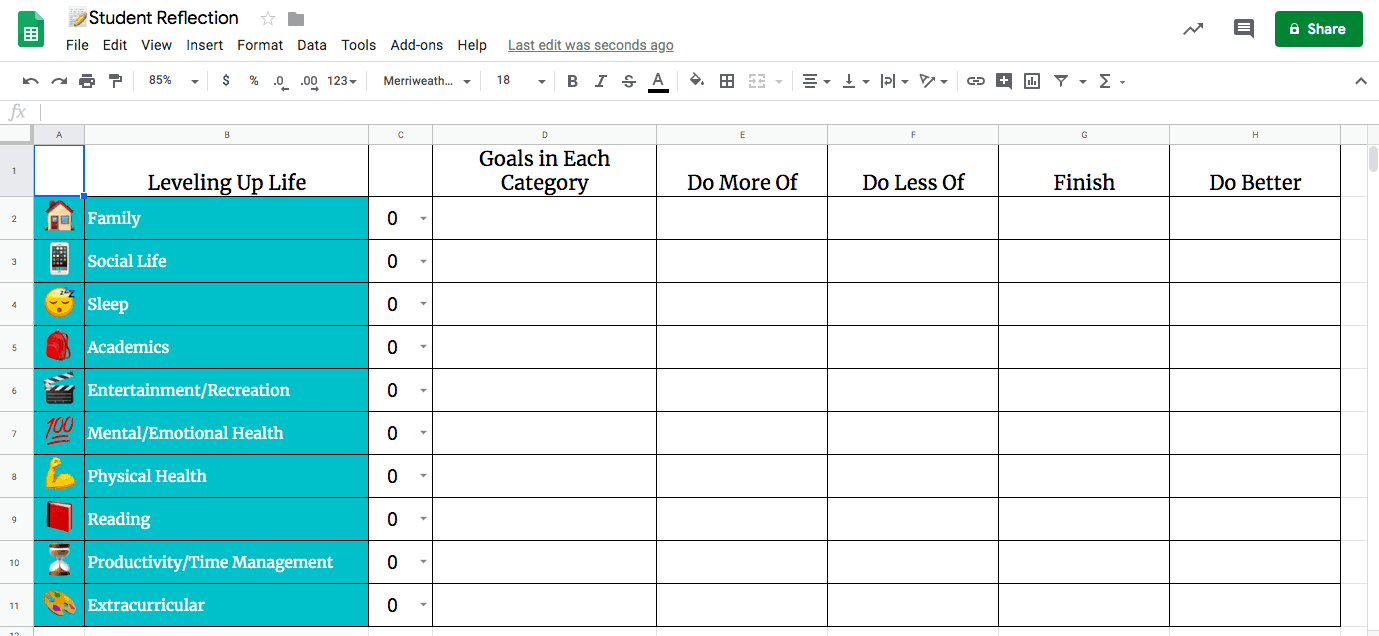 Some students have difficulty deciding where to go next with setting goals so using a framework that has some scaffolding is helpful. I modeled this activity after the Level 10 Life one but changed the original sections to be more appropriate for student use.
The idea is to do a quick gut check on where you feel you currently are in every category on a scale of 1 to 10 (1 being the lowest and 10 being "killing it"). These categories and levels shift and change with the seasons of our lives so there is no shame in the ratings.
After doing a quick rating, you write down small things and/or goals for each of the categories to be able to level them up to 10. If students are having issues setting goals, I have provided four prompts as well. I like to ask what do you want to do more of? Do less of? Finish? Or Do better?
📝 Level Up Student Reflection (Google Sheets / Numbers)
3. Habit Tracker Google Sheets Template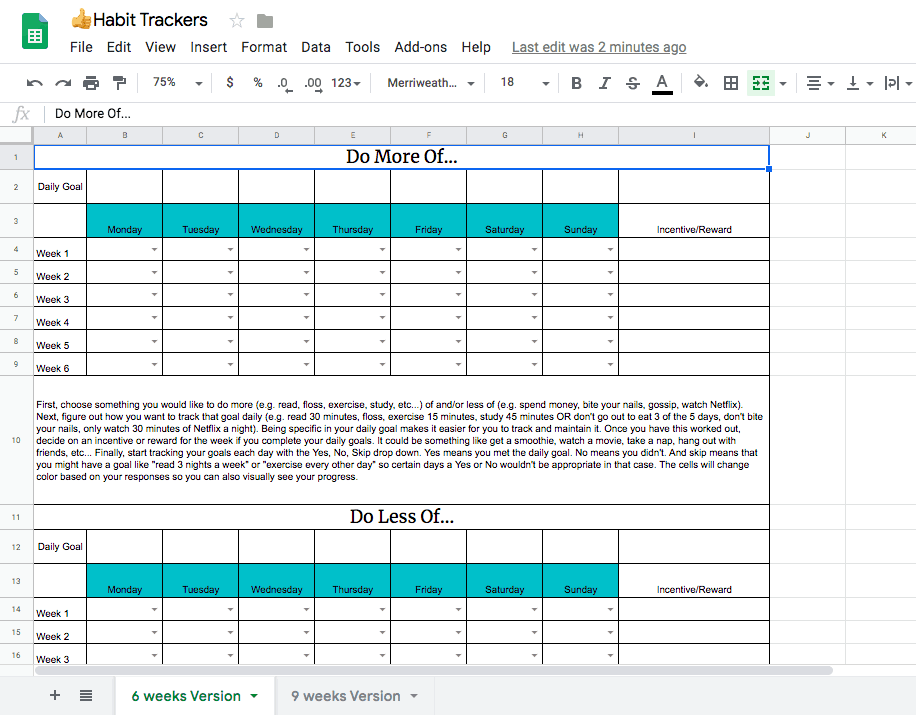 Habit tracking is integral to making goals a success. It is the way that we achieve lofty goals… by breaking those goals down into manageable pieces we can complete daily. Habit trackers are one way to do that. Whether it be studying, reading, learning an instrument, flossing, calligraphy, etc…, habit trackers are key.
With these digital tools, you choose Yes or No for completing the task on that day and Skip if your habit is only on alternating days. You can visually see your progress and no one likes breaking a streak so this visual method can be really motivating. 
👍 Habit Tracker (Google Sheets / Numbers)
4. Reading Tracker Google Sheets Template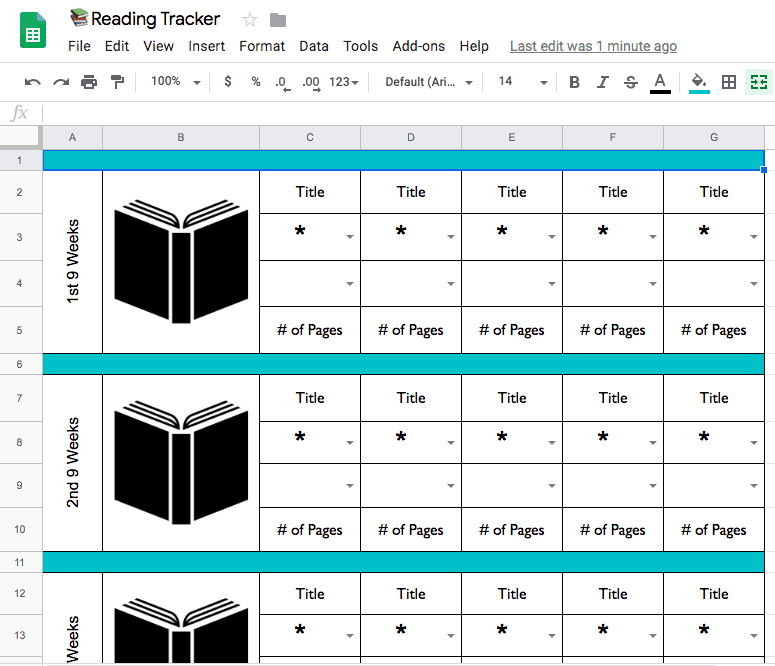 Last year I read 43 books and this year I am on track for the same. And I have to say one of the main reasons is simply keeping a list of the books that I am reading so I could see my progress. More info on these tools and how they can be used in reader's notebooks and journals can be found in this blog post.
📚 Reading Tracker (Google Sheets / Numbers / PDF)
5. Gratitude and Mood Tracker Google Sheets Template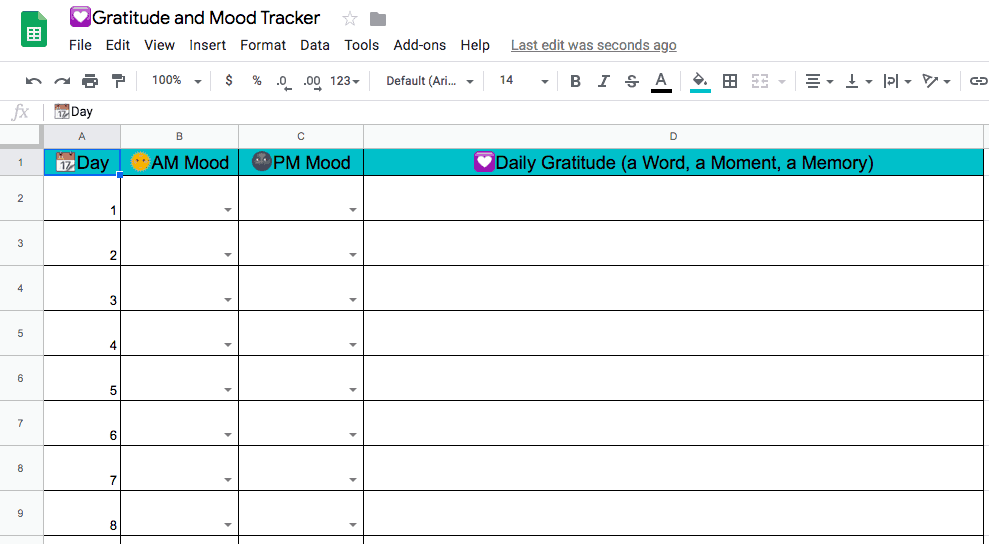 Too often we relegate gratitude to one month in the year but there is so much research on the practice of gratitude and its positive impact on physical and mental health. More info on gratitude trackers and how they can be expanded and used can be found in this blog post.
💟 Gratitude Tracker (Google Sheets / Numbers / PDF)
6. Mood and Health Tracker Google Sheets Template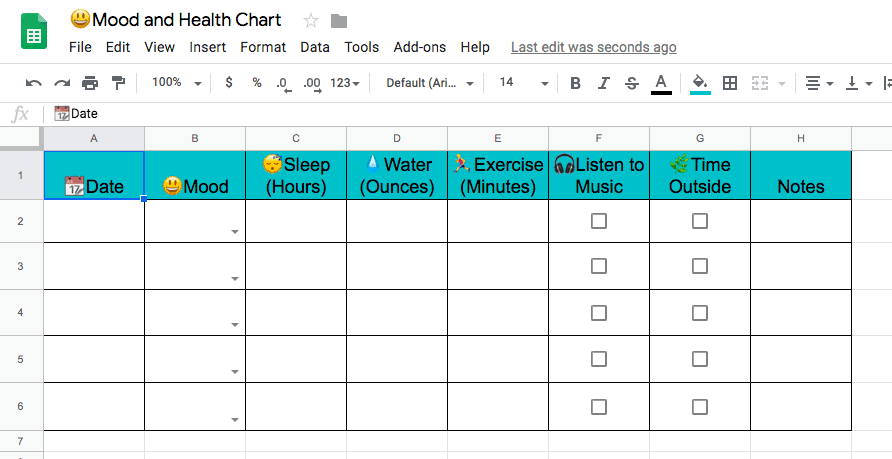 Mood and physical health are also intertwined. We recently did a week-long activity with students to ensure that they understood how important drinking water, getting enough sleep, and spending time outside actually were. I created a tracking template for this so they could monitor how each of the activities impacted their mood. I have included specifics on each of the day's activities as well as more info about some of the other student professional development that we do here in this blog post.
😃 Mood and Health Tracker (Google Sheets / Numbers / PDF)
How to Access the Templates
Thanks for letting me share my tips for creative productivity!
All of these FREE templates can be found in the exclusive Creatively Productive Doc Locker on the Creatively Productive companion site.
---
About Lisa Johnson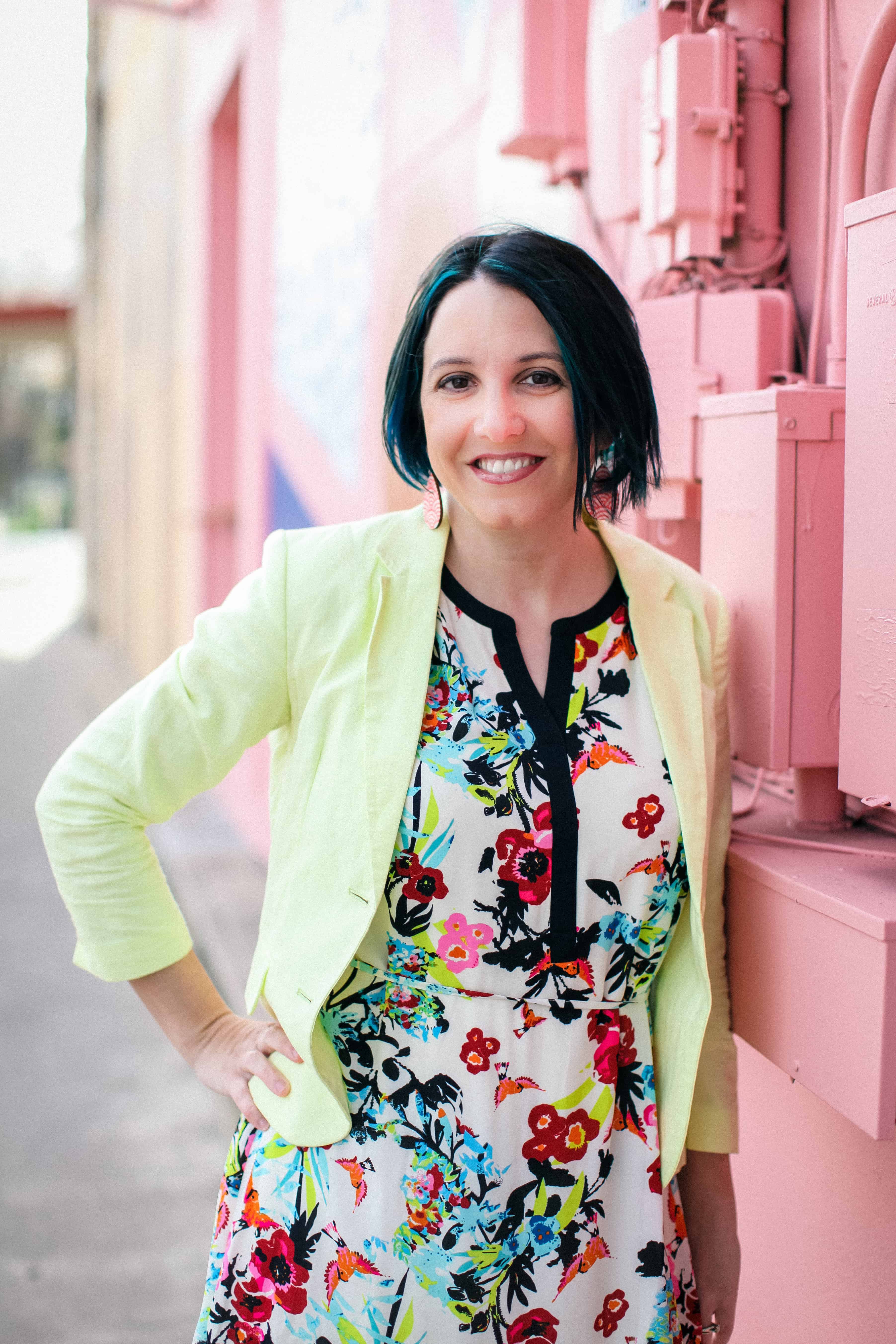 Twitter: @TechChef4
Website: https://techchef4u.com 
Location: Austin, Texas, USA
Title: Educational Technologist
School District/Campus (or Employer): Eanes ISD / Westlake High School
Bio: Lisa Johnson (better known as TechChef4u) has 18+ years of edu experience ranging from teaching HS English & MS Math to international curriculum development, creating and presenting workshops, and even running technology integration camps across the state. She holds a Master's Degree in Curriculum, Instruction, & Tech and currently serves as an Educational Technologist for Eanes ISD which proudly supports an 1:1 iPad initiative from K-12.

Additionally, she has been recognized and selected as an Apple Distinguished Educator and PBS Digital Innovator. Lisa is passionate about college and career-ready skills, social-emotional learning, instructional design, digital portfolios, research and curation, slide design, and professional development for students.

She is a recognized voice in the edusphere and has been featured in the publications "iPads in Education for Dummies" and "The Missing Voices in Ed Tech" and has co-authored the global iBook hit "Hot Apps 4 HOTS." Apple Distinguished Educator, PBS Digital Innovator, SmartBrief & Edutopia Blogger, Lisa enjoys "cooking up" purposeful, engaging, authentic resources to meet educator's needs.

Her latest recipes are the books "Cultivating Communication in the Classroom" and "Creatively Productive". In her spare time, she delights in house sprucing, reading, bullet journaling, filing away productivity hacks, snuggling with her two new kittens, and traveling to places near and far, and discovering new Netflix series with her hubby.
---
© Shake Up Learning 2023. Unauthorized use and/or duplication of this material without express and written permission from this blog's author and/or owner is strictly prohibited. Excerpts and links may be used, provided that full and clear credit is given to Kasey Bell and Shake Up Learning with appropriate and specific direction to the original content on ShakeUpLearning.com. See: Copyright Policy.