Google Classroom is a fantastic tool for teachers and students in the K12 classroom.
But did you know, Google Classroom is also a great learning tool for adults, too?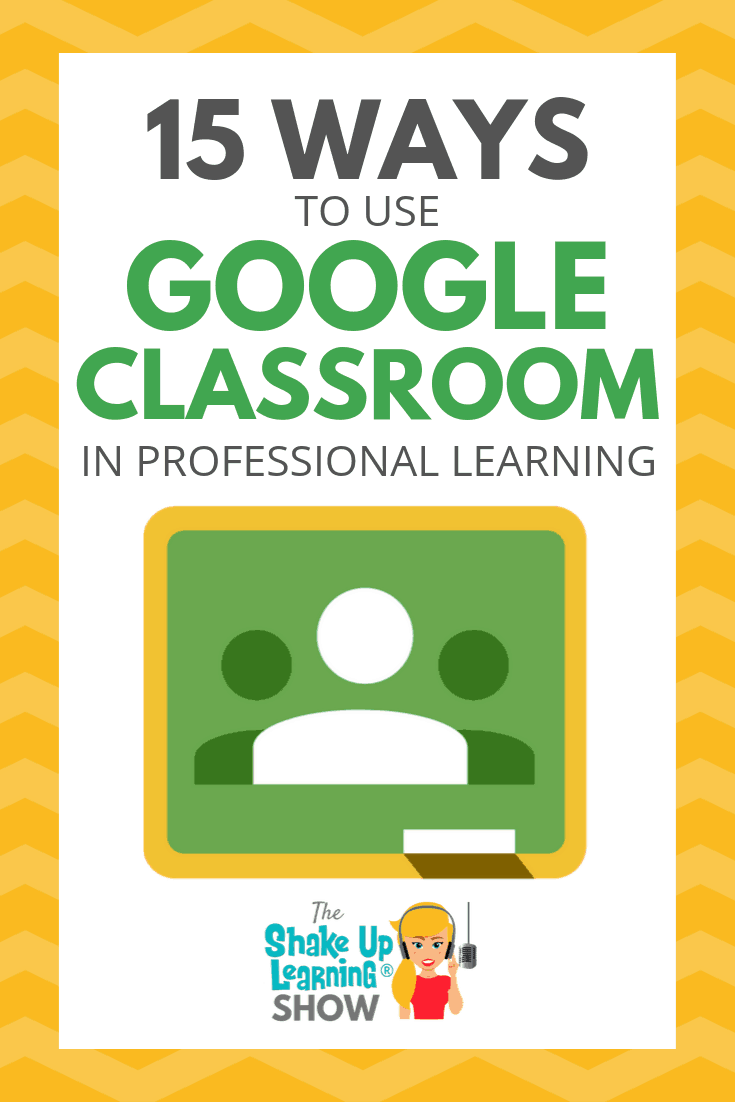 Today, I am going to share with you 15 Ways to Use Google Classroom in Professional Learning.
I've touched on this idea over the years and included it in a blog post and infographic, 20 New Ways to Use Google Classroom. If you haven't explored these ideas, be sure to check it out!
If you are in a position where you deliver training and professional development to other educators, this episode is for you!
If your school has "Gone Google," and especially if your teachers are using (or encouraged to use) Google Classroom, you MUST find a way to embed Google Classroom in your professional learning experiences.
Whether you are delivering PD face-to-face, online, or blending the two, Google Classroom is a robust tool to help you streamline your content and communicate with participants.
Shoutout
Before we get started, I want to give a huge shoutout to Carly Black, who took Lisa Johnson's Fake Instagram Template (from episode 32) and modified it for Google Slides!
You may remember Carly from episode 10, where we did an on-air coaching episode together.
Thank you, Carly! The template links are below. You can also check out Carly's guest post here.
Make a Copy of the Fake Instagram Template | View the Fake Instagram Template Link
---
15 Ways to Use Google Classroom in Professional Learning
It is essential that our professional learning experiences help model both the tools and strategies that we, as leaders, want to see in our classrooms.
Google Classroom is now used by millions worldwide, so we must find effective ways to use this tool in professional development for teachers.
I also want to mention that this topic has been widely discussed in the FREE Shake Up Learning Community on Facebook. (You can join us here.) And I will be sharing tips from members of the community throughout this post and episode.
Below are 15 Ways to Use Google Classroom in Professional Learning.
1. To Demonstrate Google Classroom as a Tool for Teachers
When teaching Google Classroom as a classroom tool, USE Google Classroom, if at all possible.
Teachers need to see how the tool is used to communicate and distribute assignments.
Create a class and invite participants to join using class code as a student, so they can see what the platform can do and what it will look like for students. Then have them create their own class.
This is your opportunity to show teachers what the student side looks like and help them better understand the tool.
2. To Organize and Blend Teacher Workshop Assignments
Google Classroom is a great way to organize your face-to-face teacher workshop materials and assignments. This also allows you to model what blending learning will look like in the classroom.
If the workshop is multiple days, especially if they are spread out, you can stay connected through Google Classroom, distribute homework assignments, discussions, and more.
Liz Dolan: "Yes. In a 30 hour [2 credit] course, we might have 3 two hour meetings with assigned work in between that's distributed through classroom. We have individual assignments and group discussions through that platform as well."
Google Classroom is also a great companion for new teacher training!
Use Google Classroom to facilitate and share all the school information, technology resources, policies, etc.
Mark Gerl: "For two summers, I've done an orientation to Design Thinking and Project Based Learning for our staff (new and returning but who need reminders) that is all on Google Classroom, with videos and discussions to make it interactive."
3. Conference Resources (Don't Mess with Google Classroom)
Consider using Google Classroom as a location for conference attendees to get all the resources for each session, participate in session activities, connect with other attendees, and more. We did this a few years ago at the "Don't Mess with Google Classroom," conference I co-hosted with Alice Keeler.
We used Google Classroom to host all of the resources for the conference, assign activities, and collaborate.
Every presenter was given access ahead of time so they could add their session resources and activities.
This is great for experienced users, and a great way to get newbies acquainted.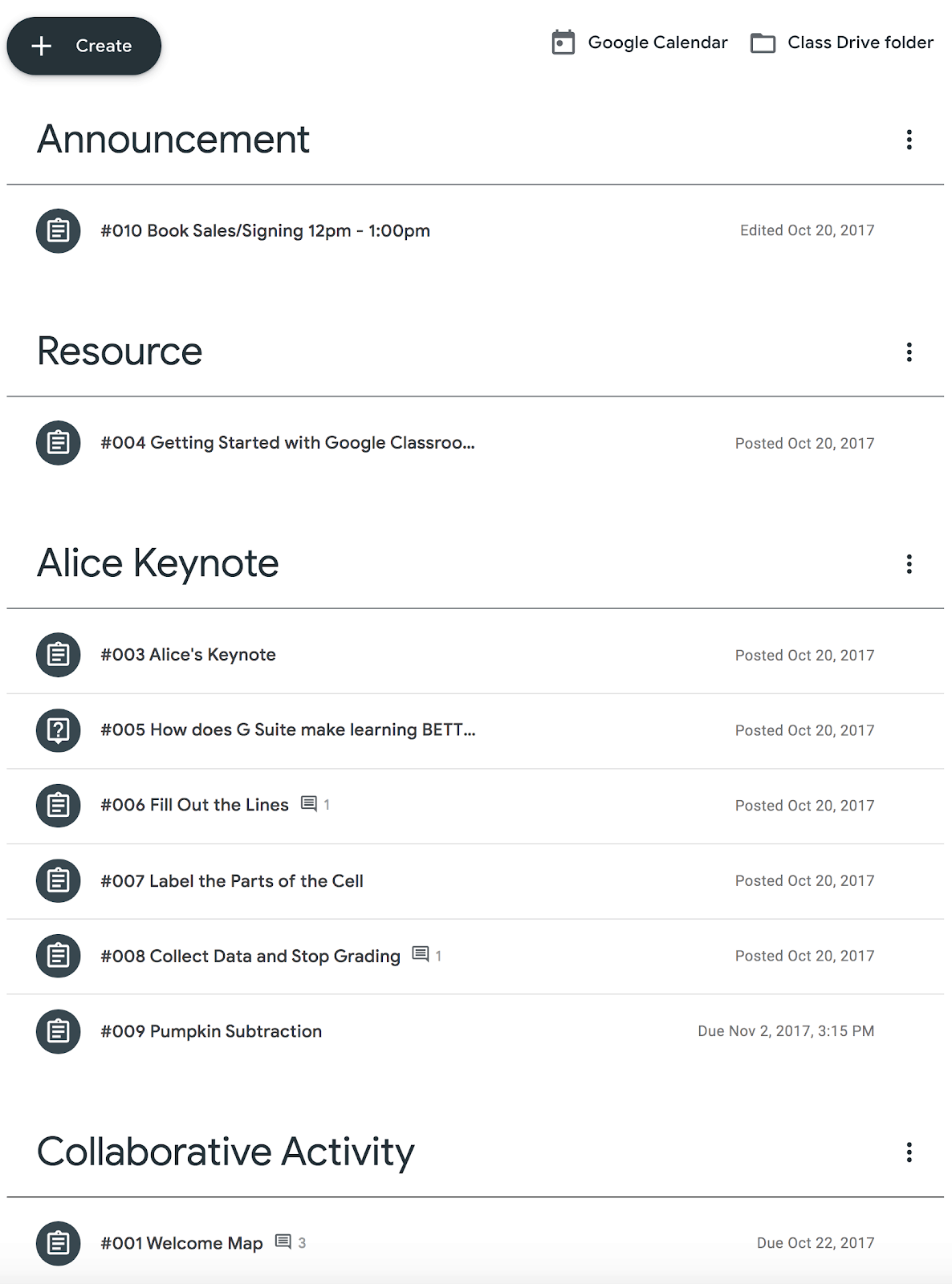 Marquita Stottern Fleming: "I have used it in face to face PD sessions to both store resources and to guide participants through the learning process for the last two years. I have also used it in session at TCEA in 2018 to demonstrate methods that can be used in the classroom for Student Choice/Blended Learning. Participants chose the technology method they wanted to use to show their learning and selected the activities they wanted to do."
4. To Teach an Online Course
Yes, you can facilitate a fully online course through Google Classroom!
My friend, Tony Vincent, uses Google Classroom for his online PD courses.
Here's what he has to say about it: "Professionals from around the globe can join the same class and learn online. The instructor can post videos, slideshows, documents, and links from which participants can learn. Then the instructor can post assignments, quizzes, and discussion questions. Even when the class is over, it can remain online as a valuable resource." (See his full post here.)
Tony uses Google Classroom to facilitate his Classy Graphics and Classy Videos courses online. (Highly recommend these courses!)
Jamie Lee: "I'm currently running PD in my district using classroom and flipgrid to host. Running the course on Graphic Design in the classroom – Canva, Lucidpress, and Adobe Spark."
Inside your own school or district, this idea becomes even more powerful to support reluctant teachers and give them reminders.
Encourage participants to turn on Google Classroom notifications for your online course, so they don't lose track!
5. As a Follow-up to Face-to-Face Training
Often, the biggest missing piece to great PD is the lack of follow-up.
As a teacher, I have experienced so many days of PD with high expectations from my administration. But without the follow-up, those days of learning often fell flat and were never implemented. One-and-done!
Google Classroom is the perfect companion to face-to-face training, whether you used it in the actual training or not.
Be sure to get all the participants in the class before they leave the session, so they know how to access Google Classroom and the follow-up resources and implementation guide.
Create a safe environment to share their struggles with implementation and streamline communication and expectations.
Constance Limback Hallemeier: "I delivered a PD presentation about embedding tech in math classes using Google Classroom. Then I could continue to add ideas to the classroom as I found them so they can continue to learn ideas."
6. Ongoing Support and Coaching
Google Classroom can help instructional coaches, tech coaches and specialists, and other support positions better support teachers.
As a coach, it can be challenging to keep those communication lines open with your teachers and meet all of their needs.
You may already be sending email newsletters, creating resource documents and sites, but a lot of teachers are reluctant to ask for help.
Using Google Classroom to support your teachers, collaborative teams, department or grade-level teams, can help you better understand their needs and offer support at any time.
And don't forget to use your class to share victories and accomplishments!
7. To Facilitate Online Book Studies
No matter what topic your book study covers, you can use technology to facilitate a fully online or blended book study.
What's great about posting the discussion questions online through Google Classroom is that this allows participants to post answers at a time that is convenient for them. We call this asynchronous, meaning everyone doesn't have to meet at an exact time.
However, you could add some LIVE online video conferencing to spice things up! Invite the author, share accomplishments, and wins.
An online book study could get more participation than face-to-face meetings because of the flexibility.
Ashley Boatwright Fort: "We are doing a book study of Shake Up Learning right now using Google Classroom. I love how I can schedule assignments ahead of time! We are using the question feature for "assignments" so teachers can see each other's work and have meaningful discussions. They also seem to like it because it's a platform they are use to from in-person PD and with their students."
By the way, the Shake Up Learning book was created with book studies in mind! It includes discussion questions at the end of each chapter and an entire website full of additional resources. I regularly facilitate my own book studies. You can get the latest info here.
And if you want to learn more about how to plan an effect book study, check out this post and podcast episode: The Teacher's Guide to Professional Book Studies.
8. To Share Resources and Templates
You can easily create a Google Classroom class that serves the purpose of being a resource site.
Post links to templates, blogs, podcasts, websites, apps, and more on Google Classroom for your teachers.
Depending on the group, this could be for the entire staff to communicate and share. Or setting up classes for collaborative teams to share and post.
If these are resources you want a response to, or required reading, post as an assignment so you can track. If this is just a place for teachers to find resources, post as materials. Use topics to organize the resources into categories. Enable comments to encourage discussion. Enable posting to allow teachers to share their own ideas and resources.
Beth Heller: "I use the materials option to share agendas, templates, and other resources for PD. I also used the question post as we got started to find out what my staff wanted linked on the page. I'm thinking about using the comment feature as a back channel in the future."
9. Online Group Discussions
Use Google Classroom to set up online discussions. Maybe your group needs to make some decisions, discuss curriculum, or school initiatives.
You can use the question option on the Classwork page, but keep in mind that they will not see any answers until they post their own. Or you could post the question as an announcement to encourage more conversation.
10. Virtual PLCs/Blended PLCs (Professional Learning Communities)
Professional learning community (PLC) An ongoing process in which educators work collaboratively in recurring cycles of collective inquiry and action research to achieve better results for the students they serve. Professional learning communities operate under the assumption that the key to improved learning for students is continuous job-embedded learning for educators.
Google Classroom makes the perfect companion to blend your PLC collaboration, or make it virtual!
Every school approaches PLCs a little bit differently. Consider using Google Classroom to organize your materials, discuss, post videos, links, and collaborate.
Jessica Kings: "Ann Rose and I are facilitating a virtual PLC via Google Classroom using Shake Up Learning as an anchor text! Kristin and Samantha ate actually sharing out this upcoming PD day about their experiences!"
11. Assign and Discuss Podcast PD
Using podcasts for professional learning can be a great resource for your teachers. Some teachers are familiar with podcasts, and for some, it will be brand new.
There are podcasts on just about any topic you can think of! By offering podcasts as a resource, supplement, or even an option to listen during face-to-face PD could be a game-changer.
Using Google Classroom to support Podcast PD is a no-brainer. You can make it really easy to help teachers learn more about podcasts, give them a selection to choose from, and related assignments through Google Classroom.
If you are your teachers are new to podcasts, use this Teacher's Guide to Podcasts to learn more.
Laura Cahill: "I'm wrapping up a five-week Podcast PD where each week we listen to an episode independently and then having discussion in Classroom…I am so shocked by the level of discussion!"
Here's how Laura Cahill sets up Podcast PD.
I love this idea! So much so, I even have a Podcast PD Choice Board that you can use or modify the FREE template for your teachers.
12. Support and Track Challenges & Badges for Teachers
Gamify your PD! By taking elements from games, like challenges and badges, you can engage your participants in new ways.
By issuing a challenge like creating a Dynamic Learning Experience (using the template here), you could award the accomplishment by creating a digital (or printable) badge that allows teachers to show-off their accomplishment.
Google Classroom is a great platform for assigning challenges, submitting evidence, and sharing success!
Laura Cahill: "And I've been running a ten-week G Suite Challenge in Classroom where participants have to complete a task in an app after reading the directions and watching the videos I post."
13. Streamline Announcements & Communication with Staff
Many schools are using Google Classroom to improve communication with teachers and staff. You can set up a class for your campus to push out announcements and other communication.
This is a great way to avoid things getting lost in email.
14. Self-Paced Tutorials
You can create a Google Classroom class specifically to share self-paced video tutorials for teachers.
I would recommend creating a class based on the topic or application that you are teaching, let's say, "Getting Started with Google Classroom," for example. In this class, you can post a series of short video tutorials to help teachers learn the program on their own.
15. To Support Absentees
Teachers are always busy! Life happens, and sometimes teachers will miss a face-to-face meeting, training, or other professional learning experience.
If we are already using Google Classroom to blend the experience, this makes it even easier for teachers to "make-up," what they may have missed.
Keep this in mind as you create your class and give detailed information and directions for those that may have been absent or need to leave early.
Carly Black: "I went through some technology PD in this way. I couldn't make it to any of the in-person training so I watched the videos on Classroom and completed the quizzes through Forms. I finished during my prep periods in about a week. It was the best way to get some last minute CEUs and there were great ideas for my classroom."
Remember to always create opportunities for learning in alternative ways to support your teachers!
What do you think? What would you add to this list? Please leave a comment below.
Podcast Question of the Week
"How can Google Classroom help us learn and grow together as professionals?"
See all the podcast questions for each week's episode on this page.
---
Google Certification Courses Open Nov. 19th!
Online Google Boot Camps–BUT BETTER!
All 3 Courses Will Open on November 19!
Mark your calendars! These courses (Level 1, Level 2, and Trainer) will open for limited enrollment on Nov. 19, 2019, and will close on Dec. 3, 2019. (It will not open again until May!)
Work on certification during your summer break!
---
What's Included in the Google Certification Courses?
Everything you need to know to pass the exam and become a Google Certified Educator Level 1!
---
Everything you need to know to pass the exam and become a Google Certified Educator Level 2!
---
Completely updated and redesigned for 2019!
All You Need to Know to Prepare for the Trainer Skills Assessment and Application!
Becoming a Google Certified Trainer was one of the best decisions I ever made, and it transformed my learning and my career! This self-paced, online course includes EVERYTHING you need to know to pass the Trainer Skills Assessment AND complete the application requirements, including:
---
Pricing & Bundles
Below are the prices for individual licenses for each course. (Payment plans available.)
---
Campus and District licenses available! (Click here to inquire.)
Request to pay with a purchase order.
---
BUT WAIT…THERE'S MORE!
Opening all of these courses at once also gives you another advantage–bundling! If you want to purchase multiple courses at once, you can save BIG TIME!
I'm also introducing some new bulk licensing options, so you can find more affordable ways to meet the needs of your campus or district.
NOTE: To purchase a bundle, you must purchase from the bundle page.
Here's how it works (click on the links to purchase a bundle):
---
Request to pay with a purchase order
---
---
© Shake Up Learning 2023. Unauthorized use and/or duplication of this material without express and written permission from this blog's author and/or owner is strictly prohibited. Excerpts and links may be used, provided that full and clear credit is given to Kasey Bell and Shake Up Learning with appropriate and specific direction to the original content on ShakeUpLearning.com. See: Copyright Policy.