What if I told you that you could create a class template inside Google Classroom?
You can! I'm going to show you how to create a class template in Google Classroom that can be reused over and over again.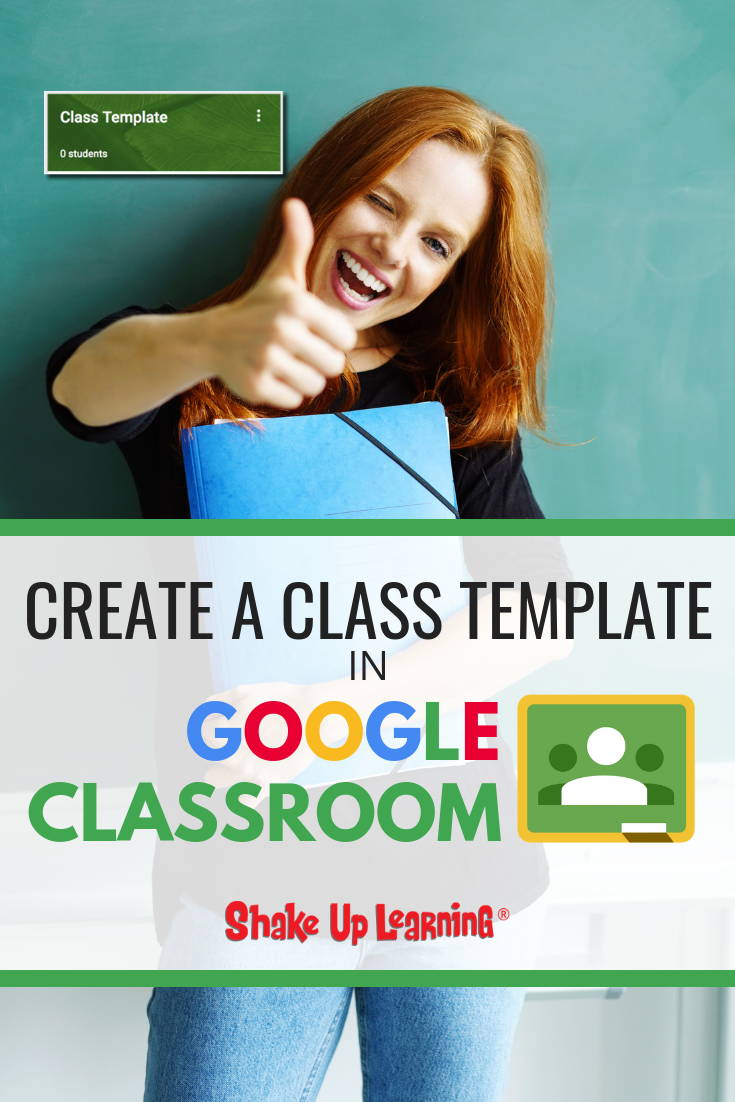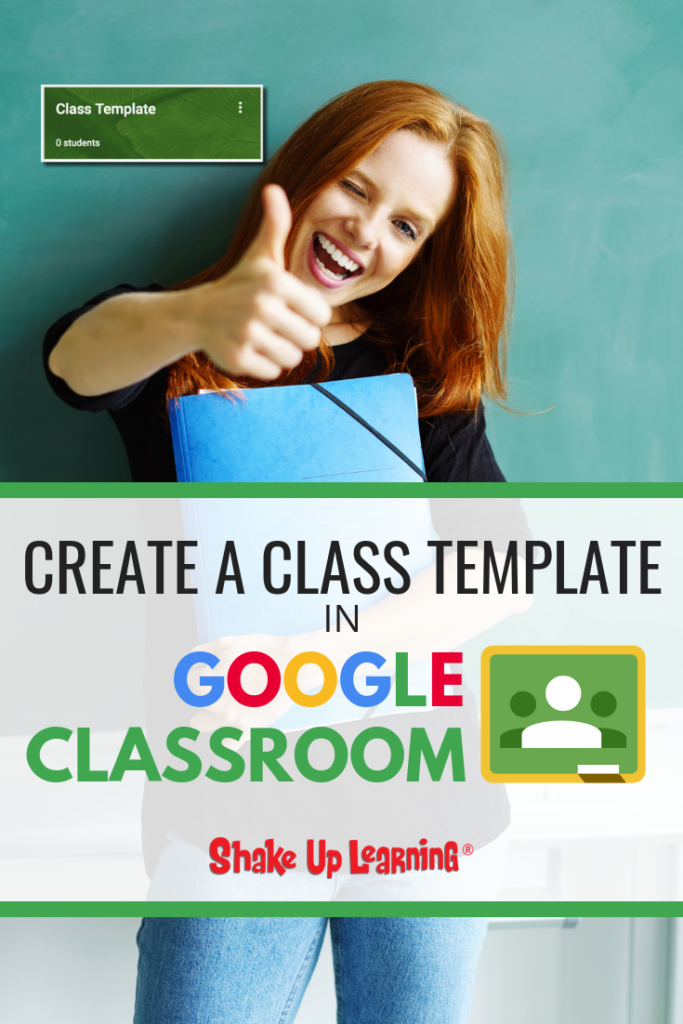 In 2018, Google released several significant updates to Google Classroom. One particular update allows us to make a copy of an entire class inside Google Classroom.
I've been thinking about how to better use this feature, and how it can help save teachers time and sanity.
I've been drafting this blog post for a while, but really felt the need to finish after a discussion in the Shake Up Learning Facebook group. (You can join this FREE group here.)
I wasn't sure about this post, but after reading similar ideas from the community, I knew I was on to something that needed to be shared.
That's what I love about being a connected educator, not only do we learn from each other, but we can also inspire and validate ideas.
By creating a class template inside Google Classroom, you can easily create the ideal set up for your class, including topics and assignments, and copy these into a new class each year, each semester, and release assignments as you need.
[Tweet "How to Create a Reusable Class Template in #GoogleClassroom! #edtech #gsuiteedu"]
How to Create a Class Template in Google Classroom
STEP 1: Design Your Ideal Class Template
First things first, in order to create a class template, you need to know what you want to be included in your template.
Here is a list of the items that will copy over into a new class. Think about how you currently use these items, how you plan to use these items in the future.
Title
Section
Description
Course subject
Topics
Classwork posts (assignments, questions, etc. which are copied as drafts with no scheduled date)
I recommend that you keep the section, description, and subject blank to save time revising or deleting once the copy is made.
Keep in mind, you will be able to make edits and revisions to all of the above after you make the copy, like tweaking course names, class period, and things that often change class to class. But the idea is that designing a class template with MOST of your preferences will save you time when you make a copy.
This is especially handy after the redesign of the Classwork page and topics. Everyone has their own preference for creating an organization that works for their classroom. If you design it in your template, you will not have to recreate and re-order all of your topics. (Hip, hip, hooray!)
If you are looking for organization ideas, check out my previous post, 5 Ways to Organize Assignments in Google Classroom.
Take a look at the example below, which is organized by unit, with a topic at the top for "Today," at the top, as well as a topic for "Classroom Materials," so these are always in view for students.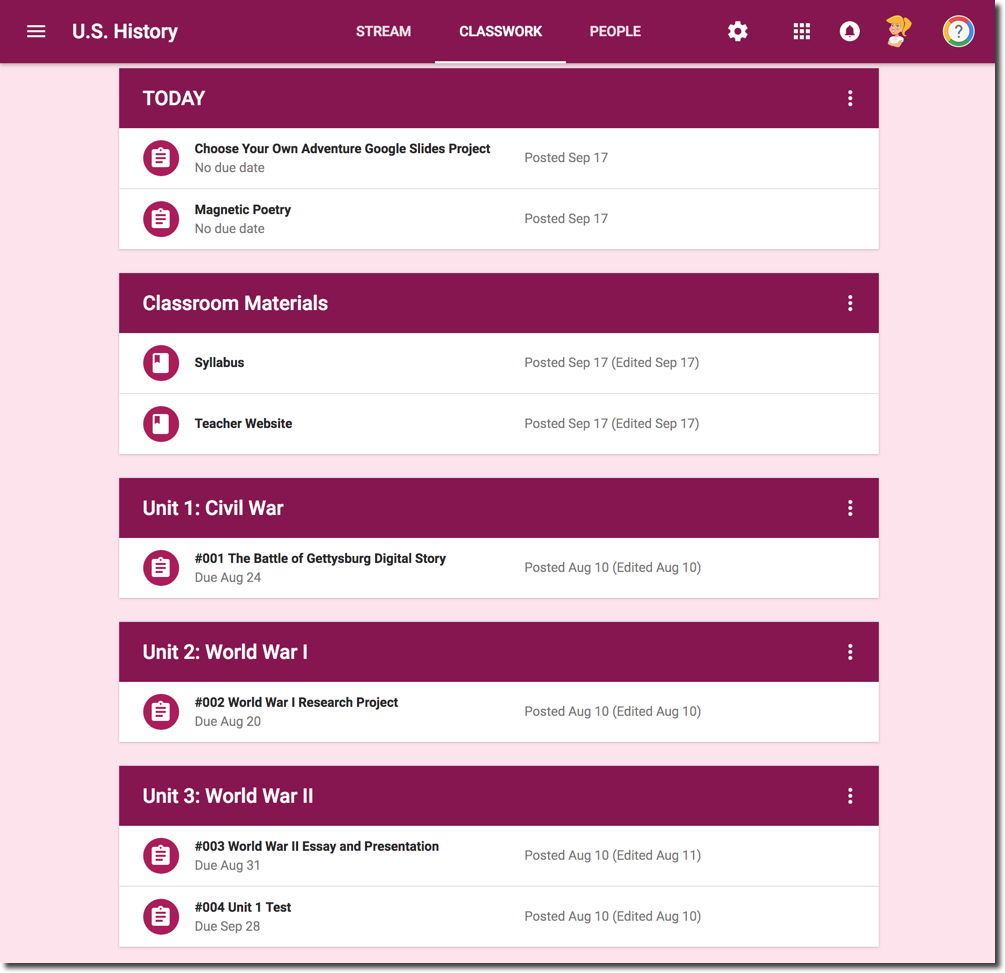 Everything you see above will copy to a new class, except for the due dates. Assignments that are copied will all go into your drafts so you can distribute assignments as you need.
There are also items that will NOT copy. Consider these as you design your ideal class template.
Teacher announcements
Deleted classwork items
Students and co-teachers
Student posts
Attachments that you don't have permission to copy
---
STEP 2: Make a Copy of Your Class Template
When you are ready to start a new class with your template, go to your Google Classroom homepage (https://classroom.google.com).
Click on the 3 dots of your Class Template card
Select "Copy"
Click "Copy" at the bottom right of the window
---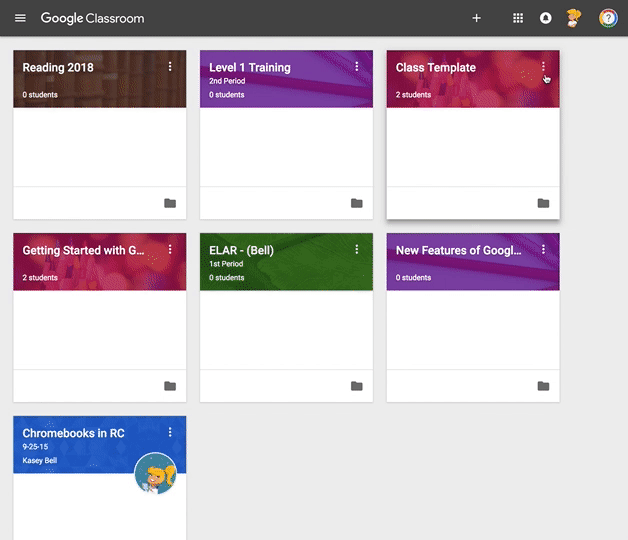 Classroom might take a while to copy your class. In the meantime, you can leave the page during the copying process to work on other things. When copying is complete, you'll get a notification email.
---
STEP 3: Revise Your Template to Fit Your Needs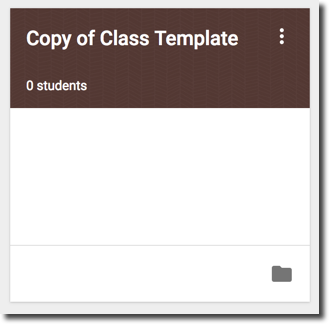 Before you begin to add students to your class, revise and tweak the little things that need to be changed, like removing "copy of," before the title of the class, changing the class period and posting a welcome message, updated syllabus and class materials, etc. Update all the things that vary semester to semester, year to year. Notice, your assignments now appear in grey as "drafts." Students will not see drafts.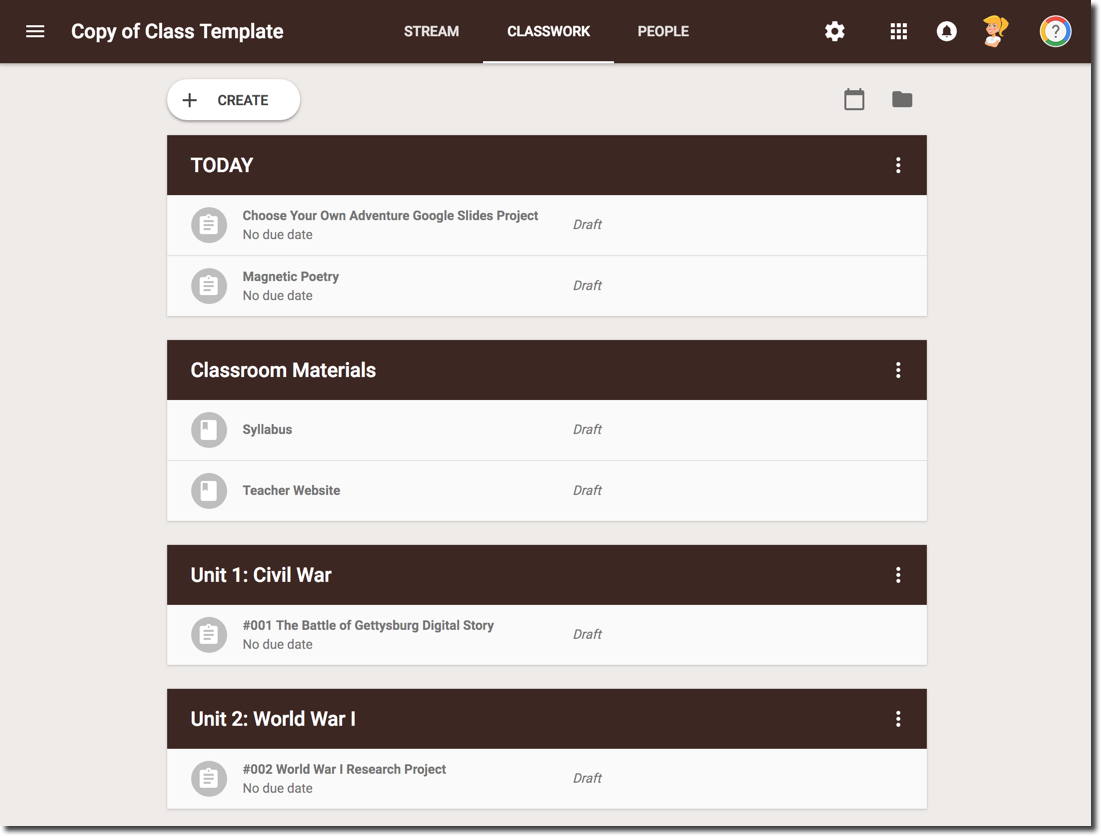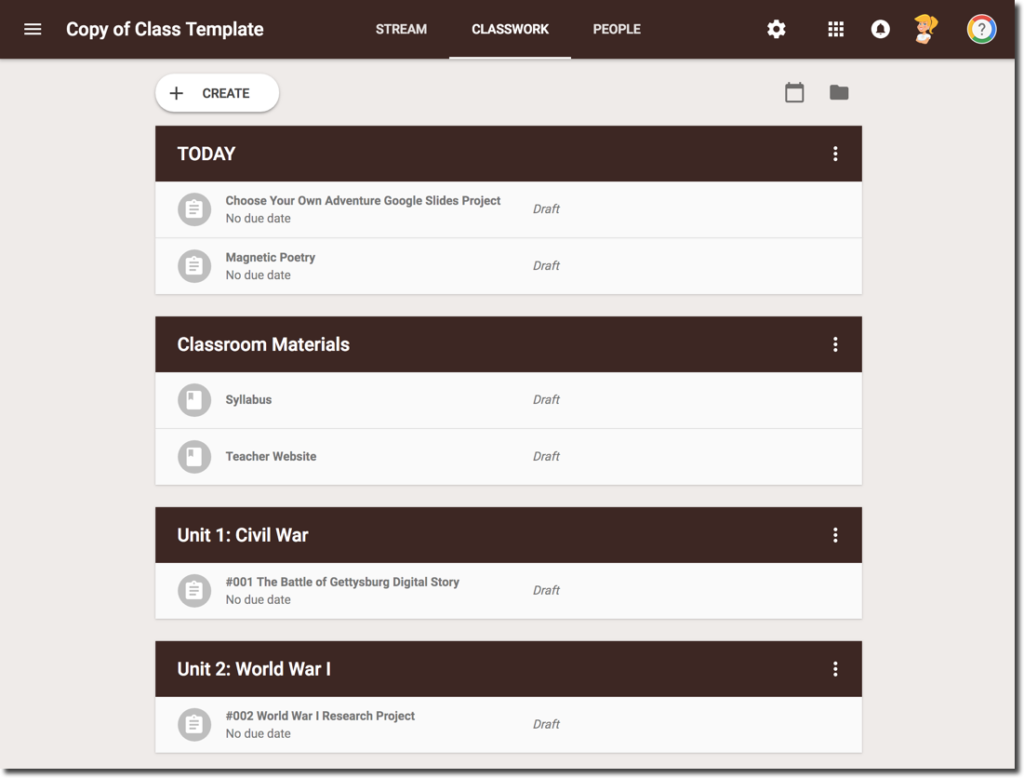 Here's a list of things to check or revise in your Class settings (gear icon near the top-right):
Title: You probably want to at least remove the words "Copy of," before the title of the class. This is the default when you make a copy, similar to making a copy in Docs.
Section: You are not required to add a section, but if you like to see this in your description and it is useful for your students, make any needed adjustments.
Description: If you use the description field, be sure to check that the description is accurate for your new class.
Course Subject: If you teach multiple subjects, you probably want to keep this blank in the template and just revise once the copy is made.
Update your theme and header: The header image is useful for you and your students to identify your classes visually. Here's a post that show's you how to create a custom header.
---
View your Stream and Classwork page to make sure everything is ready and begin to post your materials and schedule your first assignment.
BOOM! You just saved yourself tons of time creating a new class, creating topics, and moving everything around!
What do you think? Have you tried this?
---
Learn all about the new updates to Google Classroom and take your skills to the next level. This course will give you everything you need to get started using Google Classroom and best practices to help you make the most of this tool.
Perfect for beginner to intermediate skill levels! Consider this your video guide to Google Classroom!
Click here to learn more and to ENROLL TODAY!
---
Learn All About the Course
Who Should Join the Google Classroom Master Class?
Beginners can learn everything they need to get started.
Intermediate level users can focus on learning more advanced features, tips and tricks, and best practices.
Go at your own pace.
Let's dig in! This class is for all skill levels!
What's Included in the Google Classroom Master Class?
Self-paced
Video-based lessons
5 BONUS Lessons
PDF Downloads
Supporting Resources
Best Practices and Tips
6 hours of professional learning credit
Purchase orders are accepted (Just email Kasey[at]ShakeUpLearning.com (replace [at] with @.)
Bulk license discounts
Get your whole team, campus, or district on board
---
Click here to learn more and to ENROLL TODAY!
---
© Shake Up Learning 2023. Unauthorized use and/or duplication of this material without express and written permission from this blog's author and/or owner is strictly prohibited. Excerpts and links may be used, provided that full and clear credit is given to Kasey Bell and Shake Up Learning with appropriate and specific direction to the original content on ShakeUpLearning.com. See: Copyright Policy.