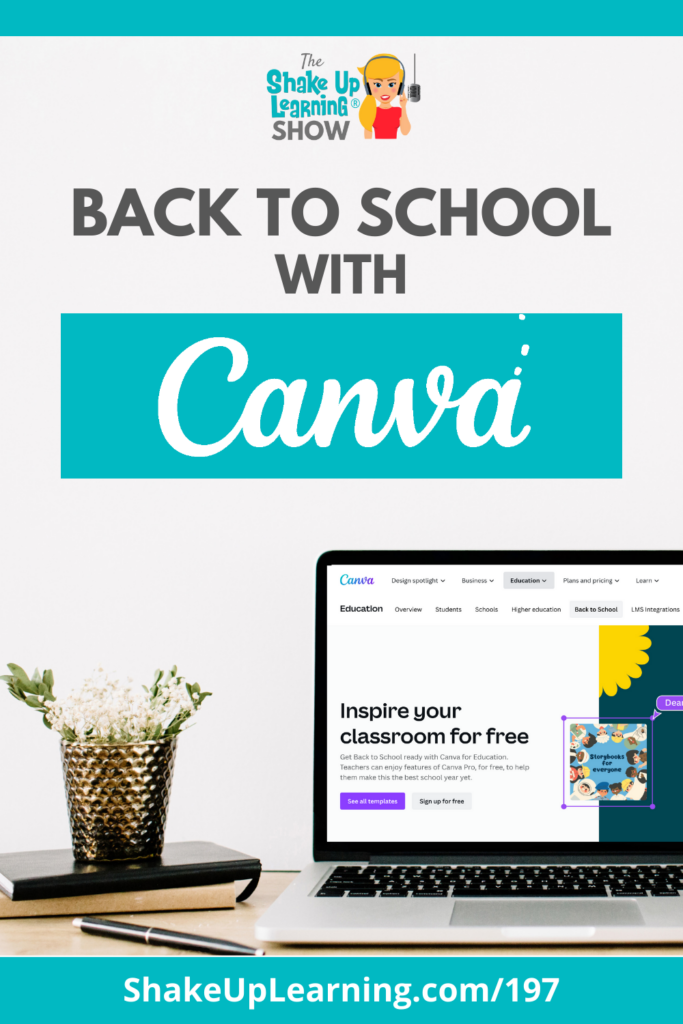 In this episode, we are taking a deep dive into some AH-mazing (and FREE) resources from Canva for teachers and students.
From planning to student projects, graphic organizers to classroom decorations, and much more!
I've been using Canva for many years.
Almost every image that you see on my blog and website, even a lot of my presentations–all created in Canva.
Canva is a must-have tool for teachers this year.
Listen to this episode:
This episode is sponsored by Everfi.
Want to prepare your students for career and life success, but short on time? Busy teachers use EVERFI's standards-aligned, research-based digital lessons, 

recently awarded with the ISTE Seal for high quality curriculum

, to teach students to thrive in an ever-changing world. Interactive, game-based lessons designed by experienced educators help you engage students at all grade levels and bring critical real-world skills like financial education, early literacy, character education, health & wellness, and more to your classroom. Thanks to partners, these lessons are FREE for all K-12 schools and students. With back-to-school season gearing up, now is an exciting time to give your students a jumpstart on their future.  Go to everfi.com/shake to learn more, and sign up to get a virtual swag bag full of free goodies to get the school year off to a great start. 
Back to School with Canva
I don't want you to miss a thing this school year! If you are a K12 teacher, you need every scrap of time you can get.
Canva is awesome for many reasons, but most of all, it can save you time with the things you create for your classroom.
In this podcast episode and blog post, we are exploring the Canva for Education Back to School Resources. (Bookmark this page. I promise you will want to come back.)
There are thousands of templates in Canva that are amazing teacher time-savers!
If you don't have a Canva account, it's free for teachers and students. Create your account here.
Canva Tips
Here's a great playlist of tutorials and tips for using Canva!
Finding Templates in Canva
Canva has thousands of templates, and it can be difficult to find exactly what you need. (I think they could improve the search for educational items.)
Well, the fabulous @Jenallee1 (Jeni Lee & Sallee Long) have put together this awesome tool that links to common search terms for teachers using Canva.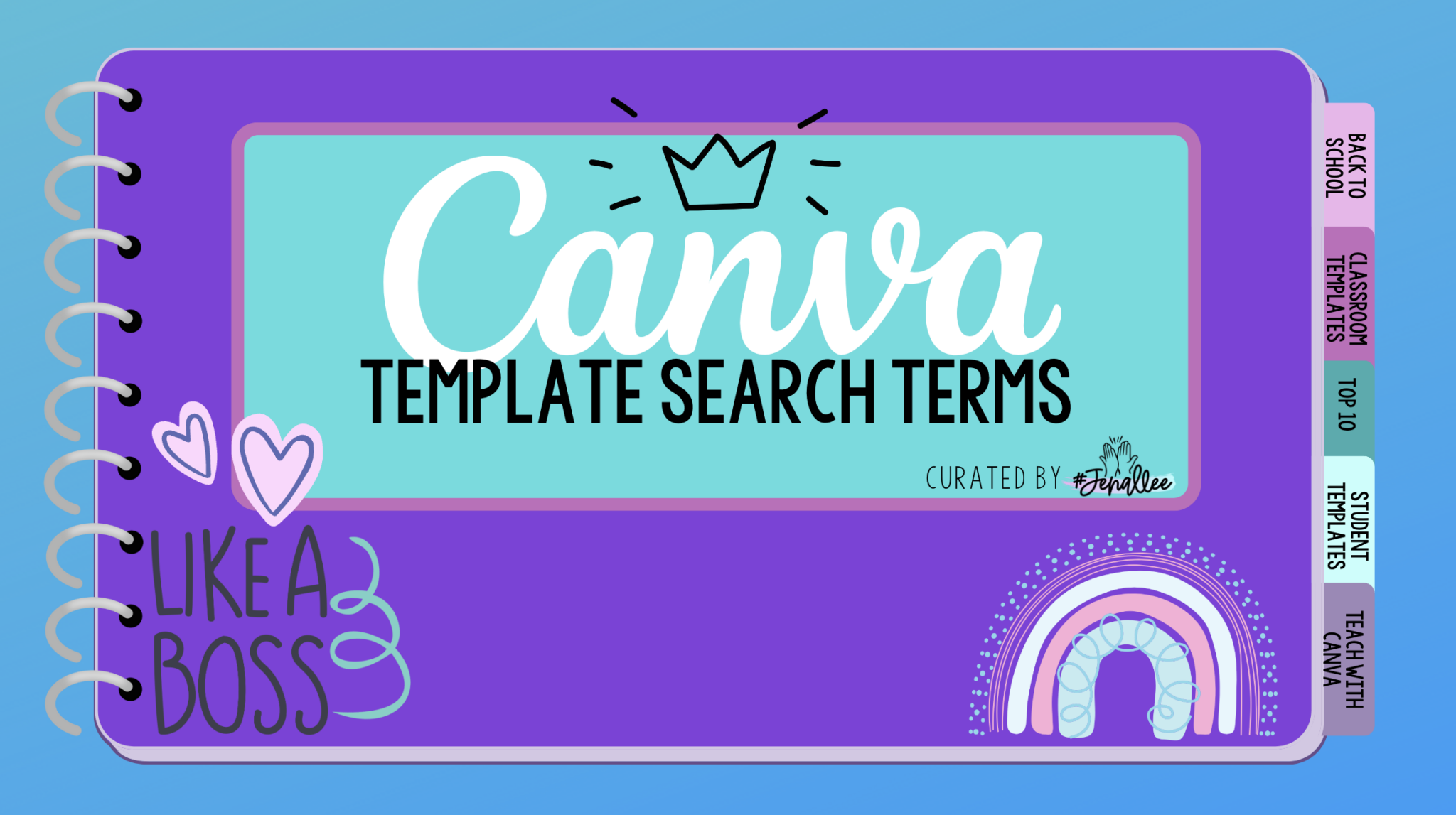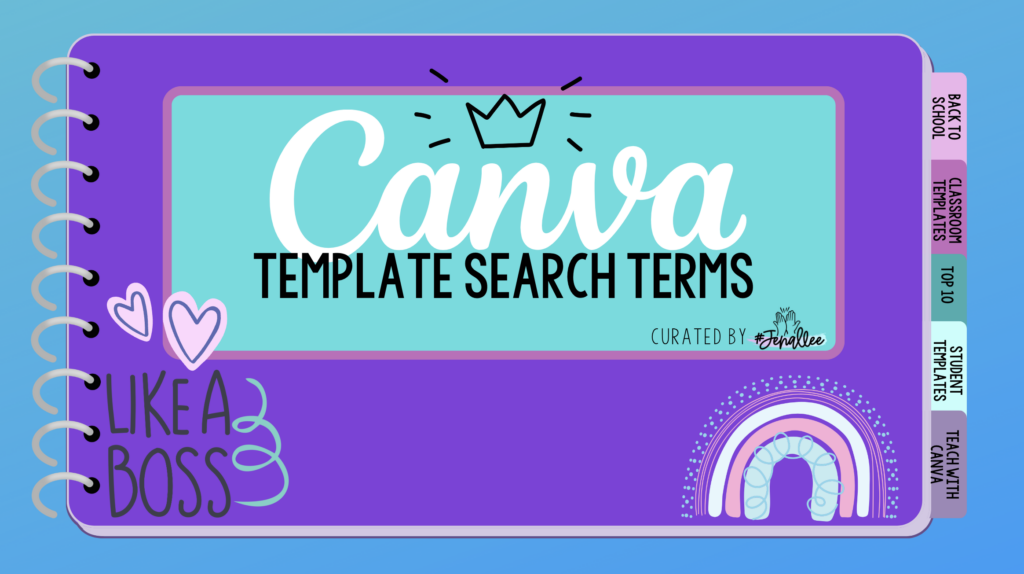 Planning Templates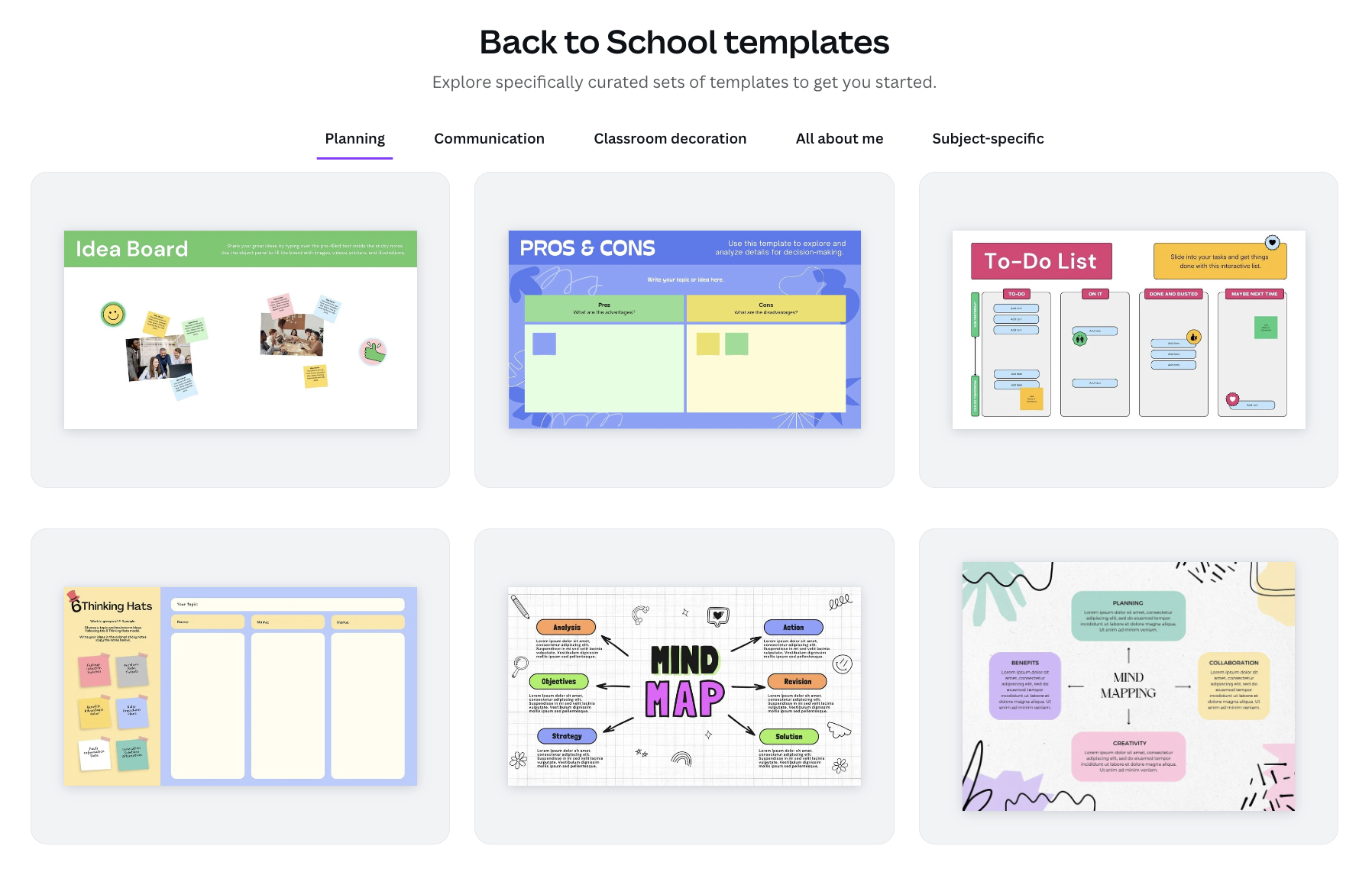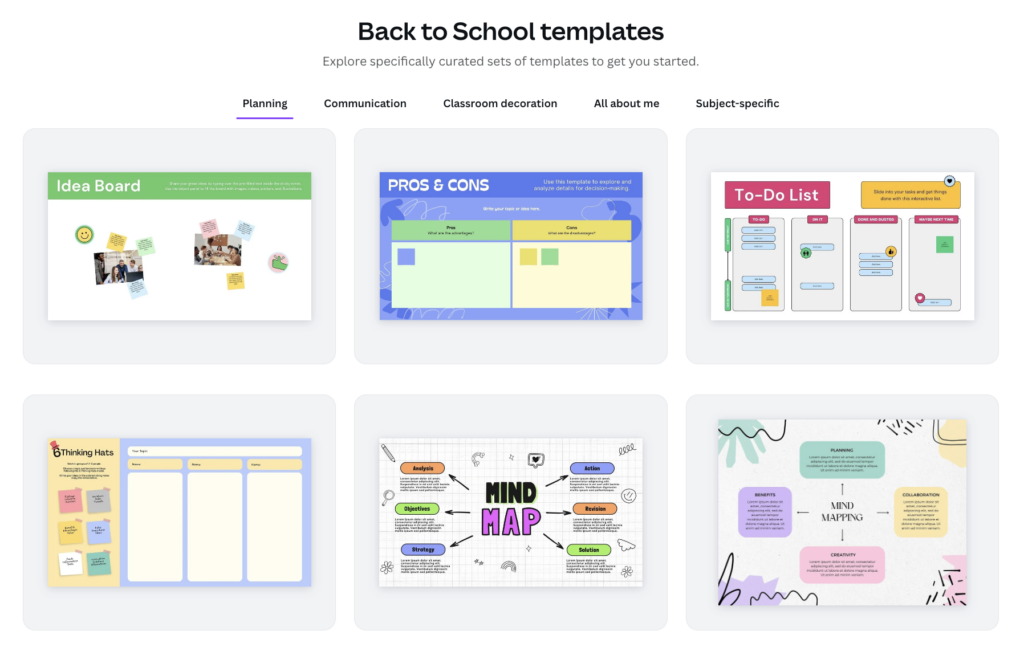 Each tab on the Back to School page is a curated set of templates. The Planning templates cover everything from brainstorming, to-do lists, agendas, schedules, syllabi, lesson plans, and more.
The schedules are particularly great for elementary teachers and secondary students who want a handy visual of what their day looks like.

Related: 30+ Ways to Use FREE Templates from Canva in Your Classroom (Part 1)
The lesson plans are maybe a little hit or miss. I feel like there are two sides to using lesson plan templates. One, the required lesson plans that some schools require are very specific, and these templates are not. Two, lesson planning is very personal for teachers. However you like to plan, you can customize these templates to fit your needs.
Communication Templates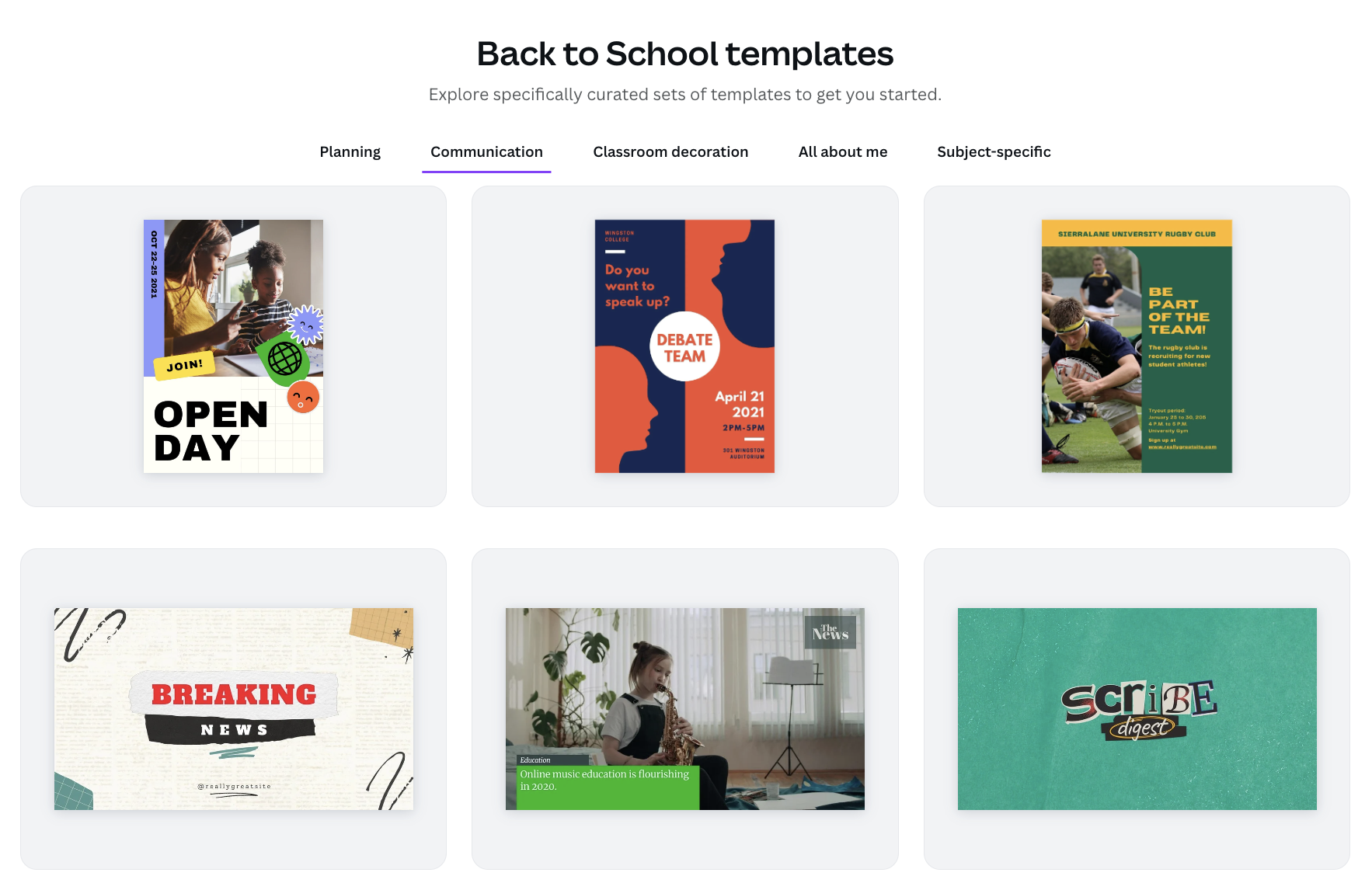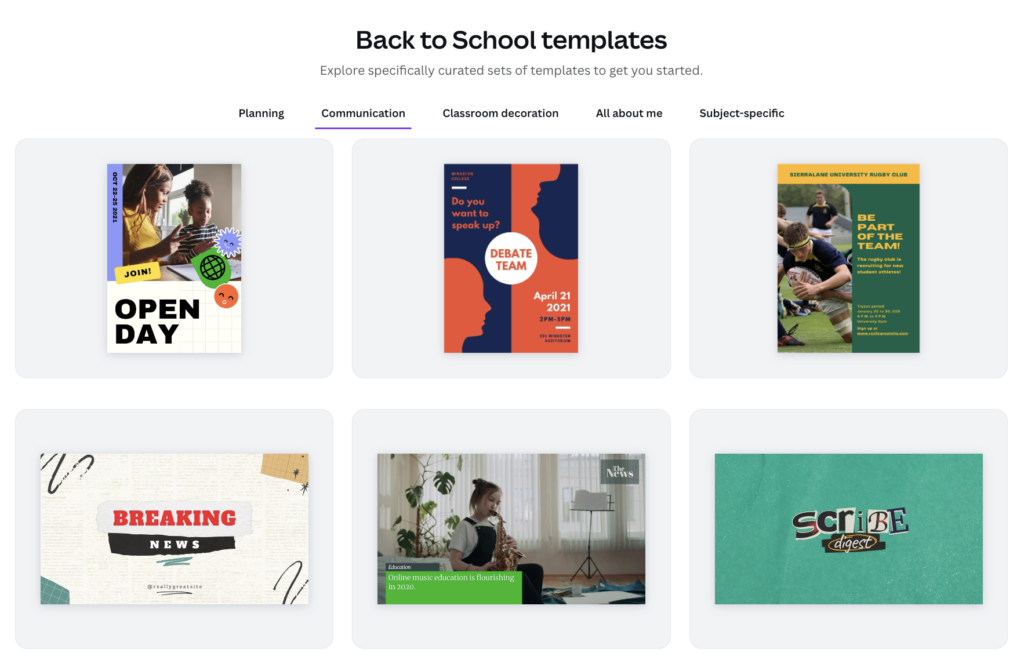 The curated section of communication templates is mostly full of flyers, images for announcements, and newsletters. If you are organizing clubs and after-school activities or sending invites home to parents, the flyers are super useful. But I think the newsletter templates are useful for a wide-variety of classroom teachers, coaches, leaders, and more.
And don't be misled by the quick screenshot above; there are many different newsletter templates available in Canva. Many are one-pagers with fun formats and colors. Again, all customizable!

Classroom Decoration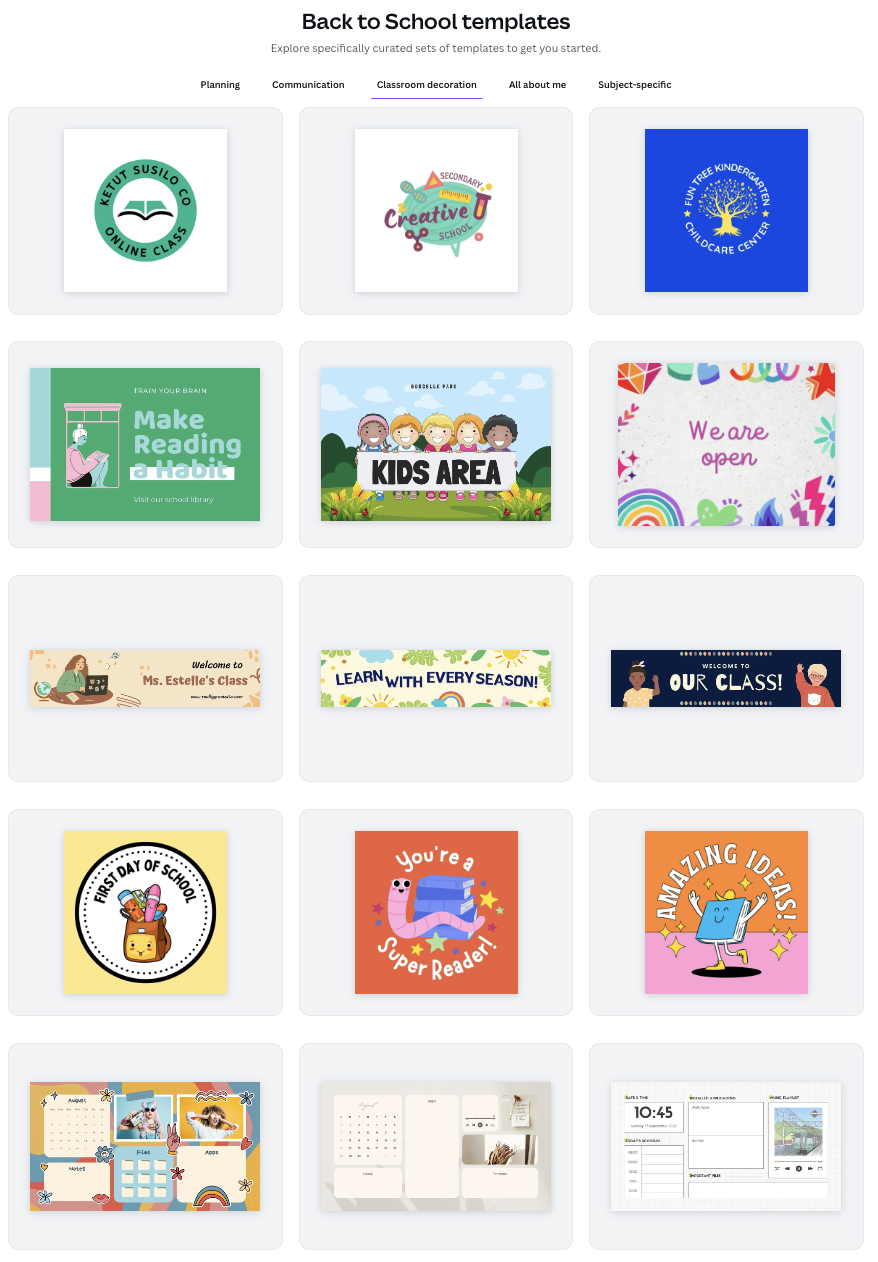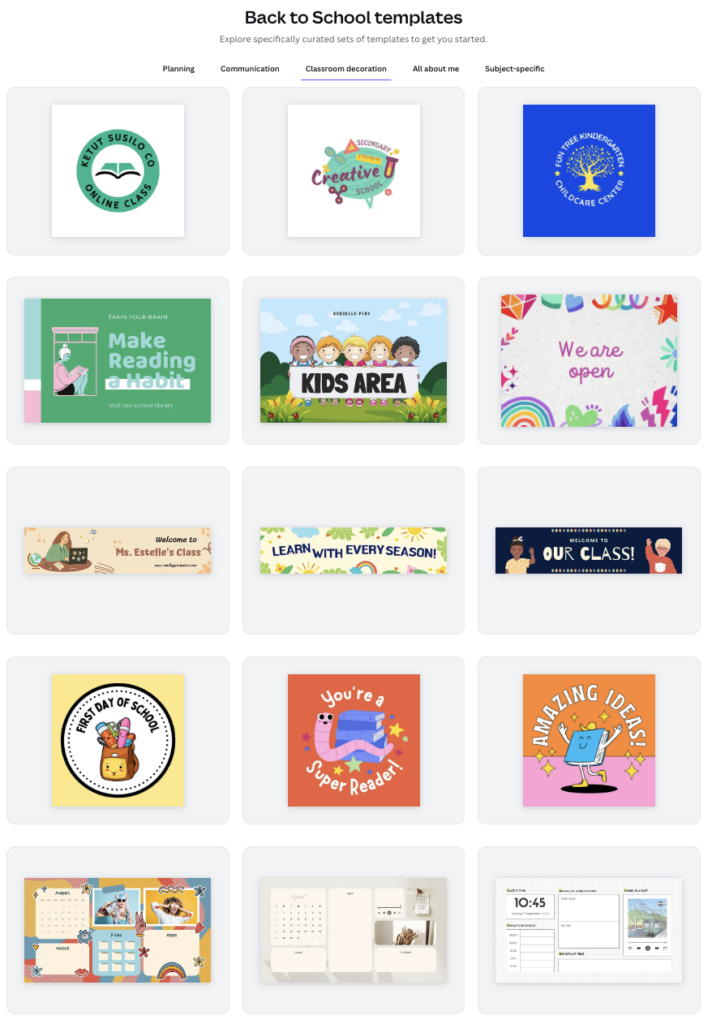 I had to zoom out to capture the variety in this section. You can create logos for your class, your school, your organizations, teams, and more. You can also create colorful signs for your classroom.
There are even some banners in this collection that are designed for Google Classroom or Google Forms headers. By the way, you can search for these in Canva and find hundreds of ready-made banners!
Below is a quick tutorial on how to create your own Google Classroom Banner with Canva.
This section also includes some cute templates for images that can be used for feedback, digital stickers, or badges.
And those last few templates in this curation are super fun desktop backgrounds to organize your apps, folders, etc.
All About Me Activities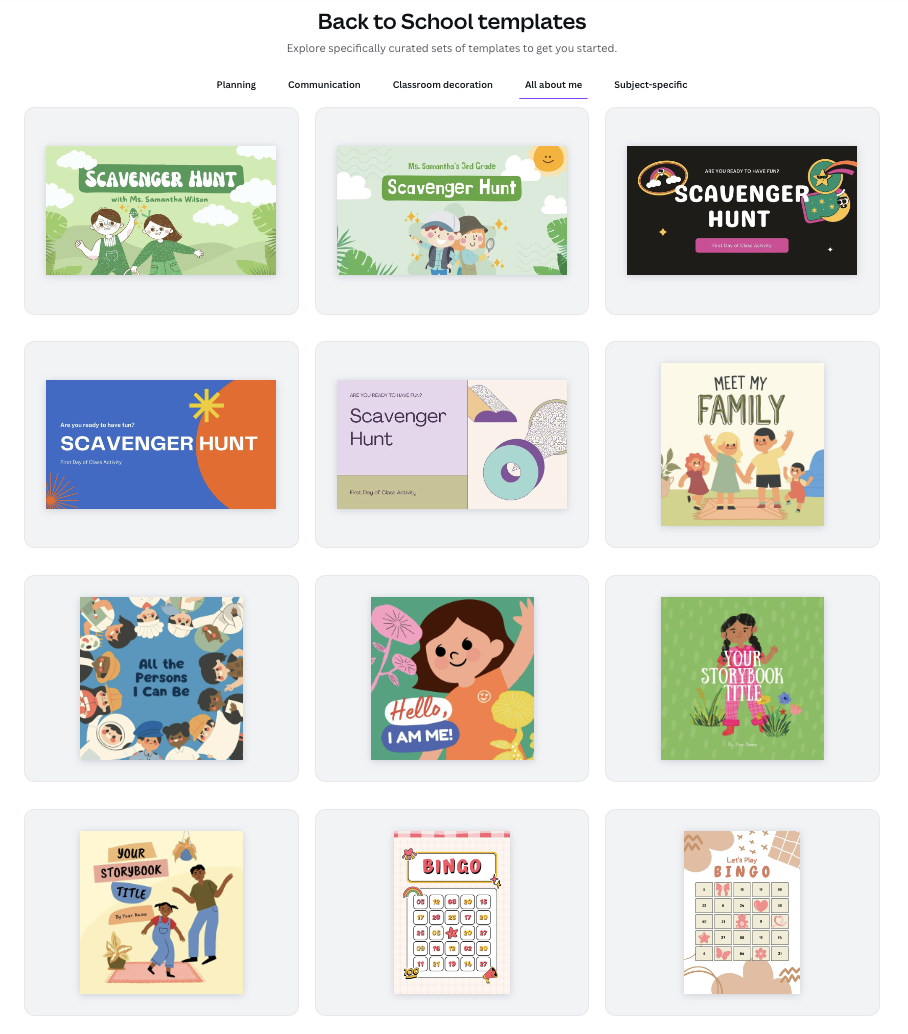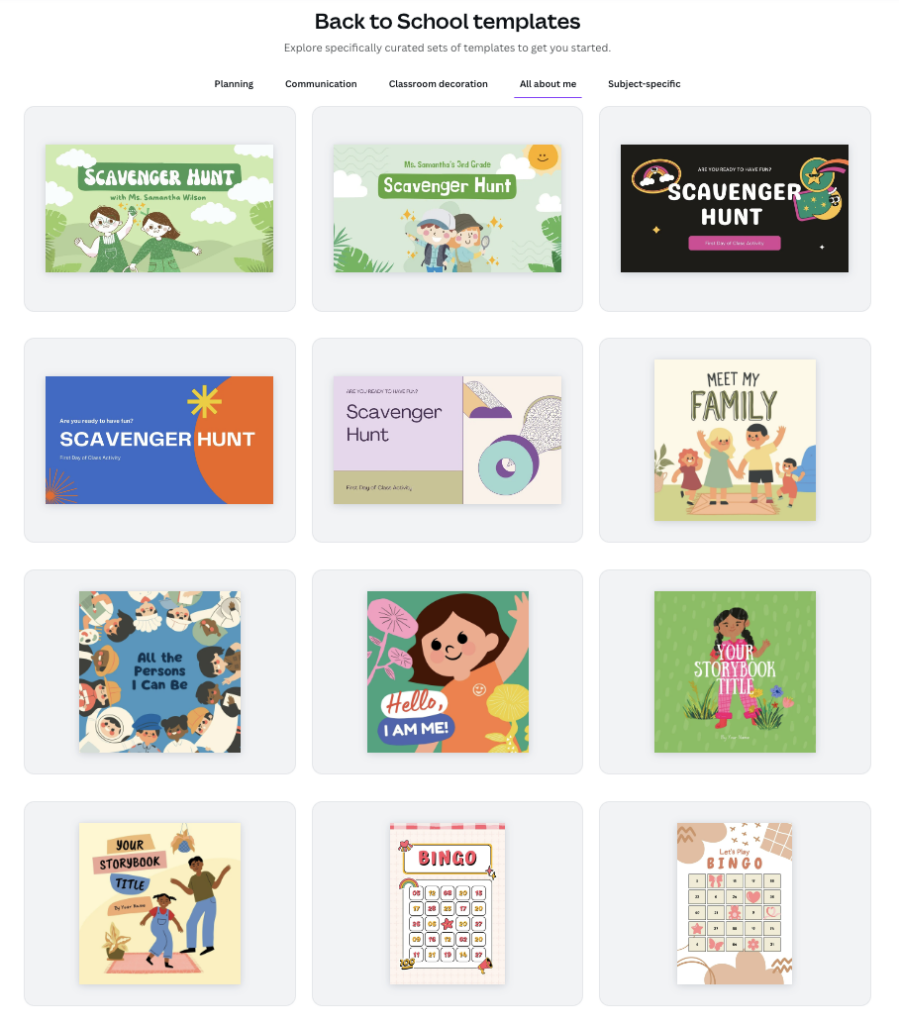 Is it just me, or is anyone else tired of the "All About Me" activities? Well, even though that's the title of this section, it does include ideas for scavenger hunts, personal storybooks, and BINGO games.
Related: 30+ Ways to Use FREE Templates from Canva in Your Classroom (Part 2)
Subject Specific Templates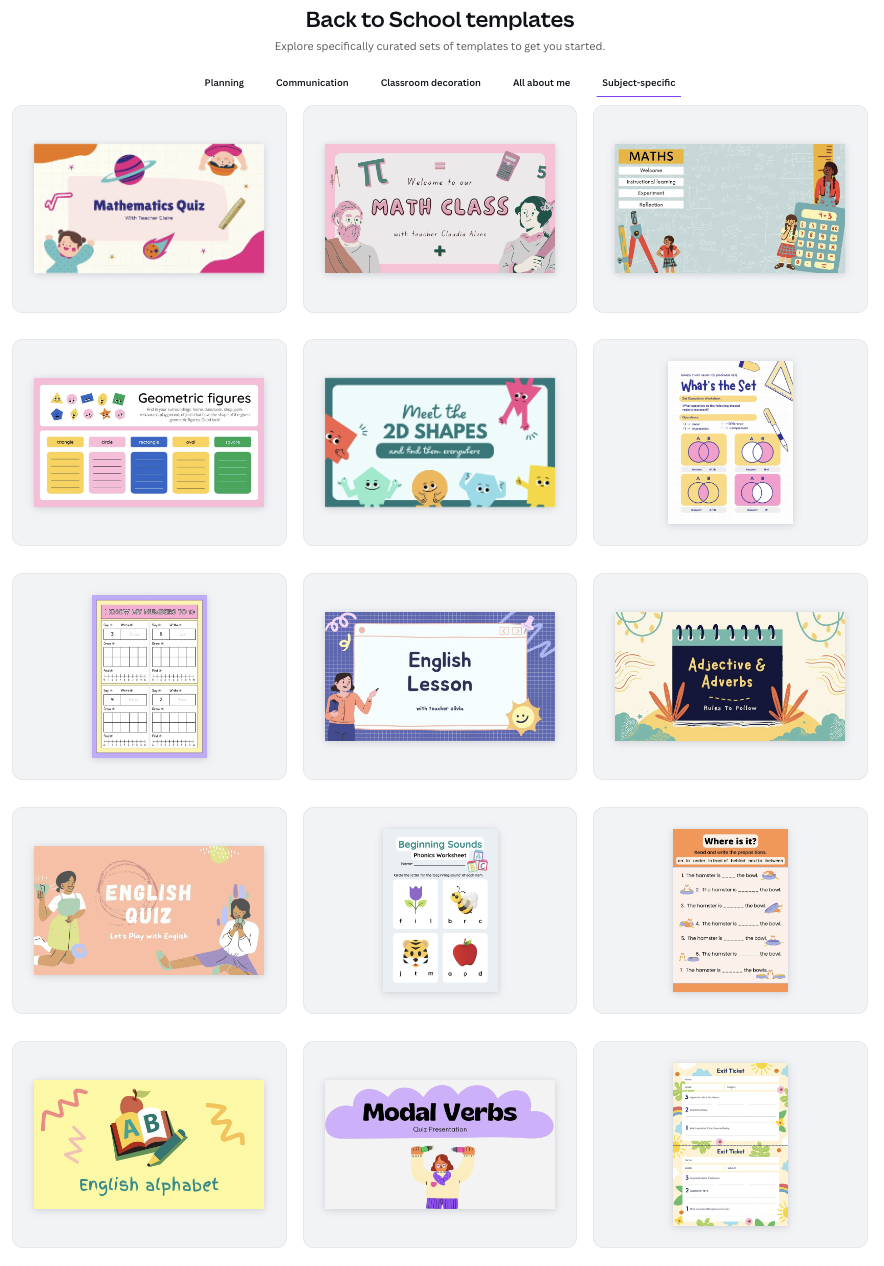 And last but certainly not least, we have some suggestions for subject-specific activities. Keep in mind that this is a small curation of what actually exists in canva. Below is a 7th-grade math template.
Find Your Own Templates!
Be sure to search for your own subject area to find the best resources for your classroom, and check out our other Canva tips and resources for more ideas!
AI-Powered Choice Boards Mini Workshop
🚀 Level Up Your Choice Boards!
Empower and engage your students with student choice and interactive choice boards.
Choice boards can help teachers put students at the center of learning, differentiate, and teach valuable skills.
In this mini workshop (1 hour), we will explore ways to use AI Tools like Chat GPT, Canva Magic Write, and more to create engaging choice boards aligned to your learning goals. Save time, energy, and frustration!
This mini workshop is pre-recorded and available on-demand.
📚 What You Get:
✔ Self-paced
✔ Video workshop
✔ Downloads
✔ Choice Board Templates (including Canva templates)
✔ AI Prompts
✔ 1-Hour Credit Certificate
✔ Supporting Resources
➡️ ENROLL HERE
© Shake Up Learning 2023. Unauthorized use and/or duplication of this material without express and written permission from this blog's author and/or owner is strictly prohibited. Excerpts and links may be used, provided that full and clear credit is given to Kasey Bell and Shake Up Learning with appropriate and specific direction to the original content on ShakeUpLearning.com. See: Copyright Policy.