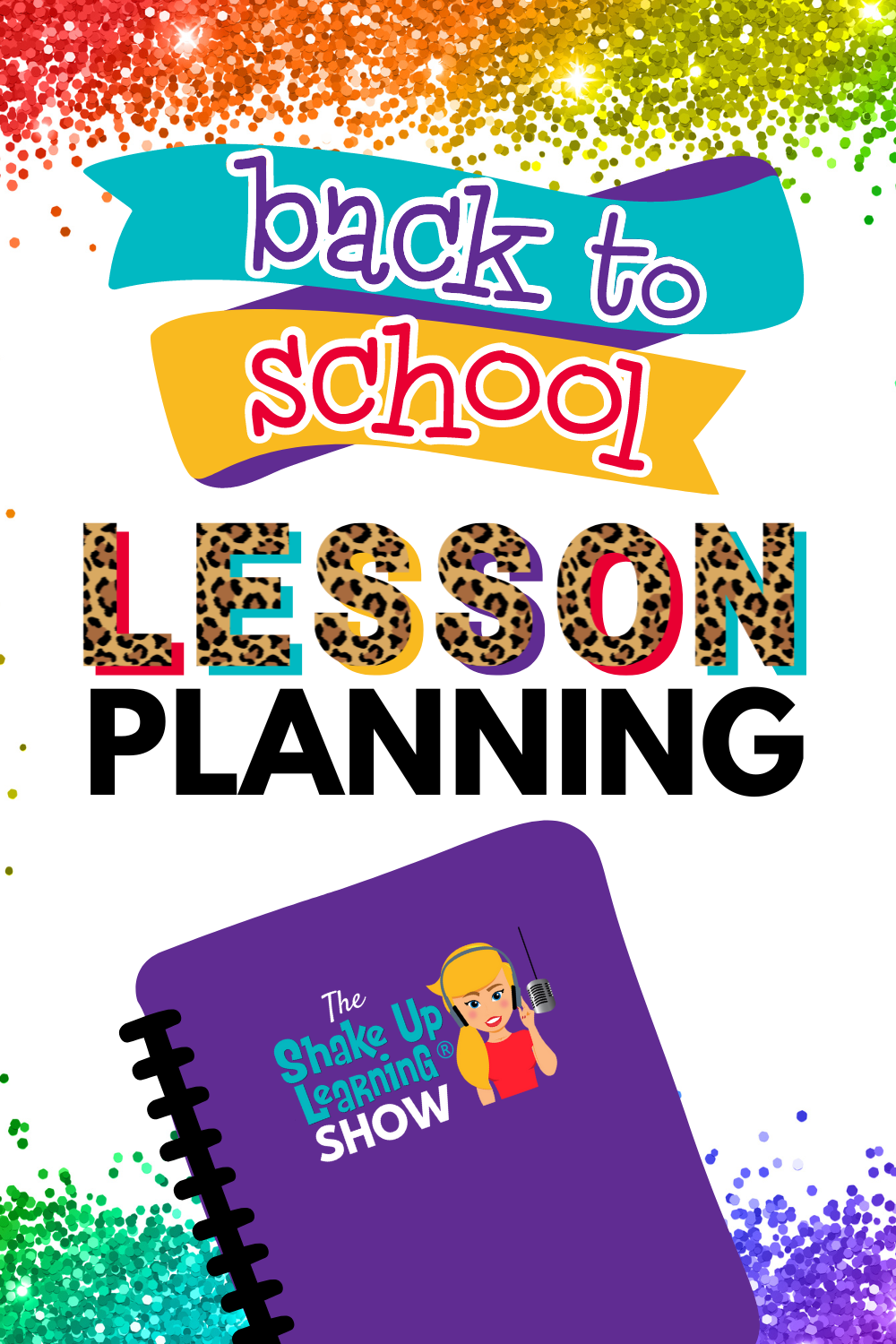 In this episode, I'm sharing lesson planning resources, tips and templates to help you prepare for the back-to-school season.
Let's explore where to find lesson ideas, how to use and revise templates, free lesson plans, packaging assignments, and pitfalls to avoid!
Plus, get a FREE Blended Learning with Google toolkit loaded with strategies and ideas for the classroom.
And don't forget to check out all our back-to-school posts!
Listen to this episode.
This episode is sponsored by Schoolytics.
This episode of the Shake Up Learning Show is brought to you by Schoolytics. Thousands of teachers use Schoolytics every day to help them take data-driven instruction to the next level and reclaim their time for what matters most: helping students reach their full potential. Google Classroom users can start tracking student progress and spotting performance trends in minutes – for free! Join today at Schoolytics.com.
Back to School Lesson Planning Tips
We've done several back-to-school blog posts and podcast episodes over the years. Be sure to check out the Shake Up Learning Back to School Resource Page.
Planning a Dynamic Learning Experience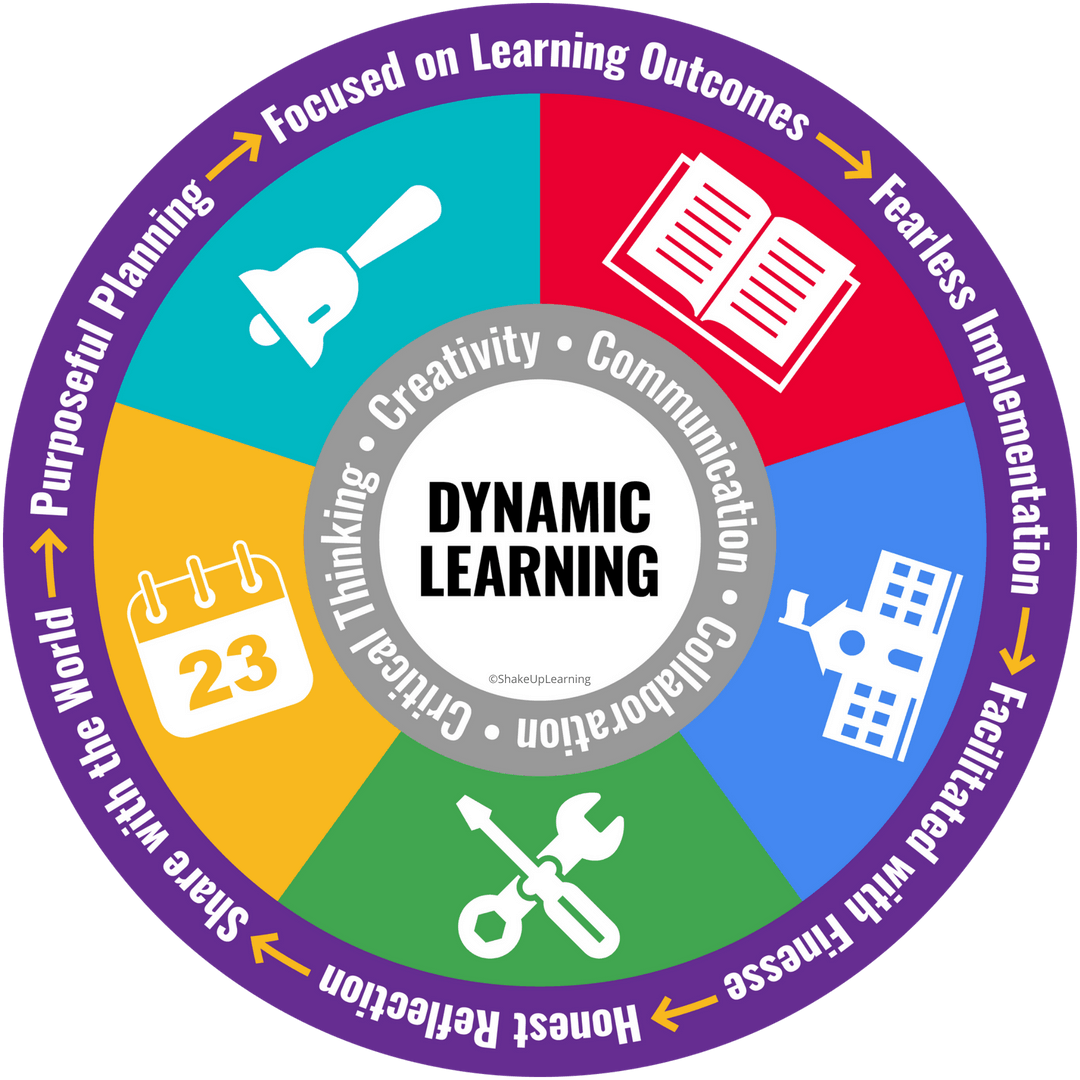 The first thing I want to share is my lesson planning template for Dynamic Learning.
In episode 5 of the Shake Up Learning Show, I take a deep dive into this idea: How to Plan for Technology Integration.
Click here to use the DLE template link, or make a copy.
I know this looks pretty intense, but keep in mind it is designed to help you think through EVERYTHING! You will not need to be this detailed, once you get the hang of things.
And for those of you that are intimidated by the more lengthy planning document, I have created the ONE-PAGE template (screenshot below). Click here to make a copy.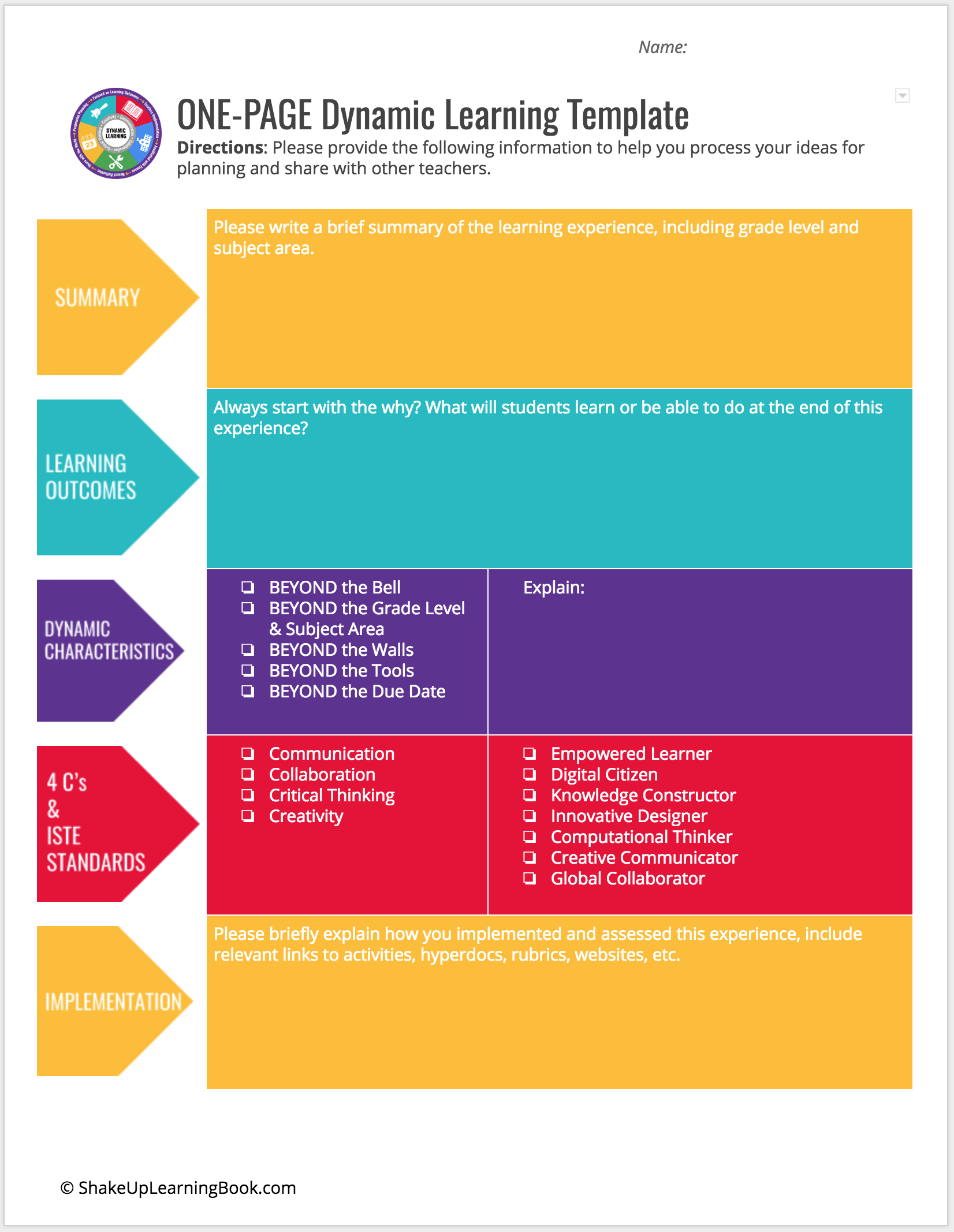 FREE Lesson Plan Database
Over the years, I have collected the dynamic learning lesson plans from teachers into one, searchable database.
Here you can access all of the dynamic learning lessons from my books, as well as lessons shared by teachers across the country.
It is searchable and you can filter by grade, subject, and even ISTE standard!
Access the free lesson plan database here.


FREE Lesson Plan Templates from Slidesmania.com
Slidesmania is one of my favorite resources for teachers. Did you know they have lesson planners?
Check out the free Google Slides and Powerpoint Lesson Planning templates from Slidesmania here. 

Lesson Plans & Templates
As you are planning, you may be inspired by free (or paid) templates that you find online.
I love templates and encourage teachers to create and use templates.
But there are some pitfalls with templates that you want to avoid.
Before you decide to implement in your classroom, ask yourself:
Does this align with my learning goals?
Does this assess what I need to assess?
Will this work in the time I have allotted?
Does this offer enough rigor for my students or is it just busy work?
In episode 10 of the Shake Up Learning Show, I did some on-air coaching with the wonderful Carly Black. Carly shares how she used one of my free choice boards in her classroom but it just didn't turn out like she wanted. We worked through our coaching questions and discovered that the choice board assessed something that Carly had already assessed. The choice board wasn't offering anything new for her or her students.
In episode 119, I interviewed Shake Up Learning Trainer Sarah Kiefer. Sarah is the co-creator of TemplatesforTeachers.com, a free website with — you guessed it– FREE templates!
Explore this awesome website for tons of teaching ideas and templates for K-8.
Shake Up Learning Templates
Over the years, I have shared a lot of templates, choice boards, and more that are all available for free here on Shake Up Learning.
Visit our template page to peruse and find the best templates for your classroom.
Canva Templates
It's no secret that I love Canva! Did you know it's free for teachers and students?
Earlier this year, I did a 2-part podcast series all about the templates in Canva. Check out Part 1 and Part 2 of 30 Ways to Use Free Templates from Canva to learn about all the hidden gems, how to edit, and how to use Canva templates in Google Slides.
FREE Google Templates in Docs, Slides, Forms, and Sheets
Did you know there are free templates built into your favorite Google apps?
Jump over to the home page for the app, docs.google.com, slides.google.com, forms.google.com, or sheets.google.com, and hit the drop-down to see the template gallery.
Assigning Templates in Google Classroom
Confused with all the templates? I got you!
Depending on where you find the template and how you make a copy, there are a few different things to know about getting that template into the hands of students through Google Classroom.
Below is a tutorial video to show you how to use templates and assign them in Google Classroom.
Free Google Lesson Plans from Google Applied Digital Skills 
In episode 87 of the podcast, I took a deep dive into all the lesson plans, curriculum, training, and resources available from Google's Applied Digital Skills.
Get FREE Google lesson plans for teachers and students from Google's Applied Digital Skills resource center.
These are super handy for teachers!
These are ready-to-go, asynchronous lessons that will help your students gain future-ready skills.
You will also find free teacher training, support for parents and guardians, free posters, and more!


Be Internet Awesome & Pear Deck
The Be Internet Awesome program from Google includes an ISTE-aligned curriculum for teachers, Interland, a game for students to learn and improve their digital citizenship skills, and tons of free resources for educators.
The curriculum is designed for grades 3-5, but I can tell you that it can be adapted for younger and older audiences depending on their skill level.
The Interland game can also be used at many grade levels, depending on their vocabulary and digital citizenship skill set.
"Google has partnered with the educators at Pear Deck to create custom, interactive presentations and vocabulary flashcards to accompany the Be Internet Awesome curriculum. Students engage and respond to questions from their individual classroom devices, while teachers can:
Control the pace of the lesson
View student answers from their Pear Deck Teacher Dashboard
Share completed lessons with students and parents through Google Drive"
Check out this awesome free resource here.

The Blended Learning with Google Toolkit (FREE)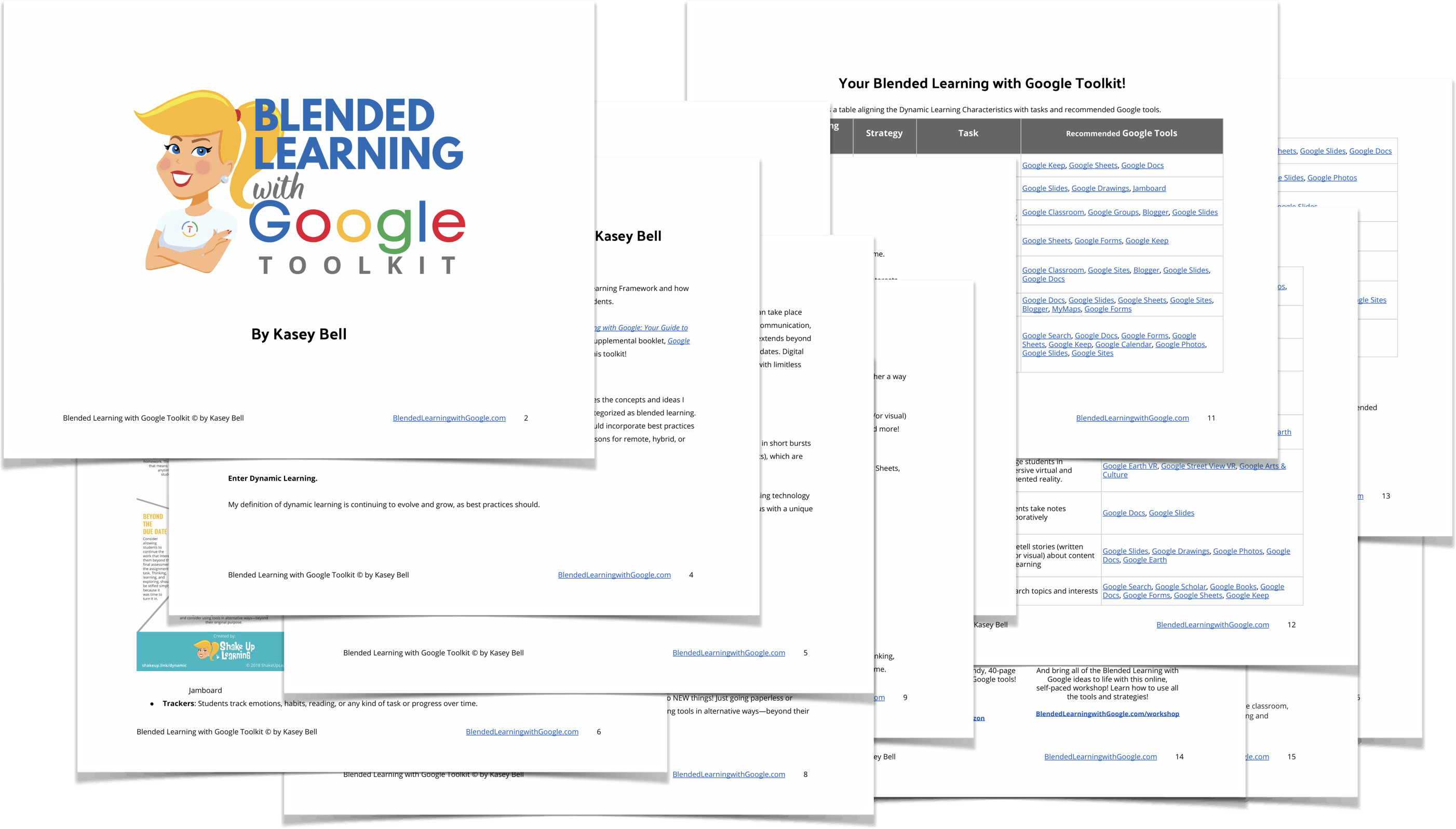 Ready to take digital learning to the next level?
The Blended Learning with Google Toolkit © will help you choose the best Google tools to support Dynamic Learning in your classroom.
Today, I am walking you through each step, sharing proven strategies to increase learning and engagement.
I am also going to tell you which Google tools are the best tool for the job!
Consider this your cheat sheet to the strategies and ideas shared in my new book, Blended Learning with Google: Your Guide to Dynamic Teaching and Learning.
I believe in the principles and ideas in this book so much, I'm sharing this toolkit for FREE!
Get access to this FREE 15-page PDF download that aligns technology integration strategies with Google tools!
Get Your FREE Toolkit by filling out the form below.
© Shake Up Learning 2023. Unauthorized use and/or duplication of this material without express and written permission from this blog's author and/or owner is strictly prohibited. Excerpts and links may be used, provided that full and clear credit is given to Kasey Bell and Shake Up Learning with appropriate and specific direction to the original content on ShakeUpLearning.com. See: Copyright Policy.
Shake Up Learning QUICKSTART GUIDE
Join the email list to get the latest information about the Shake Up Learning Book AND Get the FREE 20-Page Quickstart Guide that will help you Shake Up Learning in your classroom this year!