Get FREE Google lesson plans for teachers and students from Google's Applied Digital Skills resource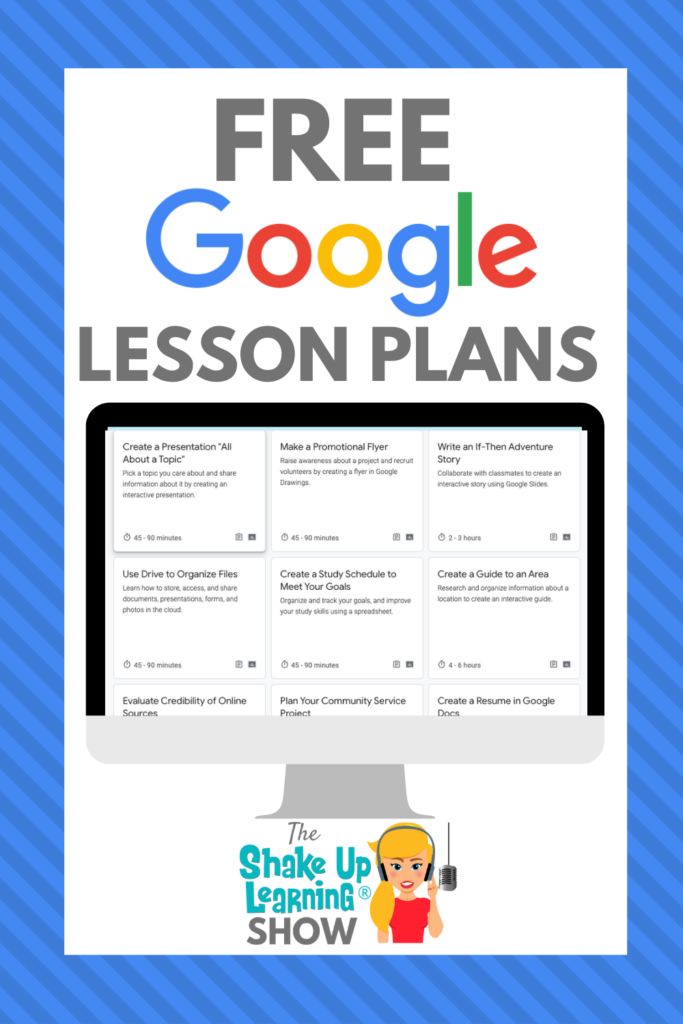 center.
These are super handy for teachers!
These are ready-to-go, asynchronous lessons that will help your students gain future-ready skills.
You will also find free teacher training, support for parents and guardians, free posters, and more!
Let's dig into this amazing resource!
Listen to the article.
Shoutout
I'd like to send a shoutout to Melissa Meverden on Twitter for sharing her sketchnote of e85 with Catlin Tucker. Thanks, Melissa!
Quick Tip (Clip a Video in Slides)
Google Slides gives us several options for formatting videos, like setting a start and end time (clipping a video), muting audio, and more.
Watch this short video to learn how!
FREE Google Lesson Plans for Teachers and Students
Many teachers don't know that Google has an awesome online platform loaded with free training and lessons for students. It's called Applied Digital Skills.
While the name isn't super sexy, it offers a wealth of ready-to-go, project-based, asynchronous Google lesson plans that are free for anyone to use.

What is Applied Digital Skills?
Google defines this platform: "Applied Digital Skills is an online, project-based learning curriculum. Each lesson asks students to actively apply their learning of digital skills to help them solve real-world problems. Students watch videos that instruct them step-by-step how to build digital projects from scratch. Students who complete a lesson will have a project that demonstrates their academic learning, such as an infographic or an interactive story, or career readiness, such as a resume or a portfolio."
Applied Digital Skills offers:
Free, flexible, and ready-to-use lessons: Adapt video-based lessons for remote or in-classroom teaching.
Project-based curriculum: Students leave with a useful project, like a presentation, a resume, or a research plan.
Skills for school, work, and life.
Teach the 4 C's: communication, collaboration, creativity, and critical thinking.
Connect with Google Classroom: Connect Applied Digital Skills with Google Classroom to import your roster and more.
What Grade Levels are appropriate for the Applied Digital Skills lessons?
In general, Google has designed these lessons for middle school and high school students, but I have seen these lessons used as young as second grade.
Victor Hicks believes students are never too young to start using this resource.
Related: FREE Google Templates
Explore the Lessons
Search and filter lessons to find lessons for your classroom.
Or explore the lessons by collections:
Related: Easy Lesson Plan Makeovers


Applied Digital Skills Resources
Get everything you need to teach digital skills from the resource page! View teacher guides, stories, example projects, and more!


How to Use with Google Classroom
Connect your Applied Digital Skills dashboard with Google Classroom to easily assign lessons.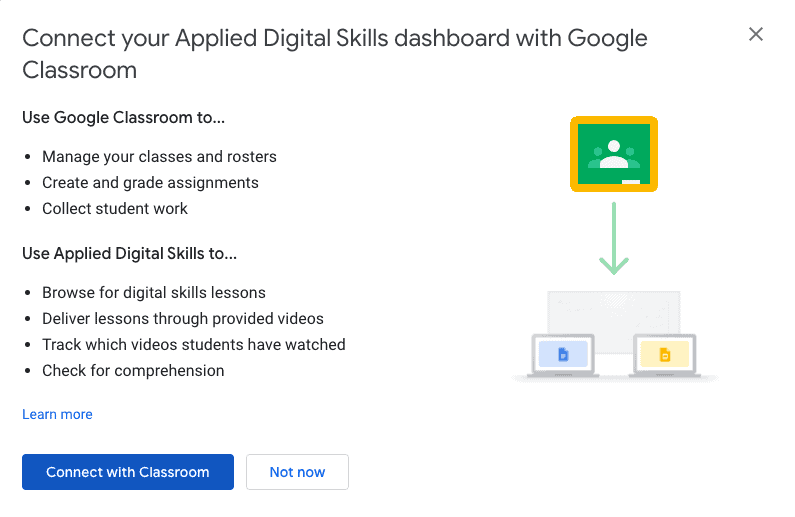 Applied Digital Skills is a powerful resource for teachers and students. Check it out and share your experiences in the comments below!
© Shake Up Learning 2023. Unauthorized use and/or duplication of this material without express and written permission from this blog's author and/or owner is strictly prohibited. Excerpts and links may be used, provided that full and clear credit is given to Kasey Bell and Shake Up Learning with appropriate and specific direction to the original content on ShakeUpLearning.com. See: Copyright Policy.