In this post and podcast episode, I'm going to share 5 Chrome Extensions that Make Google Classroom Even More Awesome!
Google Classroom + Chrome = Match Made in Heaven!
As many of you know, I love me some Google Chrome, and I love Google Classroom.
If you are a teacher using Google Classroom or other Google tools with your students, you should be using the Google Chrome browser.
Consider Google Chrome the learning environment for all things Google.
Not only is it a safe and secure browser, but it will enhance your experience with Google Classroom.
Listen to this article:
UPDATED Episode 157!
Original Episode 66
5 Chrome Extensions that Make Google Classroom Even More Awesome!
Below are five Chrome extensions for Google Classroom! These tools can make the experience more awesome for teachers and students.
Looking for more apps that work with Google Classroom? Check out this HUGE list: 85+ Apps That Integrate with Google Classroom.
Please note: Chrome extensions ONLY work on the desktop version. You cannot install Chrome extensions on your phone or tablet.


1. Mote (FREE)
Mote is a FREE Chrome extension that allows you to leave voice notes and feedback inside Google Classroom and many other Google apps!
Teachers need to have it installed. Students do not have to have it installed, but it works more seamlessly if they do have it.
Related: 15 Ways to Use Mote in the Classroom
Check out the great demo tutorial for Shake Up Learning readers:
2. Screencastify (Freemium)
This Screencastify Chrome extension is an awesome and easy-to-use screen recording tool. The free version offers so much for teachers and students. AND it saves to Google Drive for easy access.
I love Screencastify for reflection, explaining processes and thinking, and leaving video feedback for students.
Screencastify Submit is now fully integrated with Google Classroom, making it even more powerful!
3. BookWidgets (Freemium)
Back in e145, I shared how Google Classroom + BookWidgets = Superpowered Digital Classroom!
With BookWidgets, you can make over 40 different types of activities without ever leaving Google Classroom.
Combine text, video, quizzes, and interactive widgets to let students learn and practice at their own pace. Student work is automatically graded and imported into Google Classroom!
4. Nearpod (Free for up to 30 students)
Nearpod is an interactive presentation and assessment tool. Teachers can use it to create interactive lessons that contain quizzes, polls, videos, images, drawing boards, web content, and more, as well as use their "Nearpod Collaborate!" tool.
Related: 15 Collaborative Tools that are Not Google! 

InsertLearning is a Chrome extension that lets you turn websites into interactive lessons, and it is the perfect companion to your blended learning lesson plans.
InsertLearning will let you turn any webpage into an interactive lesson. Formerly known as Docent EDU and developed by two high school teachers who wanted to create a richer learning experience for their students, this webtool has made some amazing progress. InsertLearning has this fantastic toolbar that will allow you to highlight text, add sticky notes, insert questions, videos, or even a discussion all inside the webpage! How cool is that? Oh yeah, and you can then assign it to your students. WHOA!!!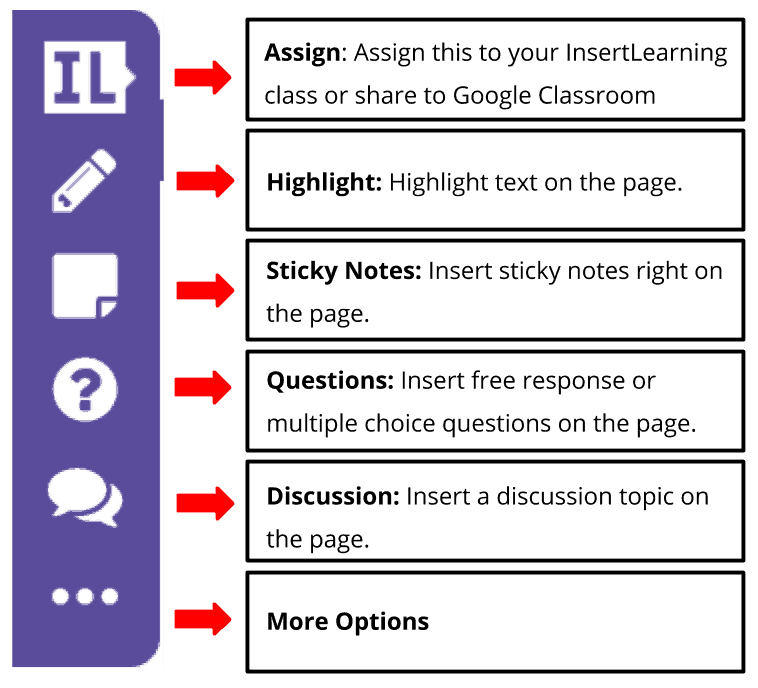 To get started with your first lesson, find the online content you would like to use–an article, video, etc. If you don't want to start from scratch, check out their lesson plan library. Once you have chosen your content, decide what you want to add from the Insert Learning toolbar options.
There are five different types of interactivity you can add to spice up that content, make it more engaging, and help students retain relevant information.
Learn more about his super cool extension here: 4 Ways to Blend Learning with Insert Learning.


---
Ready to Learn More About Google Classroom?
Perfect for the beginner to intermediate skill levels! Consider this your video guide to Google Classroom!
Click here to learn more and to ENROLL TODAY!
---
Learn All About the Course
---
Who Should Join the Google Classroom Master Class?
Beginners can learn everything they need to get started.
Intermediate level users can focus on learning more advanced features, tips and tricks, and best practices.
Go at your own pace.
Let's dig in! This class is for all skill levels!
What's Included in the Google Classroom Master Class?
Self-paced
Video-based lessons
5 BONUS Lessons
PDF Downloads
Supporting Resources
Best Practices and Tips
6 hours of professional learning credit
Bulk license discounts – visit GSuiteTrainingforSchools.com
Get your whole team, campus, or district on board
Click here to learn more and to ENROLL TODAY!
---
Google Training for Schools
We also offer group, campus, and district licenses to help get all your teachers on board!
Learn more: Google TrainingforSchools.com
---
---
---
© Shake Up Learning 2023. Unauthorized use and/or duplication of this material without express and written permission from this blog's author and/or owner is strictly prohibited. Excerpts and links may be used, provided that full and clear credit is given to Kasey Bell and Shake Up Learning with appropriate and specific direction to the original content on ShakeUpLearning.com. See: Copyright Policy.