As educators continue to face much uncertainty, we also have to get extra creative with virtual PD.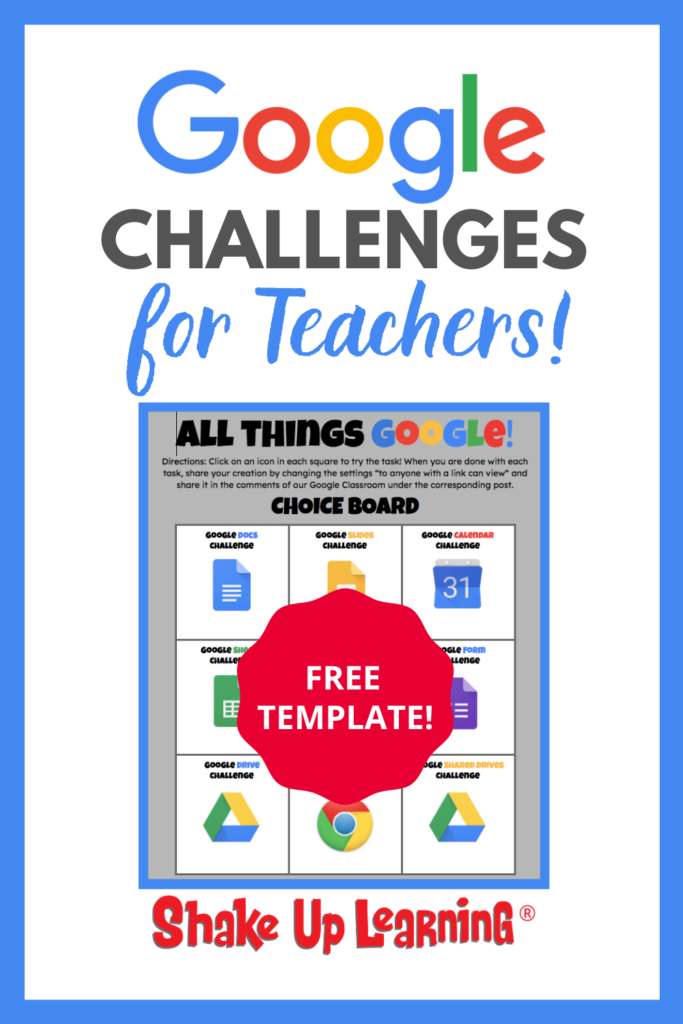 In this guest post by Pam Hubler, she shares how she developed and implemented Google Challenges to deliver Virtual PD at her school.
Virtual PD, or virtual professional learning, is more than just making things digital. Much like the K12 classroom, we have to rethink everything–planning, delivery, and followup.
Let's face it, "Zoom fatigue" is legit! No matter what video conferencing platform you are using, there is only so long you can stare at a screen.
I am working on some new resources to help educators design more meaningful blended PD (a new podcast series starts on Tuesday!)
AND, I will be sharing some new professional learning options myself, and here on Shake Up Learning.
Below is a guest post by Shake Up Learning Community Manager and Literacy Coach, Pam Hubler.
Google Challenges for Virtual PD
We're experiencing a shift in education right now, which has forced educators to use technology creatively to continue to do our jobs. I think it will be a good thing in the end, but now, education is experiencing some major growing pains.
One group that is having to learn quickly is our educational support staff. Many of them have been able to get by with the knowledge they had of basic email and word processing tools they had access to on their desktop computers but never had a reason to explore new tools. Things are different when you have to access and create files remotely using different devices.
This situation created an opportunity for me to provide professional development for some of our district staff assistants who don't usually have to use our GSuite tools since they didn't have to access them outside of work. Working remotely forced them to learn very quickly!
I also had to learn very quickly how to provide virtual professional development. When you present in person, you look for facial expressions, listen for whispers, scan the room for people who look like they are frustrated. You can't use any of those in virtual classes, so here's what worked for me.
See also: How to Design Google PD That Works!
Planning for Different Skill Levels
The hardest thing to figure out is where to start! I had a set group of people at different levels, but most of them don't use technology outside of work besides a cell phone. I needed a structure for beginners, so with some guidance from Kasey Bell, I decided to start with her Level 1 Google Educator Certification Capacity Matrix as a guide. (Get the Level 1 Capacity Matrix in the Google Certified Educator Level 1 Academy.)
When you're a power user of all things Google, it's easy to take what people may not know for granted. This list is an overview of everything an educator has to learn to get Level 1 certified. We didn't need all of the skills, but this gave me an idea of where to start. The Capacity Matrix is a great place to start for Google training for educators! (8 pages of skills for teachers!)
Step 1: Creating a Training Agenda
I scanned through the Capacity Matrix and chose the areas I knew would be the most relevant to assistants. Since they are not classroom teachers, I needed to focus on more clerical skills. They might also have to do some creation, curating, data searching, etc.
Here are the areas I chose to focus on for five different sessions to start.
Week 1:
Class 1.1: Google Chrome & Google Classroom
Class 1.2: Google Chrome (continued), Search & Calendar
Class 1.3: Google Docs & Slides
Week 2:
Class 2.1: Google Forms & Sheets
Class 2.2: Google Drive & Shared Drives
On Your Own:
All Things Google Challenges – put your learning into practice!
Google Classroom isn't at the beginning of the Capacity Matrix, but it was the learning management platform we would be using for the class. I needed them to understand how to navigate Google Classroom to make the class easy to follow as we moved through the training.

Step 2: Creating Structure in Google Classroom


Since we worked entirely online for this course, I chose to use the topics to keep things organized. To the left, you'll see all the topics that I used. The great thing about Google Classroom topics is they only show up for "students" when there's something under the topic. That keeps it clean and not too overwhelming as they get used to the structure.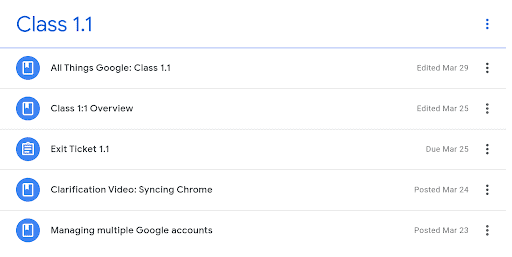 Each "Class" was organized with the session Google Slides presentation (All Things Google) first for those who like to follow along, then the Exit ticket second.
I would add any additional resources that I found valuable during the session as materials under the Exit Ticket after the session was over. As hard as you might try, you can never plan for everything your participants will need, so this is the best way that I've found to share items after the fact and make sure it's easy to get back to when they need it.
You'll also notice a "Class Overview" in the first class. I created a short video using Screencastify to explain how the class would work. I shared an intro and the agenda, Google Meet link, and Google Classroom code in an email to make sure everyone was able to get into the class Google Meet the first time. Just that email was probably overwhelming to a lot of my participants!
Step 3: Creating Presentation Materials
I wanted to keep the presentation simple and use it to guide the order of our topics. When you know a lot about the content, it's easy to get off topic and show your participants way more than they can handle. All the links go to support pages or resources meant for participants to go back to later if they need help. I go through each topic live so they could see it as I went.
I also recorded the Google Meet so I could add that video to the last slide for them to use later if they needed to watch it again. Here's the preview of my first session (including the video I added once the Google Meet was over).
Using Google Meet for Virtual Sessions
I set up a Google Meet link in Google Calendar and scheduled it to repeat so participants would use the same link.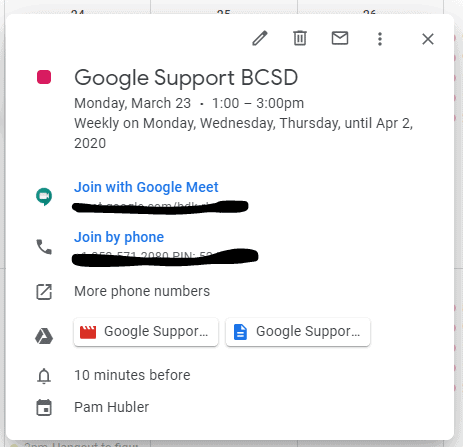 Now, I can use the new feature and just turn on the Google Meet link in Google Classroom to make it even easier!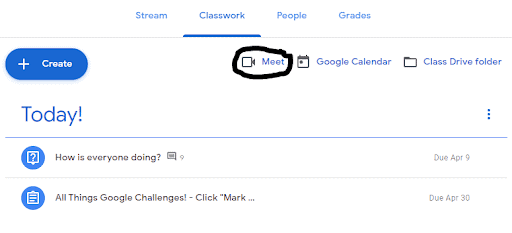 OR…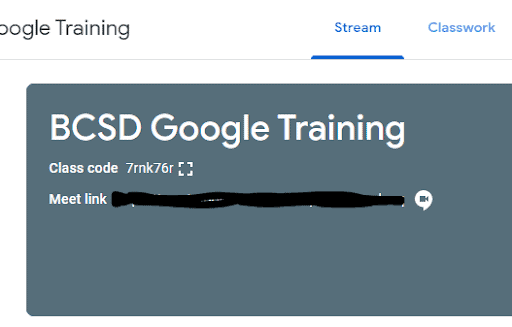 Record and share virtual session recordings for participants to view later. I recorded my Google Meet by joining through the Google Calendar link. The great thing about setting it up through Google Calendar is that it makes the recording automatically link to the Calendar event as well as the chat archive. You can see that in the Google Calendar image above. The video and notes are also added to my Google Drive.
Follow Up using a Challenge Choice Board
Here's the fun part! After we did all of our virtual sessions, I shared a choice board with challenges so participants could work through each of the apps we learned. I had them share the link with me through Google Classroom comments to the class so everyone could see what they created. Since these are adults, I didn't need to become the owner of their creations to see what they learned. I've also realized that people will put more effort into their work when they think others will see it.
Directions: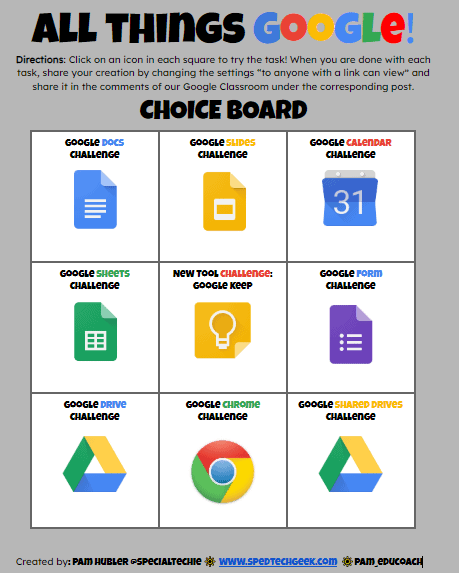 Each choice is linked to a challenge in Google Slides:
>> Get Pam's Google Challenges Template
FILL OUT THIS FORM to get access to Pam's Google Challenges Template and join her email list.
Next Steps
As I see their challenges, it has given me follow up ideas for the participants. I can then differentiate based on who needs more support for another round of training in a smaller group. Of course, now they also have someone to go to for help, and that's my main goal!
It's been a valuable experience in learning how to teach virtually. I hope you can get some ideas from my experience to help your teachers continue to grow in a virtual learning environment. Good luck!
About Pam Hubler
Pam is an Instructional Coach in Charleston, South Carolina, with 23 years in education.  She is passionate about professional development, technology integration, and building a strong culture in schools.
As a Google Certified Trainer, Pam supports teachers by providing frequent professional development on how to integrate GSuite tools into their daily routines.  She also guides discussions during weekly PLC's to help teachers find dynamic ways to provide instruction and develop engaging activities that incorporate the 4 C's in authentic ways.
Pam also loves to create resources to share with educators through her website www.spedtechgeek.com, Twitter, as community manager of the Shake Up Learning Facebook Group and other social media platforms. She has presented at FETC, the EdTechTeam Low Country Summit, and EdCamps.
Pam is a lifelong learner who loves to read professional development books, especially books from Dave Burgess Consulting, Inc., and listens to Podcasts like the Google Teacher Tribe to keep up with educational technology and pedagogy.  She strives to be a PIRATE Leader to support educators so we can keep great teachers in the profession.
Follow Pam on Twitter: @specialtechie
See Pam's other guest blog posts and appearances on Shake Up Learning
G Suite Training for Schools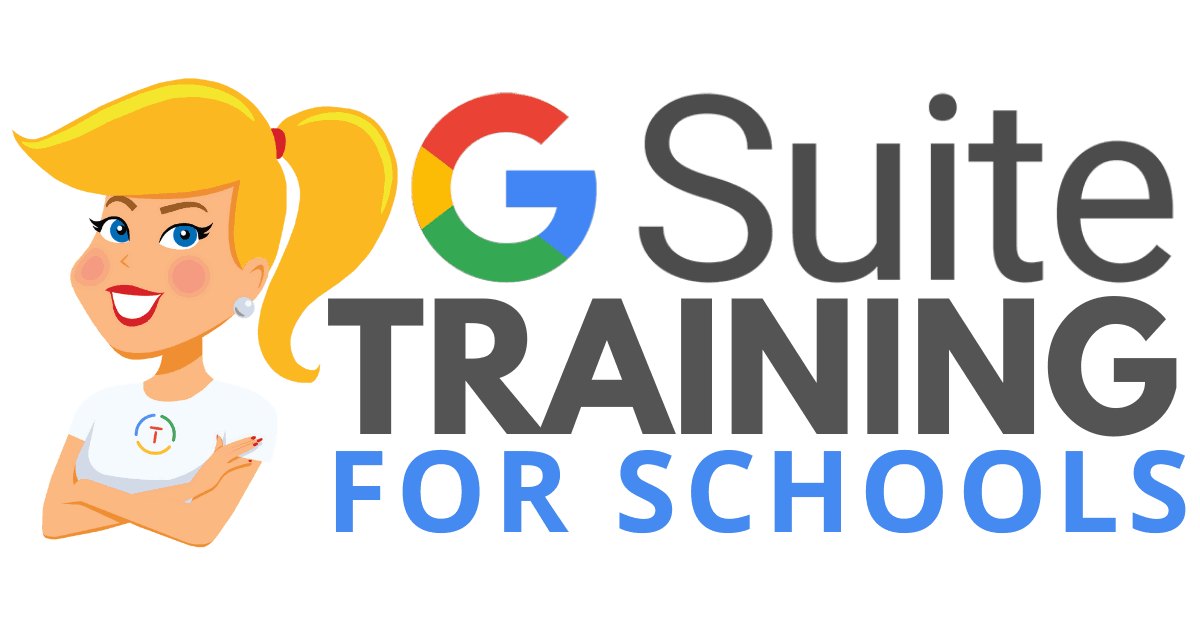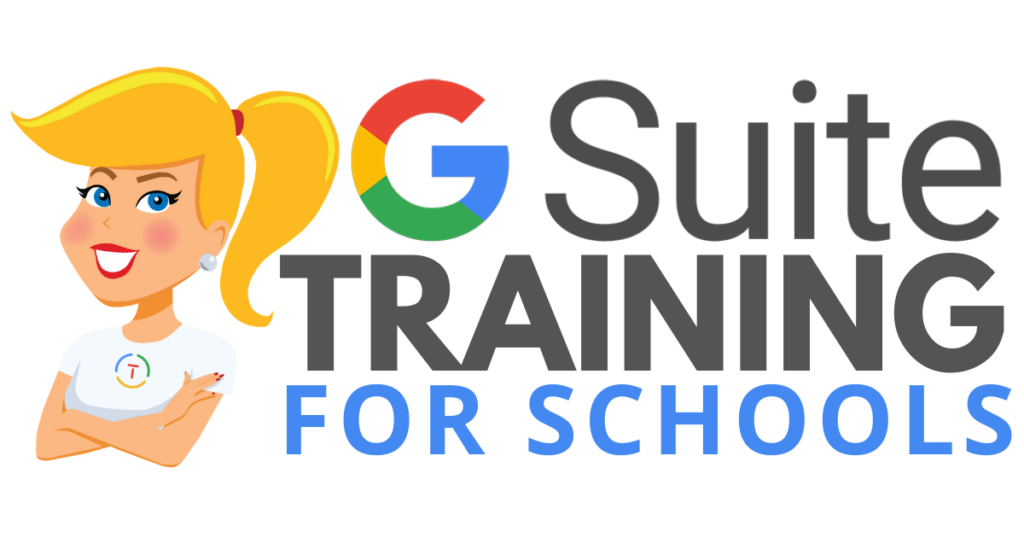 We have many programs to help your teachers learn how to meaningfully integrate Google tools and the entire G Suite in the classroom. From online courses to books, to face-to-face training, we got you covered!
COVID-19 forced many teachers and schools to scramble to find tools to deliver online assignments, design digital learning experiences, and G Suite was the number one suite of tools to help make this a reality.
Just in time resources and learning will help teachers, students, and parents survive the crisis. When we return to the new normal, G Suite skills will help set the foundation for more dynamic and meaningful learning in the classroom.
Get your entire campus or district on board with G Suite! Help your teachers learn more about G Suite tools, Google Classroom, and meaningful technology integration strategies. You can even help all your teachers become Google Certified Educators!
© Shake Up Learning 2023. Unauthorized use and/or duplication of this material without express and written permission from this blog's author and/or owner is strictly prohibited. Excerpts and links may be used, provided that full and clear credit is given to Kasey Bell and Shake Up Learning with appropriate and specific direction to the original content on ShakeUpLearning.com. See: Copyright Policy.