I share a lot of information and resources to help educators reach their goals of becoming Google Certified. Today, I'd like to introduce you to Pam Hubler, a Google Certified Trainer from South Carolina–a Google Success Story!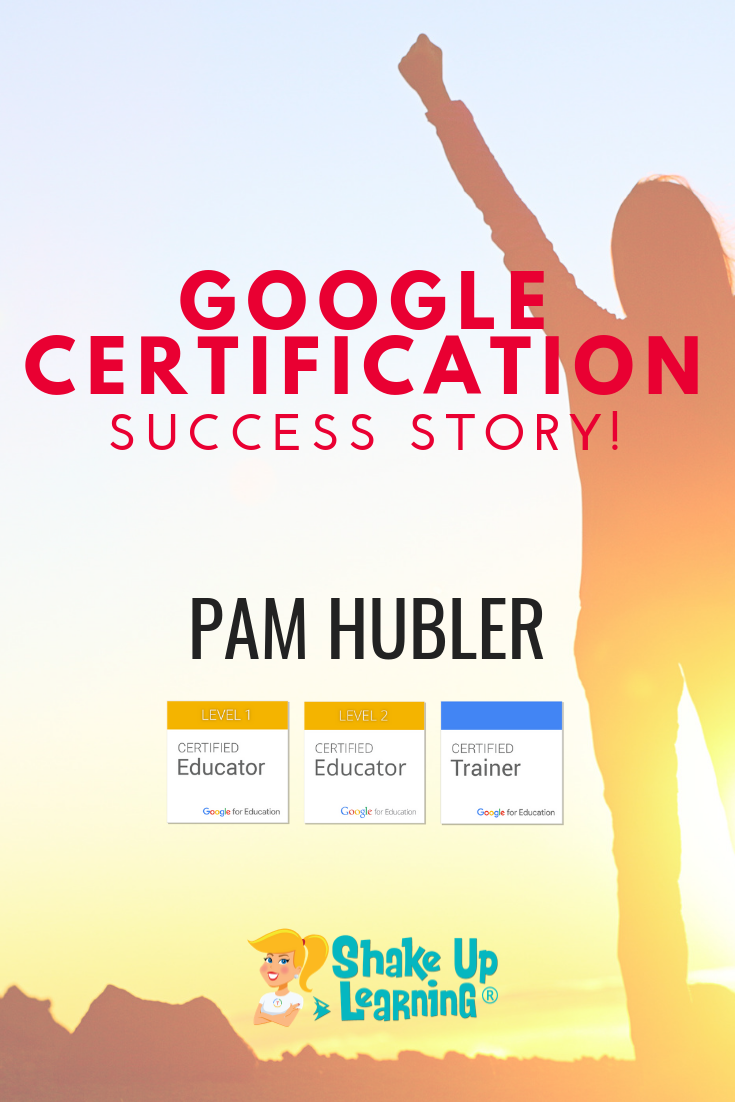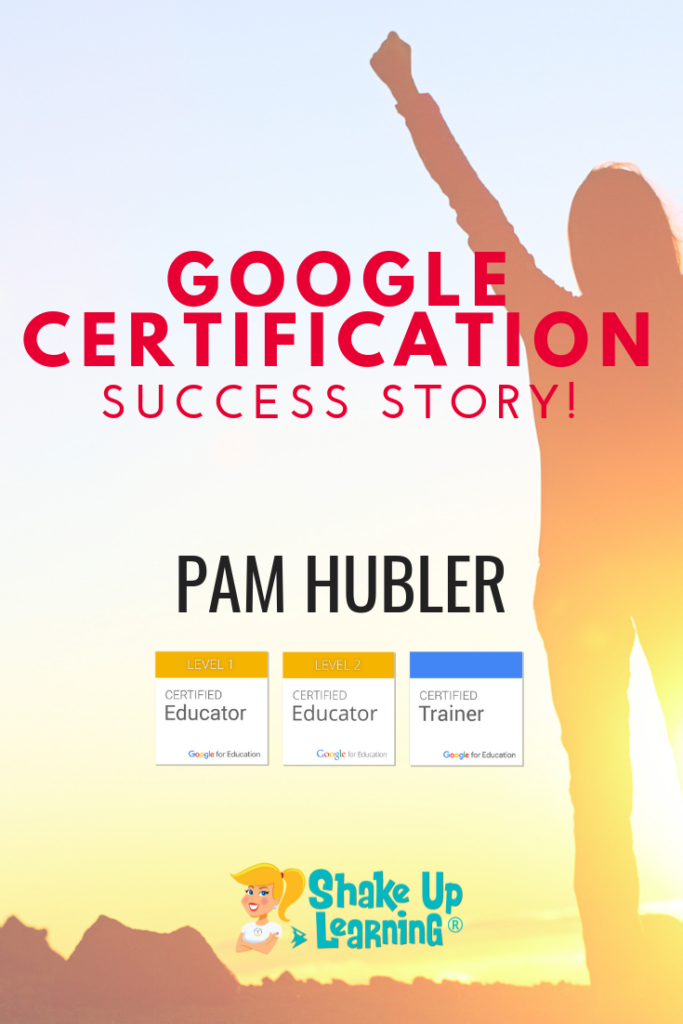 In this candid, video interview, Pam and I chat about her path to Google Certified Educator Level 1, Level 2, and Google Certified Trainer; AND we get a little insight into her "PIRATE," obsession. 🙂
Pam and I met several years ago before being a connected educator was even a "thing!" She's amazing, and I can't wait for you to hear her tips and advice.
Pam is a graduate of my Become a Google Trainer online course, and she shares her experience with the course and how it helped her with the Google Certified Trainer application and video.
You may recognize Pam, as she is very active on social media and serves as one of the community managers of the Shake Up Learning Facebook Group.
If you want the inside scoop on what it really takes to get any of the three certifications: Google Certified Educator Level 1, Google Certified Educator Level 2, or Google Certified Trainer, you don't want to miss this interview!
[Tweet "Google Success Story: @specialtechie #googleET #gsuiteedu"]
Google Success Story: Pam Hubler, Google Certified Trainer
---
About Pam Hubler
Pam is an Instructional Coach in Charleston, South Carolina with 22 years in education.  She is passionate about professional development, technology integration, and building a strong culture in schools.
As a Google Certified Trainer, Pam supports teachers by providing frequent professional development on how to integrate GSuite tools into their daily routines.  She also guides discussions during weekly PLC's to help teachers find dynamic ways to provide instruction and develop engaging activities that incorporate the 4 C's in authentic ways.
Pam also loves to create resources to share with educators through her website www.spedtechgeek.com, Twitter, as community manager of the Shake Up Learning Facebook Group and other social media platforms. She has presented at FETC, the EdTechTeam Low Country Summit, and EdCamps.
Pam is a lifelong learner who loves to read professional development books, especially books from Dave Burgess Consulting, Inc. and listens to Podcasts like the Google Teacher Tribe to keep up with educational technology and pedagogy.  She strives to be PIRATE leader to support educators so we can keep great teachers in the profession.
Follow Pam on Twitter: @specialtechie
---
Want to Follow Pam's Path?
Google Certification Courses Open on November 19!
Mark your calendars! These courses (Level 1, Level 2, and Trainer) will open for limited enrollment on Nov. 19, 2019, and will close on Dec. 3, 2019. (It will not open again until May!)
Work on certification during your summer break!
---
What's Included in the Google Certification Courses?
Everything you need to know to pass the exam and become a Google Certified Educator Level 1!
---
Everything you need to know to pass the exam and become a Google Certified Educator Level 2!
---
Completely updated and redesigned for 2019!
All You Need to Know to Prepare for the Trainer Skills Assessment and Application!
Becoming a Google Certified Trainer was one of the best decisions I ever made, and it transformed my learning and my career! This self-paced, online course includes EVERYTHING you need to know to pass the Trainer Skills Assessment AND complete the application requirements, including:
---
Pricing & Bundles
Below are the prices for individual licenses for each course. (Payment plans available.)
---
Campus and District licenses available! (Click here to inquire.)
Request to pay with a purchase order.
---
BUT WAIT…THERE'S MORE!
Opening all of these courses at once also gives you another advantage–bundling! If you want to purchase multiple courses at once, you can save BIG TIME!
I'm also introducing some new bulk licensing options, so you can find more affordable ways to meet the needs of your campus or district.
NOTE: To purchase a bundle, you must purchase from the bundle page.
Here's how it works (click on the links to purchase a bundle):
---
Request to pay with a purchase order
---
© Shake Up Learning 2023. Unauthorized use and/or duplication of this material without express and written permission from this blog's author and/or owner is strictly prohibited. Excerpts and links may be used, provided that full and clear credit is given to Kasey Bell and Shake Up Learning with appropriate and specific direction to the original content on ShakeUpLearning.com. See: Copyright Policy.