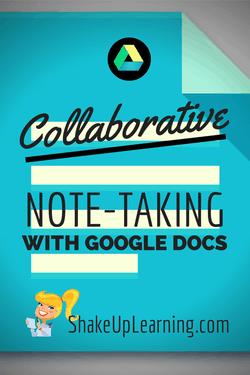 The beauty of Google Apps truly lies in the collaborative features. One of my favorite strategies is collaborative note-taking. When students are able to take notes together, it allows them to learn from each other AND gives the teacher a way to check for understanding.
As a middle school teacher, it was difficult for me to teach note-taking skills. Honestly, I don't think I really learned how to take notes myself until college. When I was in high school we weren't allowed to share notes during class. If you missed something, you caught up with a friend in the hallway to copy their notes. The beauty of taking notes together allows students to each contribute their own perspective. When educators share notes through Google Docs during professional development, we each share our prior knowledge and current learning in different ways. For me, it's great because I can get distracted and miss something that another colleague will add to notes.
---
How I introduce collaborative note-taking to teachers,
I create the Google Doc, and build a table inside the document.
I assign each column a different topic: definitions, digital tools, integration ideas, and instructional strategies.
Then I assign one person to each topic. It is less overwhelming when you are responsible for taking notes on only one topic. It's also a great way to model note-taking strategies.
I will often pre-populate the table with information I have already covered in my introduction–giving them a starting place and a model.
The rest of the group is encouraged to contribute, but those assigned to take notes have the official responsibility. The class will take turns as official note-takers, giving each participant an opportunity to contribute and learn a little more about Google Docs.
Tip: The chat feature can also be utilized as a back channel for the class.
---
Gradually, I give more and more control of the notes over to the participants–eventually no longer assigning note-takers. (Yay! Student ownership of learning!) The notes become what they need them to be, and is good as they want them to be.If you are picky about formatting like I am, don't worry about making the notes pretty before handing them over to students. There is always one or two who will begin immediately formatting titles, bulleting lists, etc. The notes are dynamic and live on past the learning session or class.I summarized this strategy in a Field Note for Graphite. If you haven't see the wonderful database of tools, reviews, and lesson ideas from Graphite (a subsidiary of Common Sense Media), you are missing out! This is a wonderful resource for teachers.
The integration of Google Docs has endless possibilities for students and teachers. Collaboration allows us to be stronger and wiser together. Please feel free to share your ideas in the comments below.
Be sure to check out some of my other popular Google Apps posts:
© Shake Up Learning 2020. Unauthorized use and/or duplication of this material without express and written permission from this blog's author and/or owner is strictly prohibited. Excerpts and links may be used, provided that full and clear credit is given to Kasey Bell and Shake Up Learning with appropriate and specific direction to the original content on ShakeUpLearning.com. See: Copyright Policy.