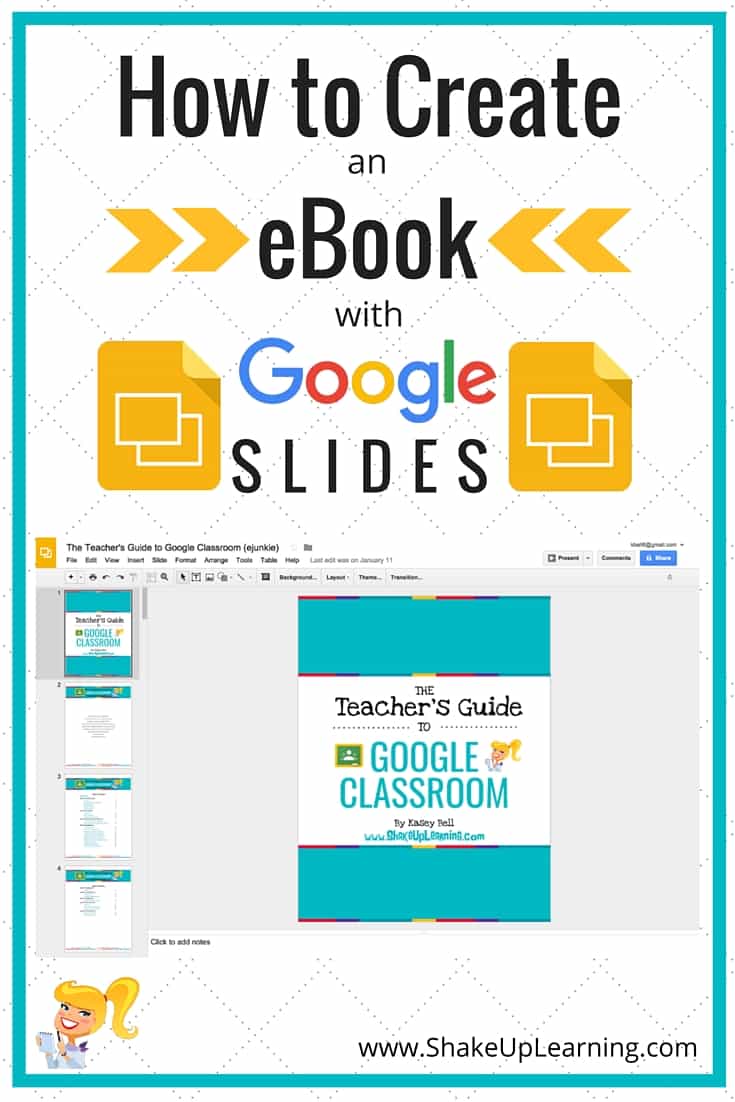 Google Slides
Did you know that Google Slides can be used for much more than just presentations? Google Slides is one of the most flexible learning tools in the G Suite. In fact, I used Google Slides to create my eBook:
The Google Classroom Cheat Sheets for Teachers and Students
! That's right! Google Slides made the process of creating an eBook so much easier than if I had done it in Google Docs. Google Slides allows you to manipulate and edit images in ways that you cannot in Google Docs. That's why a lot of the materials you see on Teachers Pay Teachers are created with PowerPoint or Google Slides. With Slides, you can add backgrounds, borders, and layer text boxes, graphics, and shapes. If you have ever been frustrated with trying to get an image in the exact spot you want in Google Docs, you may want to try it in Google Slides. Since you can easily convert your slides to PDF, the most universally accepted file format, your eBook can be read on practically any device.
[Tweet "Did you know you can create an eBook in Google Slides?"]
---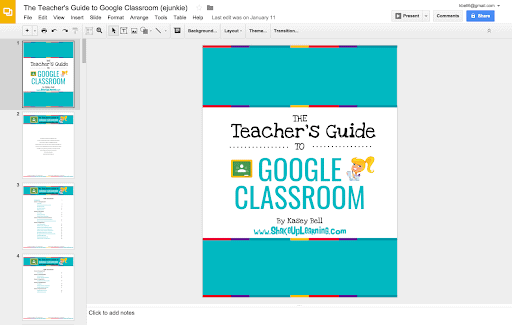 ---
How to create an eBook in Google Slides
Customize the Size
First, create the customize size for the eBook. Go to File>Page Setup, choose Custom, and you can create your slides in any size you wish. For an eBook, most likely, you will want 8.5 x 11 inches—the same as a standard sheet of paper. If you do not plan to print, you may consider other sizes.
---

---
Add Your Content
Create a cover page, header, footer with page numbers and title. Make it interactive if you want by adding links to outside resources and websites. You may even wish to add a table of contents, depending on how long your eBook is. Keep in mind there isn't an automatic table of contents generator like there is in Docs so you will have to create this from scratch.
You can link your table of contents to the slide/page by going to Insert>Link (control/command + K), and choosing the slide number.
---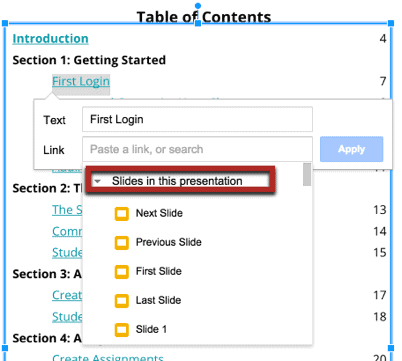 ---
Download as PDF
Once you have finished the content of your book, you can convert OR download as PDF by going to File>Download as>PDF. Save your PDF in the location of your choice. Now you can share your PDF eBook anywhere you like. You can even upload it to your Google Drive and grab a shareable link to place on your website, blog, or in your lesson.
---

---
Show Your Students!
I love it when teachers learn how to create new things, but I love it, even more, when they empower their students to be creators. Show your students how to create their own eBooks with Google Slides. How will you try this in your classroom? Please share in the comments below! I'd love for you to come back and share links to your students' work as well!
[Tweet "How to Create an eBook with Google Slides"]
---
Want a hands-on tutorial?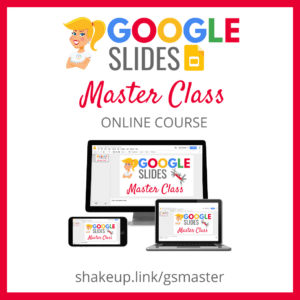 I frequently refer to Google Slides as the Swiss Army Knife of the G Suite tools because it is capable of being so much more than a presentation tool. In this course, you will learn how to use Slides in new and unexpected ways in your classroom that will engage your students and make learning more dynamic!
K-12 teachers are going to LOVE THIS COURSE!
This class is perfect for beginner to intermediate users to take their skills to the next level and become a Google Slides Master!
(Prerequisite: basic knowledge of slides, how to access and create new slides.)
Click here to learn more and to ENROLL TODAY!
---
Learn All About the Course
What's Included?
Self-paced
Video-based lessons
3 BONUS Lessons!!!

Bonus 1: Stop-Motion Animation
Bonus 2: How to Create Magnetic Poetry with Slides and Drawings
Bonus 3: 50 Google Slides Lesson and Project Ideas

Supporting Resources
Best Practices and Tips
6 hours of professional learning credit
Purchase orders are accepted (Just email Kasey[at]ShakeUpLearning.com (replace [at] with @.)
Bulk license discounts
Get your whole team, campus, or district on board
---
Click here to learn more and to ENROLL TODAY!
---
---
© Shake Up Learning 2023. Unauthorized use and/or duplication of this material without express and written permission from this blog's author and/or owner is strictly prohibited. Excerpts and links may be used, provided that full and clear credit is given to Kasey Bell and Shake Up Learning with appropriate and specific direction to the original content on ShakeUpLearning.com. See: Copyright Policy.